Debuting in the summer of 2022, Prima is the first in the new class of ships from Norwegian Cruise Line (NCL). Prima means first in Italian, an apt name for the inaugural ship made in Venice, a region steeped in maritime glory.
For this new series, Norwegian did not go bigger but decided to reinvent the ship from the ground up, focusing on innovative design, upgraded amenities, and the latest technology, all with the cruiser in mind.
Cruise lines are always pushing boundaries, and with Prima there are some key standouts that separate it from its competition.
Here are the top 10 new and cool things on Prima.
Italian graffiti
Image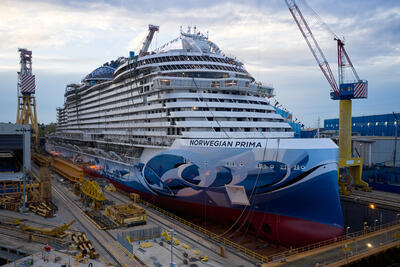 Prima's eye catching artwork along the hull of the ship was designed by the renowned Italian graffiti artist Manuel di Rita, also known as Peeta.
Peeta, who is also from Venice, is by no means what you imagine when you think graffiti artist.  His cutting-edge techniques create 3D illusions, appearing to alter the architecture of buildings. His graffiti and sculpture work have made him famous worldwide.
Prima Speedway
Image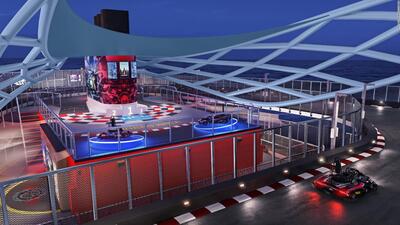 Stretching from the hull all the way to the top of the ship, the innovation continues with the three-level Prima Speedway.
Norwegian has had race tracks on other ships, but this one tops them all. A considerable 1378 feet in length, the track has 14 turns, taking racers around the ship's funnel. In their electric vehicles, 15 drivers can race at speeds of up to 30 miles an hour.
There's even a viewing platform for families to cheer racers on and take videos. Cool off afterward in the Speedway bar, a fun spot to relax.
G force slides
Image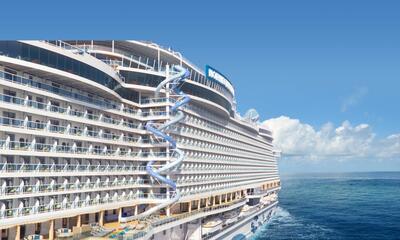 The thrills continue with Prima's epic waterless slides. The Drop is precisely what it sounds like. Guests wait in anticipation for the floor beneath them to collapse, falling down a 10 story vertical drop, with a force of 2.5 G.
For those with a competitive streak, passengers can race on the Rush. Similar to the Drop, these twin slides intertwine, bobbing in and out on the way down the side of the ship.
44,000-square-foot Ocean Boulevard
Image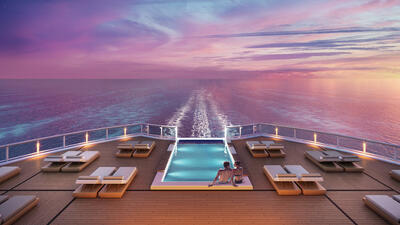 After some high energy activities, guests can enjoy the sun on the new Ocean Boulevard. The goal of this contemporary design is to  bring guests closer to the ocean by providing the most deck space of any ships sailing.
Massive in size, it wraps around the entire ship on Deck 8, providing cruisers with unlimited views, and many ways to enjoy them.
Pools, lounges and restaurants such as Los Lobos, Mexican and the open area Indulge Food Hall offer guests international cuisine. Highlights include Nudls, the best noodle dishes around the world, Indian food, a Texas smokehouse, and tapas.
Infinity Beach
Image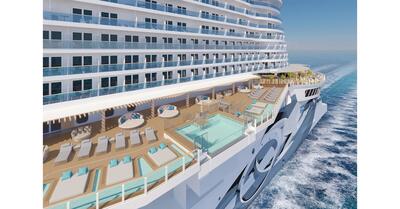 With the feel of a high end beach resort in Miami or a boutique hotel in the Caribbean, the Infinity Beach area offers an unparalleled pool experience.
Perched on the edge of the cruise ship, its sleek, modern rectangular design allows guests to have the best unobstructed views of the ocean, practically floating in the sea.  It also has Oceanwalk, a glass-bottom walkway, giving passengers a unique view of the ocean from above.
Donna Summer Musical
Image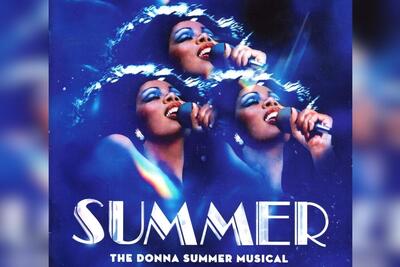 As the sun sets and guests move inside, there are lots of entertainment options on Prima.
For cruisers who love to dance to classic 70s hits, guests on Prima will be treated to an extraordinary show. The Tony nominated production, "Summer" the Donna Summer Musical will feature the legendary singer's moving story along with 20 of her greatest hits, such as Last Dance and Hot Stuff.
After a 75 minute show, the three-level theatre will transform into a nightclub with neon lights and LED screens where cruisers can dance the night away.
Classic Game Shows (Live)
Image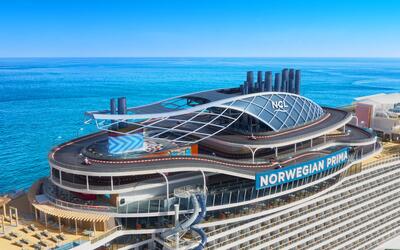 Onboard Prima are a number of classic game shows, including the iconic Price is Right. Go ahead and spin the wheel to see how close you can get to a dollar to win !  
There are also three other game shows, including Beat the Clock, Press Your Luck and Supermarket Sweep providing guests with the chance to win prizes and have lots of fun.
Galaxy Pavilion
Image
A cruise ship or the Starship Enterprise?  Prima's high tech games venue, the Galaxy Pavilion, looks like something from the future.
Using the latest in gaming technology, this arcade features 14 attractions including 4 simulators, 2 escape rooms, and mini-golf. No doubt it will be a hit with kids and adults alike.
Through its partnership with Topgolf, Norwegian will offer the ultimate golfing simulator experience. With interactive games that feature several of the top virtual golf courses.
Play Darts Like a Professional
Image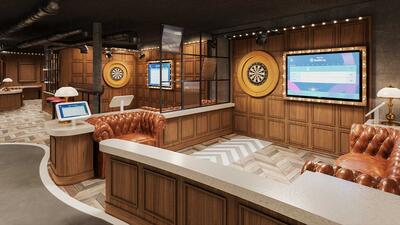 Onboard Prima is the Bull's Eye, a reimagined English pub, where guests get to play as if they are pros. Scores are automatically calculated and tracked against competitors as if you were live on tv.  
Disagree on a call, check out the instant replay, a very cool addition.  
Bucket List Destinations
Image
Any bucket list vacations? Destinations you have always dreamed of going to?  Well, the nice thing about Prima is that you can explore many of them on this world class ship.
Whether you want to see the majestic wonders of Iceland, relax on a Caribbean Beach, trek through the jungle to see a Mayan ruin or a transatlantic voyage, there are tons of great itineraries.  
Coupled with current promotions that include free excursions, wifi, alcohol and specialty dining, it may be a great time to plan that once in a lifetime dream trip on Prima.