Happy Saturday from Cozumel! It's Day 3 of our 4-night cruise and the weekend is flying by.
I can't believe we are able to be whisked away to Mexico over the weekend - one of the many reasons I love cruising and living in the south. It was so easy to get to the cruise port from my home that this really makes the perfect weekend getaway. With only 4 days to see and do everything, we've been trying to squeeze in as much as possible.
Angie and I had another busy day both ashore in Cozumel and onboard Carnival Ecstasy!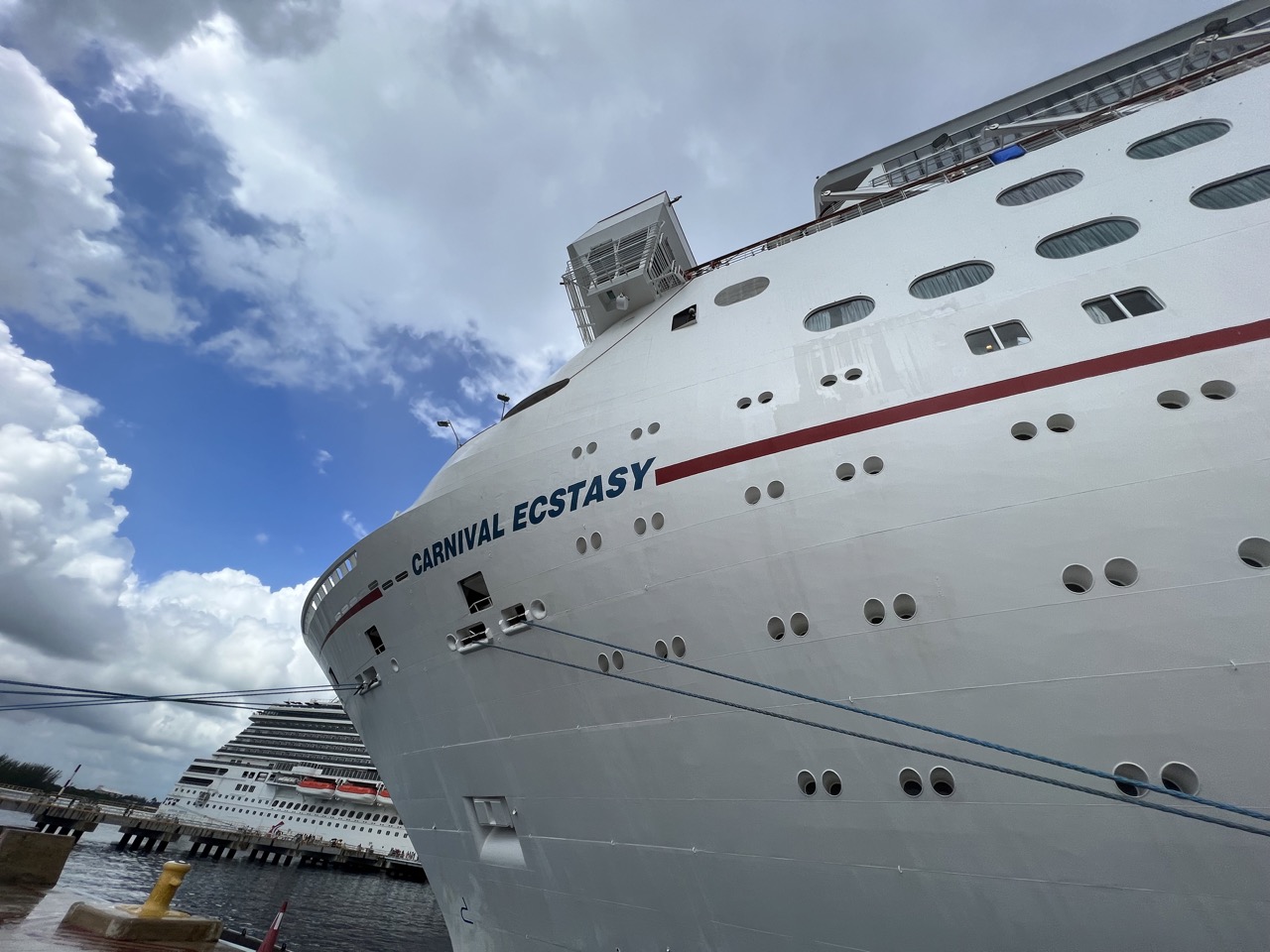 The morning started early again for me. Between the combination of announcements, noisy neighbors and loud people walking by the room, I've had a hard time getting a good night's rest. I am pretty sure I could hear the shower from our neighbor's cabin blasting against our wall this morning. I normally sleep like an angel on cruises, but not this one.
I think there are a few factors playing into this. First, the walls are paper thin on this old ship and that's evident by how much noise we hear. Second, I have to remember that people are here to party, have a good time and drink lots of booze - so it's not surprising to have a rowdy and loud clientele.
Angie sleeps with earplugs and hasn't been woken up by any of the noises that I hear. So, I'll report tomorrow if using earplugs helps to solve my issue. Hoping for a restful night tonight!
Breakfast
We planned to get up in time for breakfast in the dining room, which ended by 9:00 a.m this morning. This breakfast menu was different than the Sea Day Brunch, but still looked like it had a nice selection of breakfast items.
Angie checked us in for breakfast on the app and our table was ready almost immediately. We made our way upstairs and seated ourselves at the table that the app assigned us to. 
I started with a yogurt and granola - I've really enjoyed the granola on this ship; it tastes homemade! Angie and I both ordered breakfast sandwiches and a small plate of French toast and waffles to try.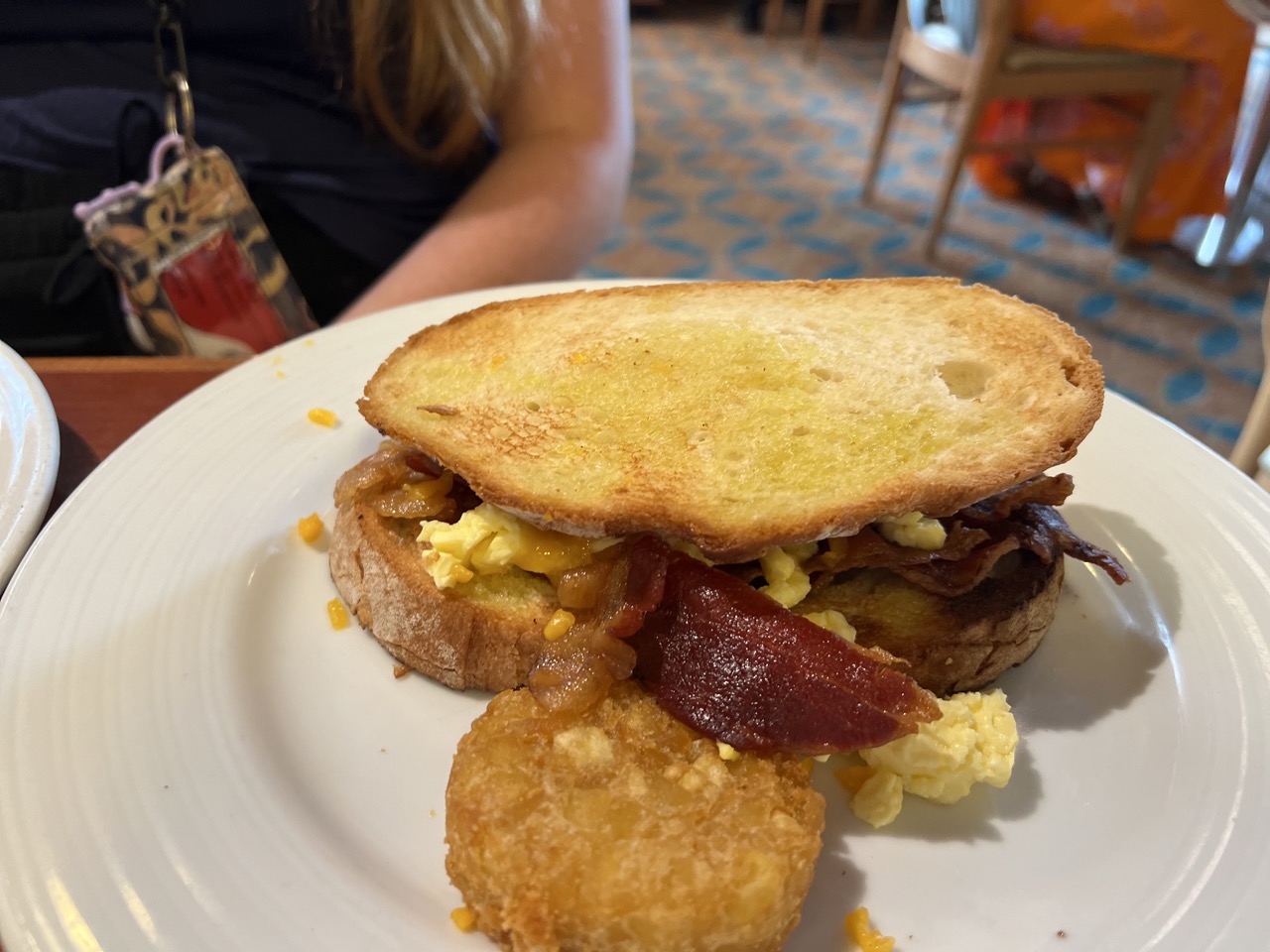 The breakfast sandwiches were very good. Angie agreed the Sea Day french toast was better and the waffle was subpar again so we didn't eat much of it.
Beach Club in Cozumel
Today, we made a reservation to go to Del Mar Latino Beach Club, which offers all-inclusive day passes to an exclusive, small beach club.
When we got off the ship, we were greeted by Carnival Breeze and Grandeur of the Seas. This is the oldest ship in Royal Caribbean's fleet so she looked similar to our old ship. Carnival Breeze is 20 years newer and substantially bigger, but our ship still looked nicely maintained even when compared to the others in port.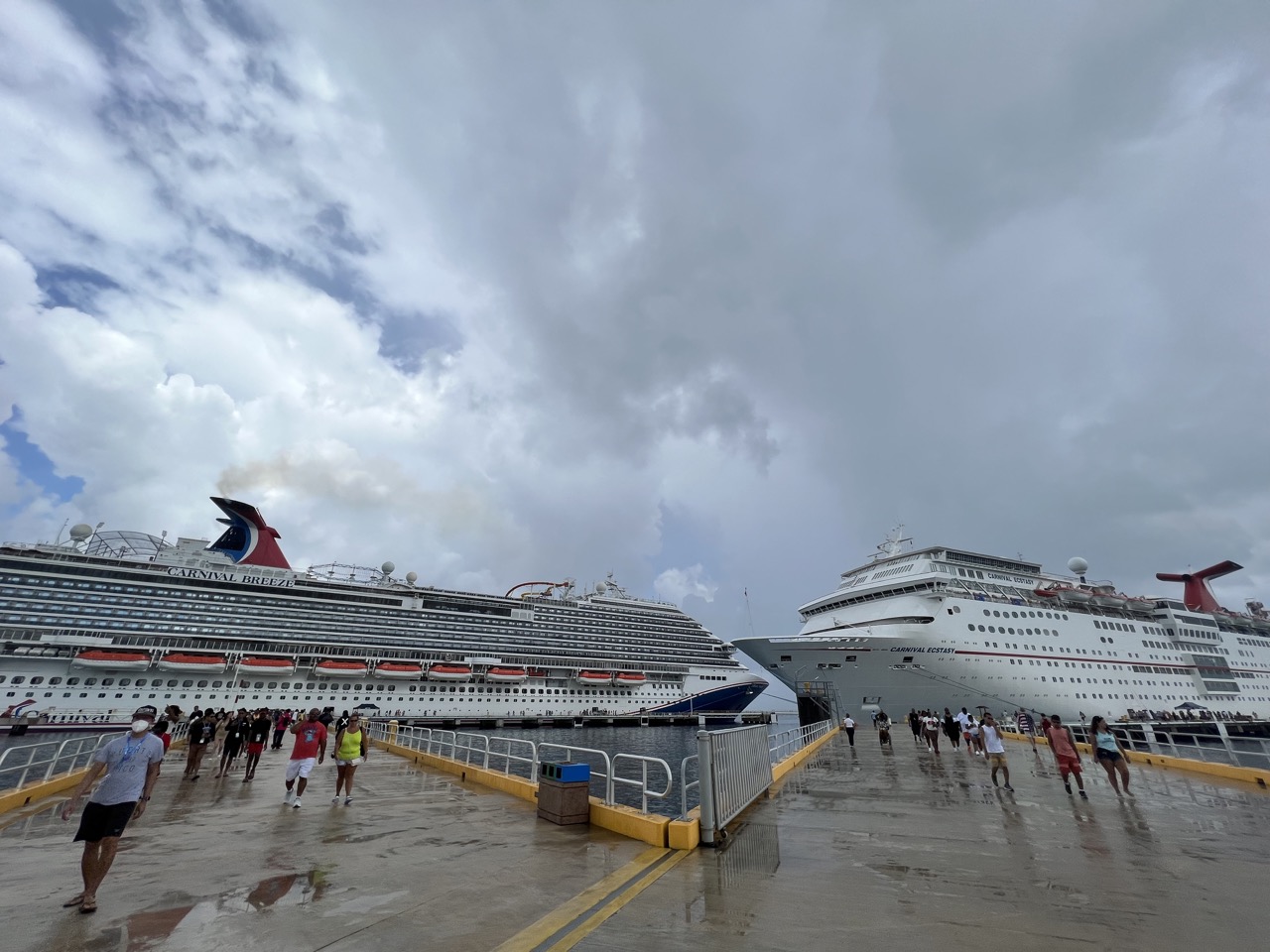 As we made our way along the port, a big rain cloud popped up and it started to sprinkle. This quickly turned into a downpour so we waited it out in the duty free shipping terminal. It rained pretty hard, but it cleared up quickly.
The resort website said it was within walking distance of the cruise port. Our phones said it would take 20 minutes to get there if we walked. We thought it was only 1/3 mile, but I think that's likely from the Royal Caribbean dock, which looked closer.
Either way, it was a quick walk there once we knew where we were going. Luckily, I have cell service, which we used to navigate to the Del Mar Latino Beach Club. This helped us feel confident as we walked along the street. Even though there weren't many people walking, we felt safe and got there within 20 minutes from getting off the ship.
Del Mar Latino Beach Club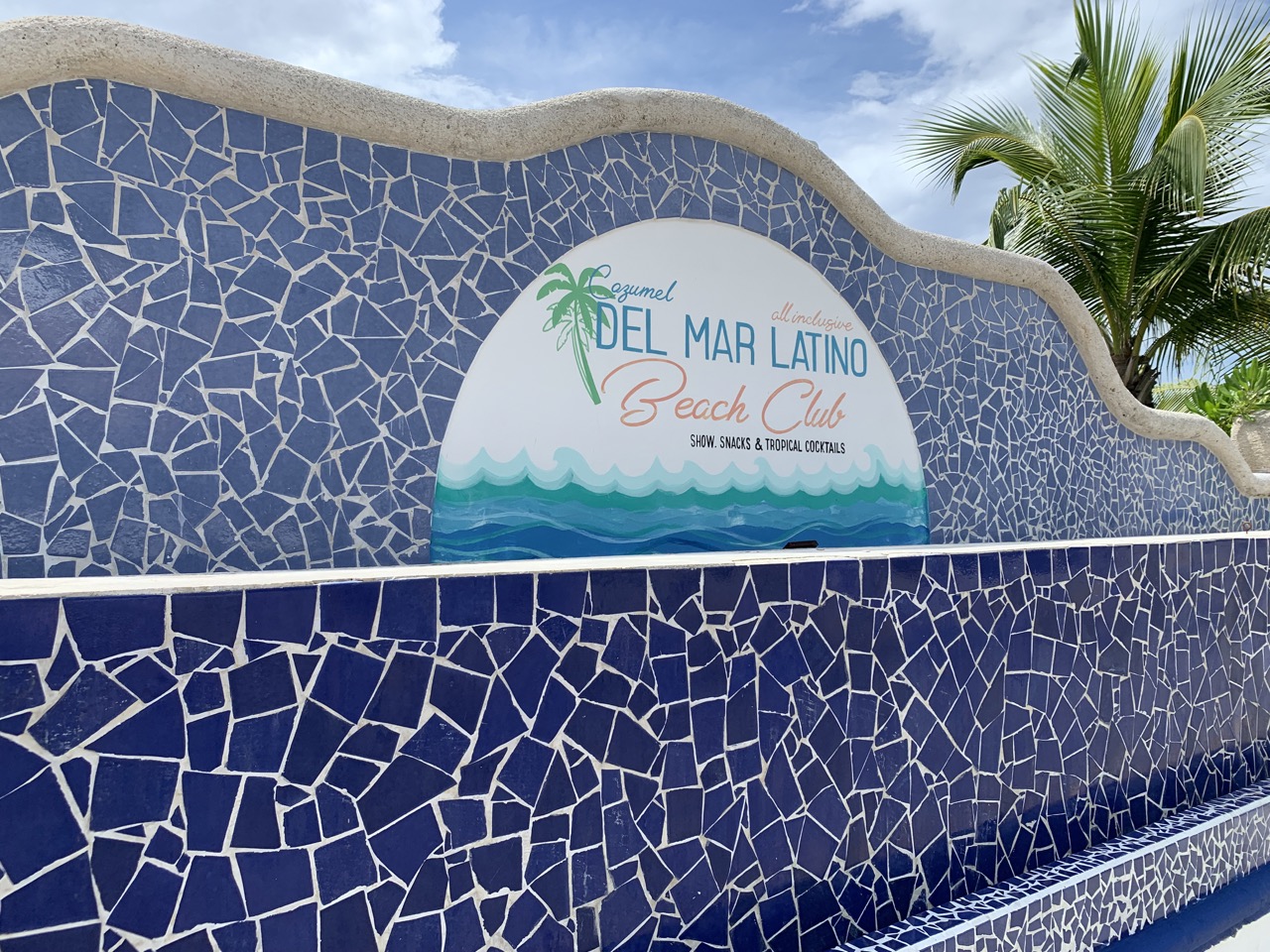 When we arrived to the beach club, one of the hostesses checked us in and we paid the day pass balance. It was only $39.95 per person and included unlimited drinks and food all day. There was a large pool overlooking the sea surrounded by loungers. There's also a bar with high-top tables where you can order food.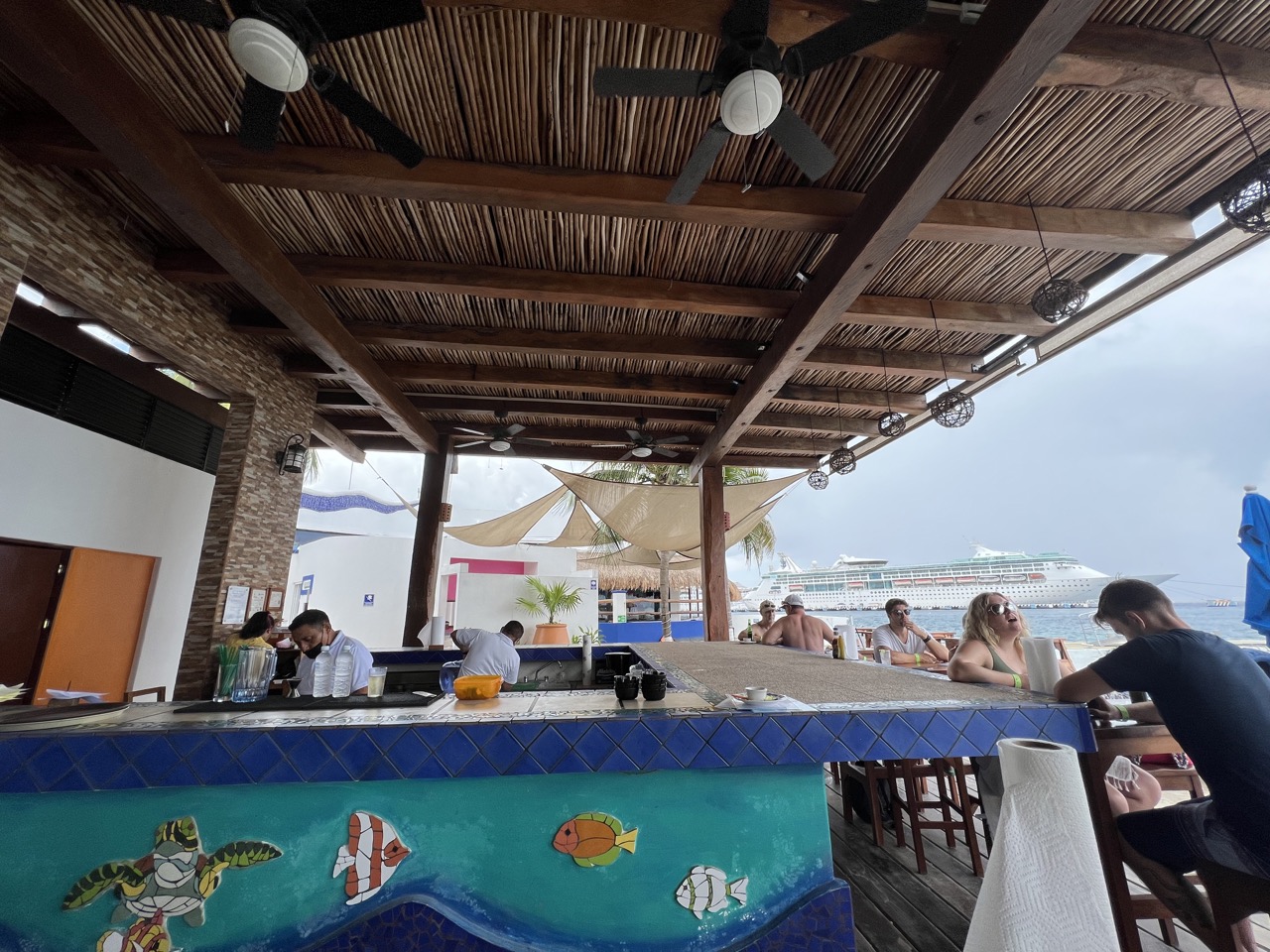 We started the day with a mojito and piña coladas while it continued to rain for a bit. Once the rain stopped, we dipped in the pool and tried a variety of drinks (margarita, Miami vice, tequila sunrise and dirty monkey). The service was great and all the drinks were delicious!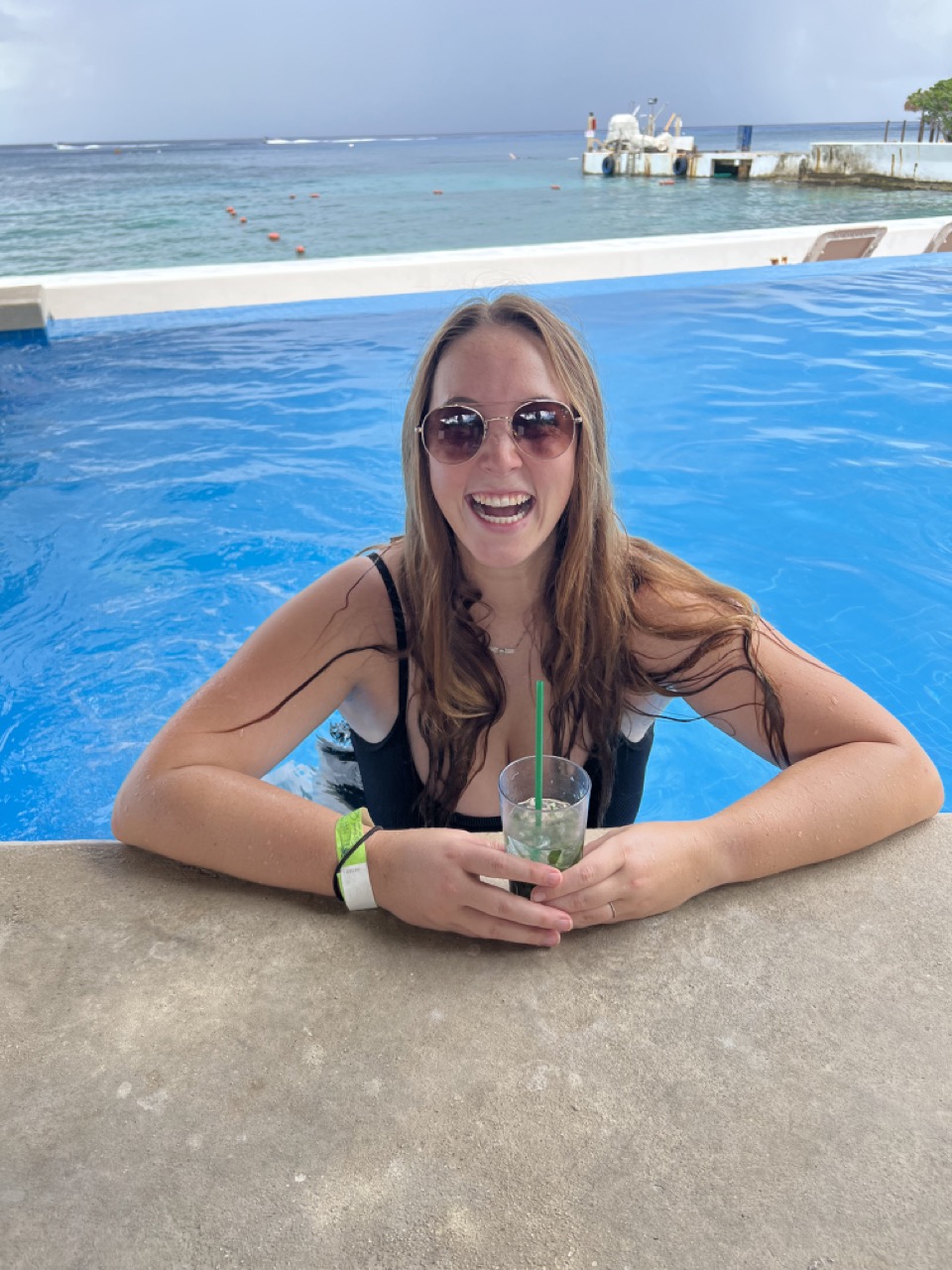 Angie and I ordered some food as it was getting closer to lunchtime. I loved the quesadilla and chicken tacos. Angie had chicken strips and French fries, which also hit the spot after our drinks in the sun.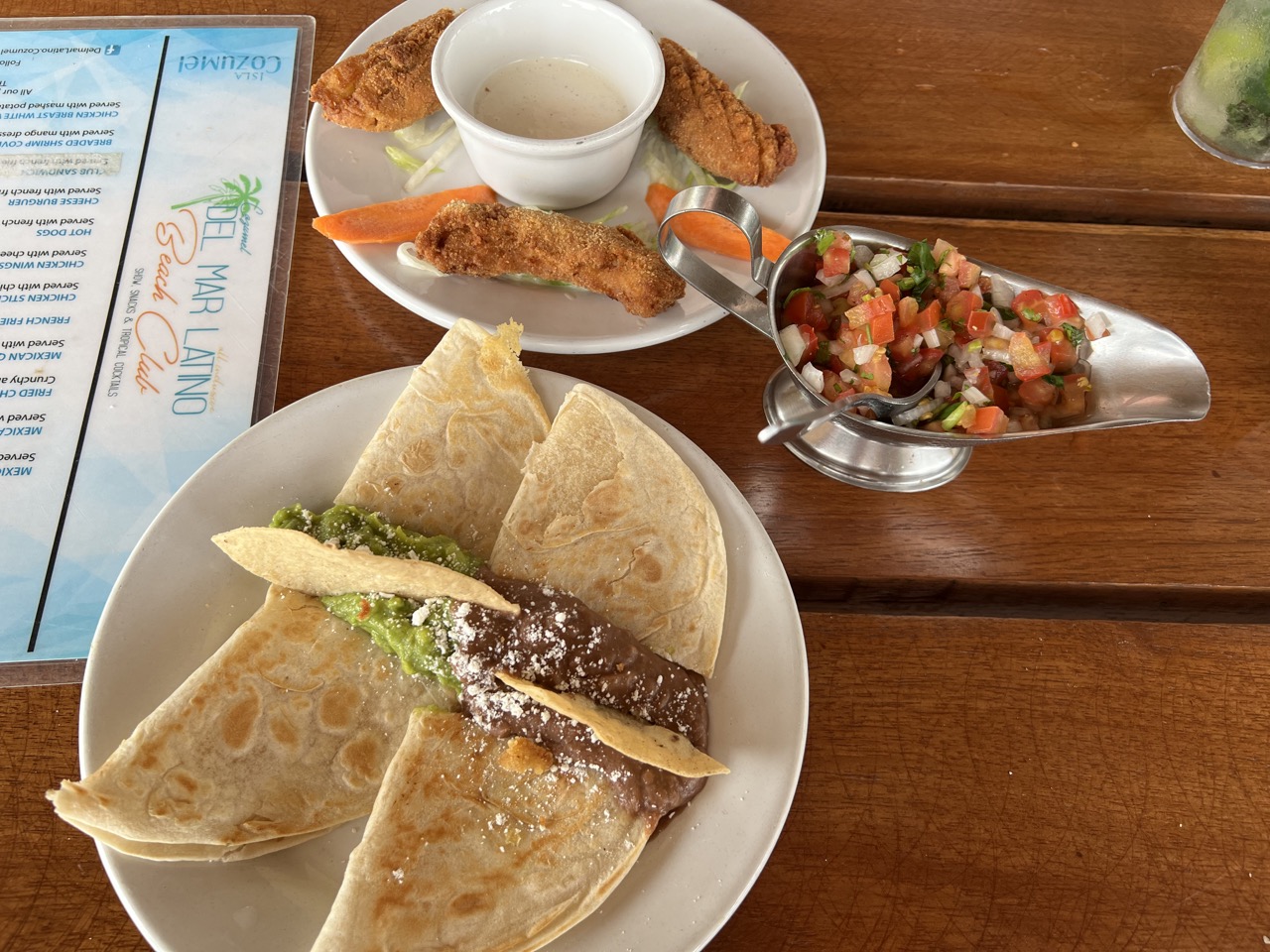 The only regret I have is not bringing a towel from the cruise ship. We thought these would be provided since we didn't see it mention anywhere to bring your own towel. They were available to rent for $5 but we just did an old fashioned air dry instead.
It was great that the beach club was limited to just 30 people. It never felt crowded and it had a quiet, laidback vibe. I loved how close the club was to the cruise port. There was another beach club we walked by on the way back to the ship that had a much louder atmosphere and many more people, which could be fun as well.
For the price we paid, we were super happy with the experience and I would definitely return in the future. If you prefer going to the beach, this probably isn't a great option for you because there's not a beach. There are stairs to access to the ocean but we didn't get take advantage of this.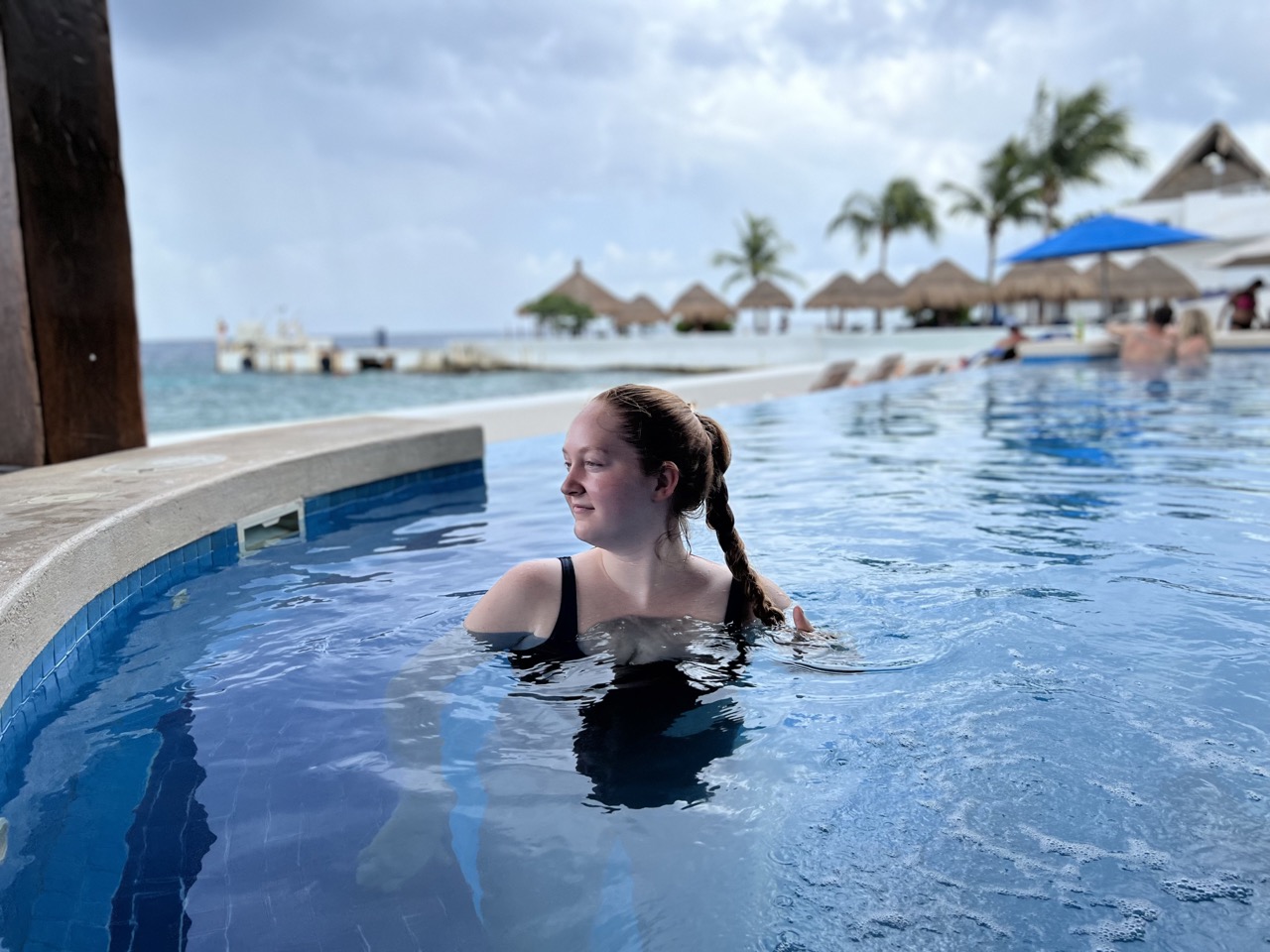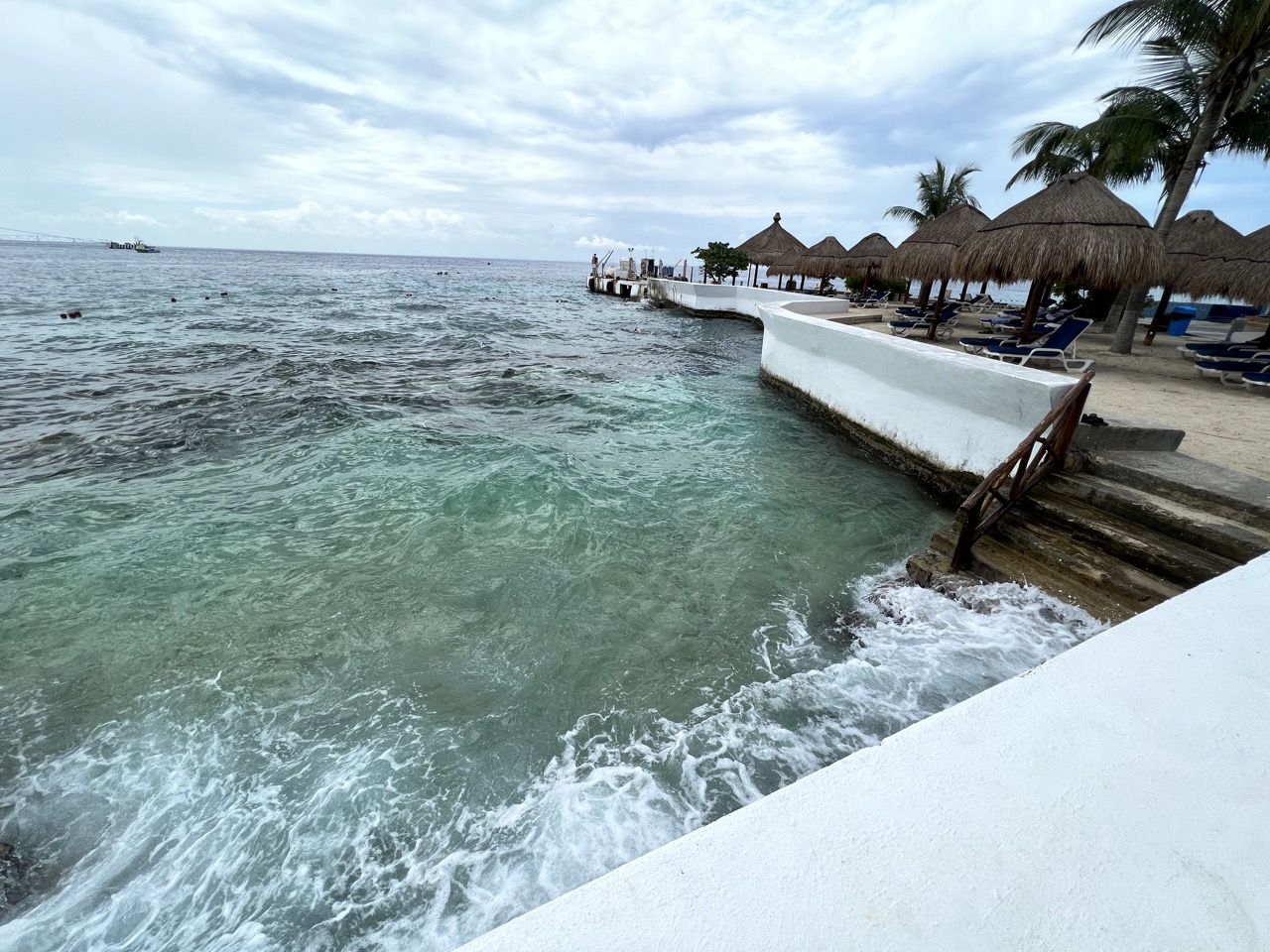 After spending about 4 hours at the resort, we decided to make our way back to the ship. Luckily, the rain cleared in the afternoon and we didn't get caught in any pop-up storms.
I decided to buy some cute little bottles of Mexican Vanilla to bring home and give as gifts in the duty free store.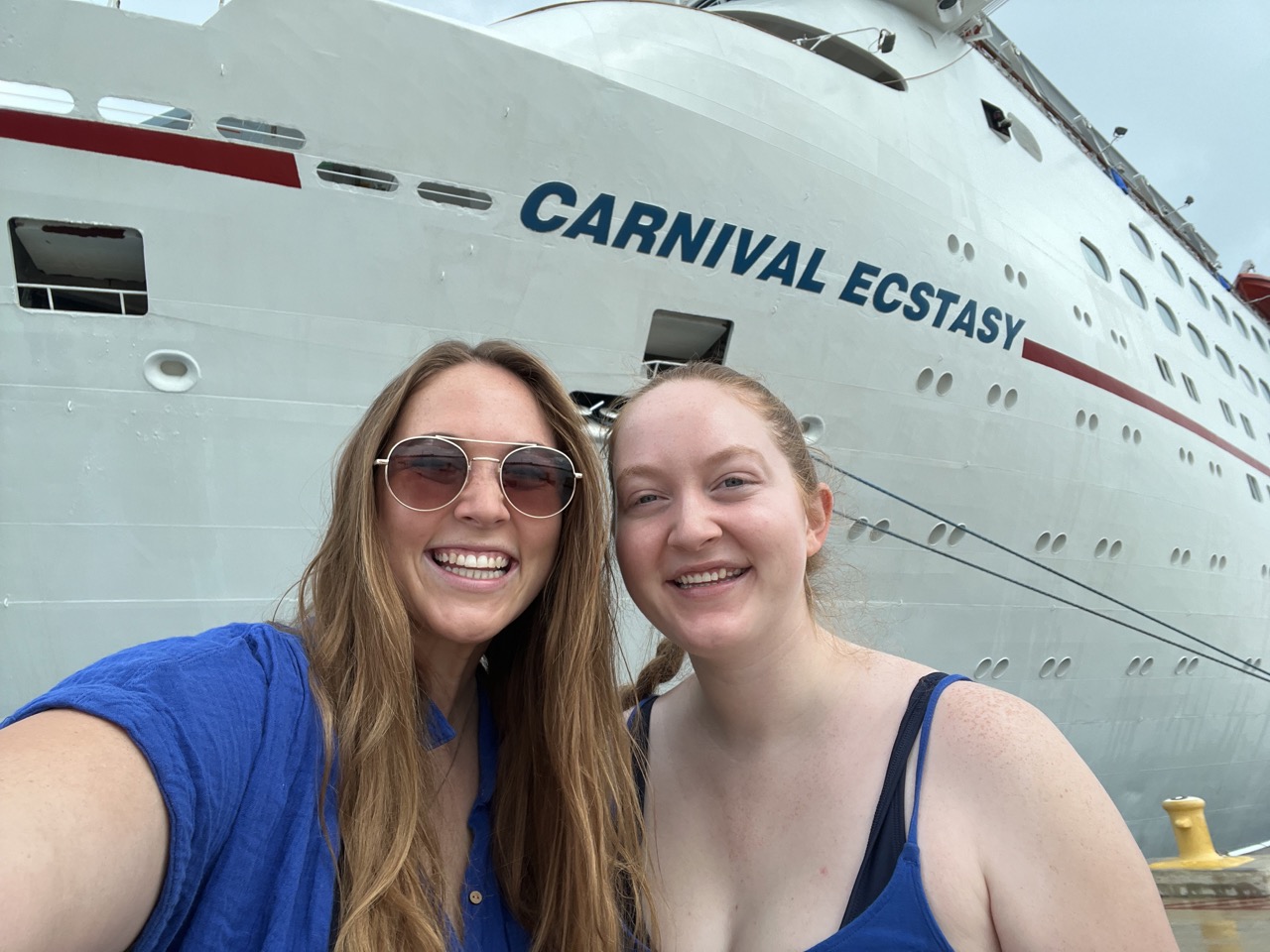 Back Onboard
Once onboard, I decided to take a nap while Angie worked on cruise blog social media content. There's something about taking a mid-day nap in an inside cabin after a fun day in port. Gotta love a room that can be pitch black at any time of the day!
As Carnival does best, there were multiple announcements during my nap. Most of them were calls for missing guests over the intercom. Apparently three people were almost left behind today - which is something I don't normally see when I cruise but doesn't surprise me with this crowd.
We were told by our dinner mates that they saw two people slumped over in a rickshaw/tuktuk, both who had to be escorted back on the ship. They also thought they saw the pilot bring out another passenger to the ship as we had barely left port.
During my nap, Angie tried out Music Trivia - she didn't prevail unfortunately with a 12/30 score. We are hoping to try more trivia tomorrow. It's nice they have themes that are definitely geared towards younger people. We've noticed themes like 2000s music, Harry Potter trivia, The Office trivia, Friends trivia and more. 
Although I could have kept napping, it was time for dinner so I rallied out of the bed and we were on our way.
Evening Onboard
Dinner tonight was delicious and service was much quicker, which we all appreciated.
It's a little hit or miss if our waiter brings us everything we ask for. I am sure they are understaffed, like most cruise ships these days, and he has two large tables. For instance, I ordered a caprese salad with my appetizers and didn't get it. This has happened both nights, but it's not a huge issue for us. No one's going hungry and everyone at our table is laidback, so no one makes a stink over it.
Angie and I both tried the BBQ flatbread for an appetizer, which we liked. Angie had the chicken wild rice soup and I tried the French onion - both good! For dinner, Angie had the creamy stuffed chicken and I had the lasagna. For dessert, the classic chocolate cake for me and apple pie for Angie. She didn't care for the apple pie but the chocolate cake is a home run every night.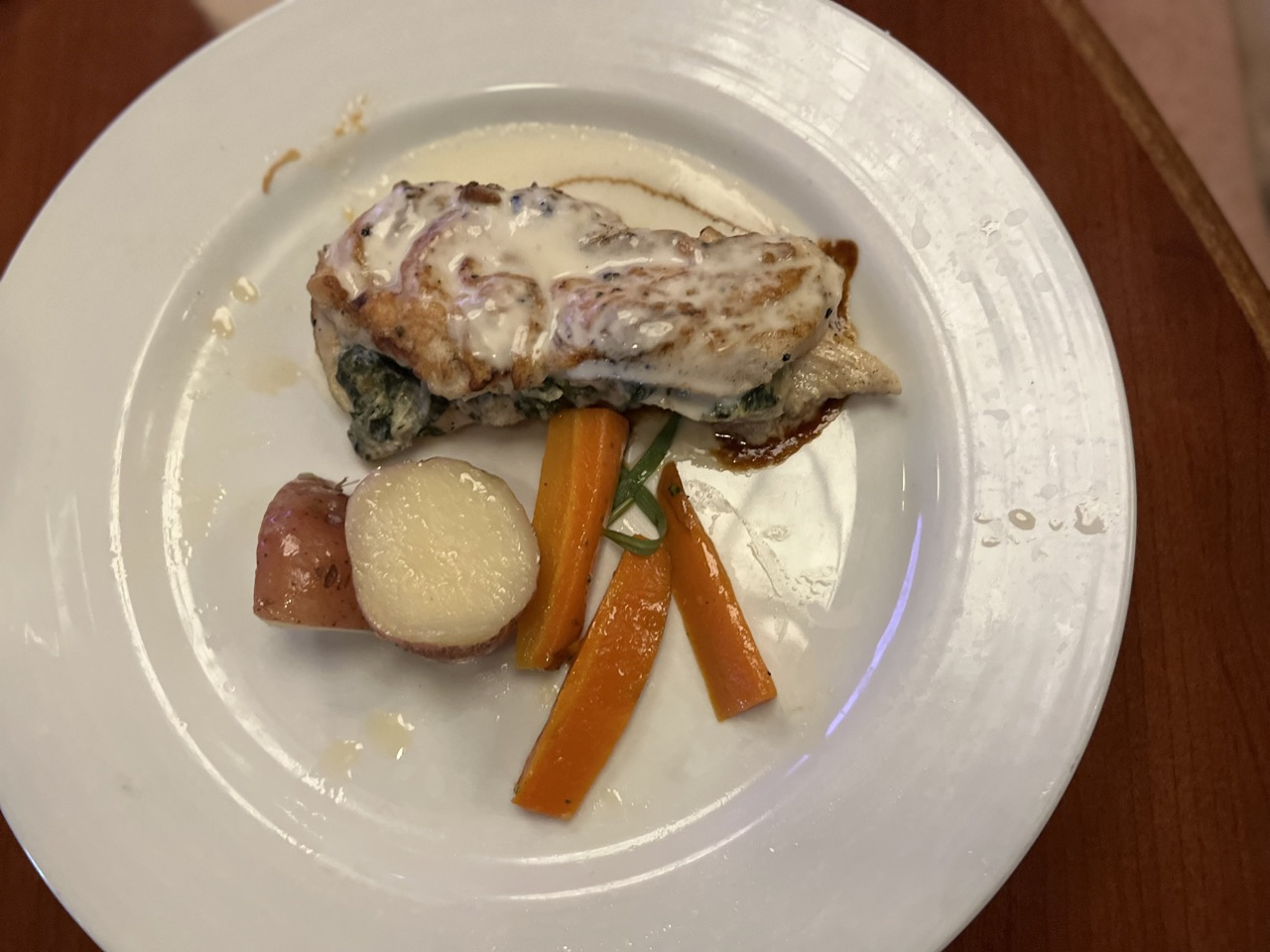 We ended the evening with a comedy show at Punchliner Comedy Club, which was much better than the previous nights. There's a new comedian who we really enjoyed, even for a family-friendly show. Also, rowdy granny didn't interrupt or make an appearance tonight so the show had a much better flow than the day prior. 
After the comedian, we made our way to the theatre for a classic viewing of the Love and Marriage game show. It was a riot with three couples who made it really fun.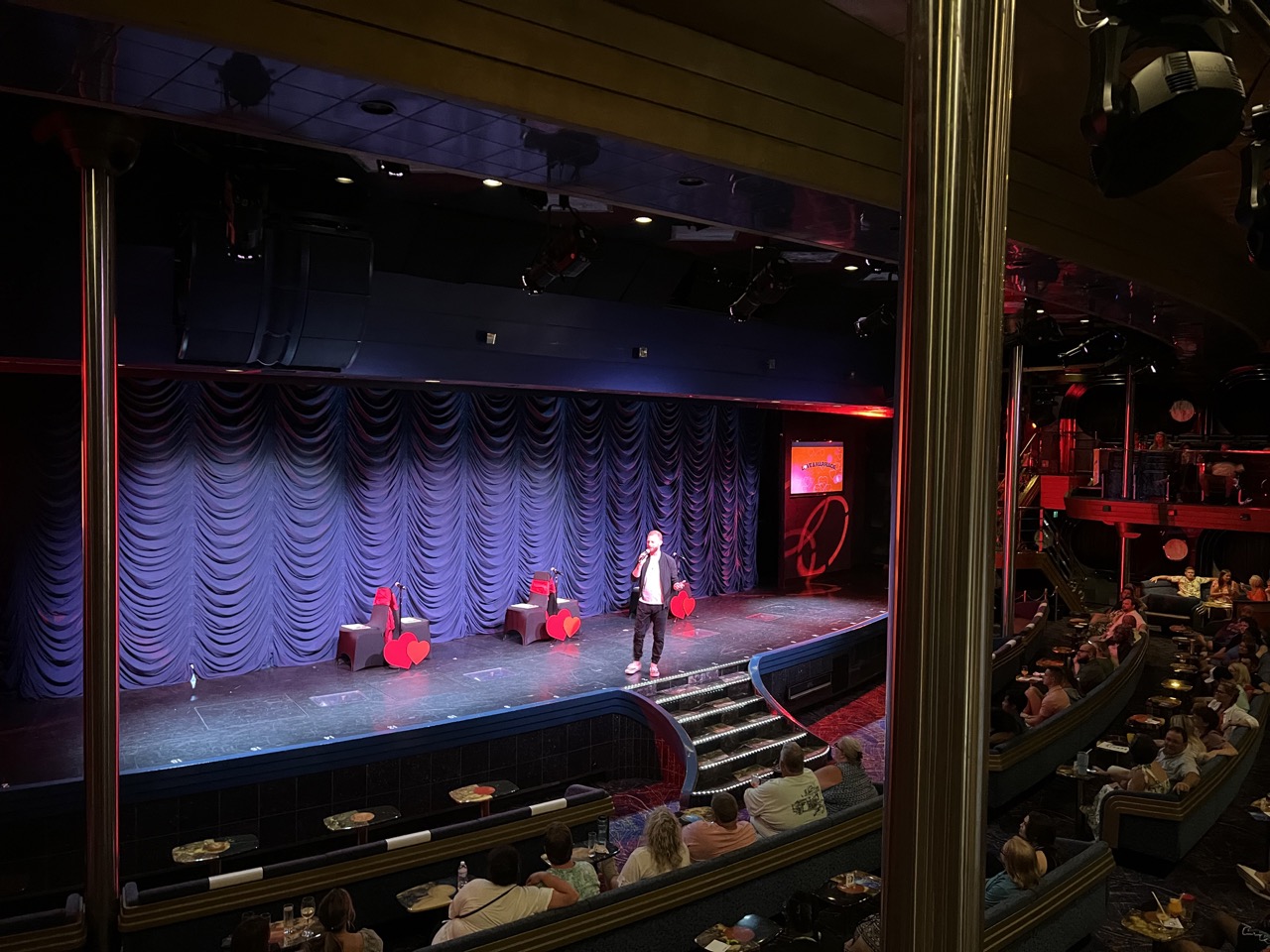 After the Love and Marriage game show, I came back to the cabin to get working on the live blog. Angie decided she wanted to go back to the adult's comedy show. She said they scanned cards to make sure everyone was over 18 to attend. The show was similar to the family friendly one with more colorful language. 
It's nice that Carnival cruises offer nightly comedy shows for both families and adults-only. I remember enjoying this on my last Carnival cruise and this is still one of my favorite nightly activities. 
Tomorrow, we are at sea and heading back to Mobile. Angie and I plan to go to Sea Day Brunch again because we loved it so much the first day. We have a busy day planned making sure we try everything the ship has to offer!
Stray Observations
Not that this is any kind of scientific metric, but Angie and I agreed that we haven't heard much coughing on this cruise at all. The dropped testing requirement was a welcome change for short-term cruises, but I wasn't sure if it would change the vibe onboard. I am always listening for coughing on cruises as an indicator of Covid-19 potentially spreading. But, we haven't heard much coughing, if any, at this point in the cruise. Hope this continues tomorrow and we stay healthy after returning home.