Cruising is one of the most unique vacation types one can choose to take. The aspect of boarding a floating vessel full of limitless entertainment, dining experiences, fun times, and gorgeous ocean views doesn't even scrape the service of what a cruise vacation can be. Traveling via cruise ship means you only have to unpack once. This is something we have commented on at least once a day, and have said how we find it incredibly helpful.
Going on a cruise means you don't need to plan transportation to any of your travel destinations, should you wish. Cruising means you never need to go searching for long, to find a delicious meal, as there is always one close by. Cruising is truly an all encompassing vacation. Guests can combine the best of both vacation worlds: traveling to multiple locations on one trip, with staying put and relaxing.
Image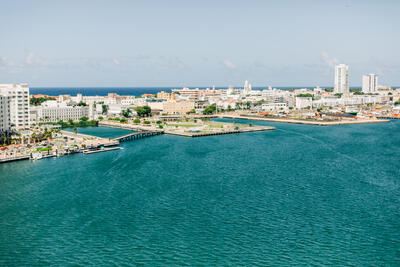 Our experience with Norwegian Cruise Line's ship the Norwegian Getaway has been extremely positive. Nearly every aspect of the cruise has met or exceeded our high expectations.
The atmosphere onboard is always electric with fun, as everywhere we look there are fellow passengers smiling, laughing, and having a good time. The Norwegian Getaway, in our opinion, has done an excellent job combining an atmosphere of sophistication and fun.
Many of the spaces indoors feature an elevated design and aesthetic, while spaces outside such as the pool deck, are vibrant with bright colors and lively music.
Image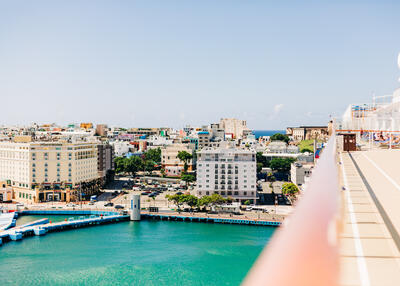 Another aspect of the Norwegian Getaway that I find charming, is the warmth of the crew members. Every crew member we have interacted with has greeted us with a smile and is always eager to help.
When the crew members ask how you are doing, they seem to genuinely care about your answer, and eager to engage in conversation. We have interacted with several crew members who have been incredibly kind, including our stateroom steward who knows and has remembered our names, and several servers at the different restaurants and bars.
We have started to memorize the layout of this ship as well, and I know that by the end of the week the Norwegian Getaway really will feel like a home away from home.
Image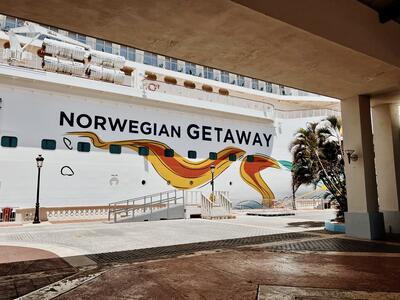 We began today's morning as usual in the Garden Cafe for the morning buffet. Once again we sought out a window seat to enjoy our meal by, and were rewarded with a view of the San Juan harbor.
We immediately noticed that San Juan is a large city, much larger than our previous destination, St.Thomas, and that it has an atmosphere all its own. Puerto Rico is a vibrant island, brimming with its own culture and landscape to explore, and I was excited that I would get to visit such a destination on this Norwegian Getaway itinerary.
Image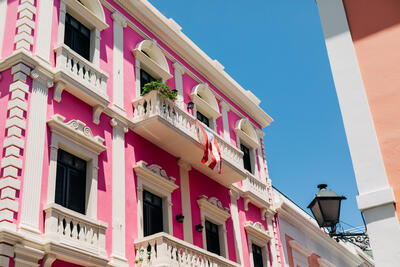 We noted that the all-aboard time for today was relatively early, at 2:30pm. Because of this we ate breakfast rather quickly in order to make the most of our day in this port of call. We made our way down to Deck 4 to disembark the Norwegian Getaway for our adventure in San Juan.
Once again, we had no lines to go through while disembarking, and the process was very easy. Something to note, when guests exit the ship for a port of call, they must bring with them their stateroom key card and a form of photo ID, these things are required to exit and enter NCL ships at destinations and ports of call.
Image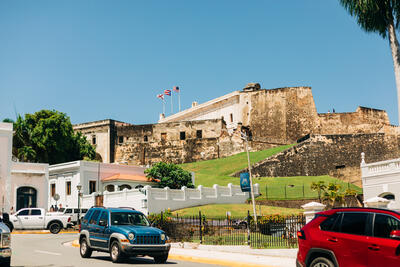 The cruise port in San Juan is the most substantial we have come across so far on this trip. There is a full terminal, and large covered walkway that leads out into the town. We made note that this area was also not crowded at all.
Immediately exiting the cruise terminal we were greeted by colorful buildings and the bright sunshine of Puerto Rico. An iconic 'I love PR' statue sits just outside the cruise terminal. In 2017 hurricane Irma and hurricane Maria hit Puerto Rico with devastating effect. The people of the island came together, and choose to install the 'I love PR' statue in dedication to the Puerto Rican people's strength and ability to band together, to build up their community.
This spot is a popular photo spot, and we naturally had to take a photo here as well to commemorate our time in San Juan with Norwegian Getaway.
Image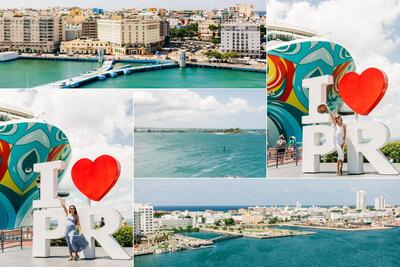 We did not have an official shore excursion booked for this day, but I had done some research prior to our voyage with Norwegian Getaway, and made a self-walking tour of sorts.
We started by making the 30 minute walk from the cruise port to the old fort in San Juan. Castillo San Felipe de Morro is the name of the famous fort that dominates the scenery of San Juan. Construction on this old military fort began in 1533, and therefore has a lot of historical significance for Puerto Rico. The fort was built by the Spanish when they governed in Puerto Rico, and the architecture of the fort, and of the buildings in old town San Juan reflect their Spanish heritage beautifully.
Image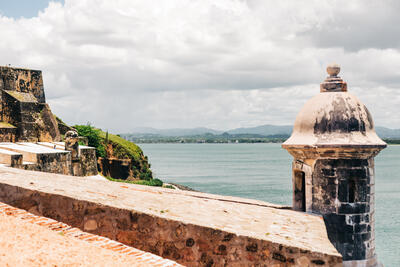 The fort has expansive grounds surrounding it, which are free for people to visit. The fort has been designated as a United States national park. Entrance into the fort itself costs $10 for adults, and is free for U.S. military members and their families.
The fort is very large, and I would recommend dedicating at the very least one hour to this historical location.
This location additionally offers beautiful views of the island of Puerto Rico, and the Caribbean Sea beyond. We stayed at the fort for about an hour, reading some of the many informational signs and exploring the sights of the expansive complex.
Image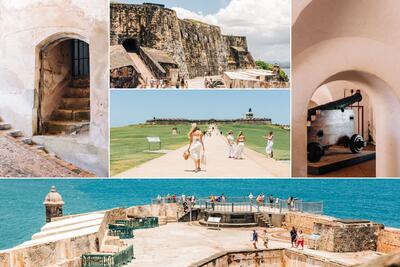 Castillo San Felipe del Morro is to the very left of the cruise terminal as guests walk out into San Juan. We decided to make our way into the center of old town San Juan, and towards the next location on our self-guided walking tour.
From the fort it took us about 10 minutes to reach Catedral Basilica Minor de San Juan Bautista, the second oldest cathedral in the Americas. The basilica was constructed in 1540, around the same time as the old fort. It dominates the surrounding city blocks, and is beautiful in both its exterior and its interior.
Walking in this direction took us back towards the Norwegian Getaway, and into the center of old town San Juan.
Image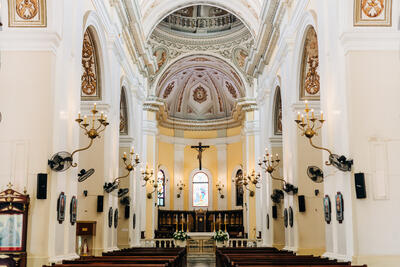 After visiting the cathedral, we walked through the remaining of the San Juan old town. We marveled at the colorful buildings, and commented on how we felt as though we were living in a Pirates of the Caribbean film.
As we walked through the various tree-lined squares and terraced buildings, we stumbled upon an establishment by the name of The Poet's Passage. This location was a venue and shop for artists, and featured a small, free museum of art and poetry from local Puerto Rican artists.
We really enjoyed this accidental find, and recommend it to anyone visiting Puerto Rico on a cruise! This stop felt authentic to the destination, and travelers are sure to walk away with a locally created souvenir.
Image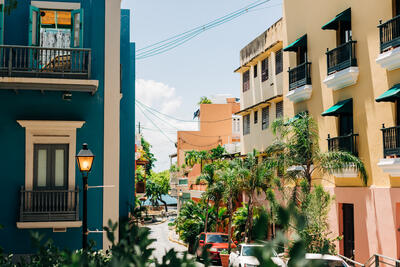 By this time, it was nearly 2:30pm, and time to board the Norwegian Getaway for a relaxing and beautiful afternoon sailing the Caribbean Sea. We stopped by our stateroom to quickly freshen up (it was a high of 91 degrees today in San Juan!), and then went back out onto Deck 8's The Waterfront, to sit and watch as we pulled out of San Juan harbor.
We chose some very comfortable seats near the Sugarcane Mojito Bar. This was an excellent spot to watch a sail-away on Norwegian Getaway and I highly recommend the Sugarcane Mojito Bar's outdoor seating area, it offers a great setting for watching the late afternoon sun or sunset reflect of the waves made by the Norwegian Getaway.
Image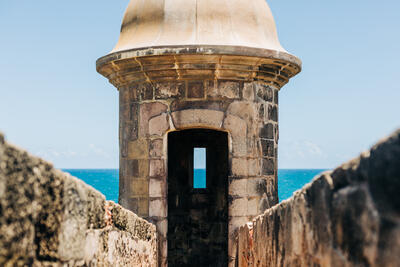 Once we reached open ocean, and Puerto Rico was in fading into the distance, we headed back inside to do some work for the blog (including this update!). We decided to visit the Garden Cafe during this time, as they were serving snacks, and we had not yet eaten lunch.
As with the late-night snacks, the Garden Cafe has lots of options for hungry guests to choose from. The buffet does not operate at full scale during snack times, as it does during normal meal times, but I think that it still offers a pretty decent amount of food choices. I chose a fruit salad, smoked ham mini sandwich on pretzel bread, and a cup of tea.
Image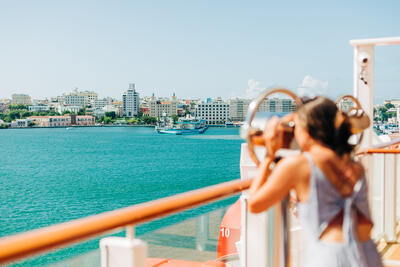 The Garden Cafe onboard Norwegian Getaway also offers a good option for anyone wishing to hangout, grab a quick bite of food, or sip a cup of tea or coffee, while watching the waves roll by. I am pleasantly surprised by just how many places offer comfortable seating and areas to just relax and enjoy the atmosphere of being on the ship.
After taking some time to work for a couple hours, it was 6:15pm, and time for our dinner reservation at Teppanyaki! Teppanyaki is a specialty dining location onboard Norwegian Getaway, that offers Hibachi-style food and atmosphere. The restaurant has a Japanese aesthetic, and guests are greeted by a cherry blossom dragon as they enter the venue. This specialty dining location is not complimentary in the base price of the cruise. Dining at Teppanyaki will be an additional cost for most guests onboard Norwegian Getaway, unless they have the specialty dining package.
Image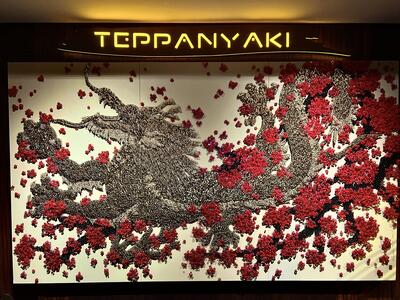 We were seated with three couples around a semi-rectangular table, and awaited the arrival of our chef as our food orders were taken down. This restaurant has a fairly simple menu, two specialty cocktails, two appetizer choices, several standard forms of protein (chicken, beef, and fish), noodles, and two dessert options.
Guests are instructed to choose one item from each course category. All entree selections come with fried rice, grilled vegetables, and two sauces (a ginger garlic sauce, and a Japanese-style honey mustard sauce). We both choose the Miso Soup for our appetizer, which was tasty, and resembled a classic miso soup. For our entrees, we ordered the Seafood and the Chicken Udon Noodles.
After ordering, our chef approached the cooking tabletop, and introduced themselves with a joke saying, "everything in this place is Japanese, except for me". Our humorous chef stated that they are from the Philippians.
Image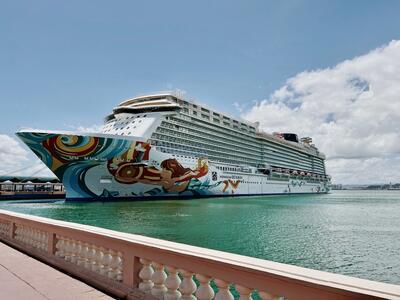 For those who have never been to a Hibachi-style restaurant, it is essentially dinner with a show, featuring Japanese and other Asian cuisine.
Each table is assigned a talented chef who can not only cook very well, but also is skilled in cracking jokes, and often times juggling! After introducing himself, our chef quickly launched into an impressive display of throwing, spinning, and juggling his cooking utensils on the large cooking surface in the middle of the large table.
Our chef did this all while talking, delivering jokes, and interacting with each of the individuals sitting at our table. Hibachi tends to bring people together, as everyone is laughing in their shared experience. The tables at Teppanyaki sit up to eight people, and unless you are apart of a group that size or larger, you are guaranteed to be seated with other guests.
Image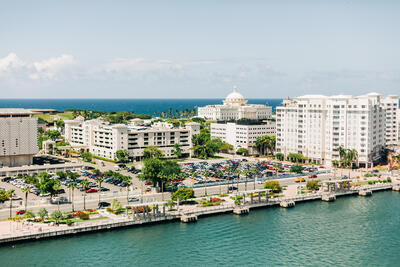 The food prepared by our chef was delicious, and we quickly agreed that this was one, if not the, most favorite dinner we have had onboard Norwegian Getaway thus far. All of the food was cooked to perfection, and the flavors powerful and yummy.
Our chef was also a skilled singer, and occasionally broke out into song at various times. If you are someone looking for dinner alongside a little entertainment, and don't mind sitting and chatting with new people, I would highly recommend Teppanyaki as a specialty dining option while onboard Norwegian Getaway.
Image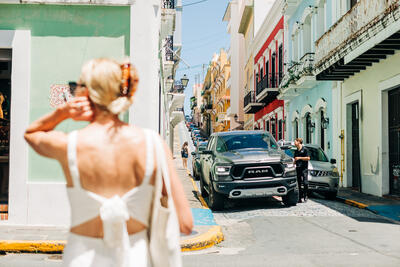 After we finished dinner, our dessert was delivered. We both chose the Green Tea Cake, and to our delight it was amazing. The cake was soft, and loaded with green tea flavor. The cake came with a small scoop of vanilla ice cream, and a nut brittle on top. This has been my favorite dessert onboard the Norwegian Getaway so far, and I wish that I was able to have it every day!
We were very satisfied with our dinner choice of Teppanyaki, and I would recommend this restaurant to anyone looking at going aboard Norwegian Getaway.
Image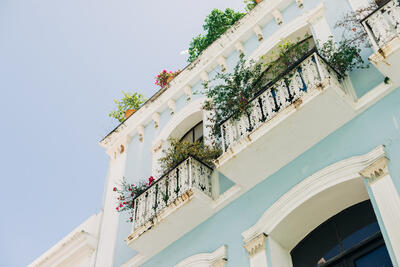 After dinner, we went back to work for a little while, and this time chose to work near the Starbucks cafe onboard. The Starbucks onboard Norwegian Getaway, offers comfortable chairs, tables, large floor-to-ceiling windows, and charging outlets for guests to use. This location is close to the main Atrium onboard, where the cruise director often hosts games such as Deal Or No Deal, and the Newlywed Game. I enjoyed working on the Norwegian Getaway Live Blog while listening to the laughter and enthusiasm of the guests playing Deal Or No Deal in the background.
Image
At 9:30pm one of the stand-up comedians onboard was hosting their 18+ years comedy show in the Norwegian Theater, and we agreed this would be fun to watch. The show lasted for about 40 minutes, and the entire audience seemed to be engaged, laughing, and enjoying themselves. The comedy shows onboard seem to be quite popular, as when we arrived at 9:25pm for the show, the whole theater was packed, and there were not too many seats left available. For good, close-up, seats to any show onboard the Norwegian Getaway, I recommend arriving at least 10 minutes early to the show's starting time.
Image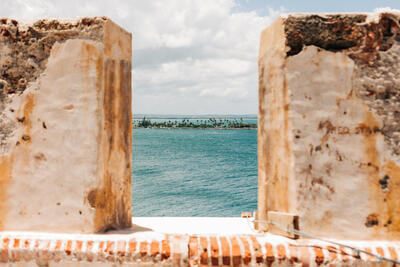 The comedy show was funny and had us laughing along to the jokes easily. I would caution though, that when Norwegian Cruise Line says their 18+ years comedy shows are for 18+ year individuals, they mean it. The comedians also host PG-13 shows earlier in the evenings most nights. The audience seems to be excited and eager to be involved in these shows, and many times throughout the performance, the comedian was making jokes at certain audience member's expense, all to the hilarity of the other spectators. We plan on attending at least one more comedy show before the end of our voyage onboard Norwegian Getaway.
Image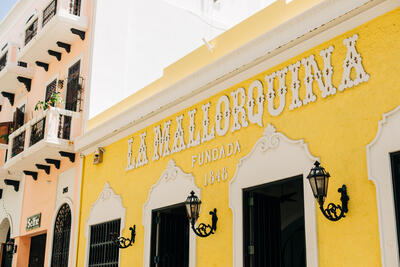 It is now about 11:30pm, and I am finishing this live blog back in the Atrium on Deck 6. There is currently a late-night movie being played on the jumbo screen, today it is Downton Abbey: The Movie. So far, every night, the Norwegian Getaway plays a late-night movie in the Atrium. They seem to be attended at various degrees of popularity. For example, last night when we passed by, there was hardly anyone sitting in the comfortable large lounge chairs. Tonight, there are plenty of people sitting, chatting, enjoying a drink from the nearby bar, and watching Downton Abbey as it plays in the distance on the jumbo screen.
Image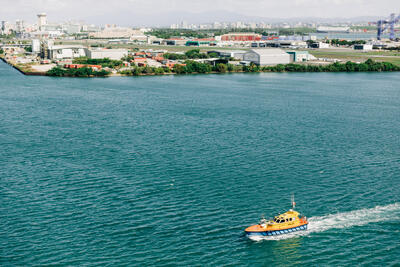 The overall atmosphere of the Norwegian Getaway, is that people like to have fun, but it is not what I would deem a party ship. There are plenty of dance parties, and later-night events that take place, but usually by 1:00am, the Norwegian Getaway is mostly quiet, as guests slumber and prepare for the next day.
Image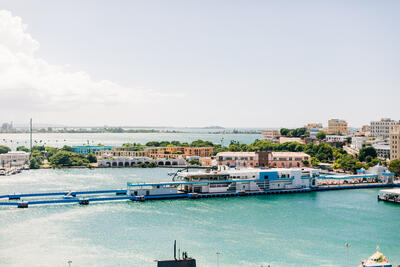 Our day in San Juan, Puerto Rico was wonderful! I have a whole new appreciation for cruising in this region. I commented today, that I think someone could return to these locations and ports of call with NCL multiple times, and still find new and very exciting things to see and do, both onshore and on Norwegian Cruise Line's vessels while sailing the Caribbean.
Image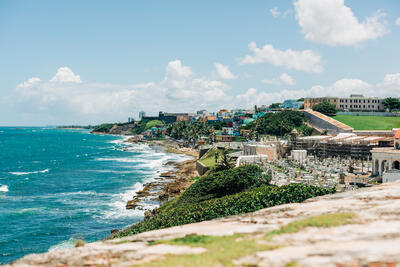 Tomorrow we will be visiting Amber Cove, in the Dominican Republic.
This will be a rare and unique opportunity, as Amber Cove is not only one of the newest ports in the Caribbean for the cruise line industry, it is also Carnival Cruise Line's privately owned island. Normally, only cruise lines owned by Carnival Cooperation can visit this location. Therefore, I am interested in checking it out and seeing what this destination has to offer its guests.
I am also interested in seeing how it compares to our visit of the other private island we visited on this itinerary, Great Stirrup Cay. Thank you to all who take the time to read these Live Blogs, I hope they bring a hint of the Caribbean to your day!
Until tomorrow's blog, smooth sailing!