I just got back from my first cruise with Norwegian Cruise Line, and my first cruise in almost 10 years.
I was excited to experience what it would be like sailing with a new-to-me cruise line. This was also my first time on a cruise sailing as an adult, and planning my own trip. I had a lot of learning to do, and I am excited to share some of my experiences.
The week was filled with new and exciting adventures exploring everything the Norwegian Getaway had to offer its guests. I am happy to report that I had a wonderful trip, learned a lot, and have a few tips and tricks to share regarding my voyage with NCL.
#1 - To check or not to check, that is the question
Image
When going through the boarding process on embarkation day, I quickly realized that I was in the minority when it came to not choosing to check my luggage. Our prescheduled boarding time was at 11:00am, and we arrived right on time. Because we had finished the online check-in process prior to arriving at the cruise terminal, the physical check-in at Port Canaveral went quickly and efficiently. We found ourselves onboard at about 11:30am. However, we quickly found out the hard way, that the passageways to the staterooms were all blocked, and that all of the guest cabins were still being prepared. Because of this, my travel companion and I had to carry and cart around our luggage for the following couple of hours until our room was ready.
This was not too big of hinderance, as we spent the time familiarizing ourselves with the ship's main lunch spot, the Garden Cafe. This buffet venue offered plenty of seating, and made for an easy spot to grab some lunch, while our bags remained out of the way. We noticed that a majority of our fellow passenger had chosen to check their luggage prior to boarding. This means that they gave their luggage to crew members during the check-in process at the port, and that a few hours later, once the staterooms were ready, their bags would be waiting for them outside their doors.
The staterooms were available about three hours after we boarded, around 2:00pm. While it was slightly annoying to have to wheel our bags around, it was not the end of the world. If you are someone who wants to explore or participate in activities onboard right away, and not be limited by baggage, I recommend packing one small bag with necessities, such as a phone, camera, swim suit, cruise documentation, and then checking the remainder of your bags. Something to remember, that it is encouraged that guests tip the crew members who deliver their luggage.
If you choose to carry-on your own luggage, I can assure you that there is plenty of seating areas onboard and places to enjoy the ship while waiting for the staterooms to be ready.
#2 - Room key? Or key to your cruise universe?
Image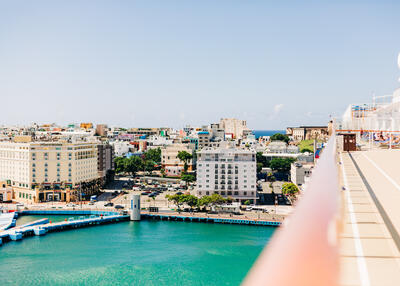 Your NCL stateroom keycard is essential for not only access to your cabin, but to make any purchases, reservations, or to re-board after a port day. Your stateroom keycard will quickly become your constant companion once you board your cruise.
The stateroom keycards are the only accepted form of payment onboard Norwegian Cruise Line ships. While checking in online before your cruise, NCL will ask for a credit card (or debit card) to hold on file. This method of payment will be linked to your account, and therefore to your stateroom keycard. During your cruise, you will use your keycard to purchase items such as alcoholic beverages, specialty dining, souvenirs, etc. At the end of your voyage (approximately 48 hours) you will receive a detailed invoice to your email describing your onboard purchases. From there, NCL will be charge the credit card guests had on file for all onboard purchases.
This is a convenient way to pay for items onboard, however, be careful not to fall too far into the fun of it all and wrack up a big bill at the end of your cruise! Just remember, that every time you hand over your stateroom keycard, it is the same as handing over any other form of payment.
Stateroom keycards are also used to make many types of purchases onshore at Norwegian Cruise Line's private island, Great Stirrup Cay. I recommend bringing both your stateroom keycard, credit card, and photo ID onshore to Great Stirrup Cay.
Your keycard is essential for identification purposes onboard. Stateroom keycards will be used to identify guests when they disembark and re-board before and after port days. Keycards will also be used to identify guests when making reservations at both the complimentary and specialty restaurants onboard NCL ships. Because the stateroom keycards are so important, it is a good idea to have them on your person at all times. We noticed many guests wearing lanyards while onboard. This is a good idea to keep your keycard close by, or a small bag or purse may be a good idea as well.
#3 - Port-side for a short time but a good time
Image
While on our sailing with Norwegian Getaway, we docked at four ports of call: Great Stirrup Cay, St. Thomas Virgin Islands, San Juan Puerto Rico, and Amber Cove Dominican Republic. Each port we visited the ship was docked for approximately 7 hours. Guests were typically allowed to disembark around 8:00am, and the all-aboard time was usually about 2:30pm each port day. Most guests seemed to disembark around 10:00am, giving most guests about 4 and a half hours to explore that day's destination.
This may seem like a short amount of time to explore, and it did feel like it at times. My recommendation, is to do some research ahead of your sailing to see which places you will be visiting on your itinerary, and to see what the area offers in terms of sights and attractions. For example, I did some research before we docked in San Juan and discovered that this port of call boasts a beautiful, and very old military fort from the 1530s. We made visiting this site a priority while in San Juan. While we wished we could have spent even more time in this port of call, we still felt like we made a great use of our time since we had made a plan for the day ahead of time. By the end of our few hours in San Juan we were excited to re-board our floating home at sea.
#4 - Shipboard adventures
Image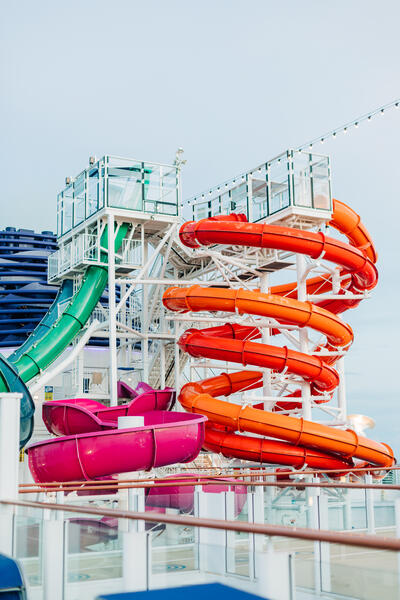 The Norwegian Getaway had much more to offer its guests than it may appear initially on the app or online. There are plenty of unique attractions onboard that offer guests new experiences they may have never had before on a cruise ship. We discovered that some of the best times to visit these venues is during the afternoon of port days.
For example, the Skyy Ice Bar onboard was one of my favorite things that is unique to NCL Breakaway class ships. We chose to visit this location during our first full day. We spent the morning and afternoon visiting NCL's private island, Great Stirrup Cay, and then once back onboard in the evening, we made our way to the Ice Bar. We were pleasantly surprised to discover that we were the only ones inside during the time we chose to visit. The crew member inside told us that often times, on port days, many guests are tired from their excursions or spending the day in the sun, and tend to spend the remainder of the day back onboard resting and relaxing.
This seemed to be true later on in our voyage as well. On our last port day visiting Amber Cove, we discovered that hardly any guests were using the water slides onboard and we were able to ride the adrenaline pumping Free Fall slide multiple times, back-to-back, with no line.
On our last day of the sailing, we had a Sea Day. We had not yet participated in the Ropes Course, which is another unique experience onboard the Norwegian Getaway, so we decided to try it out that afternoon. Luckily we made it to the Ropes Course right when it opened, but shortly after, we noticed a huge line that wrapped around the entrance. It seemed that activities such as the water slides, Ice Bar, and Ropes Course, were much busier on Sea Days. This is something to keep in mind when planning your cruise vacation!
#5 - Same menu, different atmosphere
Image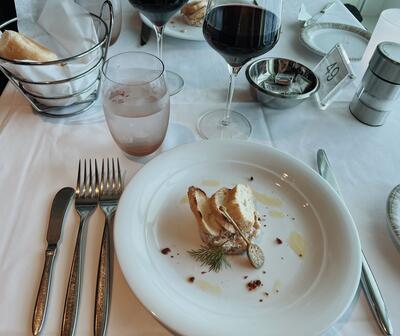 We quickly discovered that the menus at all of the complimentary dining rooms onboard the Norwegian Getaway were exactly the same. All of the dining rooms featured the same classic dishes served each day. As well as a rotating specials of the day menu. While this portion of the menu changed everyday, it was the same food served at each complimentary restaurant.
The main difference between the complimentary dining rooms was the atmosphere and decor. Savor featured red decor, while Taste was extremely similar but featured blue decor instead onboard the Getaway. We ate at every complimentary dining room throughout the course of our cruise, and while the menu was the same at each venue, I still recommend switching it up and visiting each dining space if you can.
#6 -  Box Office = one stop shop
Image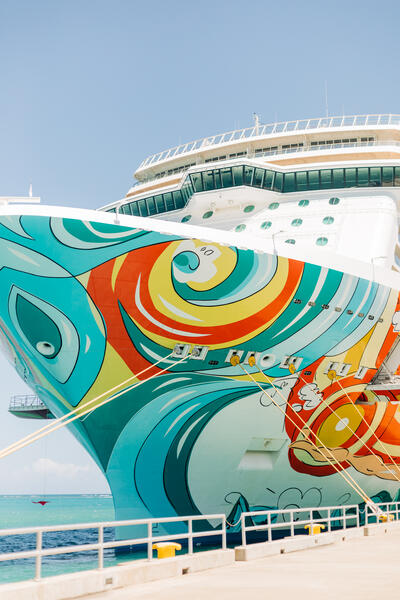 We accidentally discovered on embarkation day of our sailing, that the Box Office was an important place to visit first thing once onboard. We knew we needed to visit this location in order to reserve the times we wanted to watch the complimentary entertainment, however while we were there, the helpful crew member also informed us that we could also book our tender time for our visit to Great Stirrup Cay the next day, at the Box Office.
This was extremely helpful, because in one conversation we were able to reserve our complimentary entertainment as well as tender time for Great Stirrup Cay. We were able to secure an 8:00am tender time for the next day. Later on, we discovered that guests who did not stop by the Box Office, were automatically assigned to the very last tender group, which departed the Getaway for the island at about 11:00am.
I definitely recommend stopping by the Box Office on embarkation day to check if there is any complimentary entertainment, shows, or tenders that you may need to book before they fill up for your sailing. Onboard the Norwegian Getaway, guests can locate the Box Office just outside the main theater.
#7 - Bored? Never. Too much to see? Maybe
Image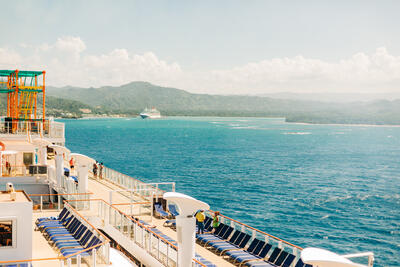 When first looking at all the offerings onboard, it might look like guests would be able to experience everything the ship has to offer during a Sea Day, and absolutely during two Sea Days. However, we found out that is just not the case.
We had two Sea Days on the Norwegian Getaway on our sailing, and even with all of that time there is still things we could have explored that we didn't get to on this trip. For example, we didn't stop by Syd Norman's Pour House, the rock-n-roll themed bar and lounge on the Norwegian Getaway. This is a popular venue featured on many NCL vessels, and if I have the privilege of sailing with NCL again, I am going to made this spot a must-visit!
I had never experienced a day at sea with NCL, so going into our voyage I didn't know what to expect. By the end of the voyage, I had come to the conclusion that I think it would be impossible to be bored during a day at sea with NCL. There are just too many activities going on, entertainment options, and areas of the ship to explore. Its more likely, that on disembarkation day you'll find yourself wishing you had experienced something that maybe you missed out on this time around.
#8 - Plenty of room to feel at home
Image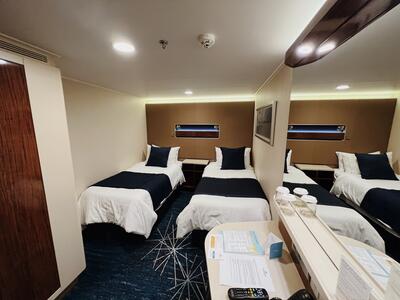 The first thing I noticed when we entered our stateroom for the first time was just how spacious it was. There was so much storage that we could not have filled it all if we tried. Our standard indoor stateroom onboard Norwegian Getaway included a large closet with plenty of hangers and large shelves, substantial under-bed room for luggage, two night stands with shelving, a desk area, and an ottoman chair which opened up for even more storage.
Guests will have no problem completely unpacking their suit cases on the NCL Breakaway Class ships! There is even ample storage in the bathrooms. Our indoor stateroom bathroom included substantial vanity space around the sink, shelving above and below the mirror, and two small shelves inside the walk-in shower.
The spacious room helped us feel very much at home while sailing with NCL's Getaway. There was no pesky living-out-of-a-suit-case on this trip!
#9 - Excursion? Or explore on your own?
Image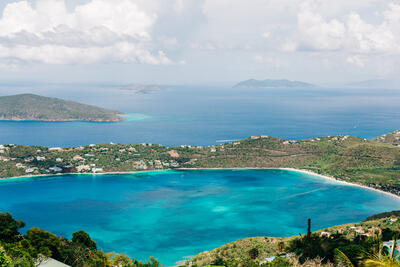 We embarked on one shore excursion with NCL while on our cruise. The name of our excursion was 'Discover St. Thomas & Magen's Bay'. This is the first time I had been on a shore excursion with NCL, and I was interested to see how they go about the process. The first thing I noticed was that Norwegian Cruise Line partnered with a local tour company to conduct the excursion. We were taken by open-air bus to several different locations across the island of St. Thomas. This excursion was nice because it made our transportation to these places much easier and efficient than if we had tried to organize something on our own, potentially. We were able to visit both the highest point on the island, and one of the most renowned beaches, Magen's Bay.
While I would recommend our chosen shore excursion to anyone unsure of how to get around the island, or would like the simplicity of NCL planning your port day, those who desire more freedom at ports of call might consider not booking a shore excursion. Not booking a shore excursion would allow a guest to have the freedom to walk around the port city, and take their time at locations.
On our excursion we had a time limit at each stop, with a scheduled meeting time to depart for the next destination. This helped the whole day feel organized, and efficient. I liked our chosen shore excursion because I felt it offered a good amount of guidance, while still being able to do some exploring on our own at locations, such as beautiful Magen's Bay.
Shore excursions range in activity type, time frame, and ability. I highly recommend taking a look at the offerings for a booked sailing, before embarkation. Whether or not to book a shore excursion will be up to the individual guest, but taking a look at the offerings hosted by NCL should be something that every guest does before their trip. As some shore excursions sell out in advance and are quite popular.
#10 - Take the time to make memories
Image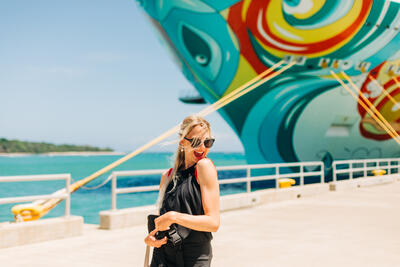 Going on any cruise vacation is an excellent opportunity to make memories of a lifetime. Cruise sailings make the perfect setting for families, couples, and friends. From my experience with NCL aboard the Norwegian Getaway, I can confidently say that there was plenty of activities and experiences for people of all ages onboard.
There can be so many activities and happenings onboard, but I would recommend to slow down every once in a while, and take in the fact that you are on your cruise vacation! One of the evenings of our voyage, we took the opportunity to walk The Waterfront (the outdoor deck space aboard NCL ships), and watch the sunset. The ocean views were some of the most incredible I've ever seen, and this relaxing moment really showed me how spectacular cruising is!
I had an incredible time documenting the journey aboard the Norwegian Getaway, and it is my hope that some of the things I learned can be helpful to prospective guests of Norwegian Cruise Line! Wishing you a smooth sailing!