Today is our first sea day, as we leave the Bahamas behind and head southwest toward Mexico and our next port of call in Cozumel. 
A sea day is a perfect time to leisurely explore the ship and enjoy some more of the sunny weather we have been blessed with to date. 
So far, I have very much enjoyed my cruise on MSC Seashore and am eager to try out some new spots onboard, as well as relax.
Here is how I spent my day. 
Morning activities
Image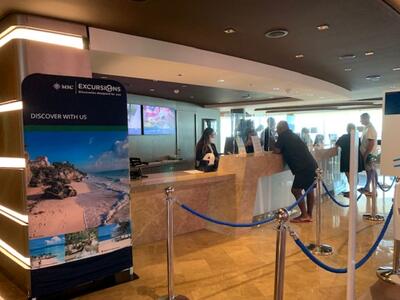 I thought perhaps I would try the main dining room for breakfast; however, the captain announced that the clocks went back an hour as we travel west, so I was far too early for that option. I visited the Marketplace Buffet and tried out some tasty blueberry pancakes.
After, I strolled around a bit, noticing the calm waters as we passed Cuba, close enough to see some buildings and later some mountainous areas. The weather was fantastic with clear blue skies and quite hot even in the morning.
I also took advantage of this time to book a shore excursion for our port stop in Roatan. The representative mentioned that MSC Seashore does not usually stop there, so she wasn't that familiar with the tour details. I can't imagine the planning and logistics involved with changing a cruise itinerary on a day's notice. So many people needed to make changes, and I could tell it has been a tough time for the staff.
Thankfully, my previously booked excursions were already refunded to my account, and everything was in good order for my upcoming days.
Lunch / afternoon
Image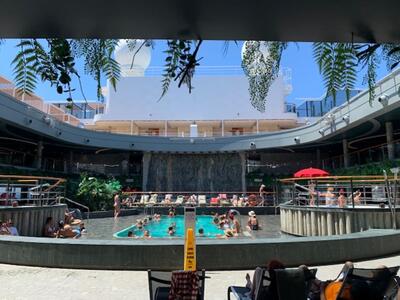 Being a sea day, the ship is naturally more crowded. MSC Seashore does not have a large expansive open pool deck but rather is sectioned off in places. The main pool area on the 18th deck was very crowded, with little room to maneuver in some areas; and not a single chair to spare. The jungle lounge and pool are part of an open-air area and has a much more chill vibe, with mostly adults relaxing in the green tropical setting.
Image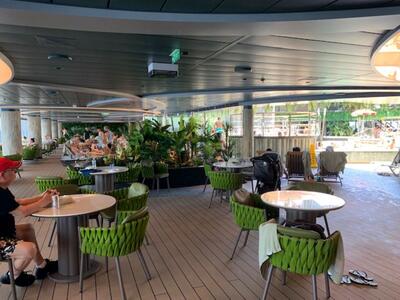 One nice thing about the design of the ship is that many of the restaurants and bars have outdoor seating, so if you don't need to be by the pool, there are plenty of chairs and tables available outside. The sports bar was pretty quiet when I visited.
I did not want a heavy lunch, so I opted for some salad and a hotdog at the buffet. It was pretty crowded, but it is a very large venue. So expansive, in fact, that I did not even notice until today that there are at least two bar stations where you can get an alcoholic beverage with your lunch (for an extra charge).
You don't have an option to add a tip to your bar bill, so I have gotten into the habit of carrying small bills for staff. I wish MSC made it easier to tip their staff who work so hard. They deserve it.
Ship details
Image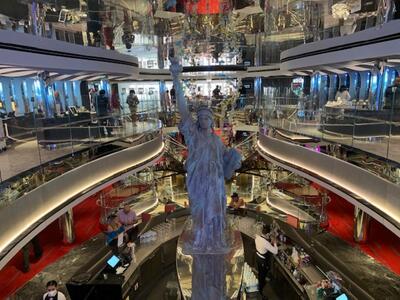 Another thing I noticed strolling around is all the unique décor and theming onboard. Separate from the art gallery, there is an immense variety of art pieces. Gracing part of the atrium is a replica of the Statue of Liberty, appropriate as this ship has a New York City theme.
Image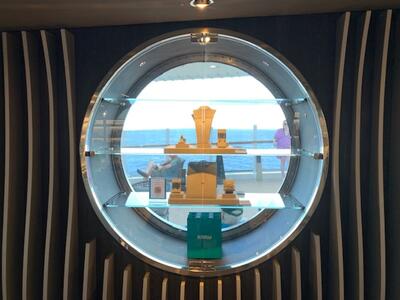 Taking advantage of our first sea day with the shops open, I took some time to window shop at the many stores which sell everything from fine jewelry and watches to fun souvenirs.
MSC has tried to use lots of technology, one of the biggest being their elevator system. You need to select your floor before entering the elevator, and the display tells you which specific elevator to board (options ranging from A-D). Once inside, there are no buttons, so you can't change your mind. I continue to look for buttons each time I go in, though. 
Image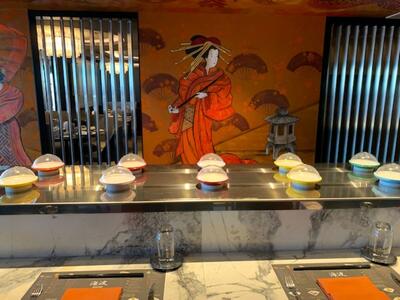 Just before lunch, I happened to be walking by the sushi bar and noticed an electronic conveyor belt encircling the seats. I have not seen anything like this before on a cruise ship.
Cabin comments
Image
So far, my cabin has worked well. I did bring a fan; however, the temperature controls are excellent, and I can make it as cold as I want, and the ventilation is good.
I thought I was being smart, bringing a previous cruise card to insert into the key holder to keep the power on when I left the cabin; however, the system knows the difference. The cabin also has buttons to indicate do not disturb and make up the room, so your attendant does not need to bother you unnecessarily. Mine has been very nice so far, ensuring I have everything I need.
MSC does have a minimalist product selection with just gel and shampoo. No body lotion, conditioner, or Kleenex, so make sure to bring anything special you made need. The bathroom is compact, but there is plenty of storage for products. The toilet is astonishingly loud when flushed; I can even hear my neighbor's flush. 
Image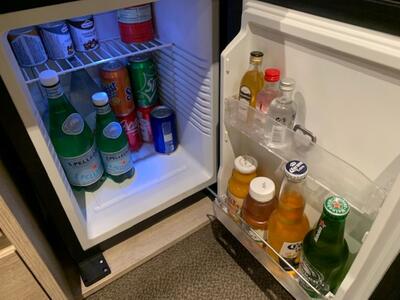 There is a well stocked mini-bar with Italian water, pop, spirits, beer, and snacks. Beer is $7.50, and soft drinks are $3.25. You have the option for washing with laundry packages at $45 for 20 items or $64 for 40 items with service within 48 hours.
Dinner/evening activities 
Image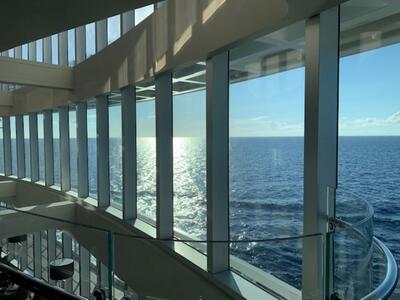 Before dinner, I took a few minutes to enjoy the majestic views as well sail into the sun. MSC Seashore is designed to take advantage of sun, and it certainly does so from so many vantage points.
In the atrium, we were treated to some relaxing jazz music, a great way to lead into the evening. For tonight's meal,  I reserved another specialty restaurant as part of my dining package. Ocean Cay (also the name of the island we visited yesterday) is seafood focused venue. 
I started with a delicious crab cake, followed by seared tuna with asparagus and beets. Another wonderful meal with attentive, friendly servers. For dessert, I had chocolate ice cream and lemon sorbet. They say that Marco Polo brought ice cream from his travels in China back to Italy. If that is the case, I am very pleased he did, as Italians are serious about great ice cream, and MSC is no exception.
Tomorrow we venture to Cozumel for a port day, and I look forward to seeing all it offers.