Yesterday, October 25th 2022, Celebrity Cruises announced the arrival of its newest ship, the Celebrity Beyond, to the New York, U.S. region.
The arrival of Celebrity Beyond in New York, marks the beginning of this vessel's debut to North American waters.
"The latest in the industry-transforming Edge Series, Celebrity Beyond will officially set sail on its inaugural U.S. season from the Port of Bayonne on October 26, offering guests the chance to experience beauty and wonder at sea like never before," states Celebrity Cruises.
"Today marks the start of a game-changing couple of weeks for our brand. Our newest, most awe-inspiring and expectation-defying ship, Celebrity Beyond, is making her North American debut in the Big Apple today; and next week we will officially name her with the amazing Simone Biles as the ship's godmother," said Celebrity Cruises' President and Chief Executive Officer, Lisa Lutoff-Perlo.
Image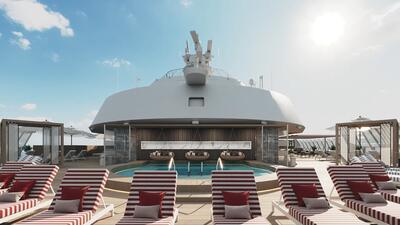 The Celebrity Beyond is capable of housing 1,400 crew members, and along with these crew members, the vessel sailed into port near New York at Cape Liberty, Port of Bayonne.
Celebrity Beyond is captained by the fist and only American, female cruise ship captain, Captain Kate McCue. On this journey, Captain McCue was joined by Captain Dimitris Kafetzis who had previously sailed the Celebrity Beyond on its transatlantic journey over to the United States from Europe.
This summer the Celebrity Beyond conducted sailings throughout Europe. With the ship now taking residence in the Americas, the Celebrity Beyond will begin its Caribbean sailing itineraries for the upcoming winter cruise season. Destinations for the winter season include: St. Thomas, St. Maarten, The Bahamas, Grand Caymans, and more.
Image
"A next generation ship that embodies the intersection of architecture and design, Celebrity Beyond goes further than imagined possible for a cruise ship, giving guests endless opportunities to disconnect from the world - while simultaneously reconnecting with the world that surrounds them," says Celebrity Cruises.
Celebrity Beyond will feature state of the art features and amenities, all geared towards enhancing the guest experience onboard.
Celebrity Cruises states that the following will be available onboard; "with its innovative, inspirational design from the world's leading architects and interior designers, fine dining experiences from Michelin starred chefs, world renowned wellness partners, exquisite art, cutting edge entertainment and luxury brand retailers, along with Celebrity's uniquely intuitive service, Beyond shatters every preconceived notion of the cruising experience, representing the epitome of a relaxed luxury at sea."
Image
"This ship is at the forefront of travel innovation - its a luxury resort, spa resort and culinary haven combined into one exceptional 'Journey WonderFULL.' There has never been a better time to journey to the world's best places on of the world's best places," said Celebrity President and CEO Lisa Lutoff-Perlo