Earlier this year, Disney Cruise Line unveiled their newest ship, the Disney Wish, with a maiden voyage in July 2022.
While the Disney Wish is the largest Disney ship in gross tonnage, (with 144,000 gross tons), it accommodates the same number of passengers as the Disney Dream and the Disney Fantasy (approximately 4,000 passengers, depending on stateroom occupancy).
The Disney Wish was built with storytelling in mind, and as you walk through the ship you'll be transported into many popular Disney, Pixar, Star Wars, and Marvel tales. The experience begins as you enter the beautiful three-story atrium complete with a gorgeous chandelier and a statue of Cinderella by the spiral staircase. It makes a big impression right away.
Image
Currently, the Disney Wish is operating out of Port Canaveral, Florida during the entire year, with three and four-day itineraries. Ports of call include Nassau and Castaway Cay, while the four-day itineraries also include a day at sea. Special sailings on the Disney Wish include Halloween on the High Seas and Very Merrytime Cruises.
Stateroom Options on the Disney Wish
Image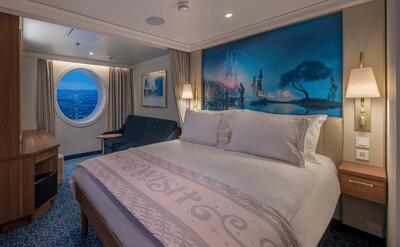 The Disney Wish offers 1,254 staterooms, with 53 concierge staterooms and 23 concierge suites. This is many more concierge rooms than the previous ships offer. That does, however, make it more challenging to book things like Castaway Cay cabanas and adult dining on the ship.
Image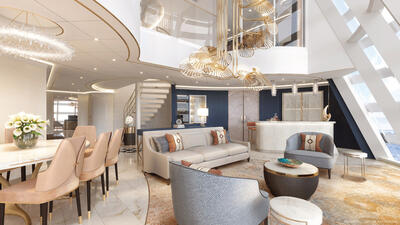 A big highlight of the Disney Wish is the 1,966-square-foot funnel suite, offering two floors in the forward funnel - a completely new concept for the Disney Cruise Line.
For those looking for a more standard cruise experience, there are 1,133 outside staterooms (948 with verandahs), and 121 inside staterooms. Staterooms are decorated in various Disney themes including Fairytale Castles, Forest and Animals, and Spirit of the Sea.
Image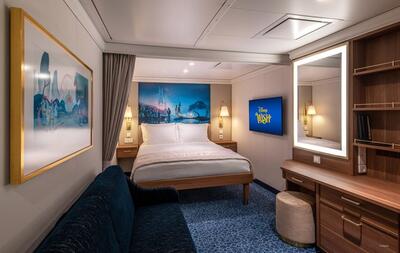 Our two connecting staterooms had Sleeping Beauty and Princess and the Frog themes - with a large piece of art over the bed showcasing the characters of these popular films.
Most of the staterooms have the popular split-bathroom configuration that Disney Cruise Line families love. One room has a shower and toilet, while another room has a toilet and shower, making it easy for families to get ready in the morning simultaneously.
Eating on the Disney Wish
Image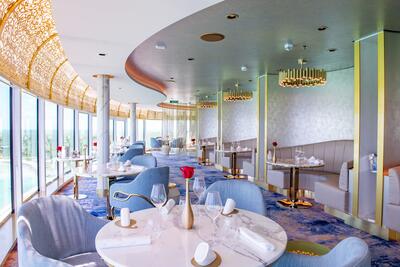 The Disney Wish offers an entirely new set of restaurant concepts for the three main dining rooms, with immersive and interactive experiences. These include Arendelle: A Frozen Dining Adventure, 1923, and Worlds of Marvel.
Image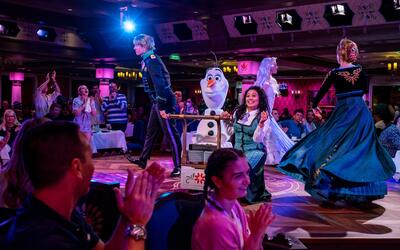 Arendelle: A Frozen Dining Adventure is part restaurant, part dinner theater. As you attend the engagement party for Anna and Kristoff, you'll be treated to an entertaining trio as well as character sightings. Anna, Kristoff, Elsa, and Oaken entertain guests and also walk table to table waving hello.
Located on the 3rd floor off the atrium is 1923, a restaurant celebrating the year the Walt Disney Company was founded. This is the more elegant of the restaurants, and some guests choose to dress in 1920s attire (entirely unofficial and optional!).
The third restaurant is Worlds of Marvel, with a dinner video show hosted by Ant-Man and the Wasp. In between segments, the video screens show segments from the various recent Marvel movies and shows. At the end of the meal, both Ant-Man and the Wasp wave to guests as they walk through the restaurant.
Image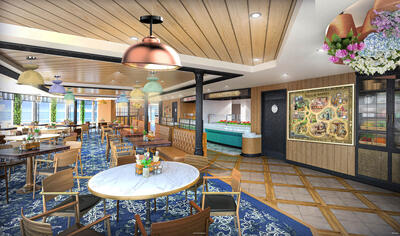 The Disney Wish offers new quick-service restaurant locations as well. The Marceline Market replaces the Cabana buffet on the other ships. Servers stand behind the buffet stations, which are no longer self-serve. The Marceline Market is open for breakfast and lunch.
There's also the Mickey and Friends Festival of Foods. Filled with several food kiosks, the Festival of Foods is a great option for a quick lunch. Options include Mickey's Smokestack Barbeque, Daisy's Pizza Pies, Goofy's Grill, Donald's Cantina, and Sweet Minnie's Ice Cream. During our sailing, these all closed at 6 pm with the exception of the ice cream and the grill.
Image
There are also several lounges and bars on the Disney Wish. Two of my favorites are Star Wars: Hyperspace Lounge and the Bayou. If you are a Star Wars fan, you'll definitely have to stop into the Hyperspace Lounge, which really makes you feel like you are a character in Star Wars.
Twenty-four-hour room service, specialty coffee bars, and the Joyful Sweets dessert shop are also offered. Room service is typically included with your cruise (except for gratuities and beverages), but you'll have to pay an additional fee for Joyful Sweets purchases and specialty coffee, as well as alcohol.
Things to Do on the Disney Wish
Image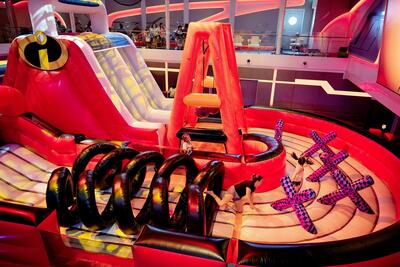 With two movie theaters, multiple lounges, several pools, and a large climate-controlled sports complex, there are so many things to do on the Disney Wish. Activities are all listed on the Disney Cruise Line Navigator app, and most don't require advance sign-ups.
Each day, you'll find a variety of activities including Bingo, trivia, arts and crafts, first-run movies, silent DJ, karaoke, and more. Some activities, like the various beverage tasting seminars, need to be booked in advance and cost extra.
Image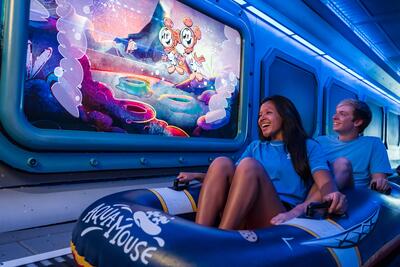 One of the most exciting things to do on the Disney Wish is the new AquaMouse.
This water coaster is located on the pool deck, with a minimal amount of stairs to access (unlike the AquaDuck on the Disney Dream and Disney Fantasy).
Image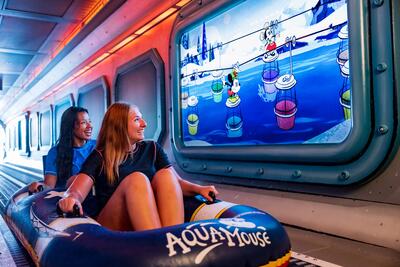 It starts with a conveyor belt ride up as you watch some video screens showing cartoons, and then finishes with a thrilling water ride. You will get wet, but won't be submerged.
Shops and Services on the Disney Wish
Image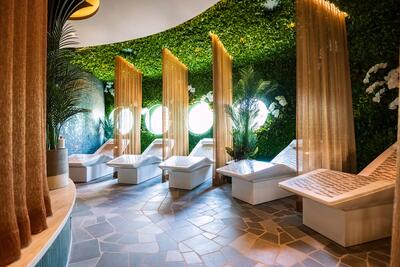 Like the other Disney Cruise Line ships, the Disney Wish offers a Senses Spa, with facials, massages, and other treatments. There's also a Rainforest Room, with both indoor and outdoor areas.
I found that the Disney Wish had more high-end retailers than the other ships, offering watches, premium jewelry, and designer handbags. There's also Mickey's Mainsail with Disney Cruise Line-themed souvenirs as well as some toiletries and other essentials you may have forgotten.
New on the Disney Wish are two salons - Hook's Barbery (which also hosts whiskey-tasting seminars) and the Untangled Salon (offering nail treatments as well as hair services). There's also a Bibbidi Bobbidi Boutique onboard, where your child can be transformed into a pirate, princess, or ship captain.
Kids' Clubs on the Disney Wish
Image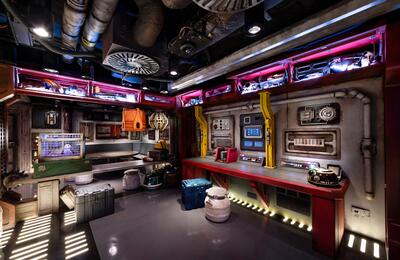 Traveling with kids? They will definitely want to check out the newly designed kids' clubs. In addition to Edge (ages 11-14) and Vibe (ages 14-17), there's the Oceaneer Lab, for kids aged 3-12.
This area includes some incredibly themed play areas including Fairytale Hall, Star Wars Cargo Bay, Marvel Superhero Academy, and Walt Disney Imagineering Lab. There's even a slide that can take kids from the third-floor atrium right into the second-floor youth club.
Shows on the Disney Wish
Image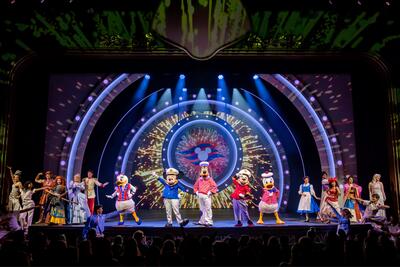 The Disney Wish offers three Broadway-style shows in the Walt Disney Theater. Disney Seas the Adventure is a brand-new show starring Captain Minnie and Goofy, along with some of your favorite Disney characters.
Image
The Little Mermaid is also new to the Disney Cruise Line and is based on the popular animated film. Disney's Aladdin, also based on the animated film, also plays on the Disney Fantasy.
These shows star the talented entertainment staff and run for about 45 minutes to an hour. They play twice a night, so guests at each dinner seating have the opportunity to go to a show opposite their dinner time.
Amenities on the Disney Wish
Image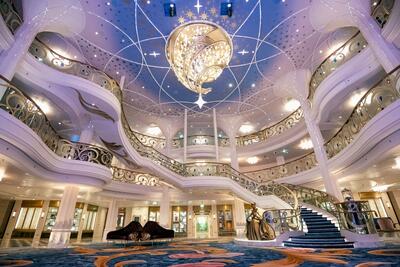 The Disney Wish offers lots of amenities to make your travels comfortable. A huge 8th-floor laundry room - Fairytale Fresh Laundry, includes many washers and dryers (for an additional fee) and irons. Washers and dryers work with the Disney Cruise Line app, so you'll be alerted when it's time to return to the laundry room.
The Disney Wish also offers Disney Cruise Line's newest WiFi offering. Instead of paying by usage, there's now a daily fee with different tiers depending on what type of access you'll need. Guests can sign up right on the app, and guest services cast members can assist with any issues.
Other amenities include a port adventures desk, a Disney vacations desk where you can sign up for another sailing, and guest services.
To learn more about the Disney Wish, visit the Disney Cruise Line website.