I was lucky enough to spend 48 hours onboard Celebrity Cruises' newest cruise ship, Celebrity Beyond - and I already can't want to go back.
As a longtime Royal Caribbean cruiser, this was my first experience on sister-brand Celebrity Cruises.
I've been under the impression that Celebrity's brand emphasizes a more sophisticated, adult-centered experience for cruisers with a particular emphasis on sailing to far-flung destinations.
Image
Yet, Celebrity Beyond is in a ship class all on her own - and she is the destination for those sailing on her.
Image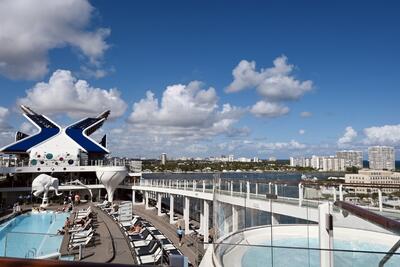 Dazzling with luxury, Celebrity Beyond has certainly made waves in the cruising industry with her attention to detail and unparalleled service. She was designed to allow guests the option to prioritize wellness while still having the freedom to relax and explore new things onboard.
Image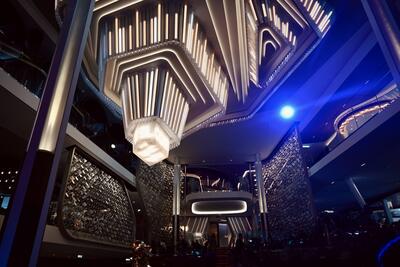 Although 48 hours is certainly not enough time to get the full Celebrity Beyond experience, this innovative and modern cruise ship was unlike anything I've sailed on before. The ship exudes a sense of beauty and warmth around every corner; she is both an engineering and design marvel with her open spaces and thoughtful design touches.
Image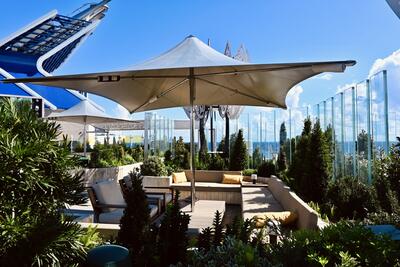 As a first-time Celebrity cruiser, I left the ship wanting more time to explore everything the stunning Celebrity Beyond has to offer.
Image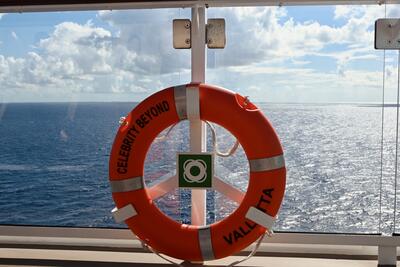 Here are 10 reasons I can't wait to go back and why I am already planning my next cruise on Celebrity Beyond
1. Remarkable design and attention to detail
Image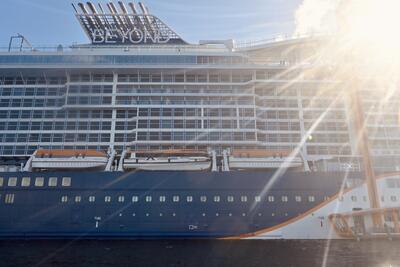 From the moment we stepped onboard, Celebrity Beyond's overall beauty immediately differentiates her from other cruise ships.
While some cruise ships feature a small art gallery tucked away on a lower deck, Celebrity Beyond as a whole is its own work of art.
Image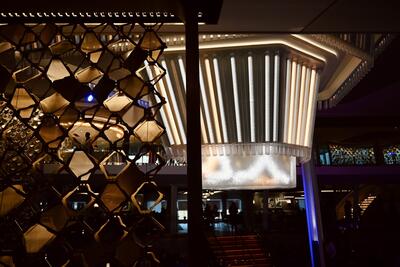 Celebrity Cruises collaborated with world-class designers and artists to create an eclectic, modern and trendy atmosphere onboard - and there is no doubt that it shows onboard.
Image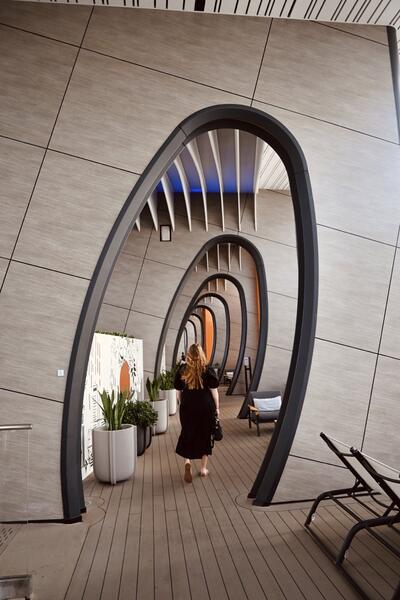 Every corner of the ship displays some sort of art; the attention to detail is unlike anything I've seen on a cruise ship before. As someone who doesn't even particularly love art, my less-than-creative mind was wowed by Beyond's design aspects.
Image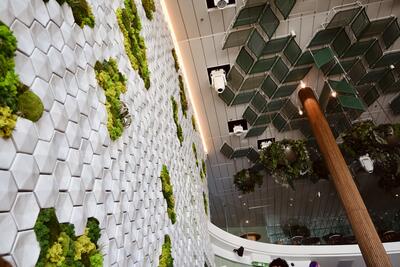 For instance, the obligatory onboard buffet might not necessarily be the sexiest part of a cruise ship, yet Celebrity found ways to make the space feel open, warm and inviting. Entering the Oceanview Cafe, you'll find velvet pink couches, Edison-bulb lamps, wicker lighting fixtures and floor-to-ceiling windows.
Image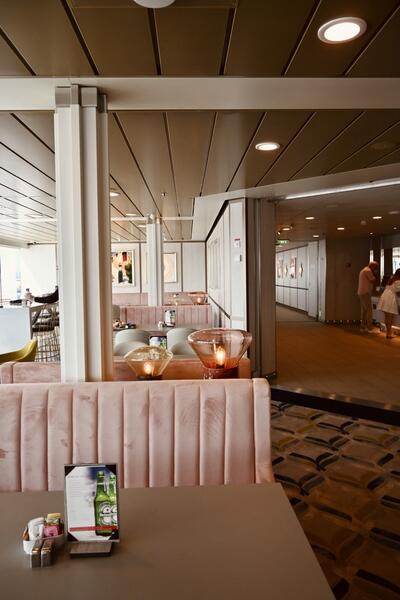 Nothing about the space feels cramped or crowded. Not to mention, you can indulge in world-class cuisine that makes my go-to cruise hot dog look pitiful in comparison.
Image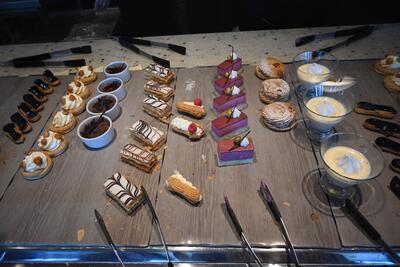 I could go on and on about the beauty onboard Celebrity Beyond - like the marble title in our stateroom bathroom, the gleaming chandelier in the Grand Atrium and the real greenery in Eden.
Image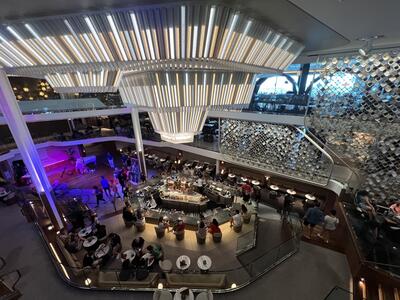 2. Dazzling entertainment
Celebrity Cruises is known for offering top-of-the-line entertainment onboard its cruises; in fact, Celebrity Beyond has taken the award-winning entertainment from earlier Edge-class ships and amplified it.
Image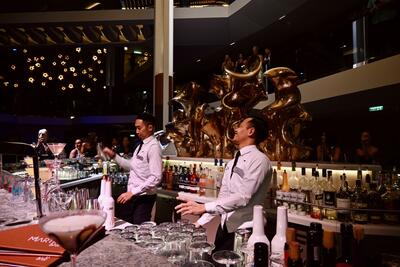 The entertainment on Celebrity Beyond is bigger and better than ever with ten onboard experiences thanks to innovative technology, a redesigned state-of-the-art theatre, and the addition of a new Speakeasy venue.
Unfortunately, with just 48 hours onboard, we were unable to fully experience all of Celebrity Beyond's entertainment options - just one of the reasons that I already want to go back.
Image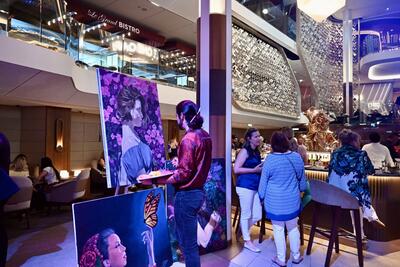 Our short time onboard was packed with tours, meals and content creating that left us exhausted by the end of the first night. With a looming early morning the next day, we weren't able to attend the renowned Elements show. The morning-after talks onboard about the show's display of incredible talent and production left us feeling disappointed we didn't attend. 
Image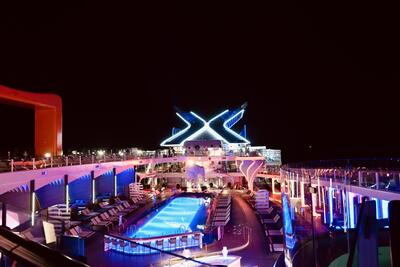 The second evening we were able to attend the Jazz Joint show in The Club, which is a transformative venue that hosted everything from our press conference to the nightclub and evening production shows.
While I scuffed at the idea of watching a jazz production show and almost didn't go, I was truthfully wowed by the production. The show was interactive, electrifying and even a little risqué at times.
Image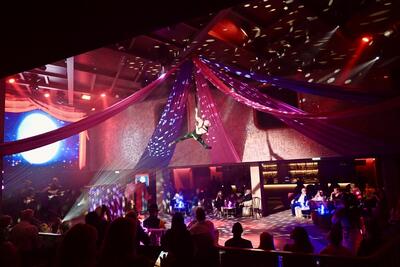 Jazz Joint was the perfect balance of singing and dancing while incorporating stunning acrobatics- the show left us speechless!
A full cruise on Celebrity Beyond would certainly give ample time to enjoy all of the renowned entertainment that the ship has to offer. Our short - and busy- time onboard didn't do the entertainment justice.
3. Seemingly infinite dining choices
There's only so much eating we could do in 48 hours, and trust me, we tried to indulge as much and as often as possible.
Image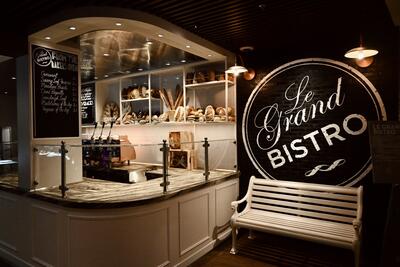 With 32 dining and beverage venues onboard, it was impossible for us to try everything we wanted to. In actuality, trying all of Beyond's 18 different restaurants on a full-length cruise would be a difficult feat as well. 
Image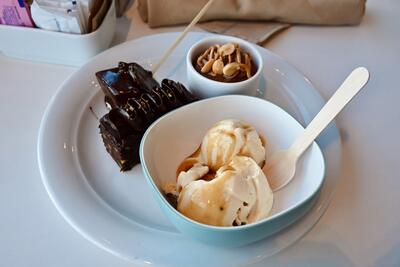 The ship features 4 main dining rooms, Tuscan, Cyprus, Cosmopolitan and Normandie. These each offer their own exclusive dishes while still serving the same standard nightly menu across the dining rooms.
Image
We dined in Normandie on our first evening, where we sampled everything from baked brie cheese to pastry-wrapped beef tenderloin. We polished off our meal with the classic chocolate cake and the signature warm apple crumble.
Image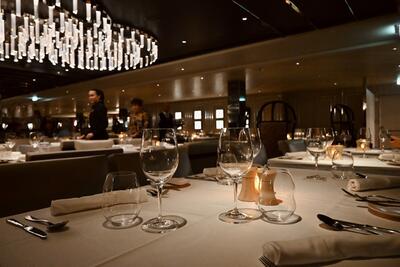 The second evening, we were excited to try Le Petit Chef, a cute dining experience that featured an animated show projected right onto our plates.
We indulged in a four-course meal, which included a heirloom tomato tart, burrata salad and braised short rib. Dinner concluded with a chocolate caramel decadence and strawberry chantilly napoleon.
Image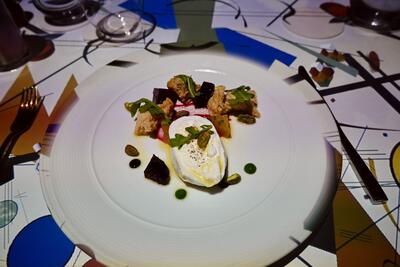 We also dined in Oceanview Cafe, the onboard buffet, for breakfast and lunch. We tried the pizza parlor and famous European-style Cafe al Bacio for coffee and pastries.
I wouldn't say the pizza was my favorite, but Beyond doesn't strike me as the type of cruise ship that would pride itself on having amazing pizza; instead, the international cuisine options available like lamb tagine, paella and butter Indian chicken is where the ship really shines. 
Image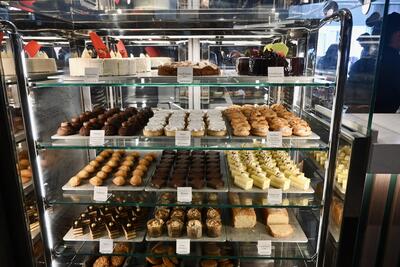 Our first night, we managed to squeeze in happy hour snacks at the Craft Social Bar with truffle fries and baked brie Mac and cheese - both were excellent.
Image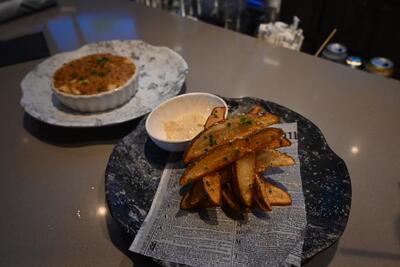 We also sampled a chicken pesto panini from Eden Cafe, although the salads and desserts looked fresh and tasty as well.
Image
We found Celebrity Beyond to have some of the best desserts we've ever had. From freshly scooped gelato to strawberry creme brulee torched right in front of us, the delicate desserts reveled pastries we could find in a Parisian patisserie. 
This barely scratches the surface on the dining options onboard Celebrity Beyond - and we would certainly try as many other dining venues on a future cruise.
Image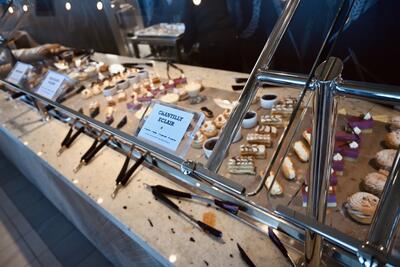 4. The Solarium and Resort Deck are luxurious and spacious
Cruising is synonymous with sipping on a cocktail on the pool deck. The top deck of a cruise ship is a classic gathering spot for relaxing and connecting with the sea, along with hosting events like the Sailaway Party. 
Image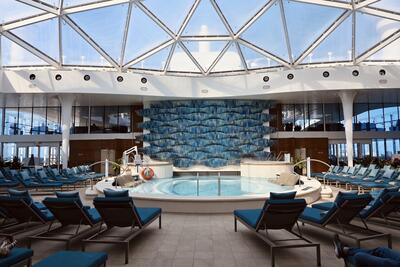 As with everything else onboard, Celebrity Beyond took things a step further by amplifying its top deck so much that it ditched the classic 'pool deck' name for a more fitting title - Resort Deck.
Image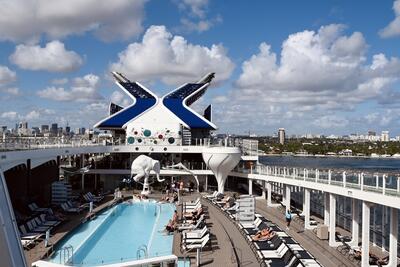 This outdoor space has an outward-facing design and an asymmetrical pool deck to create a luxurious outdoor space. The always-popular Solarium is an adults-only space with a covered pool, perfect for cooler destinations.
Image
Padded loungers and booths surround the Resort Deck pool, which illuminates with neon lights each evening to create quite the spectacle.
Image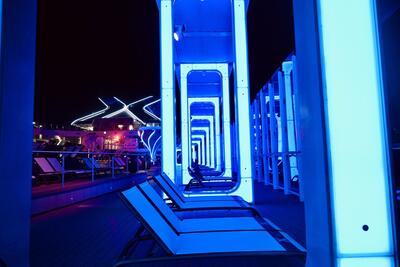 Image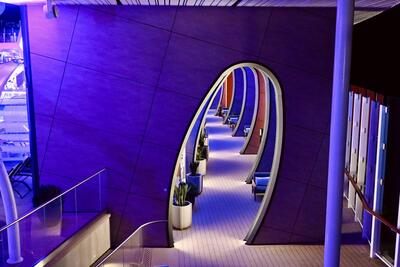 The Resort Deck also features a jaw-dropping sculpture of an elephant balancing on the back of a man - something you simply can't miss when arriving.
Image
Of course, the nearby Rooftop Garden is the perfect space to gather with plenty of seating that's bordered by real-life trees, plants and greenery. This space was a first for Edge-class ships and made even more spacious on Celebrity Beyond.
Image
Although we were only able to enjoy the pool bar on our first day, we noticed all of the tiny nooks and crannies to sit outside on the Resort Deck. With more time onboard, we would have loved to take a dip in the pool and relax in the Solarium.
Image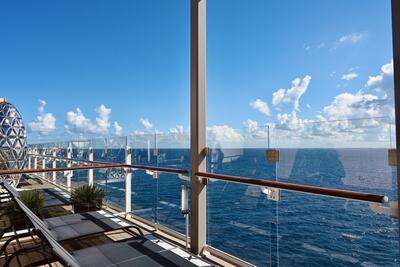 5. Myriad of craft cocktails & martinis
In 48 hours, we took one for the team and tried as many cocktails as possible while still maintaining our sense of professionalism onboard.
Image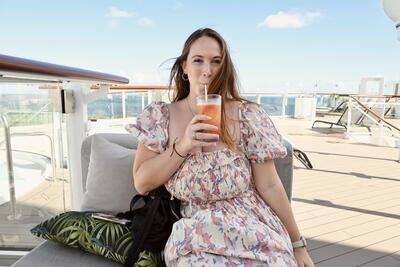 As I am sure you understand, this is one of the toughest parts of our job! Of course, we had to try frozen blended drinks at the Pool Bar, which were our least favorite cocktails of the cruise.
Image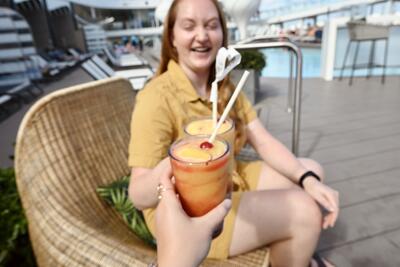 With such little time, we squeezed in as many drinks to try as possible to ensure we gave each bar on Celebrity Beyond their chance to shine. Each bar onboard has its own ambiance and cocktail menu to create a unique experience.
Image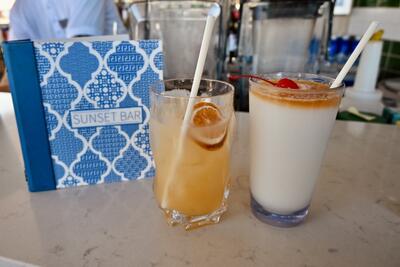 As we boarded Celebrity Beyond, we were mesmerized by the Grand Atrium, which is the heartbeat of the ship. Located under a massive chandelier is the Martini Bar - a Celebrity staple onboard serving up some 20-different martinis. The bartenders put on high-energy shows with impressive martini tricks and stunts that leave everyone roaring with applause.
Image
We tried 3 delicious martinis here, including the Snowflake and Banana Fosters, but we would have loved to spend more time here listening to the music, watching the skilled bartenders perform and sipping on classy martinis.
Image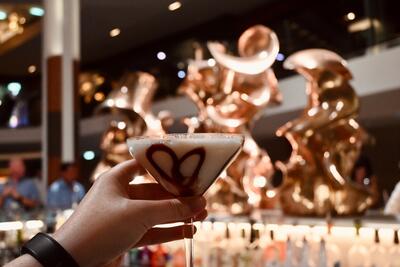 We enjoyed cocktails at the Sunset Bar and Magic Carpet in the evenings, which both gave us stunning views of the sea.
Image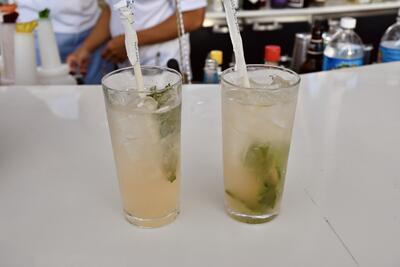 In fact, Sunset Bar, located on the back of the ship, reveled a Mediterranean-style beach resort and made for the perfect happy hour spot.
Image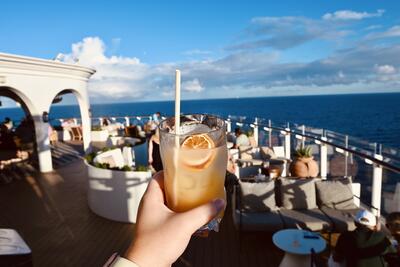 The Magic Carpet bar, which is another transformative venue onboard that also serves as a tendering launch, provided us with the best mojito of our 48 hours onboard. The vanilla mojito is a signature cocktail of the Magic Carpet Bar and it was a hit with both of us. 
Image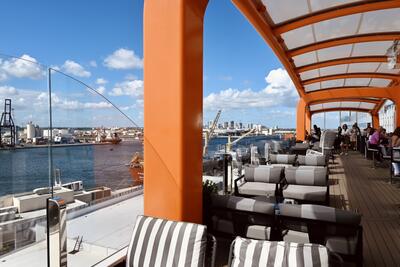 We also tried the fig cocktail at Eden Bar, located in the beautiful and open Eden space, and drinks at the World Class Bar, a beloved venue welcomed back on Celebrity Beyond located in the Grand Atrium.
Both of these cocktails were well done, but very strong for our liking. The presentation at Eden makes a visit to the bar worthwhile in itself. 
Image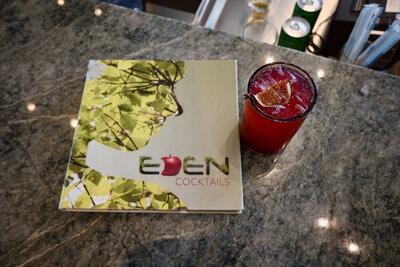 Image
Needless to say, I should stick to drinking water in the meantime until my next Celebrity Beyond cruise.
Image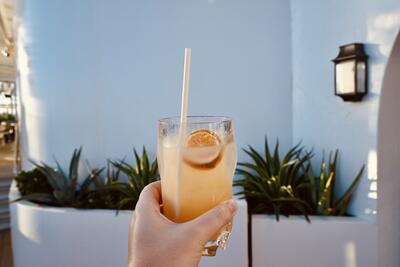 6. Exciting itineraries
While Celebrity Beyond is a destination all on her own, part of the cruising experience is exploring and visiting global destinations.
Image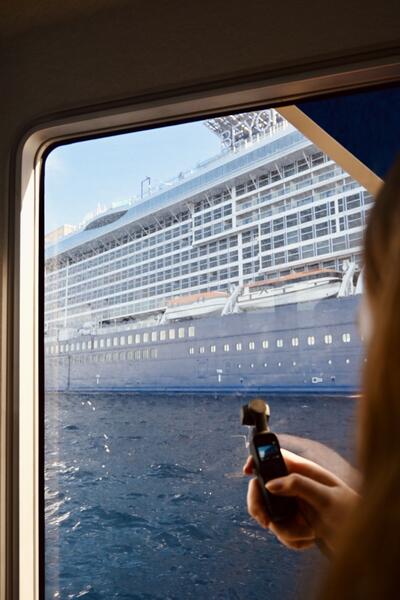 Celebrity Cruises continues to differentiate itself from sister-brand Royal Caribbean by offering itineraries that feature exotic and unique destinations - including India, Peru, Dubai and even Antarctica.
During our 48-hour sailing, we only disembarked the ship to try out Celebrity Beyond's Launch Experience and did not technically dock anywhere.
Image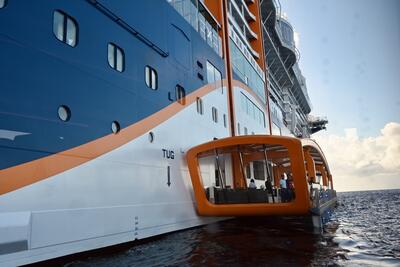 Through Destination Gateway on Deck 2, we were able to board the ship's very own luxury tenders and launch from the versatile Magic Carpet. By night the Magic Carpet is a beverage venue and by day it serves as a tendering launch for Celebrity Beyond.
Image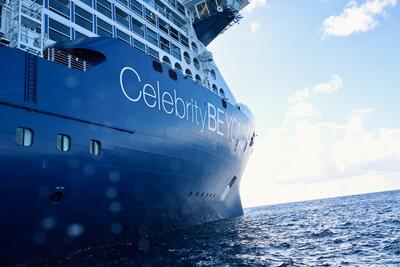 However, one of my favorite aspects of cruising is connecting with new destinations and ports throughout my vacation. There's a connection and sense of home that's created with a cruise ship once you disembark and spend all day immersing yourself in a new culture.
Returning back to a cruise ship as a sort of home base is an important aspect of cruising - and I can see Celebrity Beyond becoming a cozy place to return to each evening. 
Image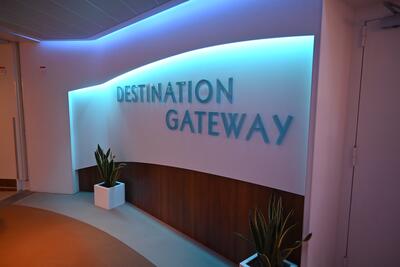 Celebrity Beyond sails in both the Caribbean and Europe; and I'd love to see how she shines as a home base during a full cruise sailing.
7. The Retreat is a luxurious resort-within-a-resort
Let's imagine that I win the lottery and suddenly have more money than I know what to do with; in this fantasy world, I would book one of the Penthouse Suites onboard Celebrity Beyond with access to The Retreat.
Image
During out 48-hour cruise, we stayed in an Infinite Veranda cabin but had the opportunity to tour The Retreat. We also watched the Naming Ceremony inside the Retreat Lounge.
Image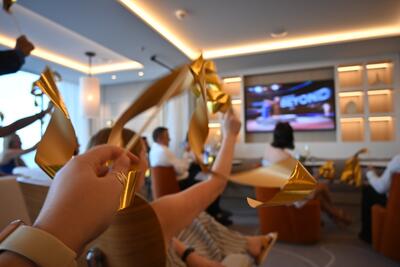 I'm not one who could typically afford staying in a suite, but The Retreat makes me want to buy a lottery ticket just so I could experience everything it has to offer. The Retreat is advertised as the most luxurious vacation in the cruise market - and redefines the suite experience
Image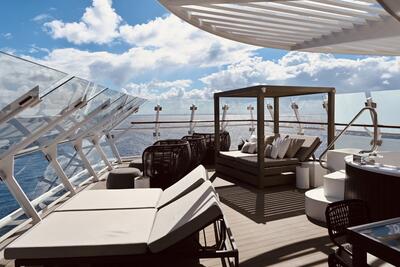 The Retreat is the largest suite area on any Celebrity cruise ship with three decks on the front of the ship dedicated to suite guests. The Retreat features private butlers, unlimited premium drinks, a private lounge, two-story sundeck, private pool and an exclusive dining venue.
Image
In my fantasy world, I'd be staying in one of these world-class suites and cruising in The Retreat.
8. Captain Kate is the heart and soul of Celebrity Beyond
Although I knew Captain Kate was Celebrity Cruises' very own celebrity, she truly embodies the heart, soul and elegance of Celebrity Beyond.
Image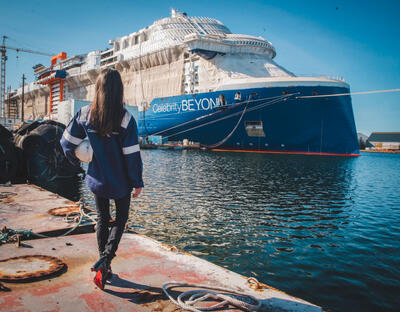 Captain Kate is the first and only female captain from North America - and she lights up every room she walks into. There's no question that Captain Kate IS the heart and soul of Celebrity Beyond.
Image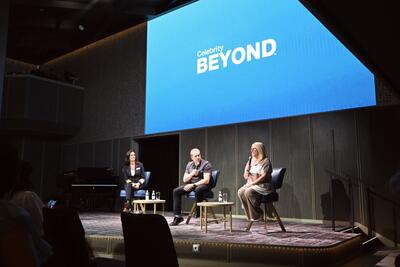 During this 48-hour cruise, Celebrity Beyond was officially christened and named for her inaugural North American season. Seeing Captain Kate christen the ship was a momentous and historical occasion to witness, especially as a strong female leader who has shattered the glass ceiling.
Image
Captain Kate is obviously no ordinary captain, but she graces Celebrity Beyond in multiple ways.
We witnessed Captain Kate interact with multiple crew members and heard from many that she's beloved and adored onboard by all. She's the resident celebrity on Celebrity Beyond, often posing graciously for selfies and pictures with passengers.
While Captain Kate can command a room from the captain's chair with her louboutin heels, she can also garner applause and cheers when she stands on the Martini Bar and pours a flight of drinks with a blindfold on.
There's nothing she can't do!
Image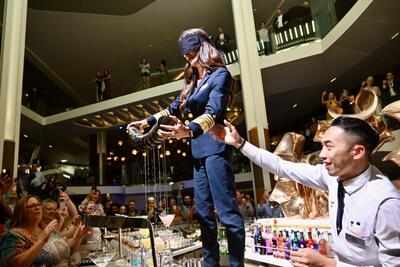 With a huge social media following, often including footage of her hairless cat Bug, Captain Kate is a role model for women everywhere.
Celebrity undoubtedly loves Captain Kate as a fearless leader - and it's evident she loves Celebrity Beyond in the same way. I'd love to sail on another cruise with Captain Kate in command to see other ways she plays a role in the Celebrity experience. 
9. Trendy adult-centric onboard experience
You won't find waterslides, splash pads, trampolines and zip-lines onboard Celebrity Beyond - and for good reason.
This is because this ship is designed with adults in mind, particularly people from Get X to Baby Boomers.
Image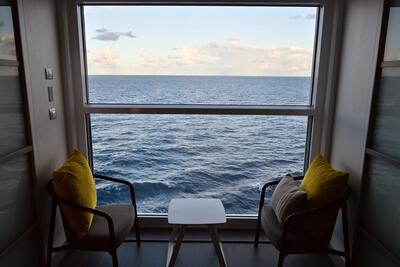 While Celebrity is growing in popularity with aging millennials, it was a first for me to cruise on a ship that's been designed almost entirely with adults in mind. Royal Caribbean is known for its family-friendly ships that feature a little something for everyone while Celebrity focuses on a more elevated, sophisticated and luxurious experience.
Image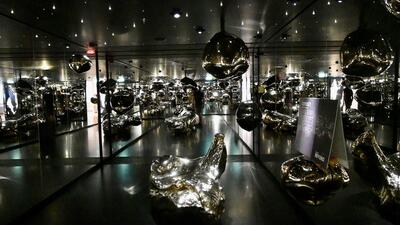 For example, in Oceanview Cafe, I walked up to the Grilled Favorites section thinking this is where I'd find hamburgers, hot dogs and French fries. Instead, I was surprised to find grilled chicken, steak and fish.
Image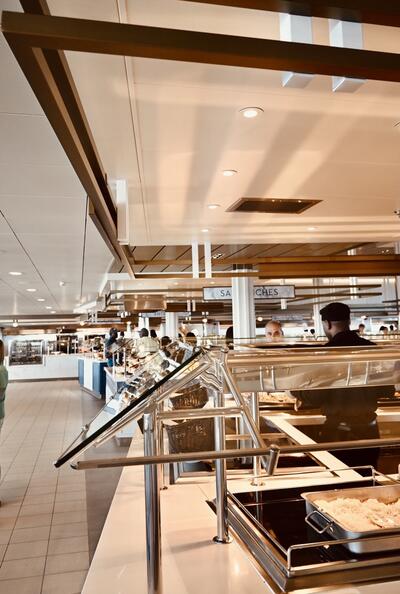 While you can find hamburgers and hot dogs elsewhere onboard, it was a quick reminder that the Celebrity experience is meant to be elevated and more sophisticated.
It was unusual for us to hear uncensored songs playing during a cruise but we jammed to trendy songs in the Grand Atrium. Of course, this is because the Celebrity Beyond doesn't necessarily need to worry about being family-friendly.
Image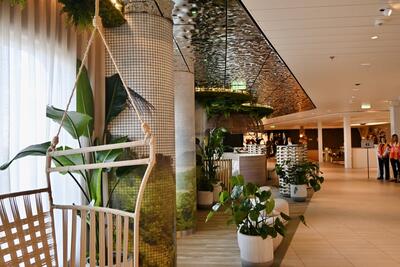 Scavenger hunts are replaced with chocolate and wine tastings; waterslides and trampolines are swapped for open-aired spaces like Sunset Bar and Rooftop Garden.
Image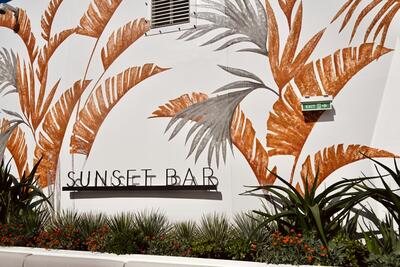 This type of adults-only experience is entirely new to me as a cruiser, and I would like to have another opportunity to see what an entire cruise on Celebrity Beyond has to offer. 
10. Personalized and attentive service
Because our 48-hour sailing was a hosted media event, it was difficult to really get a gauge on the type of service offered on Celebrity Beyond. While the crew was working tirelessly, as they usually do, the sailing was so short and a totally different type of clientele than normal. 
Image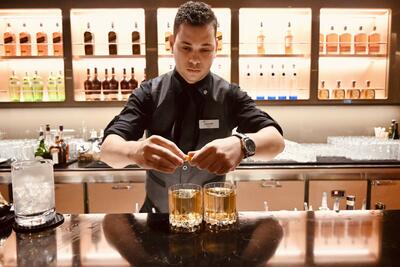 While we normally enjoy getting to know our stateroom attendant and dinner servers, we were shuffled around so much during our time onboard that we didn't have many opportunities to form relationships with the crew members.
In fact, we didn't even meet our stateroom attendant and never saw him once, although our room was promptly cleaned twice each day.
Image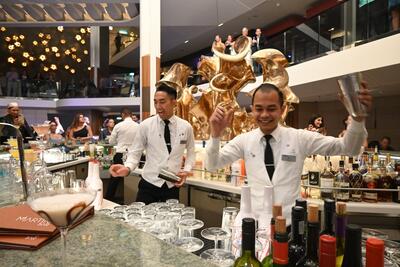 Having this type of connection onboard is important to create a more personalized and attentive experience when cruising. With such a short and busy sailing, the crew didn't have time to showcase this aspect of the Celebrity Beyond experience.
Image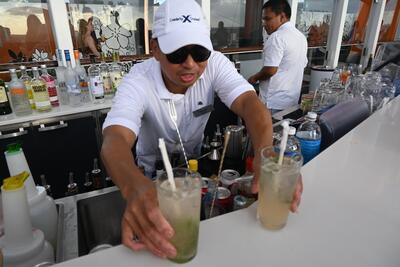 I would anticipate the service to be top-notch given the quality of everything else onboard, and more time on Celebrity Beyond would allow more time to create those connections.