Did you know that these two industry-changing cruise lines have private islands of their very own? In fact, Norwegian Cruise Line has two private islands; Great Stirrup Cay and Harvest Caye. while Royal Caribbean recently invested about $250 million dollars in 2019 to improve and renovate their private island - CocoCay, turning it into Perfect Day at CocoCay. 
Norwegian Cruise Line has a unique partnership with the country of Belize, meaning that the function of the island is slightly different than that of other cruise line private islands. 
Harvest Caye is Norwegian Cruise Line's newest private island acquisition. The company opened its newest exclusive destination in 2016 to guests. The two private islands of Harvest Caye and Perfect Day at CocoCay are quite different, and I am excited to explore some of their big differences with our readers! 
Come along with me as we compare these two beautiful private islands, and see some of the great things they have to offer their guests! 
My Experiences
Image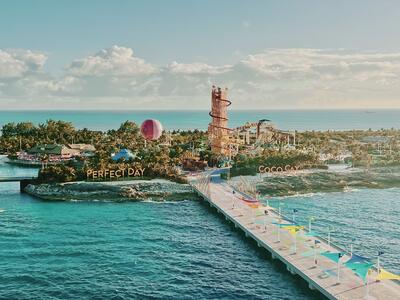 (Entrance to Perfect Day at CocoCay)
Within the last 2 months I have had the privilege of visiting both Norwegian Cruise Line's Harvest Caye and Royal Caribbean's Perfect Day at CocoCay. Both of these private islands offer similar experiences, while also providing unique activities that can only be had at each destination. 
I visited CocoCay for the first time in January and was able to experience the beautiful Beach Club and Overwater Cabanas with fellow writers and friends at Cruise.Blog! This experience was truly amazing, and such a fun way to make memories with everyone in our travel group. 
I visited Harvest Caye for the first time just a couple weeks ago in February and was able to thoroughly explore this unique resort-like island. I was able to walk around the entire island and explore all of its complimentary options it offers to guests. I walked away from this destination loving it even more than I thought I would, and was truly impressed with what Norwegian Cruise Line had done with its second resort-like private island. 
Location
Image
Harvest Caye is located just off the coast of Belize. While it is considered an island, it is extremely close to the mainland of Belize, in fact guests can see the mainland across the water while they are on the island of Harvest Caye. 
CocoCay is located squarely in The Bahamas and definitely offers its guests a taste of the tropics and Caribbean. CocoCay is also located very closely to Norwegian Cruise Line's first private island - Great Stirrup Cay. Guests who have visited CocoCay have probably been able to see Great Stirrup Cay across the water, and visa versa! 
Because CocoCay is located in The Bahamas, most of the Royal Caribbean ships that sail on Caribbean itineraries will visit this private island destination. While Harvest Caye is located in Central America, not as many of Norwegian Cruise Line's ships visit this location. 
Because Harvest Caye is located off the coast of Belize, it offers a truly unique feel and experience to its guests than some of the other private islands in the cruise line industry. Guests visiting this location will experience something different than just a beautiful beach and tropical drinks, guests will get a small glimpse into Belizean culture when visiting this island. 
CocoCay being in The Bahamas offers Royal Caribbean passengers a true look into paradise, while getting to experience beautifully maintained beaches, inviting pools, thrilling waterslides, and plenty of fun areas to make memories with loved ones and travel companions. 
Beach Access
Image
(Section of the beach walk on Harvest Caye)
Both of these private islands have easy and complimentary public access to stunning beaches and warm tropical ocean water.
Both Harvest Caye and CocoCay have plenty of lounge chairs and spaces for guests to spread out and relax while enjoying the sunshine. Both islands offer complimentary lounge chairs for guests to use, while also offering the option of shaded beach cabanas and other luxury and exclusive areas to guests wishing to splurge while visiting these private islands. 
In fact, both CocoCay and Harvest Caye both have acres of white sand beaches for guests to enjoy, surrounded by tall swaying palm trees. Both islands have beach bars near the sand where guests can easily purchase a refreshment.
Something that I think is fun, is that both of these islands' beaches offer not only stunning ocean views, but also great opportunities to snap that perfect picture of the cruise ship in the background! Both of these islands have gorgeous white sand beaches that are sure to please any guest traveling to the Caribbean and beyond! 
Pools
Image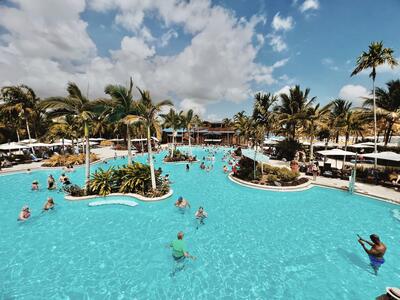 (Harvest Caye pool)
Harvest Caye has one large pool with a swim-up bar in the center of the island. This pool is beautifully maintained and in pristine condition. The pool has plenty of complimentary lounge chairs surrounding it, in addition to luxury pool cabanas available for rent. The pool also features cascading waterfalls and a bridge that extends over the pool offering guests great views of the complex. Additionally, there is a splash pad for children that is located very close to both the beach and the pool area. 
When it comes to pools and water activities, Royal Caribbean's CocoCay may have the upper hand. CocoCay has not just two, but three pool areas available for guests to enjoy. The main pool on the island is called the Oasis Lagoon and features a swim-up bar and plenty of complimentary lounge chairs. 
The second pool area is called the Wave Pool. "When the clock hits zero, run for cover - you're about to get swept up in the Caribbean's biggest wave pool ever. Whether you just want to dip a toe in, or you're ready to plunge into the simulated surf, these waves are suited to swimmers of all ages," states Royal Caribbean about their Wave Pool. 
The third pool on CocoCay belongs to the Coco Beach Club neighborhood, and I can say from first hand experience, is truly beautiful. This infinity pool offers unparalleled views of tropical paradise. This pool has in-water loungers, pool-side chairs, and a swim-up bar ready to supply guests with refreshment. If you have the opportunity of visiting the Beach Club on CocoCay, I highly recommend checking out this luxurious pool. 
Thrill Waterpark is the name of CocoCay's water park neighborhood. This region of the island has something for everyone, from great thrills to splash pads for the younger members of the family. When it comes to thrills, guests need to check out Daredevil's Peak - the tallest waterslide in North America! A full scale waterpark is something that is truly unique to a cruise line private island, and absolutely worth checking out. Read more about some of our experiences here!
Unique Activities on Harvest Caye
Image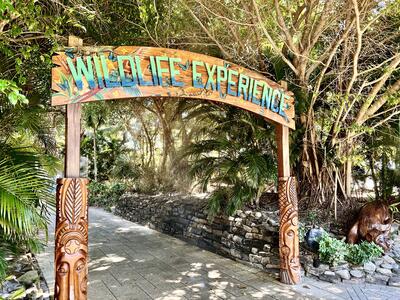 (Harvest Caye Wildlife Experience)
"Harvest Caye in Southern Belize is the Caribbean's premier island destination. Immerse yourself in natural beauty and culture on a 75-acre oasis featuring an expansive pool with a swim-up bar, salt-water lagoon for water sports, exclusive 7-acre beach and exciting shore excursions raging from zip lining across the island to snorkeling the world's second largest barrier reef," states Norwegian Cruise Line about its private island. 
Harvest Caye has one of the most unique complimentary activities I have seen so far on a cruise line private island, let alone cruise port - a nature preserve experience. This complimentary experience allows guests to see some of the beautiful and exotic animals and creatures that exist in, and are native, to the country of Belize. 
I thought that the nature experience was such a great way to get a glimpse into the culture of Belize by getting to see up close some of the animals that are native to this beautiful and tropical destination.
Some of the animals that guests will have the opportunity to see in the nature center are; butterflies, fish, toucans, snakes, macaws, iguanas, and more! This is such a fun, educational, and complimentary activity for guests to enjoy on the island, and I think would be particularly exciting for little kids and families. Make sure you check it out the next time you visit Harvest Caye! 
Something that I appreciated throughout the island, was the little fun-fact boards that detailed what different species of plants were on the island or different Belizean history. This helped to share even more of the uniqueness of Harvest Caye being located in the country of Belize, and gave guests an even more in-depth look into the culture. 
Norwegian Cruise Line is a fan of zip-lines, as they feature at least one on each of their private islands, on Harvest Caye and Great Stirrup Cay. In fact, there are two zip lines on Harvest Caye, one that flys over the beach and surf, and one that flys over the salt water lagoon. The zip-line does come at an additional cost for guests to participate in, but it is an option for guests to experience something truly unique while visiting the island. 
Something that I thought was unique, and another way to have a small glimpse into the Belizean culture, is that local Belizean artists and vendors are invited onto the island and they are able to sell local food products, art, and handmade souvenirs that guests can take home with them to remember their travels by. I appreciated that these products were authentically made in Belize! Something to note, is that most of the vendors only take cash and not card. The vendors will accept U.S. dollars, and I recommend taking out some cash either before getting off the ship for the day, or even before you begin your cruise vacation. 
Harvest Caye not only has a large pool and expansive beach access, it also has its own salt water lagoon. This lagoon is great for water sports including kayaking, stand-up paddle boarding, and float boats. All of the water sport equipment is available for rent right next to the lagoon, giving guests another perspective of the island, and a fun activity that the whole family or a group of friends can enjoy together. 
Unique Activities on CocoCay
Image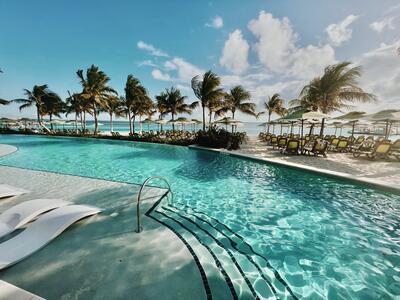 (Beach Club pool on CocoCay)
"This isn't vacation days spent. This is bragging rights earned. Cruise to CocoCay to conquer the tallest waterslide in North America and snap a shot from up to 450 feet up in a helium ballon. Grab a drink at the swim-up bar and soak up the scene in the largest freshwater pool in the Bahamas. Or get a taste of Bora Bora with your own Overwater Cabana. Discover the magic of Perfect Day at CocoCay - only onboard Royal Caribbean Cruises," says Royal Caribbean about their exclusive island paradise. 
CocoCay is so packed with activities, that the island is divided into what Royal Caribbean calls 'neighborhoods'. These neighborhoods are called; Coco Beach Club, Thrill Waterpark, Oasis Lagoon, Chill Island, South Beach, Up Up and Away, and Arrival's Plaza. 
Along with a full waterpark on the island, CocoCay also has a zipline of its own, a giant pool complete with swim-up bar, exclusive luxury areas for those looking for an elevated experience, tons of beach space, a wave pool, and more than enough island to explore that guests will want to visit this island again and again. 
"Take your vacation adventure to the skies aboard a helium balloon and see the private island like never before - from the highest vantage point in The Bahamas. Feel your heart race while soaring up to 450 feet above land and sea, then let the wonder wash over you as you coast on the breeze," states Royal Caribbean regarding their hot air balloon experience exclusively on CocoCay. 
CocoCay has some of the most unique activities and amenities available to guests out of any cruise line private island. One of those truly unique experiences is the Up, Up and Away hot air balloon ride for guests to be able to soar to new heights. This experience does cost extra, and if guests choose to participate in this activity the cost will be charged to their stateroom account.
Not only does CocoCay offer exclusive on-beach hammocks and exclusive Beach Cabanas for guests, there is also the beautiful Coco Beach Club. One of the highlights of the Beach Club, are the Bora Bora-style Overwater Cabanas that offer guests a truly luxurious experience. "The first Overwater Cabanas in The Bahamas bring a bit of Bora Bora to your Perfect Day at CocoCay getaway with unbeatable views of the horizon, overwater hammocks, freshwater showers and private slides that drop you right into the crystal-clear waters below," says Royal Caribbean about this unique offering. 
Opportunity for Excursions
Image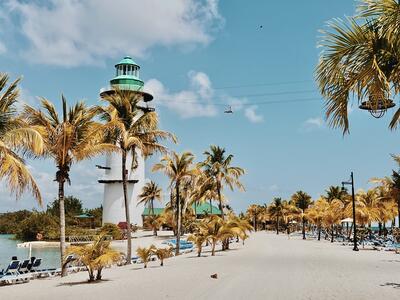 (Harvest Caye Zipline) 
While the possibilities are limitless ashore on the island of CocoCay, there are not any options for excursions off the island. CocoCay is an island in The Bahamas, and is near other private islands. 
Because Harvest Caye is located very closely to Belize, just off the coast, it gives the guests of Norwegian Cruise Line the opportunity to see some of what the country has in store for visitors. 
Guests can either pre-book excursions from Harvest Caye before their cruise or once they get onboard. There are opportunities to go on day-trips to see lagoon wildlife, Mayan temples, rainforest river tubing, and parasailing. 
The ability of being able to see some of Belize is a great option for guests visiting Harvest Caye. If you are someone who appreciates the ability to see other countries and cultures while you travel via cruise, Harvest Caye may be a good option if you are choosing one of Norwegian Cruise Line's private islands, or Royal Caribbean's. 
Food and Drink
Image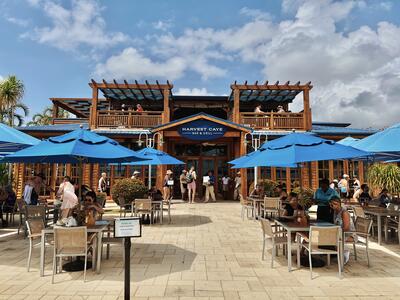 (Entrance to main restaurant on Harvest Caye)
It is important to note, because Norwegian Cruise Line has a unique partnership with the country of Belize regarding Harvest Caye, all food and drink on the island come at an additional cost, even if guests have purchased the onboard beverage package. 
Due to its unique governance, this means that there is no complimentary food on the island of Harvest Caye, even though the island is owned and is exclusively used by Norwegian Cruise Line. Harvest Caye does have several bars and restaurants for guests to check out and explore should they need a refreshment from taking in the beautiful sun and sand of the island. 
CocoCay on the other hand has many options of complimentary food for guests. "Perfect Day at CocoCay offers loads of options to fuel up in between adventures. Like harbor side views, chicken wings and fries with signature dipping sauces at Captain Jack's. Freshly grilled burgers and barbecued chicken at Skipper's Grill," says Royal Caribbean about some of the complimentary food options onshore at CocoCay. 
Design and Environment
Image
(CocoCay sign and directory)
These two private islands are offer very different atmospheres to its visiting guests. CocoCay offers fun and vibrance, while Harvest Caye offers lush greenery and relaxation. 
It is my personal opinion that these two resort-like private islands offer something unique and different to its guests, and therefore some visitors will love the exciting energy of CocoCay, while others may appreciate the subdued calm and tranquility of Harvest Caye. 
CocoCay is sprawling in its entertainment and activity offerings for guests. While Harvest Caye focuses more on giving guests a taste of Belize, while allowing them to enjoy the beauty of this resort-like island. 
I think that both CocoCay and Harvest Caye have plenty for guests to explore over the course of their day. In fact, I think that guests of both Royal Caribbean and Norwegian Cruise Line could return to these exclusive islands several times and still experience new things and enjoy their time ashore again and again on every visit. 
I appreciate that CocoCay has gone above and beyond in creating a destination entirely unique  and fitting to the Royal Caribbean brand, giving guests the opportunity to experience both thrills and luxury in the same day. 
Harvest Caye puts a lot of effort into staying true to its Belizean roots which I think is important and makes this destination truly unique. It has the charm of Belize and the fun relaxation of it being a private island owned and maintained by Norwegian Cruise Line. 
Conclusion
Image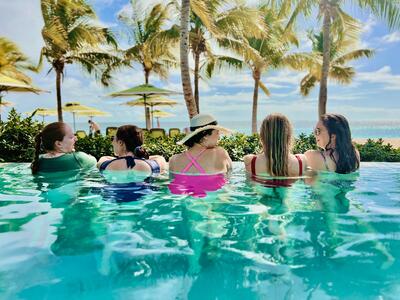 Having visited both these beautiful islands, I would say that it truly depends on your personal tastes and desires for your vacation which destination you will enjoy more! 
If you want a lot of activities and a thrilling waterpark, I would choose CocoCay. If you would like to experience a lush, green, and unique island with Belizean flare, I would choose Harvest Caye. 
When it comes to offering a wonderful day for the whole family, CocoCay does have more options such as the wave pool, splash pads, and several beaches. However, Harvest Caye does have things such as the large splash pad, pool, and nature experience that the younger members of the family are sure to enjoy. 
One of the things that I greatly appreciate about CocoCay versus Harvest Caye, is the complimentary food options available. I was somewhat surprised to discover that there is no complimentary food ashore on Harvest Caye, and this would mean that if guests do not want to spend extra money ashore, they will have to go all the way back to the ship. CocoCay allows guests to enjoy several complimentary food choices while also sitting back at the beach or pool. 
I firmly believe that adults and groups of friends will have a great day exploring both of these islands together. There is plenty of beach space on both islands, including over 6 acres on Harvest Caye. 
Guests will enjoy a beautiful day in paradise no matter which cruise line private island they choose, it all depends on what each guest is looking for when it comes to their vacation!