Outside of the Caribbean and Alaska, the Mediterranean is one of the most popular cruise destinations, as you get to experience diverse cultures, try delicious food, and visit historic places!
While some European cruise lines sail the region year-round, most North American lines deploy their ships for a short season, usually spring through fall. You will not, for instance, find a Carnival ship in the Mediterranean in February. 
When taking into account the cost of the cruise, weather, ship selection, and overall crowds, the ideal time to take a Mediterranean cruise is during the shoulder season; however, the "best" time to take a Mediterranean cruise is subjective, as some may prioritize the warmer weather later in the summer than the lower fares in early spring. Regardless of when you decide to cruise, you are sure to have a memorable trip no matter what!
Truthfully, the best time to take a Mediterranean cruise is when it works for you! There will be pros and cons to each season, and you will never regret booking your bucket-list Europe cruise.
Here's a breakdown of what it is like when taking a Mediterranean at different times of the year. 
Winter
Image
The vast majority of cruise lines do not sail in the Mediterranean during the winter months, as there is not as much of a demand. 
Because of that, however, you can expect fewer crowds and lower fares. A 7-night cruise onboard MSC World Europa in January 2024, for instance, can cost as little as $499 per person!
These cruises are also less likely to see large numbers of families, making them ideal for those who are hoping for a quiet getaway to some culturally rich destinations. Of course, you will want to avoid holiday weeks, such as Christmas and New Year's. They will see an influx of travelers and higher prices!
The major con to a winter Mediterranean cruise is the weather. Even though the temperature stayed pretty moderate, you will not find people sunbathing on the top deck like during June and July. The average temperature for many major cruise ports, including Barcelona, Rome, Athens, and Marseille, during the months of December, January, and February tends to fall somewhere in the mid- to upper-50s and will begin to increase into the 60s during March. 
You also will have to be less selective when it comes to the cruise line and ship. If, for instance, you are a loyal Disney Castaway Club member, you will not want to take a Mediterranean cruise in February; you will not be able to on Disney! 
If, however, you are more interested in the ports than the ship themselves, this might not be an issue for you. This does not mean that you cannot sail on new ships, though! MSC Cruises newest ship, MSC World Europa, is deployed in Europe year-round. 
Depending on when you cruise, you might be able to plan a land-based pre- or post-cruise trip to visit some of Europe's famous Christmas markets! 
Read more: What it's like to take a European cruise in the winter
Spring
Image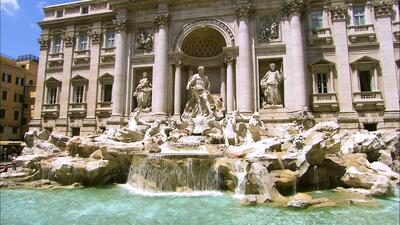 Most cruise lines will begin to deploy their seasonal ships in mid- to late-April, meaning that you will have a greater selection of cruise lines and ships to choose from! This is the Mediterranean's shoulder season, as demand has yet to reach its peak. 
Since there will be more cruise ships, you will begin to see more itineraries offered, meaning that you can be selective in where you want to visit!
Throughout the end of May, travelers will have pleasant temperatures. The high averages somewhere in the mid-60s to mid-70s, making it ideal for exploring the ports of call before it gets hot in the summer months. 
You will also experience less crowds during the spring. Even if your ship is sailing near full capacity, there will likely be fewer tourists in the ports of call. This does not mean that they will be empty, as many Mediterranean cities see tourists year-round; however, they will have yet to encounter their summer surge, meaning that you will have fewer lines at attractions and sites than you would compared to the peak season. 
Image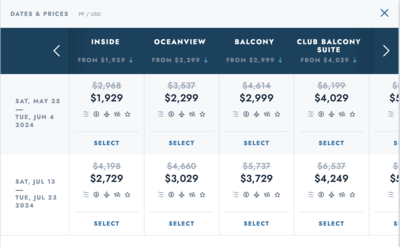 Moreover, while prices will be more expensive than those in the winter months, they will not be as expensive as June or July. A 9-night Mediterranean cruise on Norwegian Pearl, for instance, starts at $1,929 per person, based on double occupancy, for the sailing departing from Barcelona on May 25, 2024. The same itinerary with a departure date of July 13, 2024 starts at $2,729 per person for an inside cabin. That is an $800 difference per person for the same cruise!
Read more: Everything I loved and hated about my European cruise with Royal Caribbean
Summer
Image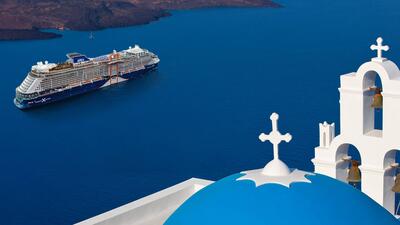 June is when the peak season begins to pick up. In Barcelona, for instance, there can be up to four ships in port some days beginning June 3, 2023! Likewise, the island of Santorini will have six ships in port on June 1, 2023. Plus, the land-based tourist crowds will begin to pick up, too. 
Ranging from the low- to -mid 80s, the average for many ports, such as Barcelona, Athens, and Rome is still warm; however, the temperatures have not yet reached their highest in June, so if cruising during the summer is a must due to school schedules, this month is ideal. 
The months of July and August are the peak season of Mediterranean cruises, meaning that you will find the highest temperatures, prices, and crowds. The comfortable temperatures of mid-60s to mid-70s are long gone. Instead, places like Rome, Ibiza, and Barcelona can see highs in the 90s!
When traveling in warm conditions, it is important to remember to take care of yourself throughout the day by staying hydrated, wearing lightweight clothing, and resting in the shade when possible. You do not want heat exhaustion to slow down your trip!
Additionally, if you are traveling on a budget, the higher fares may leave less money for other incidentals, such as shore excursions. A 7-night Mediterranean cruise that departs from Barcelona on May 25, 2024 onboard Disney Dream starts at $4,522 for two people in an inside cabin. For the July 5, 2024 departure, you would be looking at paying $2,245 more, or a total of $6,767 for two people. 
Read more: 14 cruise ship extra charges you should know about
Fall
Image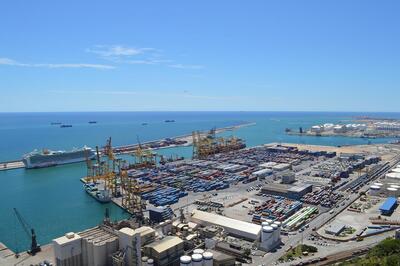 As the summer months wind down, mainstream North American cruise lines will begin redeploy their ships elsewhere. Disney Cruise Line, for instance, leaves Europe in September 2024. Some lines, however, will stay longer into the fall, such as Celebrity Cruises, who has sailings planned for the Mediterranean through November 2024. 
This is considered the later shoulder season, as it marks a new school year begin and fewer families are able to travel, leading to lower prices. The number of European tourists visiting Mediterranean beaches in July and August will have subsided by mid-September, and the number of land-based tours and travel will have decreased, too. 
Moreover, the temperature during these months is lower than the peak summer months. The average high in Rome, for instance, is in the mid-70s during the month of October! This makes for a much more pleasant experience when you are spending long days in port sightseeing. 
Why should you take a Mediterranean cruise?
Image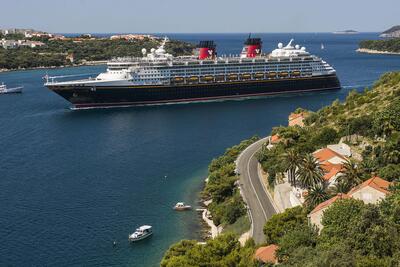 Taking a Mediterranean cruise affords you the luxury of visiting multiple different countries without worrying about repacking your suitcase and navigating through busy train stations or airports. After a day of learning about each port's rich culture, you can board your ship and enjoy everything it has to offer, from its entertainment to specialty and casual dining options. 
They are not like your traditional Caribbean cruise where relaxation is a primary focus. On a Mediterranean cruise, the days are likely to be long, as trying to explore a European city in one day is different than lounging on the beach or going snorkeling in the afternoon!
Plus, you are sure to get your money's worth on a Mediterranean cruise, as you will be able to cross off multiple bucket-list destinations in a single trip! How much would it cost you to visit Rome, Santorini, and Ephesus on a land-based trip? 
Image
You cannot forget about the onboard value, either, including dining, entertainment, accommodations, and transportation! Depending on when you cruise and what cabin you select, you could potentially get your daily cost under $150 per person, per day. 
Finally, planning a trip to Europe on a cruise requires less work than planning a land-based trip. Looking a shore excursions is easier than planning each day from scratch. You know that you will be able to eat breakfast onboard and fuel up before meeting your tour group on the pier! If you do decide to explore on your own, you will be working with certain restraints (i.e., time!), which will help guide your plan.