Cruising is one of the best ways to travel. Not only can you see multiple destinations without ever needing to unpack your suitcase, but cruising is an affordable, nearly all-inclusive style of vacation.
A standard cruise features seven-night itineraries, but you can find a variety of sailings that are both longer and shorter than this. You can even take cruises that sail around the world for hundreds of days!
Port intensive itineraries tend to be 12 to 14 nights long. These can be great for those looking to have an immersive, cultural experience in a new area of the world. On the other hand, you can find plenty of short cruises that are only three to four nights. These are perfect if you're wanting to take advantage of a long weekend or dip your toes into the cruise world.
Image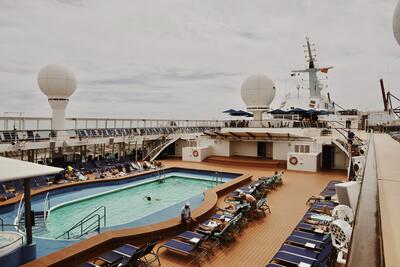 But, what about a two-night cruise? Some might consider just two nights to be too short for a cruise, but I'm here to tell you that a two-night sailing can be the perfect getaway.
Just a few weeks ago, I set sail on a two-night cruise from Malaga, Spain to Lisbon, Portugal onboard Norwegian Sun. This was the shortest and cheapest cruise I've ever taken, although I've cruised on many four-night sailings before. While the cruise was over in the blink of an eye, I wouldn't hesitate to do another two-night cruise.
Image
Here's why I loved my two-night cruise and why I think this kind of short sailing can be the perfect getaway.
A two-night cruise is very budget-friendly.
Although it might be obvious, a two-night cruise will be inherently cheaper than a longer sailing when it comes to total cost. In fact, one of the reasons I was drawn to this two-night sailing on Norwegian Sun was because it was dirt cheap.
This short cruise was only $99 per person! Even with taxes, port fees and pre-paid gratuities, it was less than $400 for me and my friend Hayley to book ourselves an inside cabin on Norwegian Sun. I don't think I've ever seen a cruise cheaper than this one.
Image

Cruises are typically very affordable as is, but some are more expensive than others. You can still make a dent in your budget if you choose to sail on a brand-new ship or want to stay in a suite. Some cruise lines are also more expensive and upscale than others.
These days, it would be tough to find a nice hotel for two nights for less than $400! Not to mention, your cruise fare includes food, accommodations, entertainment and transportation.
Image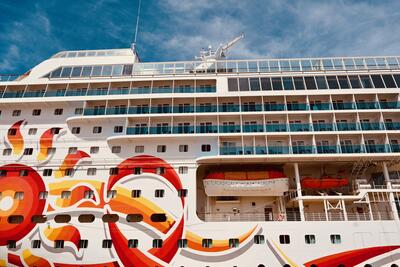 If you're looking to save some money, consider taking a two-night cruise. You certainly won't break the bank, as there's simply not enough time to do so.
Vacation is a state of mind, and a two-night cruise is the perfect opportunity to relax.
I am a firm believer that vacation is truly a state of mind. The minute I step onboard a cruise ship, all of my worries seem to wash away. Of course, this is simply a form of escapism from reality, but sometimes that's what we all need.
It's easy to get bogged down by our day-to-day routine. Sometimes even the shortest vacation can be the perfect time to reset and refocus. We can gain new perspectives by taking a break from our normal life to experience new things.
Image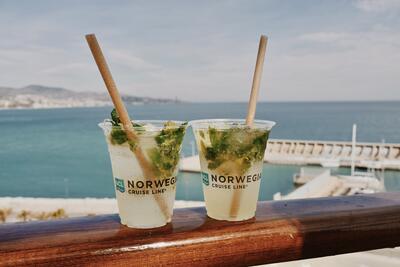 Although a two-night cruise might seem pointless, these short itineraries can serve as a great opportunity for disconnecting. You can leave behind your worries of work and the stress of daily life. In fact, it's been scientifically proven the ocean can relieve anxiety and stress. The smell, sound and color of the sea are all naturally soothing to our brains.
For me, stepping foot on Norwegian Sun for our two-night cruise brought a huge wave of relaxation (literally and figuratively).
Image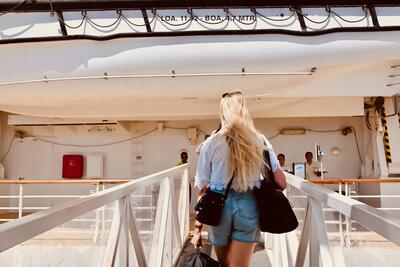 Hayley and I chose to fly standby to Europe for this cruise, which brought more stress than we could have imagined. Getting to the cruise was very hectic and chaotic. We couldn't wait to get onboard Norwegian Sun where we could finally kick back and let go of some of that stress.
As a bonus, we were visiting a new place I had never been before - Cadiz, Spain!
Image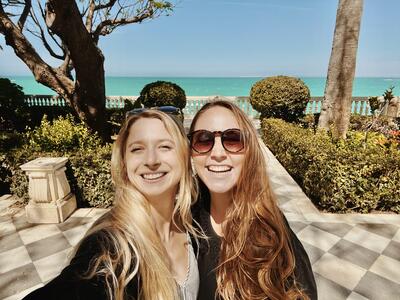 I love experiencing new places and connecting with different cultures. My anxiety honestly went from 0 to 100 during this two-night sailing, even though it went by quickly. 
Packing is minimal for a two-night cruise getaway.
For whatever reason, packing can be the most stressful part of planning for your vacation. It always seems to creep up on me that I need to pack, and I stress that I am forgetting something at the last minute. If I am going on a big trip or a long cruise, that stress is heightened even more.
Image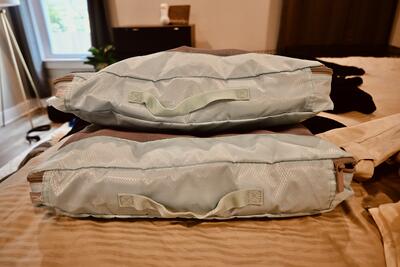 For a two-night cruise, you could board your cruise ship with just a backpack or small duffle! Hayley and I ended up bringing just backpacks for this sailing and it was perfect for this getaway cruise. We had just enough packed for what we needed to enjoy two nights on Norwegian Sun.
Image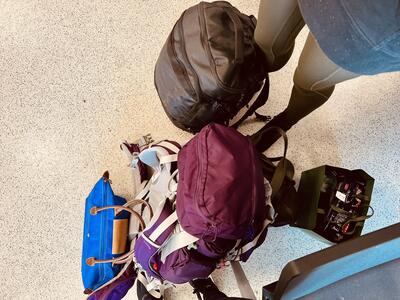 Keeping your cruise simple with minimal packing will allow you to put your energy towards relaxing and experiencing the cruise rather than dragging around too much luggage. We didn't bother unpacking our bags because the cruise was so short - and it was so easy to keep track of everything.
Of course, having less luggage can also keep costs down. For example, if you're traveling on a budget airline, less luggage will save you money. Even major airlines charge for checked bags, so traveling with just a carry-on is cost efficient.
On a two-night cruise, you can experience a new cruise line or ship.
If you're looking to try a new cruise line - or even experience a new cruise ship - choosing a two-night sailing can be the perfect opportunity to do so. You'll have just enough time onboard to explore the ship and get a sample of what the cruise line has to offer.
Image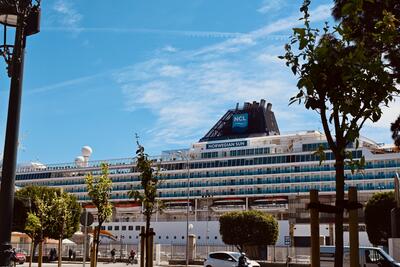 It had been over a decade since I sailed onboard a cruise ship with Norwegian Cruise Line. The last time I sailed with Norwegian Cruise Line was in high school onboard Pride of America. I was really excited to see what Norwegian Cruise Line had to offer now that I am older and have a more mature cruising perspective.
Additionally, Hayley had never been on this class of ships for Norwegian Cruise Line. She had just sailed onboard Norwegian Bliss and Norwegian Getaway, which are two of the cruise line's newer ships in its fleet. 
Image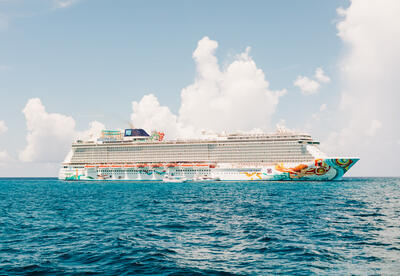 Norwegian Sun is the second oldest ship in the cruise line's fleet, so this two-night cruise gave her a chance to experience a different type of sailing from the cruise line. As such, she was excited to see how Norwegian Sun compared to these newer ships.
A two-night cruise can be the perfect getaway for those looking to try something new! Of course, you won't have enough time to get the full picture of a specific cruise line or ship, but it's a wonderful sampler.
Image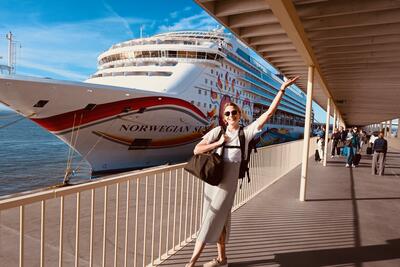 Finally, if you find a cruise line or ship isn't your cup of tea, then you'll be thankful that your sailing is only two nights! You won't have to regret spending a ton of money on an experience that wasn't a good fit for you. Alternatively, if you loved your two-night cruise, then you can always go back for more.
You don't need to take too much time off work (if any) for a two-night cruise.
I wish I could cruise all the time and never have to go back to reality - don't we all, right?! Unfortunately, there's bills that need to be paid and most of us have jobs that await our return from vacation.
Not everyone can take a week or more for a cruise vacation. Sometimes we are in a season of life where long vacations aren't possible - but, that's where a two-night cruise can be a wonderful option for a quick getaway.
Image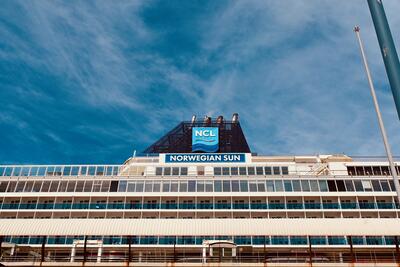 A two-night cruise is a practical and feasible vacation for almost everyone. Even a workaholic with little time to take away from work can make this type of sailing work. If you're sailing over a weekend, that makes taking off work almost a non-issue. Even if your two-night cruise is during the week, it's just two days of missing work to worry about.
As someone who works a few jobs, I wasn't stressed about missing work for this two-night sailing. I knew that my work would be there when I returned and I left behind that stress when I stepped onboard Norwegian Sun.
Image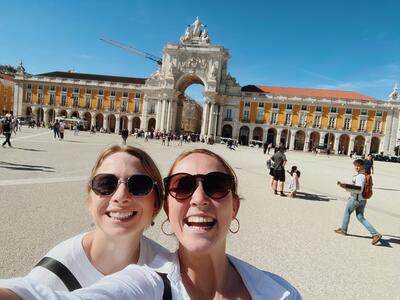 Taking two nights to disconnect, relax and experience something new with someone you love is priceless, whether that's your family, partner or friend. Prioritizing these experiences help achieve a positive work-life balance.
If you're looking to travel as a group, a two-night cruise works for everyone's schedule.
Whether it's a family reunion or a bachelorette party, a short two-night cruise can be the perfect solution because it easily works with everyone's schedule. Even the busiest friend or family member can make a two-night cruise work with their hectic life.
I've seen tons of groups traveling together on short cruises. I've also sailed with many different groups myself (friends, family and work colleagues) on cruises because they are the perfect getaway for a variety of reasons.
Image
Cruise ships can accommodate a wide range of budgets and travel styles, making it the perfect place to gather. Since a two-night cruise is so short, these sailings work well for many different budgets. Those on a tight budget can book a cheap inside cabin guarantee while others who are willing to splurge might enjoy a balcony or even a suite.
Image
Finally, cruises are very easy to plan. Once everyone in your group is booked on the cruise, you simply need to get onboard! This requires very little planning. Cruise ships have so much to offer that you won't need to stress about much. All of the activities, entertainment and dining reservations are taken care of, so there're very few logistics that need to be sorted out.
My Norwegian Sun experience showed me that a two-night cruise is truly the perfect getaway.
I was worried before booking my two-night itinerary on Norwegian Sun that the cruise would be way too short and not worth my time. However, for $99 per person, the price was too good to pass up the opportunity.
Image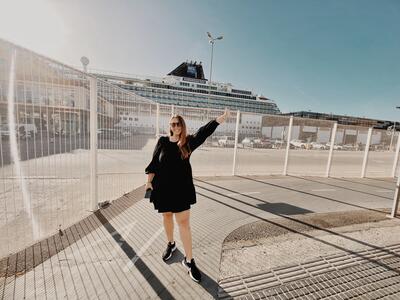 Hayley and I immediately felt relaxed once we stepped foot on Norwegian Sun in Malaga, Spain. We had spent a few days traveling (with a lot of stress) at this point - and these two nights onboard the cruise ship were just what we needed. It was so nice not having to figure out logistics, reservations or transportation for a couple days.
As a bonus, we were able to visit places like Cadiz, Spain and Lisbon, Portugal without having to unpack and repack our giant backpacks again. We found solace in our cozy cabin; in fact, Norwegian Sun was the only place we spent more than two nights on our entire week vacation.
Image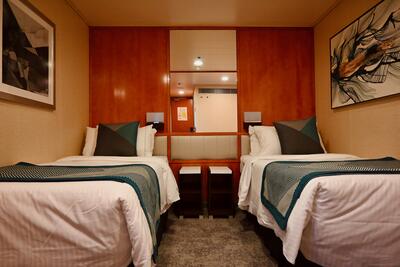 If you're looking for the perfect getaway, I wouldn't hesitate to book a short cruise. Vacation is a state of mind - and my mind is never more relaxed than when I watch a sunset at sea while listening to the waves.