Planning your shore excursions is a vital part of any cruise vacation. With a limited amount of time in each port of call, you do not want to be fumbling to make plans at the last minute just to settle on whatever is available. You might miss out on some incredible experiences if you wait!
It is important to research what is available in each port and to set a budget. If, for instance, your cruise is port intensive, you may have to spend less in each destination. On the other hand, you might be able to splurge a little bit more if you are only stopping in two or three places. 
Just as selecting the right cruise line and ship is a vital component your vacation, so is making sure that you have the best time possible ashore. Whether you want to snorkel in the Caribbean and visit Mayan ruins in Mexico or explore Alaska's wildlife and culture, there are plenty of shore excursions to choose from, no matter where your cruise is going!
Here is our ultimate guide to cruise shore excursions. 
What is a shore excursion?
Image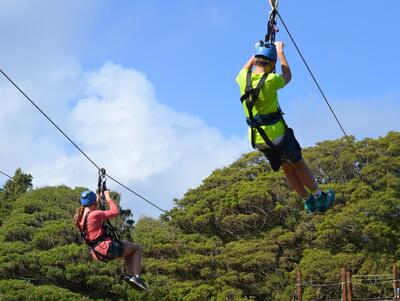 Shore excursions are tours that are designed for cruise ship passengers to maximize their time in specific destination. Since you cannot experience everything, they are only meant to give you a taste of what the port has to offer and can be booked directly with the cruise line or through a thirty party. 
You will have numerous options no matter where you are going, ranging from historical or cultural landmarks to spending time outdoors on a hike or lounging on the beach. It is important to do research to see what is available in each place. The Caribbean, for instance, is not just filled with beautiful beaches. You can go zip lining through the forest, ride an ATV along the coast, or experience local culture through a food tour. 
Read more: Best Caribbean shore excursions
What is the difference between cruise line sponsored shore excursions and those offered by third parties?
Image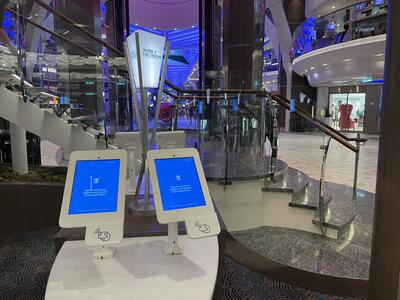 No matter what cruise line you are sailing with, they will offer shore excursions in each port of call. Alternatively, you can conduct further research and find a tour through an independent vendor. 
There are a couple of pros for booking through your cruise line, with the most notable being that if your tour runs late, the ship will wait for you. Additionally, if your ship is unable to dock in port, you will be automatically refunded the full amount of any short excursion that you booked.
If you schedule a tour through a third party, you will be responsible for handling all of the logistics, from meeting them in port and making sure that you are back onboard in time. This is important, as the ship will not wait for you if you happen to be running late!
Moreover, it is important to read into the cancellation policy of the provider you are considering booking with. If your ship cannot dock or there is inclement weather that prevents the tour from operating as scheduled, you should know whether you are entitled to a refund or not. 
Cruise lines have their own refund policies, too; however, they tend to be more flexible, and you can most likely cancel a tour for at least onboard credit if you decide you no longer want to go. 
The biggest advantage to independent vendors is that their prices are often less than the cruise line's, even if the tour is similar.  
Read more: How to plan your own shore excursion
How do I find third party excursions?
Image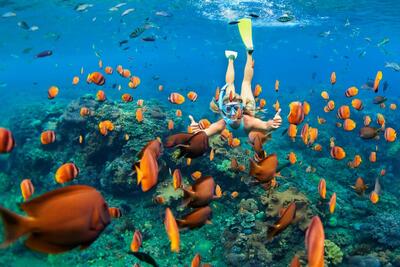 If you are interested in shopping around and seeing what other options are available to you, you are probably wondering where to start. TripAdvisor is a great place to browse, as you will find lists of things to do, restaurants, businesses, and tour operators in each port of call. Plus, you can read reviews from previous customers to see if they had a good experience or not.
If you have a clearer idea of what you would like to go, you can head straight to Google and see what results are yielded. When in Aruba once, I knew that I wanted to go snorkeling. Rather than scroll through TripAdvisor, I went to Google to find a thirty party operator. 
That is how I found Pelican Adventures. After doing some more research on the vendor to make sure they were reputable, I had four tickets booked in no time for less than what Royal Caribbean was offering for similar tours. 
Viator is another good resource when looking for third party shore excursions, as you can browse and book different tours, day trips, etc. all in one place. Simply look up your port and see what is offered. If you are not sure of what you want to do yet, you can even filter the search by category to show tours relating to food & drink, sightseeing cruises, and more.
How much do shore excursions cost?
Image
The majority of mainstream cruise lines do not include shore excursions in the base price of your cruise, meaning that you will have to pay for each one individually and factor them into your vacation budget. 
The price of shore excursions vary greatly depending on where you are sailing to and what you decide to do. Excursions in Alaska, for instance, are often more expensive than those in the Caribbean and Bahamas. Here, a helicopter tour can set you back hundreds of dollars per person. On the other hand, a snorkeling excursion in the Caribbean can cost as little as $60 each. On average, you are likely to find excursions anywhere between $50 and $200 per person. 
Before settling on any itinerary, do a little bit of research to see what the average price of shore excursions are. You do not want to book a cruise only to find out that you will max out your vacation budget after only one tour!
Here are some cruise line sponsored tours from multiple ports around the world to give you an idea of what you might encounter:
Royal Caribbean's "Land's End Boat Trip & Scenic Stop" in Cabo San Lucas, Mexico: $59 per adult and $44 per child
Carnival Cruise Line's "Beach Buggy & Snorkel" in Cozumel, Mexico: $95 per adult and $85 per child
Norwegian Cruise Line's "Horseback Riding, Scenic Trail & Sea Ride" in St. Maarten: $119 per adult and $109 per child
Carnival Cruise Line's "Mendenhall Glacier Native Canoe Adventure" in Juneau, Alaska: $219 per adult and $179.99 per child.
Princess Cruises' "Wilderness Cruise & Silverking Lodge Seafood Feast" in Ketchikan, Alaska: $190 per person
Royal Caribbean's "Best of Ephesus" in Ephesus, Turkey: $129 per adult and $79 per child
Before settling with a cruise line excursion, though, you may want to compare costs with third parties. As mentioned earlier, these tours tend to be cheaper. Plus, you may have more options and find something that interests you more!
Read more: 10 tips for getting the best cruise shore excursion values
Do I need to tip my shore excursion guide?
Image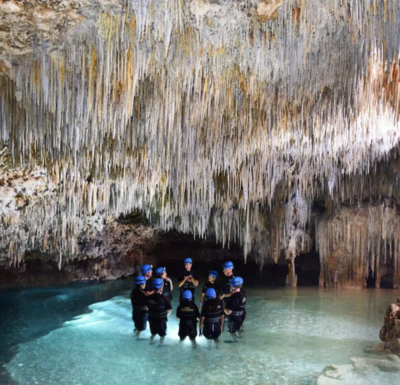 It is customary to tip your guide, as well as the driver, at the end of your excursion. While there is no set amount, you should plan on tipping more for full-day excursions. 15-18% of the tour's price is usually appropriate. For the driver, you can tip $1 or $2 per person, whatever you feel is best. 
Read more: Tipping on a cruise ship: Guide and what to do
Mistakes to avoid when booking shore excursions
Image
When you are browsing available tours, the number of options might seem overwhelming. How are you supposed to decide on just one thing to do? Since cruising is only meant to give you a taste of what is available in each destination, you should try and ignore the "I have to do everything" mindset. 
That being said, avoid any tour that claims to show you the "highlights" of a destination. Instead, pick the top two or three things that you want to see and find a tour that allows you to spend more time there. 
Moreover, you do not want to wait too long to book, either. Depending on where you are going and what tours are being offered, there might be a small capacity, meaning that it has the capability of selling out faster. This is also true if you want to book a specific time, as some time frames are more desirable than others. 
Some attractions, especially those in Europe, will require that you are dressed a certain way to enter, such as the Sagrada Familia in Barcelona. If, for instance, you try to enter wearing see-through clothing or bottoms that do not reach your mid-thigh, you will be denied entry. Make sure you pack appropriately and read the fine print. 
Speaking of the fine print, you will want to make sure what is included with your tour and what is not. Will you, for instance, be responsible for paying for your own lunch, or is an island buffet included in the price? Sometimes, you will have to pay an admission fee into cultural landmarks and will have to have cash on hand. 
Read more: 11 common cruise shore excursion mistakes to avoid
You do not have to book an excursion
Image
Sometimes, going off on your own is better than pre-booking an excursion, whether it is through the cruise line or another vendor. In the Caribbean and Bahamas, for instance, there are tons of beaches within a short drive of just about every port, and cruise lines will overcharge you for transportation. 
In these instances, it is better to hail a cab and rent your own beach chairs. Plus, you will often have more time on the beach than if you were reliant on the cruise line's bus. 
When visiting cruise line private islands, however, there are no local third party vendors. If you want to book an excursion -- whether it is a jet ski tour, snorkel adventure, or anything else--, you will have to book a tour directly through the cruise line. Additionally, sometimes it is easier to go on a tour if you are visiting a remote location where accessing highlights on your own would be difficult and where there are few independent operators. 
That being said, we recommend, even if you are not going to go far, that you at least get off the ship and walk around the cruise port. You are in a new place--you might as well explore something, even if that means just grabbing lunch off of the ship. 
The last time I was in Cozumel, I planned to stay on the ship the entire day. At the spur of the moment, I decided to get off the ship and go eat lunch somewhere that was recommended to me: Ernesto's. It was about a ten-minute walk from the ship, and I was able to eat something a little different with a great view of two ships that were docked. 
What do you need to take with you when you get off the ship?
Image
Onboard, you will use your cruise card for everything. It will act as the key to your stateroom, as well as charge card for any onboard purchases that you make. Once you disembark in each port, however, you will need to keep that card safe until you return. 
You will not be able to use it to tip your tour guides or buy any souvenirs. Instead, you will need to make sure that you have cash (and/or the local currency), any debit or credit cards that you wish to carry, and your photo I.D. You will also want to ensure that all of your valuables are secure. 
Taking your passport off the ship is a matter of personal preference. I recommend leaving it on the ship and carrying photocopies with you. At least on the ship, you know it is safe in your stateroom's safe. Having it stolen or lost while in port is another story and would certainly ruin the trip!
Read more: Where to keep your cruise card, phone and cash during a shore excursion?