If you want to sail on today's newest cruise ships, you will have to be willing to accept the larger price tag. That's because these ships are larger and more technologically advanced than ever, meaning that they cost the cruise line a lot more to build. They really are like floating cities at sea!
If you're sailing onboard a Carnival cruise ship, you might be wondering how much it costs to build the most fun ships at sea. Even the smallest Fantasy Class ships built in the 1990s cost hundreds of millions of dollars! 
Here's a breakdown of how much a Carnival cruise ship costs to build. 
Read more: How much does it cost to build a cruise ship?
The newest Carnival cruise ships cost just shy of $1 billion dollars
Image
You read that right! Carnival Celebration (2022) and Mardi Gras (2021) each cost $950 million dollars to build. These vessels are about 35% larger than those in the Vista Class, which are the next largest ships in Carnival's fleet. 
Carnival Panorama, the last Vista Class ship to be launched, cost about $200 million less than both Excel Class ships, or around $780 million. Of course, this is still a lot of money! 
Carnival is not known for having the largest cruise ships in the world like Royal Caribbean. Some of their Oasis Class ships have cost close to $1.4 billion to construct! When Icon of the Seas launches in January 2024, however, not only will she become the largest cruise ship in the world, but she will also be the most expensive at around $2 billion!
Read more: Carnival Celebration vs. Mardi Gras: A complete guide
How much did Carnival's oldest ships cost to build?
Image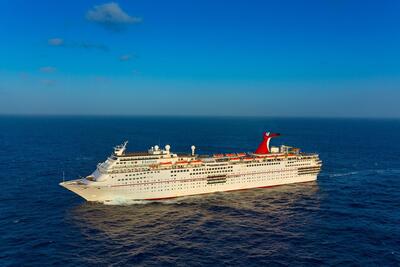 As of October 2023, the oldest ship sailing in Carnival's fleet is Carnival Sunshine. She, however, underwent a major refurbishment in 2013. Prior to that, she sailed as Carnival Destiny and was the first cruise ship in the world to exceed 100,000 gross registered tons. 
Carnival Destiny initially cost a little over $400 million to build. When she was transformed into Carnival Sunshine, the cruise line invested $155 million into her glow-up.
The second oldest ship, Carnival Elation, is smaller than Carnival Destiny, measuring 71,909 gross registered tons. Even she cost hundreds of millions to build, as each Fantasy Class ship cost around $300 million. When adjusted for inflation, that means these ships would have cost close to $550 million today. 
Read more: Carnival Ships By Age: Newest to Oldest (2023)
Why is it so expensive to build a cruise ship?
Image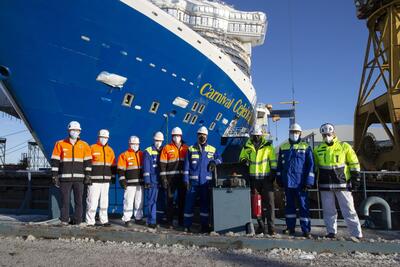 Cruise ships are not like your average hotel or resort; they're engineering masterpieces! Before a cruise line can even begin constructing the vessel, they conduct market research to build ships that will appeal to their target market. 
When the time comes to build the ship, the actual construction process can take anywhere from 12 to 18 months and requires thousands of on-site construction crew members.
The first step in the construction of a cruise ship is the steel-cutting ceremony, which is then followed by the laying down of the kneel. 
Fun fact: did you know that cruise ships are actually built in segments and later welded together? 
Why aren't Carnival cruise ships built in the United States?
Image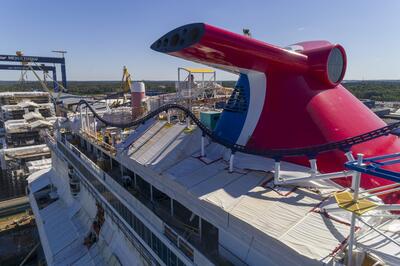 There is no denying that one of the most popular regions of the cruise industry is North America, whether you're sailing to The Bahamas, Caribbean, Alaska, or Bermuda. Why, then, are Carnival cruise ships built in Europe, rather than the United States?
Since cruise ships are so costly to build, cruise lines look for the most cost-effective option available. In the United States, both labor and material costs are higher compared to other countries. Moreover, the shipyard industry receives subsidies in the European Union, helping to keep labor and construction prices down even more. 
Have you ever noticed how a cruise ship might say Nassau on its aft? This is because it is foreign-flagged. In order for a ship to be U.S. flagged, the majority of the material onboard must both be built and manufactured within the United States. As mentioned earlier, this is not the most cost-effective option for any cruise line. 
Image
Both Mardi Gras and Carnival Celebration were built at the Meyer Turku Shipyard in Turku, Finland, whereas Carnival Jubilee, the third Excel Class ship, is currently under construction at Meyer Werft in Papenburg, Germany. This brand-new ship is expected to launch in late 2023. 
Carnival Paradise, one of the oldest ships in the fleet, was built at Masa-Yards in Helsinki, Finland, and Carnival Breeze was constructed at Fincantieri Cantieri Navali in Monfalcone, Italy. 
If you are curious as to where your favorite Carnival ship was built, simply Google the ship's name and fact sheet (i.e., "Carnival Dream fact sheet"). In addition to the ship's construction yard, you will also find out other facts, such as gross registered tonnage, number of staterooms onboard, and more.