Before you can board your cruise ship and officially start your vacation, you must check-in for your cruise. Just like boarding an airplane, cruise lines require guests to check-in for their vacation; during this process, the cruise lines confirms your official documentation and emergency contacts and often requires you to fill out a health questionnaire.
The process is easy and seamless - and unlike flying on an airplane, you can check-in for your cruise far in advance. For example, Royal Caribbean allows guests to check-in for their cruise online or in their app up to 45 days in advance. 
Image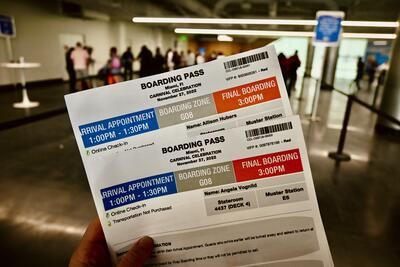 There is really no excuse for not checking in for your cruise. You have plenty of time to get the process complete and it only takes a few minutes, at most.
Yet, I found out firsthand exactly what happens when you forget to check-in for your cruise. During my last weekend cruise on Grandeur of the Seas, I totally spaced on checking in for the cruise. I'll admit that I've never done this before in my two decades of cruising, so it was certainly a learning lesson.
Here's what happens when you forget to check-in for your cruise and why I absolutely won't be making this mistake again.
The morning of our cruise, I realized that I had yet to complete checking in for my weekend sailing on Grandeur of the Seas.
Image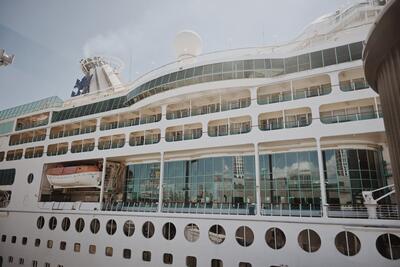 My sister and I decided to book this 4-night sailing on Grandeur of the Seas just a couple months before the sail date. In the weeks leading up to the cruise, I was very swamped at work and mentally preoccupied.
This is not the fault of Royal Caribbean. I had received a few periodic emails reminding me to check-in, but the stress of life and work had caused me to dismiss these reminders. I told myself once the cruise was closer, I would get around to checking in.
At one point, I remembered starting the check-in process and thought I had completed everything except the health questionnaire.
However, I went to download our SetSail passes from the Royal Caribbean app and noticed that I had not completed the online check-in. It only showed that my sister had completed check-in. This was something I had never done before, so I was not sure what this would mean for boarding Grandeur of the Seas at the terminal.
Image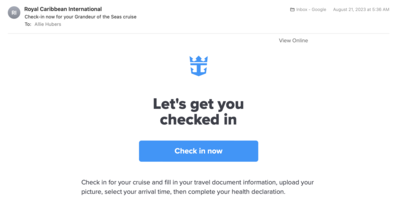 The Royal Caribbean app made it clear that I could no longer check-in, so I went on my computer to see if I could check-in this way.
To my surprise, the online portal showed that I could still check-in for the cruise. I went through the process on my laptop and downloaded my SetSail pass to my phone, along with my sister's. I thought I was in the clear, but this was false hope.
When we arrived at the cruise terminal in Tampa, my SetSail pass kept returning an error.
Image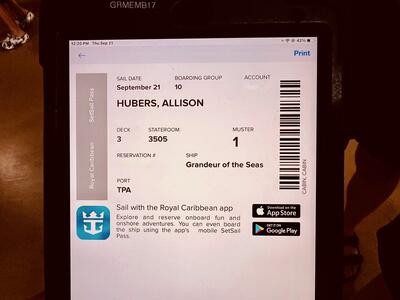 After I was able to download my SetSail pass like normal, I figured I was good to go. However, when the port agents tried scanning my pass, it popped up with a big red error. They tried a few different times at the boarding area, but the SetSail pass unfortunately continued returning an error.
"I can't believe you forgot to check-in," my sister said as we were shuffled to the counter for additional assistance.
I told the port employee that I had checked in for the cruise just that morning because I had forgotten to do it prior. She scanned my passport and asked for confirmation of my information. I also provided her my emergency contact and gave her the credit card that I wanted to be used for the cruise.
She gave me a printed boarding pass to board the ship and told me to take a picture of that barcode to use if needed. The SetSail pass that I had tried to use earlier would continue to give an error, she warned me.
Image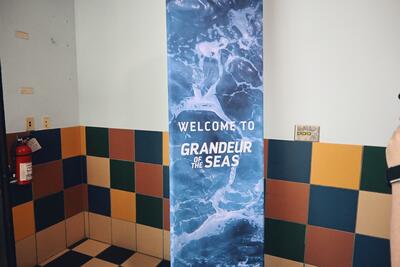 I was bummed that I had wasted our time at the boarding terminal because I had forgotten to check-in promptly. Had my sister also forgotten, we would have been even more delayed getting on the ship.
However, I am sure there are always passengers who forgot to check-in prior to arriving for their cruise. I would also assume there are older passengers who perhaps aren't technologically savvy enough to check-in beforehand and rely on checking in at the terminal in person.
Sadly, my mistake continued to be a hassle on our short cruise.
Image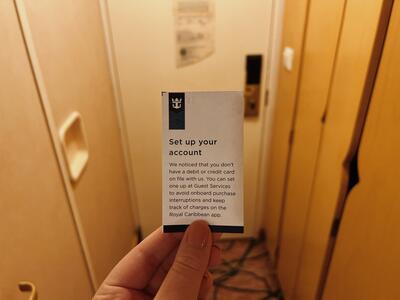 Once we were onboard the ship, I figured now I would be in the clear. I had a physical SeaPass card now on our cruise!
On the third day, I received a notice in our stateroom that my cruise account did not have any payment tied to it! The note said, "Set up your account. We noticed that you don't have a debit or credit card on file with us. You can set one up at Guest Services to avoid onboard purchase interruptions and keep track of charges on the Royal Caribbean app"
The notice confused me, as I knew that the port agent had taken my credit card and she said she had added it to my account. In addition, I saw the pending charge on my credit card statement.
I've always checked-in before arriving to the terminal and set up my payment account on-file. So, I was unsure if there was more that I needed to do regarding my onboard account.
I made a visit to Guest Services to see what the deal was with my credit card on file - or lack thereof.
Image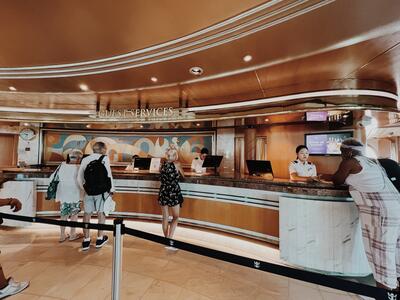 During our port day in Cozumel, I wanted to ensure that everything was set up appropriately with my account. Since most guests were ashore, I thought this would be the best time to talk with Guest Services. If you wait until the last day of your cruise, you can often find long lines.
At this point, I was really annoyed with myself. I absolutely realize that I have no one to blame but myself. Luckily, my sister and I didn't have any plans in Cozumel so it was a good time to see what was going on with my account.
There were a few people in line, but it moved quickly. I eventually was able to speak to someone at the Guest Services desk and asked about why I received the notice. The crew member said that they did see a credit card on my account and he was also confused why I received the notification.
He said this was because I had not checked in online, so there was probably a delay with the system. He assumed anyone who had forgotten to check-in beforehand received this notification in their stateroom as a reminder to set up a payment on account.
Forgetting to check-in for my cruise was a dumb mistake that I won't be making again.
Image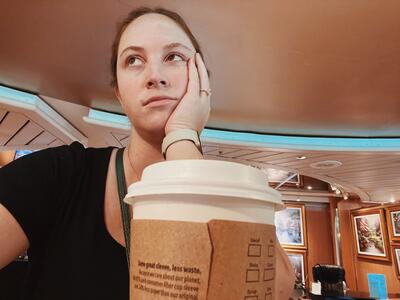 Although I've cruised nearly 40 times, I had never made this mistake before and it's certainly one that I won't make again. Let me emphasize that I realize this is entirely my own fault - but I am sure that I'm not the first nor the last person to forget checking in for their cruise.
Everyone makes mistakes, but vacation is meant to be fun and carefree. It's best to check-in on the app or online before it's too late. Forgetting to check-in for this cruise on Grandeur of the Seas created a few minor inconveniences throughout the cruise. Spending extra time at the terminal and Guest Services (i.e dealing with the repercussions of my actions) during vacation was slightly annoying.
In fact, I realized once I started writing this article that I had yet to check-in for my cruise next week! You can bet your bottom dollar that I promptly finished the check-in process before I even finished this article.