Modern cruise ships are built to be bigger and better than ever before. By today's standards, cruise ships are essentially floating resorts, holding upwards of 10,000 people onboard, including crew.
In fact, the top decks of the newest cruise ships look like amusement parks with water slides, roller coasters, and go-karts! It's easy to forget that you're sailing on a cruise ship onboard these mega-ships because there are so many attractions and onboard thrills.
Because of this, most people prefer to sail on a newer cruise ship. These vessels have much more to do during your cruise and feature modern amenities. With all the hype around new cruise ships, you might not consider sailing on an older and smaller ship. Most will scoff at the thought of sailing on a cruise line's oldest ship.
Image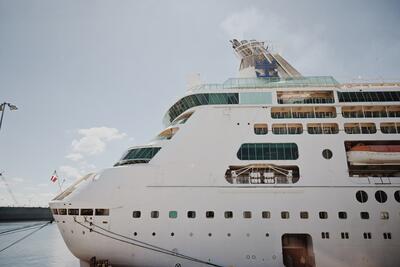 While I love all kinds of cruising, I find myself sailing on older and smaller ships more often than not. To start, these cruise ships typically sail interesting itineraries because some ports have size restrictions, which limit the bigger vessels from docking. Also, older and smaller ships are more affordable, and I love a good cruise deal!
Within the last year, I sailed on Royal Caribbean and Carnival Cruise Line's oldest and smallest cruise ships. I'll be honest, cruising on these two old ships was far from glamorous or luxurious, but I still had a great time without the flashiness of a bigger, newer cruise ship.
Here's how my experiences sailing on the oldest and smallest cruise ships for two of the most popular cruise lines in the world compared with one another. 
Last summer, I sailed on Carnival's oldest and smallest ship, Carnival Ecstasy, for a 4-night cruise with low expectations
Image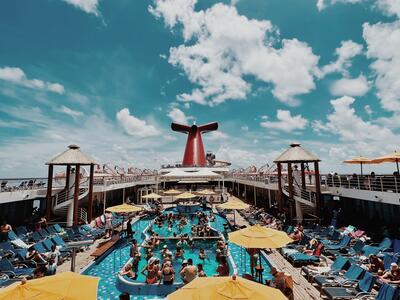 I'm usually on the hunt for a good cruise deal, and last summer I found a great price on a 4-night sailing onboard Carnival Ecstasy. For just $519 total, my sister and I booked a last-minute cruise on Carnival Ecstasy.
I quickly learned that there was a catch; we would be sailing on the oldest and smallest ship in Carnival's fleet. The cruise ship debuted in 1991, making her 31-years-old. Even worse, Carnival Ecstasy was only a few months away from being retired and scrapped to pieces. That explained why we were able to get such a great price!
I had not sailed on Carnival Cruise Line in nearly a decade, so I was a little nervous about what the experience would entail. Carnival is known for having some of the most wild cruises at sea. It's a party from the minute you step onboard a Carnival cruise ship. The cruise line even brands itself as having "the most fun ships at sea."
Image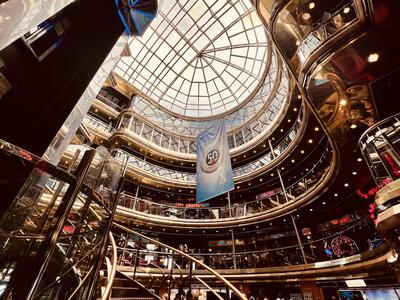 While nonstop partying is not my vibe, I went into the experience with an open mind. I anticipated the ship would look aged, outdated, and rusty. In a short sailing over the weekend, I also expected that our cruise would feel like a party the entire time.
To my surprise, the cruise was better than I could have expected. While the ship was definitely outdated, I was pleased to see how Carnival had outfitted this older ship with more modern amenities. Even on the smallest and oldest ship, there was plenty to do onboard to keep busy, let loose, and have some fun.
Just a few weeks ago, I cruised onboard Royal Caribbean's oldest and smallest ship: Grandeur of the Seas
Image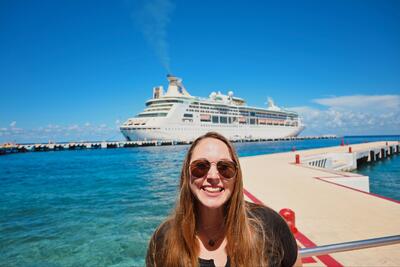 This summer, my sister and I were looking to take a cheap weekend getaway cruise. Cruising during hurricane season is normally a great - albeit a little risky - opportunity to find affordable cruise rates.
We ended up finding a 4-night sailing onboard Grandeur of the Seas for $932 total, which was almost double the cost of last summer's cheap cruise on Carnival Ecstasy. However, Royal Caribbean is normally a little more pricey than Carnival, and cruise fares in general are trending higher than last year.
Grandeur of the Seas is currently the oldest and smallest ship sailing for Royal Caribbean. Built in 1996, she is only a few years younger than Carnival Ecstasy but virtually identical in size at 72,000 gross tons. Although Grandeur of the Seas is not retiring anytime soon, Royal Caribbean was planning to sell the ship in 2021 before the pandemic struck; now, the ship is part of the fleet for the foreseeable future.
Image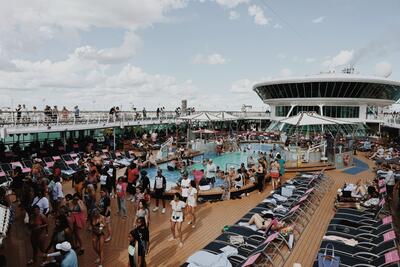 After our unexpectedly positive experience onboard Carnival Ecstasy, I was eager to see what Royal Caribbean's oldest and smallest ship had to offer. I've sailed much more with Royal Caribbean, so my expectations were a little higher than my Carnival Ecstasy cruise.
We ended up having a wonderful time onboard Grandeur of the Seas, despite the ship's age and size. The ship was well-maintained and clean. we also received attentive service onboard.
When comparing food, Grandeur of the Seas had excellent specialty dining onboard, while Carnival Ecstasy had better casual eateries
Image
Food is one of the most important aspects of a cruise, regardless of a ship's age or size. Between complimentary and specialty dining, it's tough to go hungry on a cruise. For me, it's one of the highlights when I take a cruise vacation.
When it comes to Royal Caribbean and Carnival, both of these cruise lines have great dining options onboard. I'd argue that Royal Caribbean has better specialty dining on their ships, while Carnival really shines with its quick, casual dining options onboard. This proved to be the case while sailing on the oldest and smallest ships for the cruise line.
I was very impressed that Carnival Ecstasy featured some of Carnival's signature dining options, such as Guy's Burger Joint and BlueIguana Cantina. Both of these were top-notch for a quick bite to eat. We also loved Carnival's Pizza Pirate, SeaDay brunch, and sandwich ship. This does not even include complimentary food in the dining room and Lido Marketplace buffet.
Image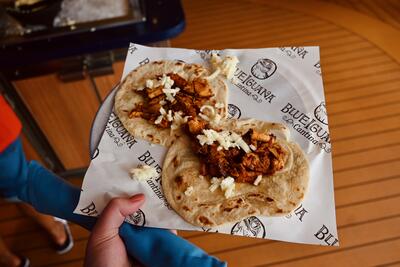 Even though Carnival Ecstasy was the oldest and smallest ship in Carnival's fleet, I appreciated the efforts made to keep the ship feeling fresh with more modern offerings. On our short cruise, we ran out of time to try everything! However, there were no specialty dining restaurants onboard.
In comparison, Grandeur of the Seas only had the buffet, main dining room, Park Cafe, and Cafe Latitude for dining options. I would barely consider Cafe Latitude as an option, as you could only get a few snacks here. Park Cafe had pizza and sandwiches, but we mostly dined at the buffet and main dining room. 
Image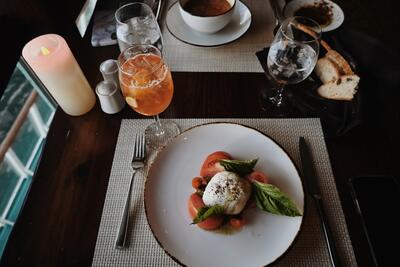 However, there were multiple specialty dining options onboard, including Chops Grille, Giovanni's Italian Table, and Izumi Sushi. We had a wonderful dinner at Giovanni's on the first night. I love to splurge onboard my cruises with a night or two in specialty restaurants, as I enjoy the quieter ambiance and higher-quality food and service.
Both of these ships had their own dining highlights, with Carnival having better casual food and Royal Caribbean offering specialty dining. I do wish Royal Caribbean would consider adding new dining options on their older ships, which would help with crowding in the limited options.
Similarly, Carnival's oldest and smallest ship had more bars onboard while Royal Caribbean's had limited bar service, leading to long lines
Image
Carnival Cruise Line has always considered itself to be the most fun cruise line. Even when Carnival Ecstasy was built, Carnival's onboard experience was centered around partying and letting loose. In contrast, Royal Caribbean's onboard experience has always been a little more upscale and tame.
Both of these short cruises attracted a party crowd onboard, meaning the bars were always pretty busy. However, we found that Grandeur of the Seas only had a few bars open at any time. Because of this, we constantly had to wait in line to get a drink and deal with the crowds. The bartenders had a tough time keeping up with everyone wanting a drink!
Image
On the other hand, Carnival Ecstasy was better equipped to handle a drinking crowd. We never had to wait too long in line to grab a drink. Whether we wanted a poolside cocktail from RedFrog Tiki Bar or a science-inspired drink from the Alchemy Bar, our bar service was fast and easy.
Royal Caribbean's entertainment was slightly better than Carnival's, but neither ships offered spectacular options
Image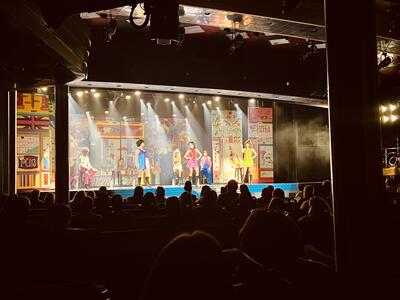 When you sail on a very old and small cruise ship, there will inherently be fewer entertainment options. Additionally, these ships were designed in a very different era of cruising where entertainment was much more simple.
On Carnival Ecstasy, we attended most of the headliner productions in the theatre. The first night felt like I was watching a high school performance if I am being honest. The production clearly had a lower budget, so the performers did the best they could. The other evenings, we decided to go to the Punchliner Comedy Club and Marriage Game Show. Carnival is known for having comedy shows each day on their ships, and this was one of our favorite evening activities onboard Carnival Ecstasy.
Image
Comparatively, Grandeur of the Seas had similar entertainment options, likely due to the similar size and age of the ship. I found the main production shows in the theatre to be of higher quality than what we experienced on Carnival Ecstasy. In addition, we enjoyed a comedian one night and a vocal impersonator the other evening.
However, I preferred Carnival Ecstasy's onboard activities and events compared to Grandeur of the Seas
Image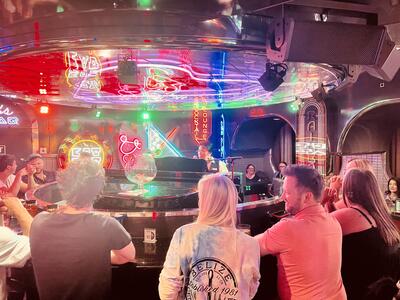 Although both of these old and small cruise ships had plenty to do, I found myself partaking in more activities and events during my Carnival cruise. On the other hand, I relaxed more on my cruise while sailing on Grandeur of the Seas because not many of the events and activities sounded enticing.
For example, many of the trivia games were appealing to my sister and me because of their relevant topics. We also attended karaoke and the piano man sing-a-longs in the evening! I appreciated that Carnival's events were kept to a prompt 30-minute show, so we were able to attend more activities in the evenings.
Image
Overall, the activities and events onboard were limited due to the ship's size. Newer cruise ships have an endless list of things to do onboard, which can be very busy. In my opinion, Carnival did a great job offering fun and exciting events on Carnival Ecstasy, while Royal Caribbean's cruise was a tad more low-key.
For accommodations, our stateroom on Grandeur of the Seas was more modern and maintained compared to Carnival Ecstasy
Image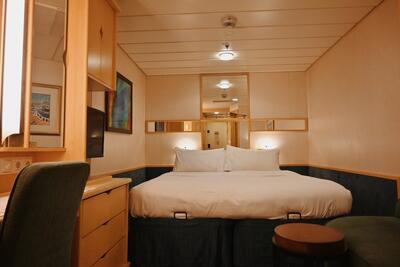 Even when a ship has been well-maintained and refurbished, the staterooms onboard are typically very outdated. Sailing on a 20- to 30-year-old cruise ship will almost certainly feature an old stateroom design.
This was the case with both of our cruises on these old and small cruise ships; however, both cabins were very clean, which is most important. For both of these short cruises, we stayed in an inside cabin guarantee, which was the cheapest option.
Image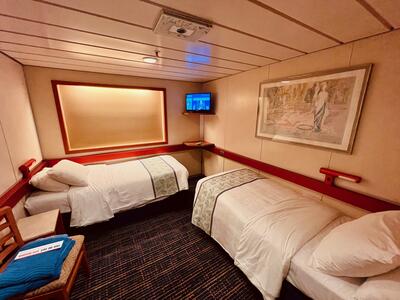 On Carnival Ecstasy, we found our room to be modestly sized but very outdated. We only had a single outlet to share, which was difficult for us! The bathroom was the biggest disappointment, as it featured blue and squishy flooring. 
The toilet was so close to the wall that we nearly had to sit sideways. There was also very little counter space. This bathroom absolutely reflected the ship's age!
Image
When we sailed on Grandeur of the Seas, we were amazed that our cabin did not feel like a 26-year-old cabin. While the decor was definitely outdated, we had two outlets to share, along with two European plugs. The room felt spacious and well-maintained. 
Image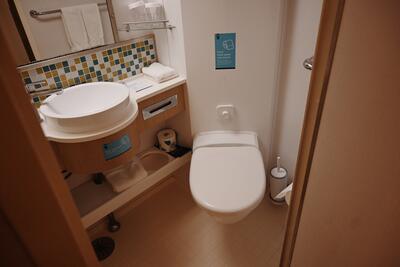 The bathroom also looked updated with white flooring and light woodwork for the sink area. There was also space for us on the sink to store our cosmetics. Sadly, the shower was very oddly shaped and we had to use a clingy shower curtain, which was our least favorite part.
The biggest difference was Carnival's dated ship design and maintenance compared to Grandeur of the Seas' classic, sleek design
Image
Modern cruise ships are designed to be completely different than ships that were built in the 1990s. Improved ship design has helped with crowding and passenger flow onboard, which helps the ship feel less cramped. 
With both of these ships being built in the 1990s, the shift in design was apparent; however, Carnival Ecstasy had one of the worst designs of any ship we've sailed on.
Carnival's cruise ships are designed to be very flashy and bright, but Carnival Ecstasy's design was borderline gaudy. It was difficult to navigate the ship, even though it was so small. We found ourselves hitting dead ends and constantly looking at the deck maps to figure out where we wanted to go. Carnival Ecstasy mostly felt dark and cramped with its low ceilings and nightclub vibes.
Image
On the contrary, Grandeur of the Seas has truly aged beautifully. The ship has a lot of natural light thanks to large glass panels across the ship, especially in the center atrium. It was also apparent that Royal Caribbean has prioritized maintaining Grandeur of the Seas.
There was a little bit of rust throughout Royal Caribbean's smallest and oldest ship, but the ship was in good condition for its age, unlike Carnival Ecstasy! Since the ship was so close to retirement, this might have contributed to the ship's condition. We found many instances of rust, shattered mirrors, and even a window with duct tape!
I firmly believe that you can have a great time on any cruise ship, regardless of size or age
Image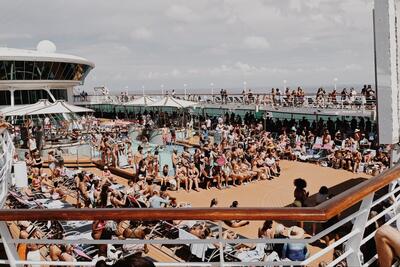 Both of these cruises with Royal Caribbean and Carnival Cruise Line were fun and lively with a more party-like atmosphere. Any weekend cruise is more likely to attract a party crowd, especially with many groups and bridal parties traveling together.
Grandeur of the Seas's sleek design had aged better in comparison to Carnival Ecstasy's gaudy nightclub design. In fact, I think Carnival's ship design overall is less progressive than Royal Caribbean. 
This was the biggest difference between the two ships, as these small and old vessels had similar onboard vibes, entertainment offerings, and activities available. 
Image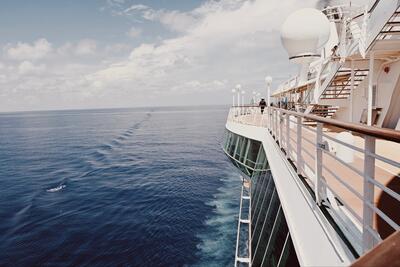 Despite Carnival Ecstasy's age, I was most impressed by how many signature Carnival dining options were onboard, including Guy's Burger joint (my favorite), along with RedFrog TikiBar, SeaDay brunch, the Alchemy Bar, and BlueIguana Cantina. 
I wish Royal Caribbean would prioritize adding modern venues -- like El Loco Fresh or The Lime & Coconut Bar -- to their older ships to jazz up the experience.
Image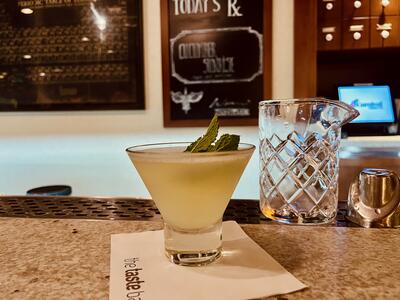 Age is just a number, especially when a cruise ship is well-maintained. Most cruise lines prioritize upkeep for their older ships, and there are many great advantages to sailing on an older and smaller ship. You'll not only save money, but you'll also be more likely to visit off-the-beaten-path locations on a smaller ship.