Norwegian Cruise Line (NCL) features cabins and staterooms for every type of traveler onboard, from the ultra luxury, to the perfect spaces for solo cruisers.
Norwegian Cruise Line offers up to seven different types of staterooms, these categories include; The Haven, Club Balcony Suites, Spa Staterooms, Balcony Staterooms, Oceanview Staterooms, Inside Staterooms, and Studio Staterooms.
Each Norwegian Cruise Line stateroom type comes with unique amenities and features that are intended to enhance guests' experience while onboard.
Studio
Image
Studio cabins are a relatively rare commodity within the cruise line industry. Norwegian Cruise Line offers this type of stateroom to individuals traveling solo who wish to embark on a cruise voyage on their own.
Each studio room features a full-sized bed, bath portion of the room which comes complete with a walk-in shower, sink and vanity, and toilet. Each studio room also contains a television, small desk area, and virtual port hole screen that allows guests to see the view from outside the ship, and enjoy ocean views virtually.
Image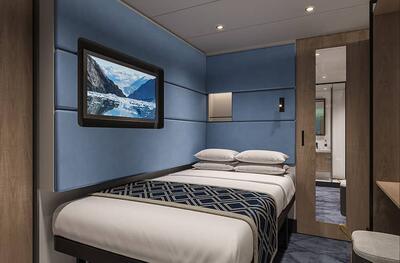 (New Studio Stateroom aboard Norwegian Prima)
The studio cabins contain every amenity that a solo cruise traveler might need on their voyage, all within a cozy and comfortable 100 square feet space. These rooms are often offered at a special price, and Norwegian Cruise Line frequently runs special sales on these rooms as well. Be sure to check the 'Cruise Deals' portion of the Norwegian Cruise Line website.
Image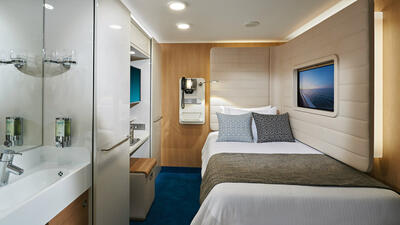 Exclusive to solo travelers booked in a studio cabin, is access to the private Studio Lounge. The Studio Lounge has been designed by Norwegian Cruise Line specifically for guests traveling solo so that they might have a venue to meet and interact with other solo guests while onboard. The lounge comes complete with a food and drink station. The lounge may also host special events for solo travelers.
Inside Staterooms
Image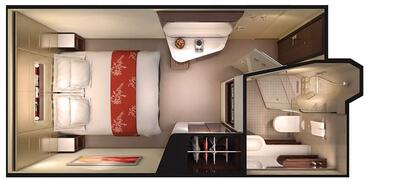 NCL describes their inside staterooms as "lively style and smart sophistication."
Family Inside
The family inside staterooms come complete with two beds that can be configured into a queen bed, or pulled apart to two separate beds. Additionally these rooms can accommodate families or a group of travelers, as each family inside stateroom is equipped with two pullman beds. This means that up to four guests can sleep comfortably within the  Family Inside stateroom category.
Image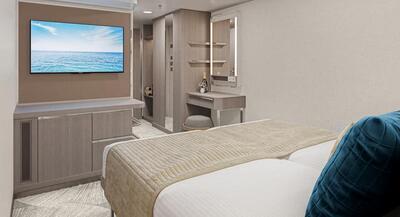 (Inside Stateroom aboard Norwegian Prima)
Inside
These rooms are often times the most affordable type of staterooms for the average cruisers. The inside staterooms onboard NCL's vessels are primarily designed to accommodate two guests comfortably. These rooms come complete with their own bathroom areas, closet, television, and small desk area. The inside staterooms measure at approximately 135-160 square feet.
Image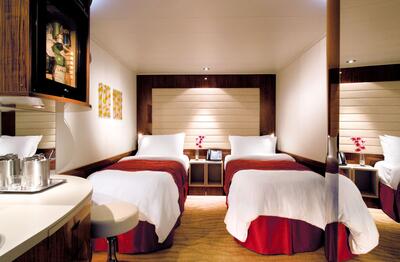 Oceanview Staterooms
Image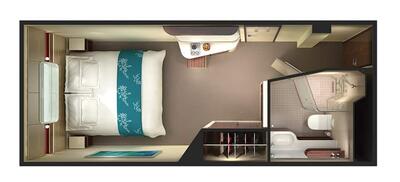 "These stylish staterooms feature fine appointments and clear oceanviews," says Norwegian Cruise Line about their Oceanview cabins.
Family Oceanview
These staterooms offer all of the amenities of NCL's Inside Staterooms, but feature windows that give guests a look out onto the ocean, may it be in the morning as they are getting ready for the day, or at night as they are falling asleep. The Family Oceanview rooms are capable of accommodating up to five guests. Additionally, most staterooms in this category are located close to the kids' areas onboard.
Image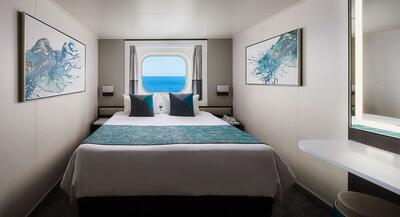 Oceanview
All Oceanview Staterooms come with all NCL standard amenities featured in the Inside Staterooms, including bathroom area with a walk-in shower, television, small desk, and closet. Oceanview staterooms typically measure 235-370 square feet. It is important to note, that the windows in these Oceanview Staterooms do not open.
Balcony Staterooms
Image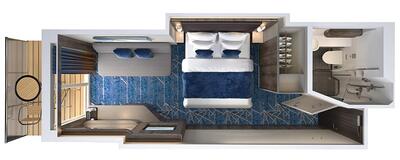 "Floor-to-ceiling glass doors open to your very own private balcony. Stylish and sophisticated appointments enhance these modern rooms," states Norwegian Cruise Line regarding their Balcony Staterooms.
Family Balcony
Designed to give families plenty of room on their voyage, these rooms measure at 216-426 square feet, and are capable of accommodating up to four guests.
Image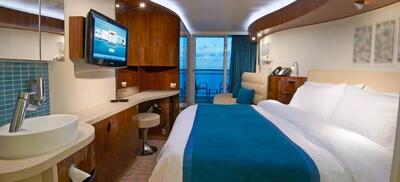 Balcony
Balcony staterooms offer guests their very own space to enjoy unparalleled views. These rooms feature two beds that can be configured into a queen-sized bed, or pushed apart. Each room comes complete with a balcony with two chairs and a small table, couch area with a small desk, closet, bathroom area with walk-in shower, and television.
Image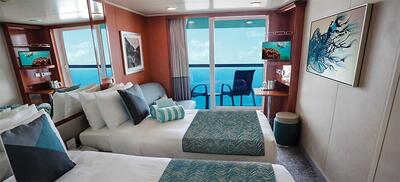 Large Balcony
These larger Balcony Staterooms measure at 331 square feet and are equipped with all of the amenities of the classic Balcony Stateroom. These rooms offer larger balconies for guests to enjoy ocean views while sailing along their cruise voyage.
Spa Staterooms
Image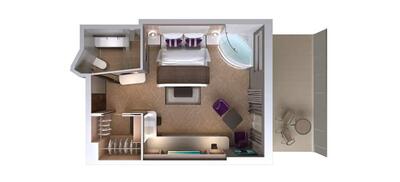 (Spa Stateroom in The Haven)
Norwegian Cruise Line has a unique type of stateroom called the Spa Staterooms. "The Haven Spa Suite, Spa Club Balcony and Spa Balcony provide a more pampering spa experience at sea with easy access to the Spa and Fitness Center," states Norwegian Cruise Line regarding this category of stateroom. All Spa Staterooms offer guests complimentary access to the Thermal Suite onboard NCL ships. These rooms feature relaxing spa themed decor in each room.
The Haven Spa Suite with Balcony
This luxurious room within The Haven complex onboard some of NCL's ships, features a king-sized bed, personal hot tub, relaxing spa decor, large walk-in closet, large desk area, and balcony complete with lounge chair. These rooms measure at 430-433 square feet.
Image
Spa Club Balcony Suite
These relaxing spa themed suites feature oversized waterfall showers, and are located adjacent to the Mandara Spa onboard NCL ships. This room type measures 249 square feet.
Image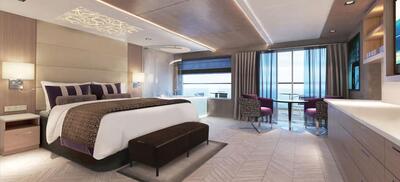 Spa Balcony
The most affordable of the Spa Staterooms, the Spa Balcony features a couch area, balcony with table and chairs, closet, and desk area. This room type measures approximately 218-234 square feet.
Club Balcony Suite
Image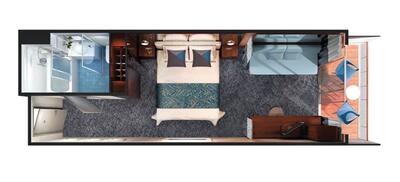 "Sublime, spacious suites ideal for the two of you or the whole family. Savor luxurious touches and breathtaking, private views," states Norwegian Cruise Line regarding their Club Balcony Suites.
Image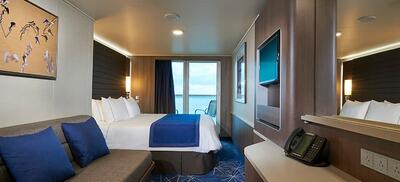 Most of these staterooms are located mid-ship, making them perfect for individuals who wish to experience the least amount of ship movement as possible. Because of their location, these rooms are close to all of the action onboard NCL ships. These rooms come complete with a queen-sized bed and a sofa bed, making them capable of accommodating up to four guests. Each room features a private balcony, and measures approximately 249-361 square feet.
The Haven
Image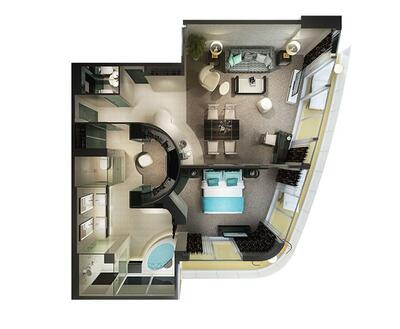 (Example of one type of The Haven stateroom)
The Haven is a unique area onboard some Norwegian Cruise Line vessels. The Haven offers exclusive and private luxurious amenities to guests staying in these room types. "Hidden at the top of the ship, The Haven features our most luxurious, well-appointed accommodations as well as 24-hour butler, concierge service and private sundeck," says NCL about The Haven.
All guests staying in The Haven rooms have access to private areas of the ship, including The Haven Lounge, The Haven Restaurant, The Haven Fitness Center and The Haven Courtyard and Sundeck. This exclusive area of NCL ships is like its own ship within a ship.
Image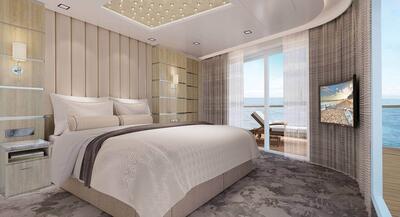 Included with staying at The Haven, guests will be able to enjoy the following benefits and exclusive amenities:
Skip the regular lines and be personally escorted on and off the NCL ship at both the pier and ports-of-call destinations.
24-hour certified butler. This staff member will help guests with nearly everything, from unpacking their suitcases to pouring champagne.
Concierge services to help guests book dining, entertainment, shore excursions, and more.
Courtyard attendant in The Haven Courtyard and Sundeck areas to take care of all guest needs.
Evening turndown service in staterooms.
Priority when making specialty dining reservations and entertainment onboard.
Mobile phone that can be used throughout the ship (available on some NCL vessels).
Platinum stateroom keycard.
Mini-bar and deluxe coffee machine in stateroom.
Special Haven menus at restaurants.
Invitations to exclusive cocktail parties (with ship's officers).
Fine linens, feather duvet on stateroom beds and access to pillow menu.
Plush bathrobes and slippers in stateroom.
Luxury bathroom products in stateroom bathroom.
Image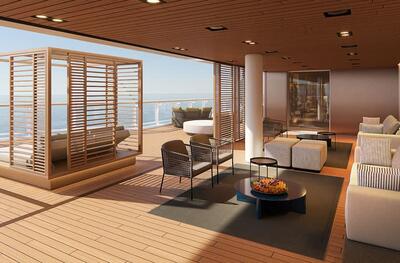 (The Haven lounge area)
The Haven Deluxe Owner's Suite with Balcony
The largest and most luxurious accommodations onboard a Norwegian Cruise Line vessel can be found in this category of stateroom. These rooms measure an impressive 1,459 square feet and can host up to 6 guests. These expansive rooms feature a full living room, large bedrooms with multiple closets, bathroom with a tub, and large balcony with multiple lounge chairs.
The Haven 2-Bedroom Family Villa with Balcony
These rooms offer a luxurious experience for families or larger groups of people. This room type comes equipped with a bedroom with king-sized bed, a second bedroom with a double sofa bed, living room area, bathroom with tub, and balcony with lounge chair. This room type measures approximately 622 square feet.
The Haven Penthouse with Balcony
This room type apart of The Haven, has luxurious amenities including a king-sized bed, double sofa bed, two bathrooms, large living room area, and large balcony area with lounge chairs.
Conclusion
Image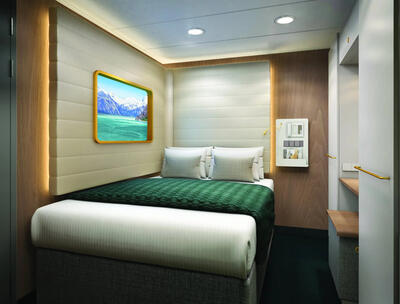 Norwegian Cruise Line offers an extensive variety of cruise staterooms to their guests. NCL's staterooms range in price point and amenities. Every guest considering a cruise voyage with Norwegian Cruise Line will be able to find a cabin that fits their desires as well as needs. NCL caters to every group of traveler, from family to solo adventurers.
Not every room type offered by Norwegian Cruise Line can be found on every vessel. Once you have decided which Norwegian Cruise Line ship to embark on for your next voyage, look over their stateroom options carefully, you are sure to find an option that fits your needs.