MSC Cruises announces enhanced policy to guard against COVID-19
MSC Cruises announced on Monday a new, comprehensive and enhanced health & safety protocol for protecting guests and crew against COVID-19 onboard its ships.
The new policy is being developed in collaboration with relevant national health authorities and with the support of a team of external medical experts. This protocol will cover all aspects of the cruise, starting with the booking phase and all the way through to disembarkation and the return home.
It will also include all aspects of life on board and the precautionary measures will ensure the health and well-being of guests and crew, including enhanced sanitation measures, enhanced medical facilities and health screenings for guests and crew. 
The full details of these new precautionary health and safety measures will be announced in the coming days.
More cancelled cruises
Following CLIA's announcement on Friday, MSC Cruises confirmed it has extended its halt of operations of its ships operating from U.S. ports in the Caribbean until September 15, 2020.
The new set of cancelled cruises affects two ships – MSC Seaside and MSC Armonia – that were previously scheduled to sail in the region during this time period.
Guests affected by the cancelled cruises will receive a 125% Future Cruise Credit to be used on a future cruise of their choice – on any ship, for any itinerary through to the end of 2021.
Meanwhile for the Summer 2020 Season, MSC Cruises has previously announced the temporary halting to its current ship operation up until 31 July in the other regions where the Company operates.
Changes to fall and winter 2020-2021 program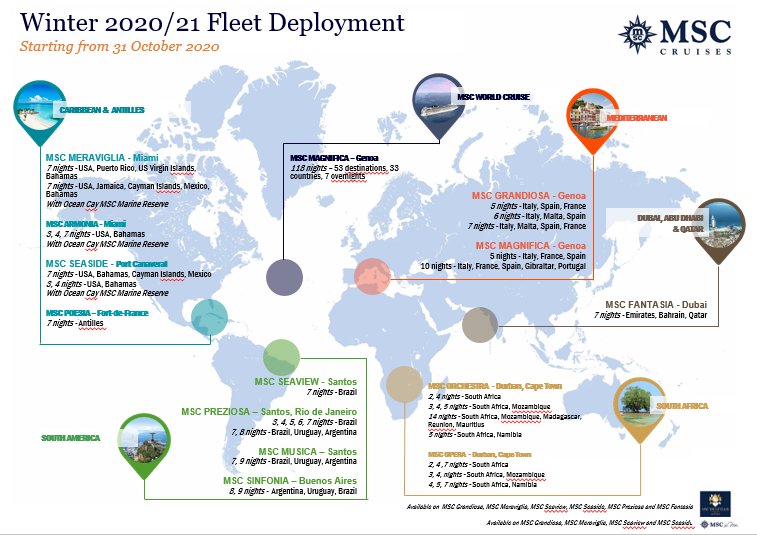 MSC Cruises also announced a revised fall and winter 2020-2021 deployment, with over 90 cruise itineraries with cruises ranging from two to 24 nights.
MSC Magnifica will sail her third World Cruise, offering a 119-day journey around the globe will commence on 5 January 2021, with guests travelling to 53 destinations across 33 countries.
Due to a delay in new ship deliveries, MSC Grandiosa will replace MSC Virtuosa for the winter. All guests currently booked on MSC Virtuosa will be automatically reprotected to MSC Grandiosa, the Company's current flagship, with the original itinerary.
Caribbean
MSC Meraviglia will sail every Saturday from Miami, United States, on one of two itineraries: an evening experience in San Juan, Puerto Rico, Charlotte Amalie, US Virgin Islands, Nassau, The Bahamas and Ocean Cay MSC Marine Reserve, The Bahamas or Ocho Rios, Jamaica, George Town, Grand Cayman, Cozumel, Mexico and Ocean Cay MSC Marine Reserve.
MSC Armonia homeporting in Miami, will offer three-, four- or seven-night cruises to Key West, Nassau and Ocean Cay MSC Marine Reserve.
MSC Seaside will offer three-, four- or seven-night cruises from the brand-new embarkation port of Port Canaveral in Florida, United States, with cruises calling at a range of destinations including Ocean Cay MSC Marine Reserve, George Town, Grand Cayman as well as Cozumel and Nassau.
MSC Poesia will replace MSC Splendida, to serve the South Caribbean and the Antilles with the original planned itineraries departing from Fort de France, Martinique on seven-night, seven-destination itineraries and 14-night from Barbados.
Dubai
MSC Fantasia will replace MSC Seaview and MSC Lirica in Dubai.
South America
MSC Seaview will replace MSC Grandiosa, offering seven-night cruises from Santos, Brazil to the Northeast of the country and calling the new port of Maceio, Salvador and the island of Ilha Grande/Angra dos Reis and Buzios.
MSC Musica, replacing MSC Fantasia, will offer seven -night cruises from Santos calling Itajai/Santa Catarina, Brazil, Punta Del Este, Uruguay and an overnight in Buenos Aires, Argentina.
MSC Sinfonia replacing MSC Orchestra will offer eight or nine-night cruises from Buenos Aires calling,Montevideo, Uruguay, Buzios, Rio de Janeiro Ilhabela, or Ilha Grande/Angra dos Reis, Itajai Brazil, . with the possibility of embarking in the ports of Buenos Aires and Montevideo.
MSC Preziosa will operate her original planned itineraries from Rio de Janeiro, Brazil with a range of cruises from three to eight nights.
South Africa
MSC Orchestra, replacing MSC Musica will offer a range of cruises from either Durban or Cape Town.
MSC Opera will operate the planned itinerary from Cape Town and Durban.
Asia
MSC Bellissima will offer a choice of different length cruises in Asia- a detailed sailing programme will be announced so