Royal Caribbean Crown and Anchor Society Loyalty Program Levels and Perks
Crown and Anchor, Royal Caribbean's loyalty program, rewards cruisers for staying "loyal to Royal."
As a first-timer with the line, you will be automatically enrolled in the Crown and Anchor Society program. There are six levels, and you will receive credit for each day you sail. As you accumulate days, you'll move up the ranks and be eligible for a number of perks, including free cruises.
Here, we break down what you need to know in terms of tiers, what it will take to achieve status with each one and what you'll receive when you get there.
Royal Caribbean Crown and Anchor Levels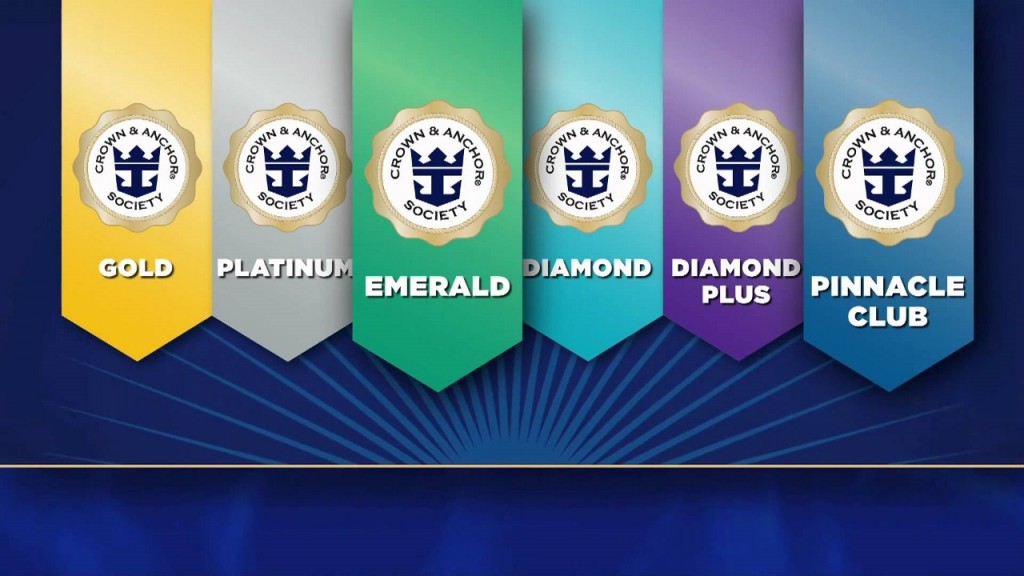 Crown and Anchor Society levels are reached on a points system, as shown below. Passengers earn one point for each night they sail, with two points awarded for stays in suites.
Gold: 3 points
Platinum: 30 points
Emerald: 55 points
Diamond: 80 points
Diamond Plus: 175 points
Pinnacle Club: 700 points
Royal Caribbean Crown and Anchor Perks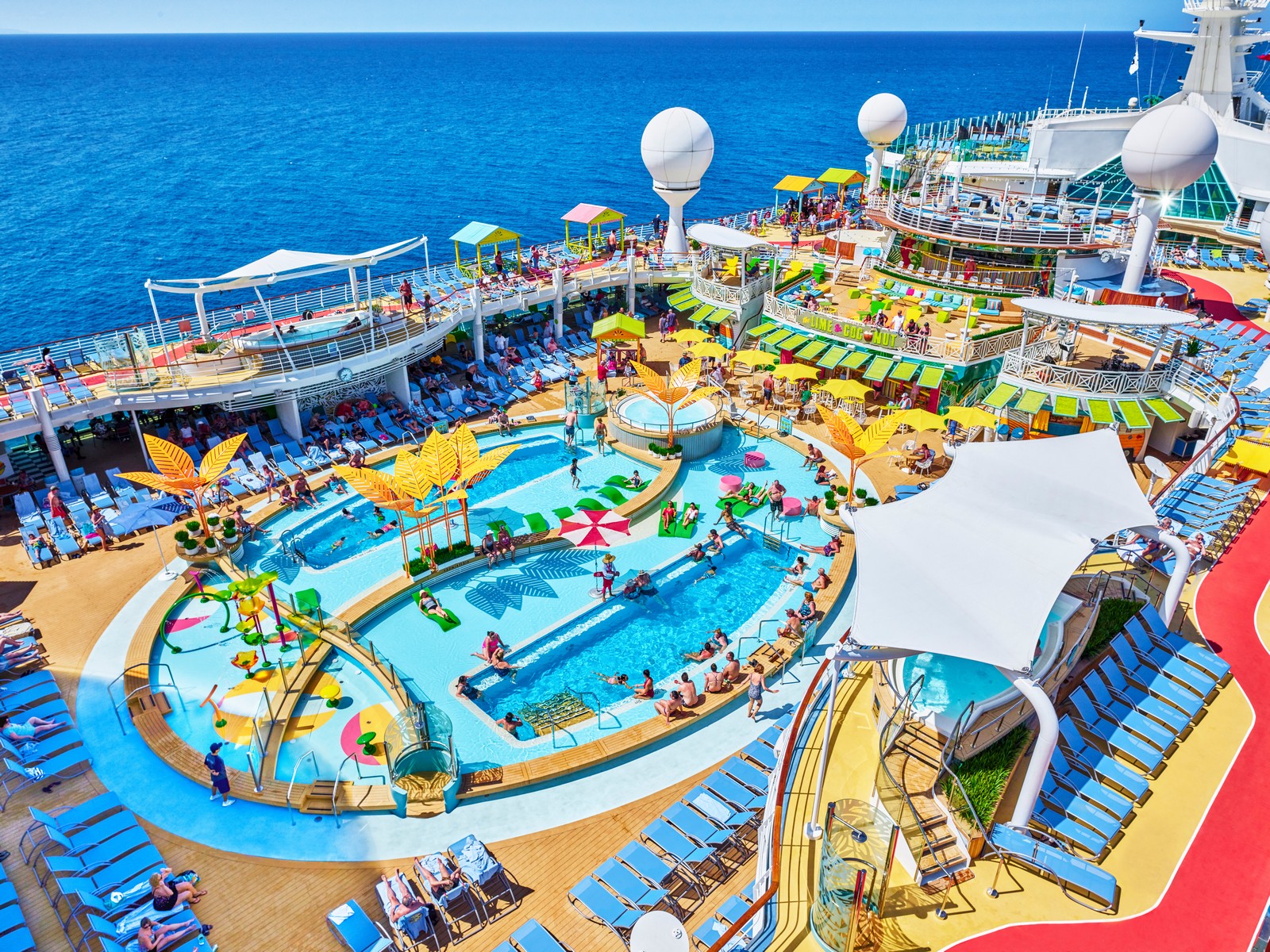 Royal Caribbean Gold Perks
Onboard offers and discounts
SeaPass Card showing loyalty status
Priority check-in pre-cruise
Private departure lounge with Continental breakfast on disembarkation day
Exclusive onboard trivia
Exclusive fare rates for future sailings
Priority notice on special offers, new ship announcements and new itineraries
Reduced cost to upgrade your booking (when available)
Double points for suite bookings
Exclusive email offers
Member cruises
Dedicated membership phone number for passenger questions
Member newsletter
Royal Caribbean Platinum Perks
All Gold-level perks
Exclusive onboard event
Robes for use onboard
Signature lapel pin denoting your status
Discount on balcony and suite accommodations
Celebrity Captain's Club loyalty perks match for bookings with Celebrity Cruises
Royal Caribbean Emerald Perks
All Gold- and Platinum-level perks
In-cabin welcome drinks and snacks
Royal Caribbean Diamond Perks
All Gold-, Platinum- and Emerald-level perks
Milestone recognition
Complimentary gift from the chef
Priority wait list for shore excursions and spa treatments
Access to the Diamond Club (select ships)
Priority departure
Exclusive nightly event
Daily breakfast with specialty coffees
Behind-the-scenes entertainment tour
Priority wait list for seating requests in the main dining room
Commemorative youth gift (if sailing with children)
Royal Caribbean Diamond Plus Perks
All Gold-, Platinum-, Emerald- and Diamond-level perks
Behind-the-scenes tours (galley, bridge, etc.)
Personalized gift (one per household)
Concierge Club access
Priority seating at theater, ice show and AquaTheater events
Meal with an officer (340 points or more)
Upgraded bathroom amenities (340 points or more)
Bonus gift (one per household, 340 points or more)
Bonus gift (one per household, 525 points or more)
Additional list of pre-cruise gifts available to order
Access to dedicated call center staff
50 percent single supplement reduction (for solo cruisers with 340 points or more)
Priority access to stateroom upgrades (when available)
Royal Caribbean Pinnacle Club Perks
All Gold-, Platinum-, Emerald-, Diamond- and Diamond Plus-level perks (except child status match)
Personalized lapel pin
Pinnacle Club SeaPass card with exclusive privileges
Certificate for free cruise in balcony cabin (upon reaching 700 and 1,050 cruise points)
Certificate for free cruise in junior suite (upon reaching 1,400 points and every 350 thereafter)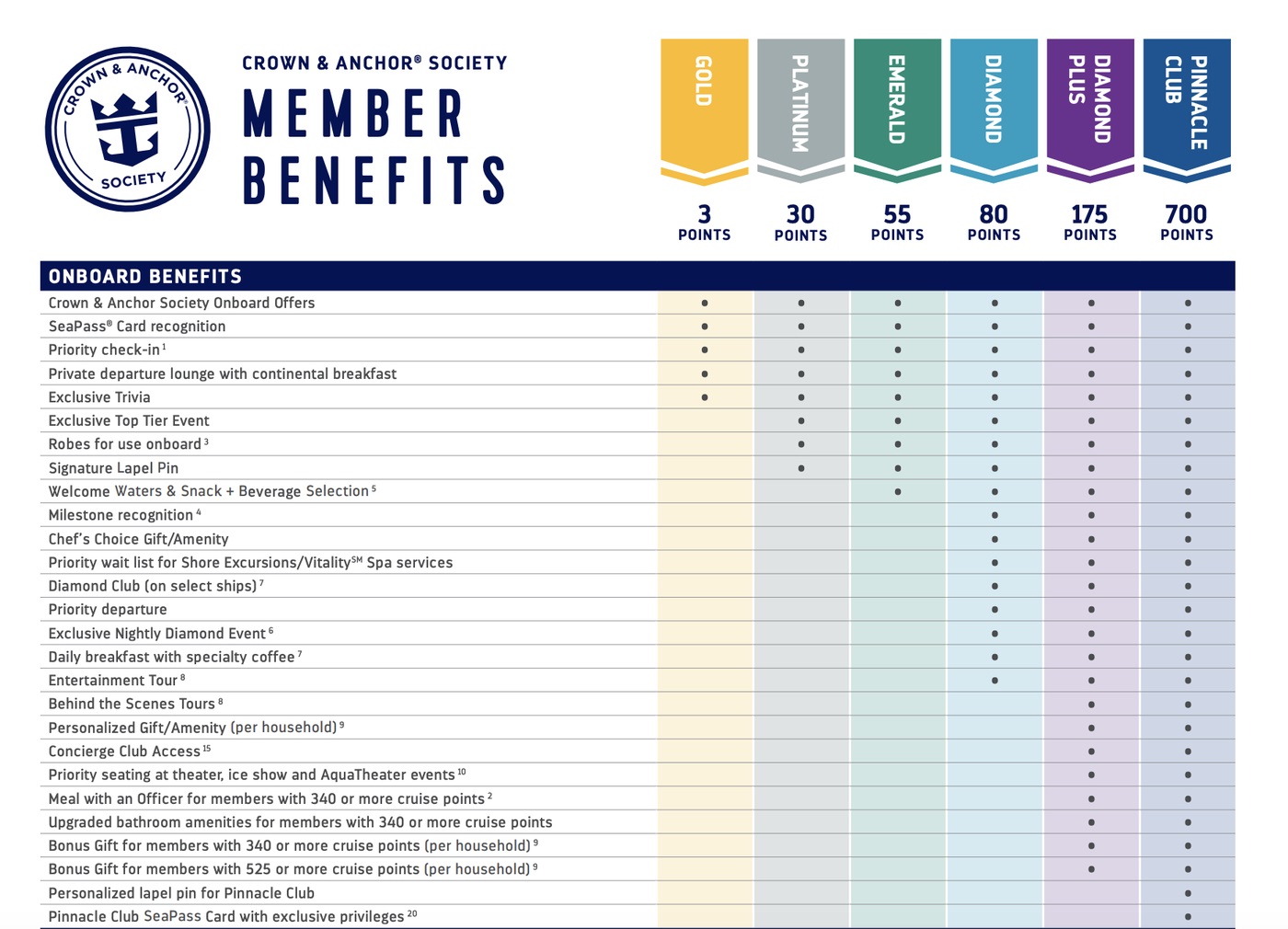 Crown and Anchor Society FAQ
What do I have to do to enroll in the Crown and Anchor Society?
Nothing. You will automatically be signed up when you sail with Royal Caribbean for the first time.
When does my loyalty status take effect?
Your loyalty points are awarded at the conclusion of each cruise on which you earn them. For example, if you're currently Gold and book a sailing that will get you to Platinum, you will receive Gold benefits on that sailing. Your Platinum perks will kick in after the sailing is completed and will be available for you to use on your next voyage.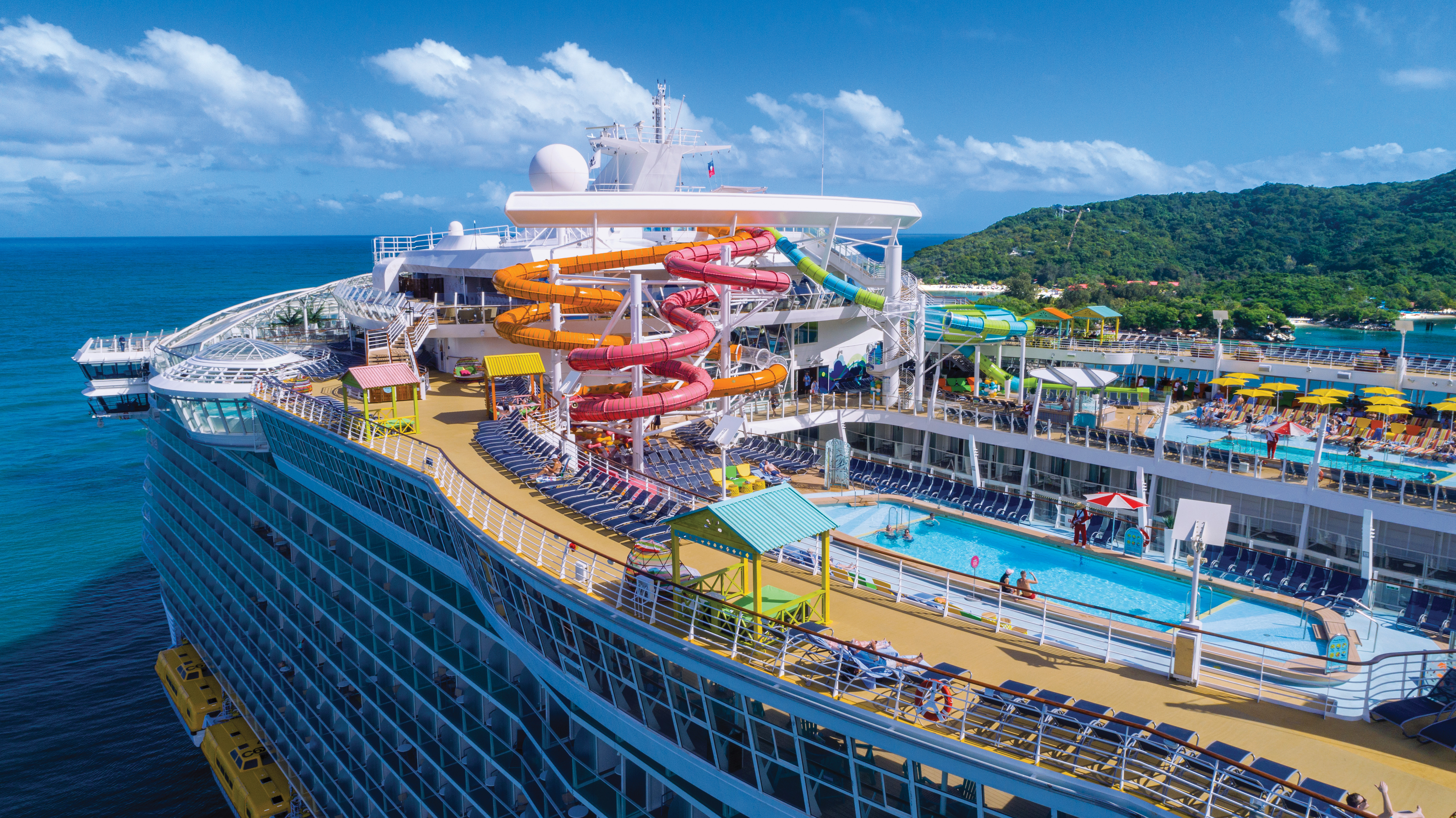 I'm cruising with friends/my spouse, and we're at different loyalty tiers. Can perks be shared?
They cannot be shared among friends traveling together, but spouses and significant others (as well as children -- see below) can be added as part of a family group. They will receive the status of the highest-tiered family member, with the exception of Pinnacle Club.
If the highest status in a family group is Pinnacle Club, other family members will be awarded Diamond Plus status, along with associated perks. However, the number of points accrued will be equivalent to the number of nights sailed with Royal Caribbean, despite the elevated status.
The only way for family members to reach Pinnacle Club status is to actually sail 700 nights with the cruise line.
If I have status and I'm cruising with my child(ren), will my status carry over?
Yes. Your minor (17 and younger) child's status will automatically match yours after his or her first completed cruise, with the exception of Pinnacle Club. If you're at the Pinnacle Club level, your child will be awarded Diamond Plus status.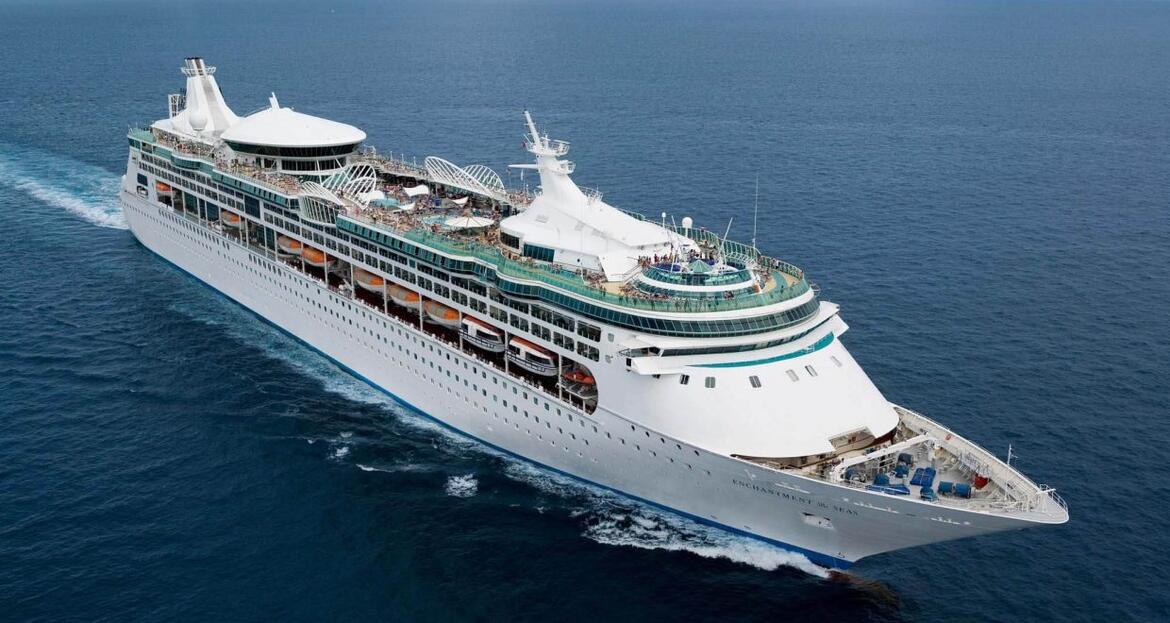 Will other cruise lines in the Royal Caribbean Group honor my Crown and Anchor status if I sail with them?
Yes. With the exception of Gold level, Celebrity Cruises will honor your Crown and Anchor Society status and perks, according to this chart. However, if you sail with Celebrity, any points earned for your voyage will apply to your Captain's Club loyalty status with Celebrity. Those points will not count toward your Crown and Anchor status.
Still have questions? You can find out more about the Crown and Anchor Society on Royal Caribbean's FAQ page and perk comparison page.