It is always sad when a great vacation comes to an end. You are faced with the reality of returning to your everyday life. You are sure to experience some post-cruise blues while sitting at your office or in school! 
While nobody wants to think about a cruise coming to an end, knowing how to prepare for disembarkation will make the process seem less intimidating. 
Read more: 30 cruise ship embarkation tips and tricks
Here are out best 20 cruise ship disembarkation day mistakes to avoid. 
Verify your onboard statement account
Image
Before you disembark the ship, you will want to thoroughly check your onboard account to make sure that everything looks correct. Once you get off, the cruise line will be unable to modify it. 
On my last cruise, I was charged $25 for not returning a pool towel, even though I made sure to return it as soon as I got back onboard after spending the day at Royal Caribbean's Perfect Day at CocoCay. Had I not checked my account, I would have been pretty upset at being charged this for no reason! 
A good tip is to visit Guest Services about halfway through your cruise and request a printed statement. If you notice anything astray from the first part of your trip, you can get it resolved before the lines start to get longer. 
Do not book the earliest flight possible, even if it is the cheapest option.
Image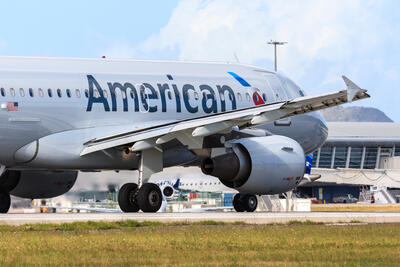 You might think that you can make a 9:00am or 9:30am flight if your cruise itinerary states that you will return to the port by 6:00am. In reality, it takes time for the cruise ship to be cleared by customs and for staff to offload all of the luggage. The time listed is rarely the time that you will be able to disembark. 
For that reason, you should always plan on taking a late morning or early afternoon flight. This way, you will not spend your last morning of vacation worrying about missing the plane! 
Do not pack your morning essentials in your luggage
Image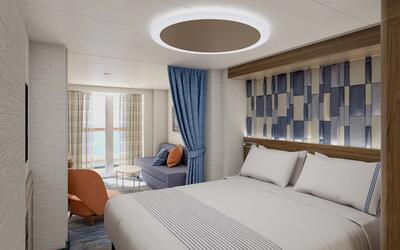 On the last night of your cruise, you will be instructed to place your luggage outside of your stateroom by a certain time. 
You do not want to pack anything that you will need that evening or the next morning, including pajamas, a clean outfit, shoes, medication, and toiletries. You do not want to have to head to the airport in your pajamas because you forgot to leave out a daytime outfit. 
Understand the difference between self-assisted and regular disembarkation
Image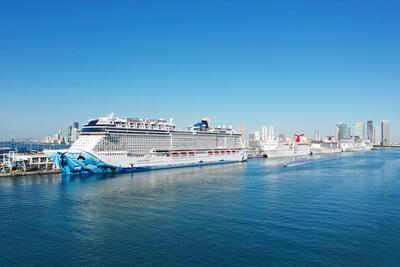 If you are carrying your own luggage off, it is important that you will have to do so without any assistance. That being said, you have the flexibility to get off whenever you choose. This is a great option for those with early flights or who want to hit the road as soon as possible. 
For those who opt to do regular disembarkation, you will have to set your luggage outside of your stateroom the night before and adhere to your assigned time. 
Go through every single nook and cranny before you leave the cabin
Image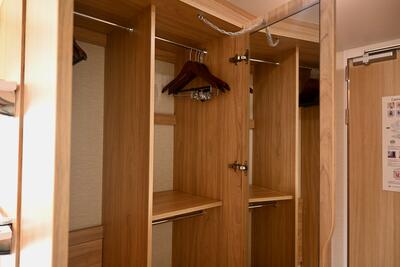 Right before you leave your cabin for the final time, you will want to do check every shelf and drawer to make sure that you do not leave anything behind. 
Even if you looked the night before, open up the safe, peak under the bed, and open every drawer. You find might a random sock, misplaced necklace, or another personal belonging. 
Read more: The worst cruise ship packing mistakes
Do not pack your cruise card or passport
Image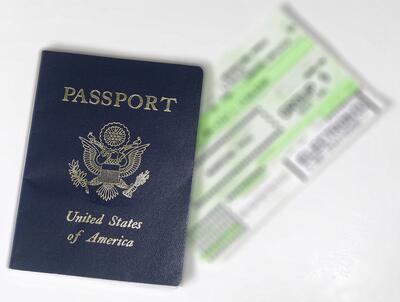 When you are packing up your stateroom, do not put your information travel documents (i.e., passports, boarding passes, car keys, and cruise card) in your luggage. 
Your cruise card is most important to keep on your person, as you will need it to scan off the ship like in any other port of call. If you accidentally pack your passport or car keys, you can retrieve them once you collect your luggage and leave the terminal; however, it is more convenient to keep them in your carry-on bag!
Do not skip breakfast
Image
In typical cruise fashion, you will never go hungry, even on the morning you get off the ship. 
While you may not have as many options on disembarkation morning, you can hit up the buffet and sometimes the main dining room to fuel up for your travel day. 
It is crucial that you check the hours of each dining venue the night before, so you do not accidentally show up as soon as they are closing! Breakfast hours are much shorter than the rest of the cruise. 
Buy photos the night before
Image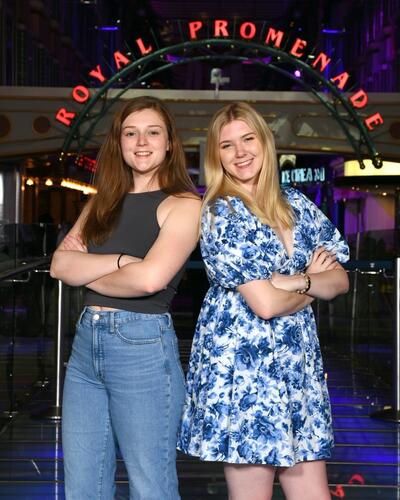 If you have utilized the ship's professional photography services during your cruise, you will want to make sure that you stop by the photo gallery on the last night. You would be awfully disappointed if you were unable to purchase the photos because you waited until disembarkation morning. 
The photo gallery can get quite busy on the last night, so if you want to avoid the crowd, consider going earlier in the afternoon on your last day. If you are at port, maybe this means heading back to the ship half an hour or so earlier than you originally planned. 
Read more: 14 extra cruise ship charges you should know about
Know your disembarktion time 
Image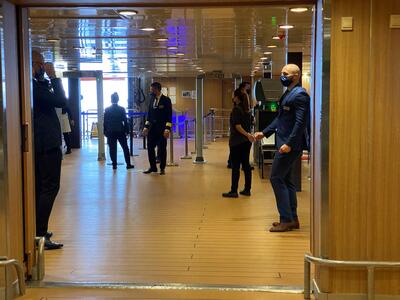 Your disembarkation time coordinates with your luggage tag information. 
Each cruise line has a different method, but they are similar in that each color and/or number is assigned to a specific time in which you can get off the ship and retrieve your luggage. 
Sometimes, if you show up too early, you will be told to return to your designated waiting area. This is to help keep everything as orderly as possible.  
If you don't like your assigned disembarkation time, visit guest services before the final morning
Image
If you get an assigned time that you are unhappy with, you should head directly to Guest Services. For the most part, they are able to accommodate changes, especially if you go speak with them as early as possible. 
Perhaps you want to hit the road earlier or would like to get to the airport a little bit later since you have an afternoon flight. 
Once disembarkation morning has arrived, you will be stuck with whatever time you were originally given. 
If you want to take advantage of onboard booking benefits, visit the next cruise desk the day before
Image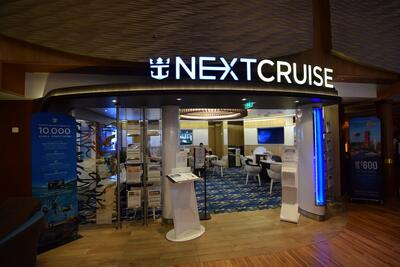 Frequent cruisers often book their next vacation while onboard their current trip because of the onboard booking benefits. While these vary from cruise line to cruise line, they may include reduced deposits, onboard credit, and fare discounts. 
Plus, you are able to transfer the booking to your travel agent upon returning home. 
The next cruise desk will be closed on disembarkation morning, so if you reach the last day of your cruise, you will want to check the hours and make sure you visit before they close!
Remember to tip luggage porters
Image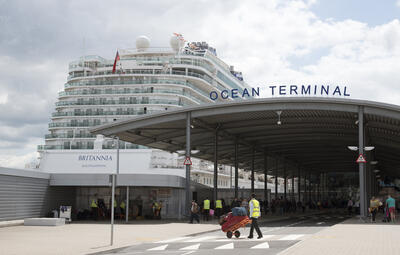 When you reach the room with all the luggage, there will be porters asking if you would like their assistance. 
If you choose to accept, be sure to tip them. $2-$3 per bag is customary, especially if they take the time to load the bags into your car or taxi. 
If you only have one or two bags, you can get by without using a porter. They are great for larger families who have multiple suitcases and children!
If you aren't carrying your own luggage off, think about taking the stairs
Image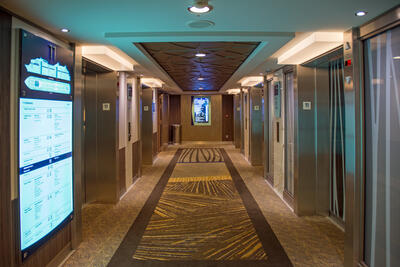 With thousands of people trying to exit the ship within a few hours, it is understandable that the elevators get busy. Plus, a lot of space will be taken up by those carrying off their own luggage, so fewer people than normal will be able to squeeze in. 
The quickest way to navigate the ship on disembarkation morning will be to use the stairs. 
Don't take anything from the cabin-- you will be charged for it!
Image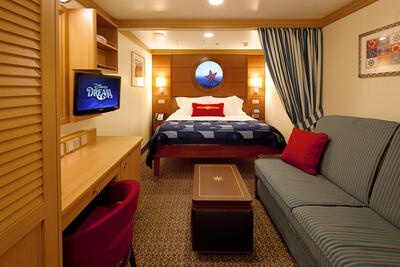 Like with most hotel chains, it can be tempting to take behind the "freebies" that are left in each stateroom. Most cruise lines have done their best at eliminating this by mounting toiletries to shower walls. 
If, however, you feel the need to take something from your stateroom, whether it is a bathrobe, towel, or pillow, know that there is a good chance your onboard account will be charged for it! 
Finish packing as much as possible the night before
Image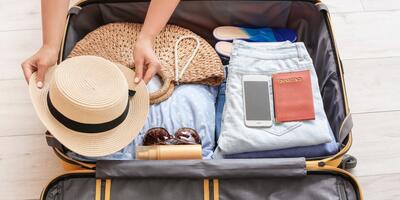 You will have to vacate your stateroom by a specific time on the morning of disembarkation. You do not want to be scrambling to pack everything into your bag while trying to finish getting ready and running out for breakfast. 
By packing as much as possible the night before, you are sure to have a more relaxed morning.
Make sure that you know how you are going to get to the airport 
Image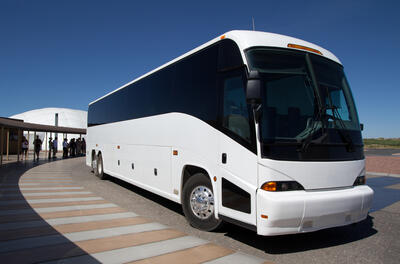 For the most part, you can hail a cab or request a ride share service to pick you up at the cruise port. If, however, your airport is further from the terminal, you might want to have transportation arranged in advance. 
The Civitavecchia port, for instance, is about a 45-50 minute drive from the airport. It may bring you a greater peace of mind knowing that you have a private driver or shuttle bus waiting for you when you step off the ship, especially if you are going to be in a rush. 
Disconnect from airplane mode and tell your loved ones that you made it back safely
Image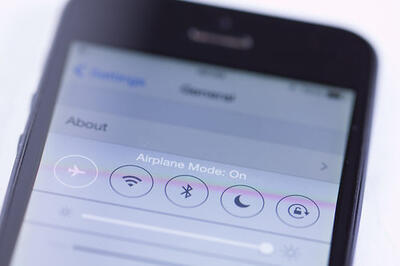 You do not have to wait until you step off of the ship to connect to your cellular network. You are back in the United States, so you won't be charged roaming fees!
When you wake up, you can turn off airplane mode and check in for your flights or reach out to friends and family. 
Read more: Do you have to turn off your cell phone on a cruise ship?
Leave a tip for your stateroom attendant
Image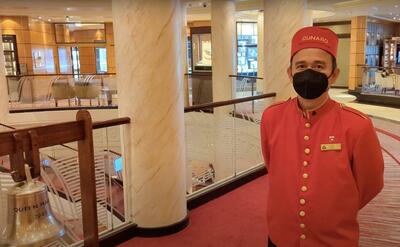 Leaving a tip for your stateroom attendant is not required by any means; however, it is customary that you do, especially if they have provided exceptional service. 
In fact, if you feel as though any other crew members have gone above and beyond at making your cruise memorable, you should plan on seeking them out to provide them an additional tip on the final evening. Running into them the morning of disembarkation is not guaranteed. 
Read more: Tipping on a cruise ship: Guide and what to do
If you have a late flight, consider booking a day pass for a nearby hotel or resort
Image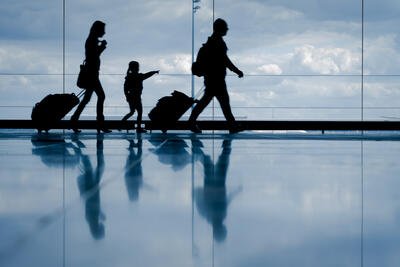 Sitting around in an airport waiting for a flight is not exactly the best way to end your vacation. If, for whatever reason, you booked an evening flight, you may want to consider heading to a nearby hotel or resort and purchasing a day pass. 
This will be much more enjoyable than hanging around in the airport all afternoon!
Depending on where you book, you may get access to a private room. If not, you will at least be able to access all of the hotel's facilities, including dining, restrooms, pools, etc. 
The Hilton Fort Lauderdale Beach, for instance, offers day passes starting at $50 per adult and $19 per child:
Oceanview heated pool
Pool lounge chairs (first come, first served) and poolside games
Poolside service with food and drinks available for an additional cost (10% discount on poolside food and drinks)
Beach access (beach chairs are available for a fee)
Live DJ on the weekends
$50 off $150 drip purchase at prosperIV
Complimentary Wi-Fi
You do not want to stay out too late on the last night
Image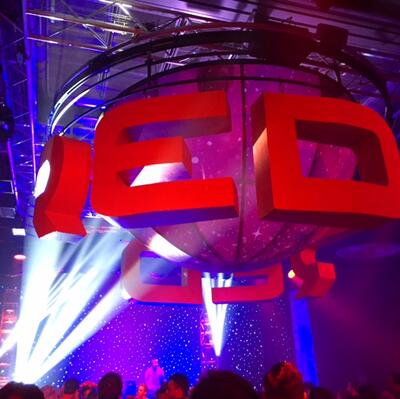 I know, it is the last night of vacation, and you should want to soak up every possible second; however, knowing you have an early day ahead means that it might be smart to retire early. This will help ensure that you are well-rested for the next day. 
That last thing you want to do is experience disembarkation after having one too many drinks!