I was recently on a cruise ship and heard a passenger asking a crew member about his $100 cell plan that he purchased and was unclear as to what was covered. The crew members looked mystified by his questions and were unable to help him.
Cell phone plans and onboard internet are two very separate things and remain a common topic of confusion amongst cruisers.
The last thing anyone wants is to arrive home after a fabulous cruise to a sky-high cell phone bill due to roaming fees. But how best to prevent this?  
Here is an overview of what you need to know about using your cell phone when cruising, including why it is a good idea to put it on airplane mode while sailing.  
Will a cell phone work at sea?
Image
A cell phone works by sending radio signals to a cell phone tower which then sends them along to the recipient of the call or text. The problem is that there really aren't very many cell towers at sea which can make service unreliable, if not completely unavailable most of the time.
So, while you may have service in international ports, don't assume you will have cell coverage while sailing, especially out in the middle of the ocean on sea days.
Cruise ships get their internet and cellular capabilities via satellite, which is more expensive than other land based options. While this alternative does allow cruise lines to offer their customers internet and cell options, it does so at a much higher cost. If you are worried about communication at sea, there are a number of other options to help you stay in touch with family, friends or work.
Cell phone plans
Image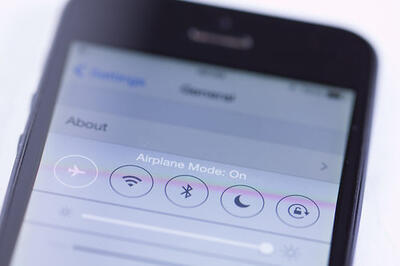 Many cell providers such as AT&T and Verizon offer their customers packages for international travel; however, figuring out the ins and outs of these plans can be a cumbersome task, especially when stopping at ports in a number of different of countries.
There are a myriad of packages that differ by carrier and plan, so it is critical to check out what each option offers, specifically the prices per minute, text, data and roaming charges if applicable.
Once you leave a port and venture out to sea, most often the plan does not apply, and this is where the unexpectedly high phone bills come from. To mitigate this risk, it is a good idea to put your phone on airplane mode and enable wi-fi when embarking on a cruise ship. In fact, cruise lines often suggest this to cruisers to avoid unnecessary charges.
Cruise Line Cell Packages
Image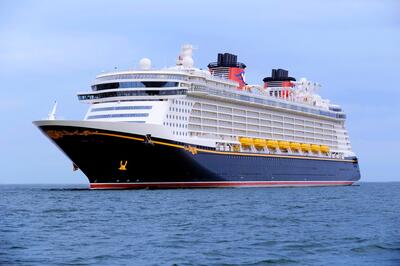 Some cruise lines offer packages that will allow guests to use their cell phones onboard. For example, Disney Cruise Line offers its Cellular at Sea program, allowing ship-to-shore calling.
This works with many cell phone carriers, including AT&T, Sprint and T-Mobile, and can be used throughout the ship, including staterooms. However, international roaming rates often apply and are usually very pricey.
Before you purchase any cruising at sea cell phone program, ensure to understand the terms and conditions for both the cruise line and the cell provider.
Cruise ship internet/wi-fi packages
Image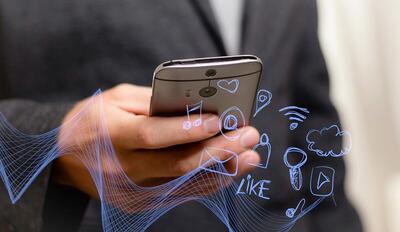 A popular choice for staying connected at sea is to purchase a cruise line internet package. These are most often far more economical than using data or packages from cell providers.
Cruisers typically have the option of choosing between a couple of plans with different levels of service at various price points. Base packages usually allow passengers to check email, more expensive options are good for streaming services.
Once a cruise is booked, internet/wi-fi plans will become available for purchase. These plans can run on average $20-30 per day depending upon the option selected. Most often, the best discounts are pre-cruise, so best to keep an eye on prices.
Depending on the cruise line, it can be cheaper to bundle wi-fi with a drink package or purchasing multiple plans at once. 
Read the details
Image
Some staterooms, most often suites, include an internet plan, so make sure to review what benefits come with the cabin you have booked. Occasionally, cruise lines offer special promotions that include internet, such as Norwegian Cruise Line's current sale which includes free wi-fi.
Royal Caribbean's "The Key" program includes VOOM® Surf & Stream on one device. 
Have a close read at the fine detail. Some internet plans allow you to use the package on multiple devices; however, others, like MSC Cruises, do not allow you to switch back and forth. If you have a cell phone and tablet you want to have access to, you will need a plan that covers two devices.
If you want to use a device to chat with family and friends, Facetime, WhatsApp and Facebook messenger are all good options, especially compared to using your traditional cell phone plan. Just make sure that the internet option you select is fast enough to support the applications you want to use.
Text messages
Image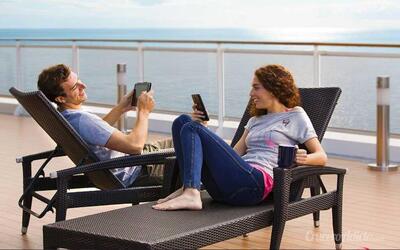 One important point to highlight, if you purchase a cruise line's internet package, you won't receive text messages using wi-fi.
This can be a pain if you are logging into a site that requires dual-factor authorization, which has become increasingly popular with numerous organizations trying to prevent scammers from accessing accounts. If it is critical to have access to a site during your cruise, you may want to contact tech support to see if there is another way to get the secondary authorization, such as email.
Also, a good idea to let all of your traveling party know about roaming charges. Teenagers who have free, unlimited texting at home may not realize the implication of a few texts while onboard.
Other considerations
Image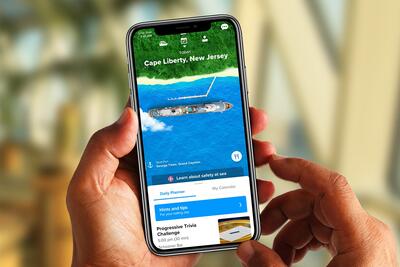 Cruise ships have made great strides in their proprietary Apps, and they have become an integral part of the cruising experience. Whether its booking dining reservations, shows, or seeing what activities there are to do, they are invaluable. The good news is that you do not need to buy an internet package for them. Simply download them ahead of your trip, and you are good to go.
Most cruise lines offer guests messaging services while onboard, although some charge and some don't. This may be a good option for those who don't need full internet, but just want a way to stay in touch with other guests on the ship.
Royal Caribbean charges $2/per device per day to utilize their onboard message service. Carnival Cruise Line charges a flat fee of $5/per user for the entire duration of the cruise. Norwegian Cruise Line's "Phone and Messenger Package" costs $9.95/per person. Note these services are usually age restricted. 
Using free internet in port is another option, although not always the most secure or reliable. But this can be helpful for a quick post on Instagram or to check in with family and friends before getting back onboard.
Some streaming services like Netflix let you download programming ahead of time and enjoy during your cruise. This can save you from having to purchase a more expensive package that allows for streaming videos.
In cabin phones
Image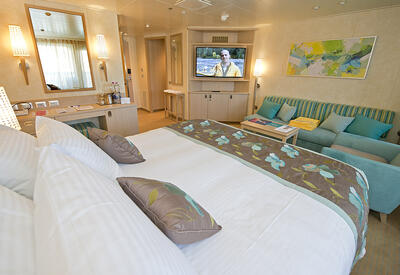 Cruise ships still have traditional phones in each cabin, which can be of help in keeping in touch with fellow cruisers. A somewhat old-school approach, but it's free, works and even has voicemail.
Unfortunately, there are some situations when someone needs to contact a guest on a ship, and in this situation, outside calls cannot be connected directly to the cruise ship cabin. Cruise lines do have protocols in place for these circumstances. Contact must be made via the cruise line's call center, and the cruise line will forward the information and pass it along to Guest Services.
It is suggested to leave specific details as to what ship, cabin number and contact info for anyone who may need to contact you while sailing.