The Disney Cruise Line offers many differentiating factors from other cruise lines, especially when it comes to family travel. Seeing some of your favorite characters on board is really appealing to families. It can be much easier to meet and interact with characters on the ships than it is at the theme parks.
It's important to note that character interactions can change, so there's no guarantee of seeing any particular character on the ship (although, of course, the fab five are always onboard). When planning a Disney Cruise Line vacation with kids, be sure not to promise any specific character meetings to your children, just in case things change.
How Character Interactions Work on the Disney Cruise Line
Image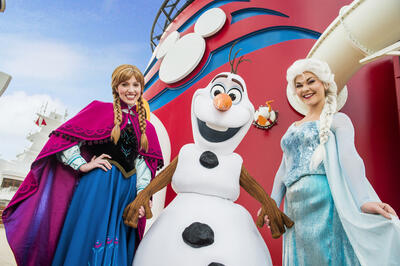 Right when you enter the cruise port, you'll usually see Captain Minnie or Captain Mickey in the cruise port. There's usually a pretty long queue for this, but it's always worth it to have one of those wonderful mementos.
After you board, you'll have access to the scheduling information on the Disney Cruise Line Navigator app. Be sure to download the app before you depart for your trip, to make things easier. In the past, paper Personal Navigators were placed in your stateroom, but now everything is on the app (although you can often get paper copies at guest services).
Image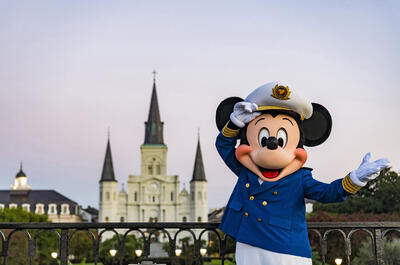 The app will show all of the scheduled character meet and greets during your voyage. These can be very popular, so I recommend arriving at that location in advance. Many times, the lines will be closed after a certain period of time, so the characters finish by the end time.
In most cases, there will be Disney Cruise Line photographers at the character greetings. You can purchase these photos as part of a package or individually. However, you are always welcome to take your own pictures with your phone/camera.
Places to See Characters
Image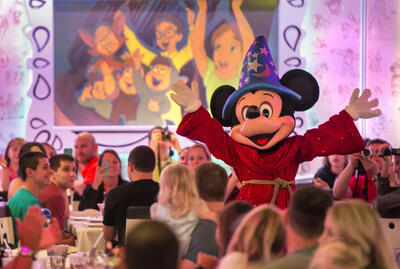 The Disney Cruise Line app and the Personal Navigator will specifically state where the characters can be found, and the time they will be at that location. In general, expect to see characters in the atrium, by the gangways, near the theaters, and by the shops. Sometimes, they are also in the kids' club.
Are you visiting Disney's private island, Castaway Cay, during your cruise vacation? Characters can also be found there, wearing their tropical garb. Those schedules are also in the Navigator and on the app.
Image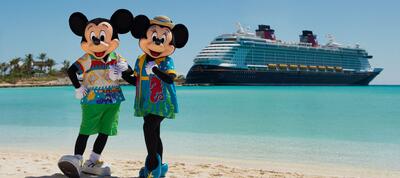 It's best to look at the schedule and plan all of your character interactions, rather than hope to run into characters. That's especially important if your kids have any characters that they will definitely want to see. In some cases, you'll be able to get autographs, but other times only photos are allowed.
On the last evening, there is typically a farewell party where you can see many characters for the last time. That's a great opportunity to meet anyone you hadn't had the opportunity to see during your sailing. On the Disney Fantasy and Disney Dream, it's the Sea Ya' Real Soon! Party, while the Disney Magic and the Disney Wonder, it's the 'Til We Meet Again Party.
Special Character Interactions
Image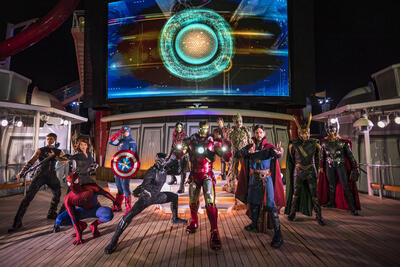 One of the most fun things on the Disney Cruise Line is seeing Disney characters wearing completely different outfits. From seeing Mickey and Minnie in Captain gear to the fab five wearing pirate costumes, these character interactions can be a unique experience.
Elsa and Anna are especially popular to meet. Therefore, you'll need to have a ticket to meet them. Tickets are free to obtain, but you will have to make reservations in advance. These reservations are available to make in My Cruise Activities when your booking window opens (once you've paid in full and your window opens based on your Castaway Club level). Guests can only get tickets once per sailing for the Elsa and Anna character greetings. There are also princess gatherings that require separate tickets.
If you are traveling on a Halloween on the High Seas cruise or a Very Merrytime Cruise, you'll have the opportunity to see the characters in their Halloween costumes and festive outfits, respectively.
Image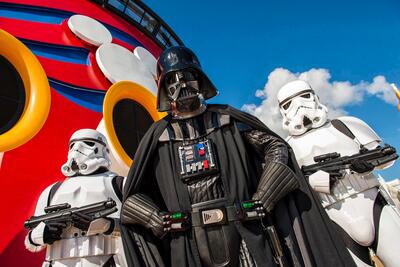 On Marvel Day at Sea cruises, there are ticketed opportunities to meet various Marvel characters that aren't on regular cruises. Like the Elsa and Anna greetings, you can make reservations for these free tickets in advance once you pay your cruise in full, based upon your Castaway Club level.
Pixar Day at Sea, a new themed sailing coming to the Disney Fantasy in 2023, will also offer character interactions. These characters can vary, but may include characters from the Incredibles, Toy Story, and Monsters Inc.
Royal Court Royal Tea is an event sometimes offered for an additional fee. This tea is definitely a special experience, and is made for kids aged 3-12. It can be booked in My Cruise Activities.
On cruises seven days or more, there is also a character breakfast offered on one of the days at sea. It's a separate ticketed event, and can be booked in advance. Characters can vary, but include a popular selection from Disney and Disney Junior.
Characters You May See at the Disney Cruise Line
Image
Wondering who you may see on your Disney cruise? Characters can always vary, but over the years, we've seen Mickey, Minnie, Donald, Daisy, Pluto, Goofy, Peter Pan, Cinderella, Chip N Dale, Stitch, and Captain Jack Sparrow.
This is in addition to any of the special character experiences offered on the ship.