The Italian ship builder Fincantieri is currently in negotiations with Norwegian Cruise Line Holdings for a ship order worth $4 billion in order to build new vessels for the cruise line.
Details are not yet officially confirmed, however, Italian Daily II Secolo XIX reported on Sunday May 1, 2022 that six new ships are being discussed, to be built by the shipbuilder Fincantieri for Norwegian Cruise Line.
If negotiations are successful, it would mean the first order of cruise ships that Fincantieri has received since the start of the COVID-19 pandemic. Details regarding the size and intended purpose of the ships being built for Norwegian Cruise Line Holdings is not yet released.
Image
Norwegian Cruise Line has worked with the Italian shipbuilder before, and the history between the two companies goes back more than a decade. Fincantieri built two deluxe cruise ships for the Oceania Cruise brand, a cruise line owned by Norwegian Cruise Line Holdings. The ships built for Oceania by Fincantieri were constructed in 2011 and 2013, named the 'Marina' and the 'Riviera'.
Prior to its relationship with Fincantieri, Norwegian Cruise Line Holdings had its ships constructed at Meyer Werft in Germany. However, in 2017 Fincantieri achieved a deal with Norwegian Cruise Line Holdings (NCL) that would lead to the building of four new Prima Class ships for the cruise line company. The first of these new ships, the 'Norwegian Prima', is undergoing construction in Italy. However the ship has undergone delays, and will not make its debut until September 2022. The second of these ships, the 'Norwegian Viva', is currently scheduled to debut in June 2023.
Image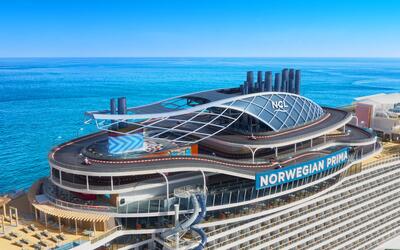 Fincantieri is set to undergo a CEO change following their shareholder meeting on May 16, 2022. The current CEO Giuseppe Bono is said to be retiring after serving for 20 years with the shipbuilding company. This deal with Norwegian Cruise Line Holdings would be his final accomplishment with Fincantieri. Stepping in as the new CEO for Fincantieri will be Pierroberto Folgiero, following their approval by the shareholders.