I just went on the Norwegian Getaway for the first time and wanted to share the things I loved the most about this cruise ship.
Norwegian Cruise Line (NCL) has many aspects that guests love. Some of those things may be the freestyle mentality the brand embodies, the Broadway entertainment, or the general atmosphere onboard. The Norwegian Getaway ship is no different! This vessel has many features and amenities that guests are sure to love onboard.
The Norwegian Getaway is one of two ships apart of Norwegian Cruise Line's Breakaway Class of ships. This impressive vessel, while being one of 18 ships in NCL's fleet, has many of its own unique features and amenities that are sure to bring guests back time and time again.
I sailed on the Norwegian Getaway for the first time this August, and it was an incredible experience. Cruise ships, while designed to transport guests to destinations across the globe, are truly vacation destinations in of themselves. While onboard the Norwegian Getaway, I had a wonderful time exploring all of the ship's features, and I am excited to share some of things onboard that I believe many prospective passengers would enjoy.
Choosing which cruise ship, and even cruise line, to travel with for your vacation is an important choice! I hope that this article, and articles like these, can help those new to cruising, as well as cruise enthusiasts plan their next sailing adventure!
The Waterfront
Image
Norwegian Cruise Line ships feature onboard an area of their vessels called The Waterfront. This is area is essentially a wrap around deck space that surrounds nearly all of one deck onboard. On the Norwegian Getaway, The Waterfront is located on Deck 8. This area is the perfect place to grab a comfortable lounge chair and sit with family and friends while watching the ocean pass by. While enjoying The Waterfront, I witnessed some of the most beautiful sunsets I have seen yet. Guests can also access the very back of the ship from The Waterfront. Once outside on Deck 8, guests can walk towards the aft of the ship, and will discover unobstructed views of the very back of the ship. This area makes a for a great place to snap a photo or two onboard.
Skyy Ice Bar
Image
The Skyy Ice Bar might be the most unique lounge and bar that I have ever heard of on a cruise ship! This unique venue is inspired by the real ice hotels located in Scandinavia.
Passengers can access the bar on Deck 8. To enter the Ice Bar, guests are required to pay an $18 cover charge. This cost includes two drinks, a large coat to borrow while inside the bar, and the service charge. After paying the cover charge, guests are handed a coat to borrow and escorted inside. The Ice Bar consists of one relatively small room that is impressively decorated with sculpted ice walls and structures such as a large couch and ice throne chair. The actual bar itself is also constructed out of, you guessed it, ice!
There is a limited menu with several drinks, all of which feature Skyy Vodka. Once guests have ordered their first drink from the bar, they are handed a cup made of ice, and are free to wander the room, explore, and take photos.
I have a few recommendations to make visiting the Skyy Ice Bar as enjoyable as possible. First, visit this location during a port day. We chose to visit the Ice Bar on our first port day after we had spent the afternoon adventuring around Great Stirrup Cay. We were excited to find that we were the only guests inside the Ice Bar at the time, and this made for a great opportunity to take some photos and enjoy the atmosphere. Second, I would highly recommend changing into long pants and a sweatshirt before visiting the bar. The room is kept at literally freezing temperatures in order to keep all the ice intact, and therefore is very cold inside!
Guests are provided with light jackets and gloves to borrow for their visit to the Ice Bar, but even with these items, guests are sure to be cold! The crew member inside the Ice Bar said that many guests don't stay long enough to even finish their two drinks because it is so cold! Therefore, I recommend preparing beforehand so that you can enjoy this impressive venue to its fullest!
The Ice Bar is a very unique experience onboard a cruise ship, and one that I would say is a must-do onboard the Norwegian Getaway!
Free Fall Waterslides
Image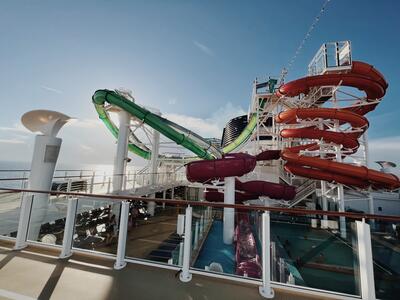 Currently, Norwegian Cruise Lines boasts the fastest waterslide at sea, the Free Fall. This adrenaline-pumping experience is an absolute must-do for any thrill seekers onboard! There are technically two Free Fall slides onboard the Norwegian Getaway, both are essentially identical. Having two of the Free Fall slides onboard means that guests can "race" their friends and family members.
The Free Fall is a drop waterslide that has guests step inside a closed tube, and stand on a trapdoor floor. After a countdown from three, the floor drops away, effectively putting guests into a free fall where they will experience up to 4Gs! This slide is more thrilling than I originally thought it would be, and I would recommend trying out the slide at least once, to anyone wanting to experience one of the most unique waterslides at sea!
Specialty Dining
There are eleven specialty dining locations onboard the Norwegian Getaway. There is so much variety and choices that it will be nearly impossible for guests to sample all of the specialty cuisine onboard in just one cruise sailing.
The specialty dining venues onboard the Norwegian Getaway include:
Ocean Blue - seafood (a la carte)
Moderno Churrascaria - Brazilian steakhouse ($49 per person)
Wasabi - sushi and traditional Japanese cuisine (a la carte)
American Diner - American cuisine (a la carte)
Cagney's Steakhouse - Premium steakhouse (a la carte)
Dolce Gelato - Gelato stand (a la carte)
La Cucina - Italian cuisine (a la carte)
Le Bistro - French cuisine (a la carte)
Teppanyaki - Hibachi-style cuisine ($49 per person)
The Bake Shop - specialty chocolate and dessert (a la carte)
The Raw Bar - raw seafood and shellfish (a la carte)
I recommend prospective guests take a look at all of the specialty dining options onboard ahead of their sailing, and decide which, if any, specialty locations they would like to visit. I would also recommend making a dining reservation before any cruise, this can be done through Norwegian Cruise Line's app after guests have completed their online check-in prior to their sailing.
While on our sailing we enjoyed dinner one night at Teppanyaki. This was a great specialty dining restaurant. I would recommend this location to guests looking for something a little different and unique. The Hibachi-style meal consisted of a lively and performative chef cooking and preparing our food right in front of us.
Something to note about dining at Teppanyaki, guests should make sure to budget plenty of time if they choose to dine at this restaurant. Because the chef is cooking food for everyone at a large table, and is essentially performing while doing so, the dinner takes quite a bit of time. I would recommend setting aside two hours to dine at this restaurant.
Cruise Director Activities
Image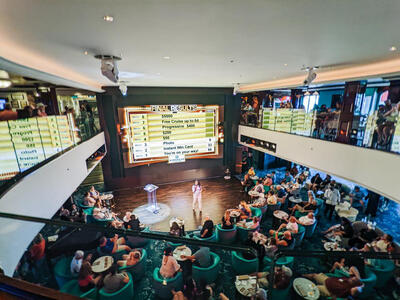 Guests do not have to be worried about running out of things to do while onboard NCL ships. In addition to the experiences and entertainment onboard, The Norwegian Getaway had a great Cruise Director who had a substantial schedule of activities planned out for each day of our sailing.
Each night before bed, a copy of the Freestyle Daily, NCL's onboard newsletter, was delivered to our stateroom telling us of the activities that would be happening onboard the next day. Before embarking on this sailing, I did not realize that NCL plans out essentially every hour of the day onboard. There is never a dull moment on the ship, and guests will be able to find plenty to do. I highly recommend taking a look at the Freestyle Daily each day of a cruise sailing.
Some of the most popular onboard cruise director activities were the family game shows. These events got many of the guests involved and created a fun and engaging atmosphere.
Great Stirrup Cay
Image
For the summer cruise season, the Norwegian Getaway is currently visiting locations such as The Caribbean and The Bahamas. The Getaway will transition to sailing itineraries in other parts of the world beginning in the fall and winter seasons. But for now, the Getaway frequents the warm waters of the Caribbean Sea.
While on these itineraries, one of Norwegian Getaway's popular ports of call is Great Stirrup Cay. This destination is Norwegian Cruise Line's privately owned island in The Bahamas, and is a great resort-like island to explore with NCL.
The Norwegian Getaway conducted a wonderful visit to this island. The tender process was quick and efficient. The afternoon was spent enjoying the beautiful water with our impressive cruise ship in the background. For prospective NCL guests, I would definitely recommend a Caribbean itinerary. I felt the itinerary we sailed on was a great introduction to this part of the world, and that the Norwegian Getaway did an awesome job of creating a wonderful experience for all guests onboard.
Burn The Floor Show
Image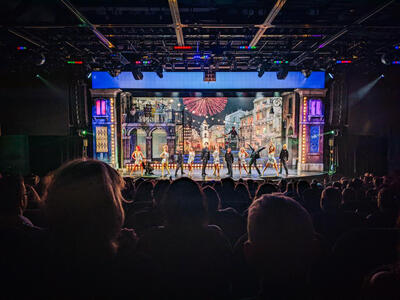 This impressive and lively Broadway-style show is must-see entertainment onboard the Getaway. On embarkation day of our sailing we chose to reserve a spot to watch this show at the Box Office, on our first day at sea. We chose to watch the 8:00pm show, and the entire performance lasted about 45 minutes.
This engaging dance show features many different types of performers including dancers, live singers, and live musicians. I appreciated the various aspects of the show, and thought that the performance was very well done. The show is performed several times throughout cruise sailings on the Getaway.
Norwegian Cruise Line describes this show as, "a non-stop display of movement and style based on the world-renowned Broadway show. This audience dazzling show is a can't miss 45 minute dance extravaganza filled with breathtaking choreography, heart pounding music and unforgettable moves." I would recommend that guests watch this entertaining show at least once while sailing with the Norwegian Getaway!
Sugarcane Mojito Bar
Image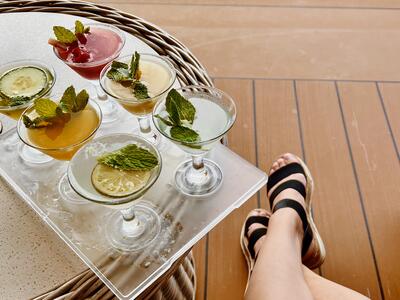 Our other favorite lounge and bar onboard was the Sugarcane Mojito Bar. This location is unique because it specializes in mojito drinks. There are a plethora of mojito cocktails to choose from, including combinations I had never heard of before. Guests who are fans of the classic drink are sure to find one they enjoy at this location.
My favorite thing that we ordered at this lounge was the mojito flight. The flight cost $20 and included four different, small versions, of the various mojito flavors on offer. Some of these mojito flavors included; classic, cucumber, coconut, pineapple, and jalapeño. I personally enjoyed the cucumber mojito!
This bar and lounge additionally offers both indoor and outdoor seating on Deck 8. The outdoor seating has plenty of comfortable seating around tables, and the indoor seating offers a place to enjoy some air conditioning on an especially hot day.
Ropes Course At Sea
Image
One of the only cruise ships in the world to offer an experience like this onboard, the Norwegian Getaway features a Ropes Course at sea. This challenge course up in the sky consists of over 40 elements and obstacles for guests to navigate.
My favorite areas of the Ropes Course are the two zip lines and the Plank. The Plank is an element of the course that allows guests to stand on a plank that stretches far over the edge of the ship. This is a fun and relatively thrilling experience.
The Ropes Course is offered to guests of many ages. Very young children before the age of 5 have their own special children's Ropes Course that is located on the same complex as the full sized version. I would recommend that young children under the age of 8 be accompanied while on the course. When we tried out the Ropes Course, we noticed some smaller children struggling with some of the elements and requiring parental assistance.
If you are someone who likes to try new things, and is looking for a unique and slightly adventurous experience while on a cruise, I would recommend the Ropes Course onboard the Norwegian Getaway!
Headliners & Howl at the Moon
Image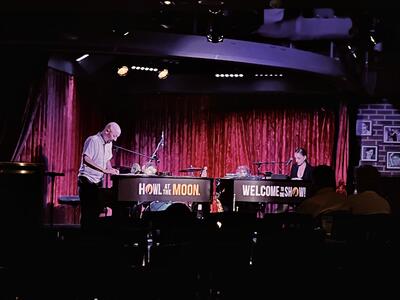 The Headliners bar and lounge onboard hosts some of the nighttime entertainment onboard the Getaway, including the comedy shows and the Howl At The Moon dueling piano show. I very much enjoyed the dueling piano show, as it was the first one of its kind that I have seen. This guest-interactive show is engaging and features very talented performers as they sing along to and perform popular songs requested by the audience, while playing a variety of instruments.
I noticed that the Howl At The Moon show had various degrees of attendance throughout our voyage. Some nights were busier than others, however, there was always available seating. This is also a show that runs late into the evening, until 12am and sometimes 1am.
The performers at this show were very talented and seemed to really love what they do. The environment in this lounge during the dueling piano show is relaxed and fun. The show starts and ends at a set time, but guests are free to come or go as they please. I would absolutely recommend that any guest onboard the Norwegian Getaway attend this show at least once during their sailing.
The Staterooms
Image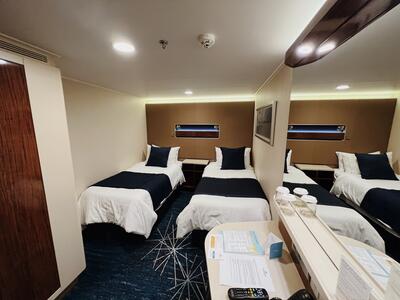 Guests will love their staterooms aboard the Getaway. We stayed in a standard inside stateroom on our cruise. I had initially expected our room to potentially feel cramped or dark, due to it having no windows. However, I found that our room offered plenty of space for two people, and felt cozy. We found the room to be quite comfortable, and a great place to call home during our voyage.
Guests who wish to save some money on their next sailing, and choose an inside stateroom can be assured that these rooms feel up to date and will make a great choice for a cruise vacation. After all, guests will typically not spend too much time in their staterooms and will instead be out and about exploring the ship. But rest assured, the rooms felt luxurious even in their least expensive form.
Clean and Modern
Image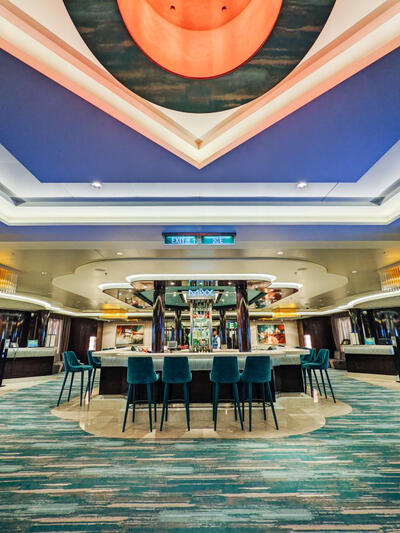 Something I noticed about the Norwegian Getaway shortly after stepping foot onboard, was just how clean and modern everything felt. The ship, although it was originally constructed in 2014, has since been refurbished, and felt very modern.
We never saw any trash laying around, and frequently witnessed crew members cleaning. After its refurbishment, I am sure the Getaway has many more years on the high seas ahead. The decor and finishings also seemed to reflect a modern and fun style onboard.
Friendly and Helpful Crew
Image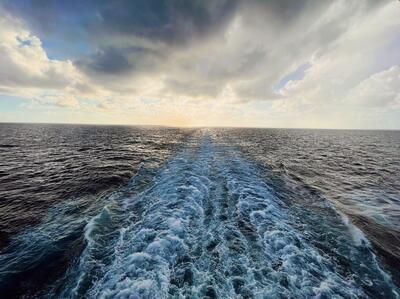 Every crew member we spoke to onboard was incredibly helpful and kind. The staff seemed to enjoy their jobs, and were attentive to guests' experiences. Each morning at breakfast we were greeted by the friendly buffet attendants, and nearly every night on returning to our stateroom,  we would come across our stateroom steward who was very kind and would always ask if he could do anything for us, and if we were enjoying our voyage.
The staff onboard is committed to bringing about the best experiences for guests, and this comes across in their daily interactions with passengers.
Conclusion
Image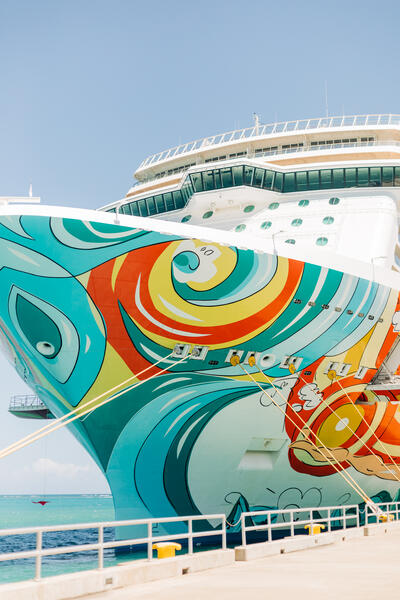 Guests are sure to find things they love onboard the Norwegian Getaway! This ship is much like a floating city, and offers passengers the chance to explore and sample everything the vessel has to offer. As always, I would recommend prospective guests research what this ship has onboard ahead of any cruise sailing, in order to insure that guests can participate in and enjoy as many activities, entertainment, as well as food and drink venues as possible during their voyage. Thank you again for following along with me as I sailed for the first time with Norwegian Cruise Line! Wherever your next cruise journey may take you, smooth sailing!