Cruise lines are consistently building cruise ships that are bigger and better than anything else built before. Each cruise line adds its own flair and unique attractions to set apart its cruise ships from others in the industry. 
There's no limit on how much fun cruise lines can pack into a cruise ship these days. Even as everyone has slightly different ideas of what fun means to them, there is surely something for everyone onboard.
For example, Royal Caribbean is known for its eye-popping onboard thrills while Disney focuses on creating a magical, interactive family experience. Carnival Cruise Line aims to create the most fun and affordable vacation while Norwegian Cruise Line builds ships that are innovative, modern and cutting-edge.
And don't forget about the newest cruise line to the scene, Virgin Voyages, which is the ultimate playground for adults and millennials alike.
Image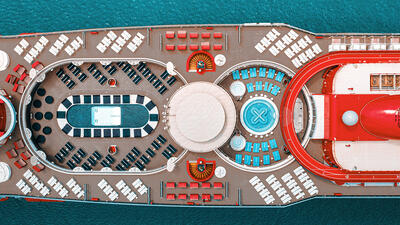 Although older cruise ships in a fleet can still offer incredible vacations, there's something extra special about sailing on the latest and greatest. Everything onboard feels brand new and untouched - and the technology is always next level to elevate your onboard experience.
In our minds, nothing is more fun than cruising on the newest ship in a cruise line's fleet. These new ships feature more fun to be had than any other ships at sea; more often than not, the newest cruise ships truly showcase the best that the cruise line has to offer.
Here's our list of the best fun cruise ships you can sail on right now!
1. Wonder of the Seas
Image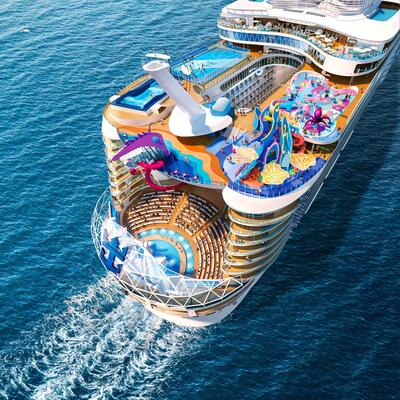 Royal Caribbean launched its newest ship, Wonder of the Seas, in early 2022.
As part of its Oasis-class, Wonder of the Seas is the biggest cruise ship in the world. I'd also argue that Wonder of the Seas is the most fun ship at sea given how many onboard thrills and activities you can do. 
Image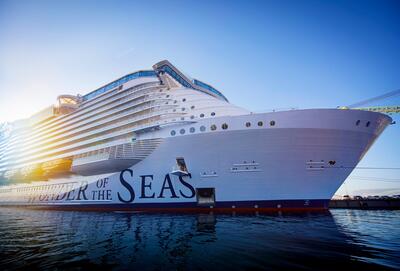 Sailing round-trip from Orlando starting in November 2022, the cruise line describes Wonder of the Seas as Orlando's best new family vacation. This massive ship is known for its larger-than-life adventures onboard, including the tallest slide at sea and dueling waterslides.
Adults can relax in the Solarium, which is Royal Caribbean's signature adults-only area that features loungers, day beds and cascading pools.  
Wonder of the Seas also debuted the most onboard restaurants of any Royal Caribbean ship, including the new Southern-inspired Mason Jar. Guests can indulge in both speciality and complimentary dining throughout their cruise, giving everyone plenty of options for dining.
Image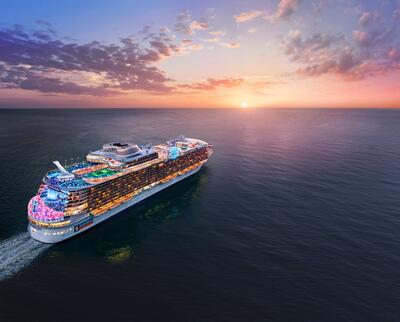 Royal Caribbean is known for its stellar entertainment and Wonder of the Seas is no different. Guests can enjoy a full-length Broadway musical, AquaTheatre diving show and ice skating performance during their cruise.
From sunrise to sunset, you will have more fun on Wonder of the Seas than you ever imagined possible!
2. Norwegian Prima
The highly-anticipated Norwegian Prima debuted in the summer of 2022 in Iceland. Prima was the first cruise ship of Norwegian Cruise Line's newest class of ships, Prima class. This class of cruise ships is meant to elevate every expectation - and Prima truly lives up to the hype!
Image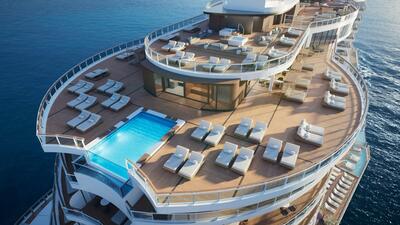 Although it's the newest ship in Norwegian's fleet, it's actually not the largest ship for the cruise line. Prima's smaller size helps create a more intimate experience onboard. In fact, the cruise line hyped that Prima would be more elegant, sleek and modern than any other cruise ship its built before. 
If your idea of fun is indulging in the ultimate luxurious experience, look no further than Prima's renowned section of exclusive suites called The Haven. This onboard suite experience features spacious accommodations, 24-hour butler service, private sundeck and concierge service. 
Image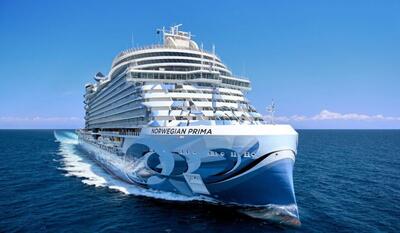 Families will appreciate the largest go-kart track at sea with 3 levels of twisting and turning fun. Prima's go-kart track is surprisingly 20% bigger than any other go-kart track in Norwegian Cruise Line's fleet. Other activities include water slides, open-aired game zone, miniature golf, and a slew of other family-friendly activities on the top deck.
Guests can also enjoy Prima's numerous infinity pools, trendy beach club, elegant promenade and an innovative food hall. Entertainment onboard also includes a full-length Broadway musical called "Summer: The Donna Summer Musical" in a transformative entertainment venue that becomes a night club each night. 
Foodie fun is out of this world when it comes to Prima's first ever open-aired food marketplace called Indulge Food Hall. With 11 different culinary options, ranging from BBQ to Noodles to Tapas, you certainly won't go hungry onboard Prima!
3. Carnival Mardi Gras
As we mentioned, Carnival Cruise Line is known for building the most fun ships at sea - so it only made sense that we chose a Carnival cruise ship for our list. The newest ship that launched in 2022 for Carnival was the wildly popular and much-anticipated Carnival Mardi Gras.
Those looking to have a more budget-friendly and affordable cruise experience should consider sailing on Carnival Mardi Gras.
Image
Carnival Mardi Gras features distinct fun zones that transport passengers to different worlds and experiences. This even includes a French Quarter, inspired by New Orleans and featuring Emeril's Bistro by celebrity chef, Emeril Lagasse. There are 20 different lounges and bars onboard Carnival Mardi Gras.
Notably, Carnival Mardi Gras' top deck features the world's first roller coaster at sea, which will have you screaming from the top of your lungs as you soar over the open sea. Carnival Mardi Gras also features the largest ropes course in the cruise line's fleet
Image
This new ship from Carnival has tons of complimentary dining options onboard from Guy Fieri's BBQ Smokehouse and Burger Joint to Shaq's Big Chicken and the cruise line's newest innovation - Street Eats, which features food stalls for quick bites like bao buns and kebabs. 
Adults can relax in Mardi Gras' Serenity area. which is an oasis for kicking back with a drink in hand. Cruisers can also grab some BBQ and a beer at Summer Landing, located at the aft of the ship that offers stunning views of the sea.
There's so much to do and see onboard Carnival Mardi Gras that you likely won't have enough time to do everything you want to do!
4. Disney Wish
If you're looking to have the most magical and fun experience at sea, then you will want to run (not walk) to book a cruise on Disney Cruise Line's newest ship, Disney Wish. Launching in 2022, Disney Wish will make all of your cruising dreams come true.
Image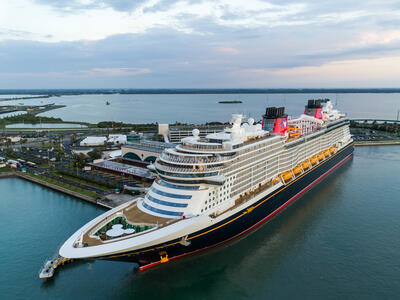 Disney Wish is the fifth ship in the cruise line's fleet and the first new ship for the cruise line in a decade. This new ship is jam-packed with immersive entertainment, character meet and greets, and enchanting experiences for the whole family to enjoy. 
The Disney Wish is perfect for adults and kids alike - particularly adults who love all-things luxury and kids who can't get enough Disney magic in their lives. Cruises onboard Disney Wish include a Frozen-themed dinner show, Worlds of Marvel dining experience, a Star War-themed lounge, AquaMouse water adventure and Hero Zone computer and gaming fun (just to name a few).
Image
Disney is universally known for its entertainment being the cream of the crop - and Disney Wish is no exception. Guests can enjoy a Little Mermaid Broadway-style musical and a stunning firework show at sea. One of Disney Cruise Line's most popular events is Pirate Night on Disney Wish, which features the Pirate's Rockin' Parlay Party on the pool deck. What a perfect time to embrace your inner Captain Hook!
Adults on Disney Wish can find plenty of areas for adult-kind of fun. Adults can try out Disney Wish's exclusive bars and lounges, along with specialty restaurants like Palo Steakhouse and British-styled pub Keg and Compass. There's also Rejuvenation Spa and Quiet Cove, which is an exclusive retreat space for adults only. 
5. Valiant Lady
If you watched the latest season of The Bachelorette, you probably saw a lot of footage onboard Virgin Voyage's newest ship, Valiant Lady. Maybe you couldn't stop dreaming about how much fun it would be to sail on Valiant Lady - and you'd be right!
Although Virgin Voyages is new to the cruise scene, you can find some of the most unique and fun experiences that you won't find onboard any other cruise ship.
Image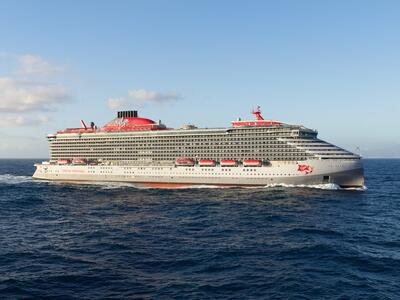 Valiant Lady was the second ship to launch for Virgin Voyages, making her highly-anticipated debut in 2022. Since her launch, Valiant Lady has been focusing on exciting European itineraries.
If you're a millennial looking for a cruise that features no buffets or children, this is one of the most fun cruises you can take right now. Onboard Valiant Lady, entertainment is all specifically curated for its adult-only audience, whether that's a late night comedy show or an epic dance party. 
Image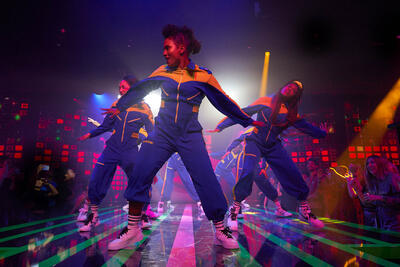 Virgin Voyages has revolutionized cruising in many ways by building on adult-by-design, boutique luxury ships; in fact, you have to be 18 years or older to sail onboard. Because you won't find children running around the cruise ship, this can be an excellent option for adults looking to have kid-free fun.
Cruises onboard Valiant Lady include risqué theater shows, drag show brunches, 24-hour sushi, an all-vegan restaurant, and even a tattoo parlor. There are over 20 eateries included - the perfect kind of fun for foodies!