Traveling in the post-pandemic world has involved constantly navigating COVID-19 requirements for vaccination, testing and masking. As someone who loves to travel, the hassle of jumping through these hoops is definitely worth it - even as protocols seemingly change all the time. 
One of the most cumbersome aspects of cruising since the pandemic restart has been following the testing and vaccine requirements. Each cruise line has taken slightly different approaches to COVID-19 protocols. In addition, some of the cruise lines change requirements simultaneously while some cruise lines take longer to make any changes.
Cruise lines have also taken an overly cautious approach in their return to service and been scrutinized more heavily than any other travel sector.  For much of the last year, I've felt more safe cruising with people who were vaccinated and recently tested for COVID-10 than visiting my local supermarket. 
Image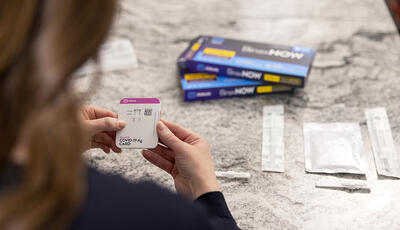 I've had both good and bad luck with COVID-19 protocols since cruising in the post-pandemic world. My first cruise in July 2021 did not require any testing for vaccinated passengers, while the itinerary leaving right after us had implemented mandatory testing.
In February during the Omicron surge, it was announced that masks would become optional onboard. We were halfway through our cruise and the new protocols wouldn't go into effect until the next cruise left. In June, the United States dropped their re-entry testing requirements while we were traveling in Europe - a major win for us!
Carnival's Testing Change
Image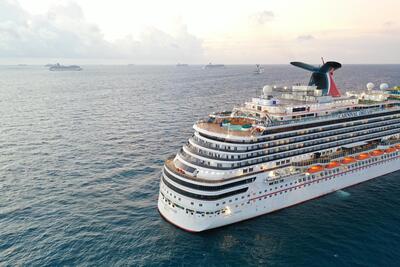 Just recently, I booked a last minute cruise on Carnival Cruise Line. This weekend cruise was only 4-nights and sailed from Mobile, Alabama on Carnival Ecstasy. At the time of booking, we were still required to bring proof of a negative COVID-19 test for sailing. 
Although I don't mind pre-cruise testing, the test itself can be expensive since it requires to be proctored. As someone who has cruised and traveled a lot in the last year, I've probably spent more money than I'd like to calculate on COVID-19 tests.  
Just a few days before our voyage, Carnival announced that guests on short-night sailings did not need to bring proof of a negative COVID-19 test. Inherently, this change makes sense, as the constant shuffling of passengers onboard short-night cruises means there's less chance for pro-longed community spread. 
The value of pre-cruise testing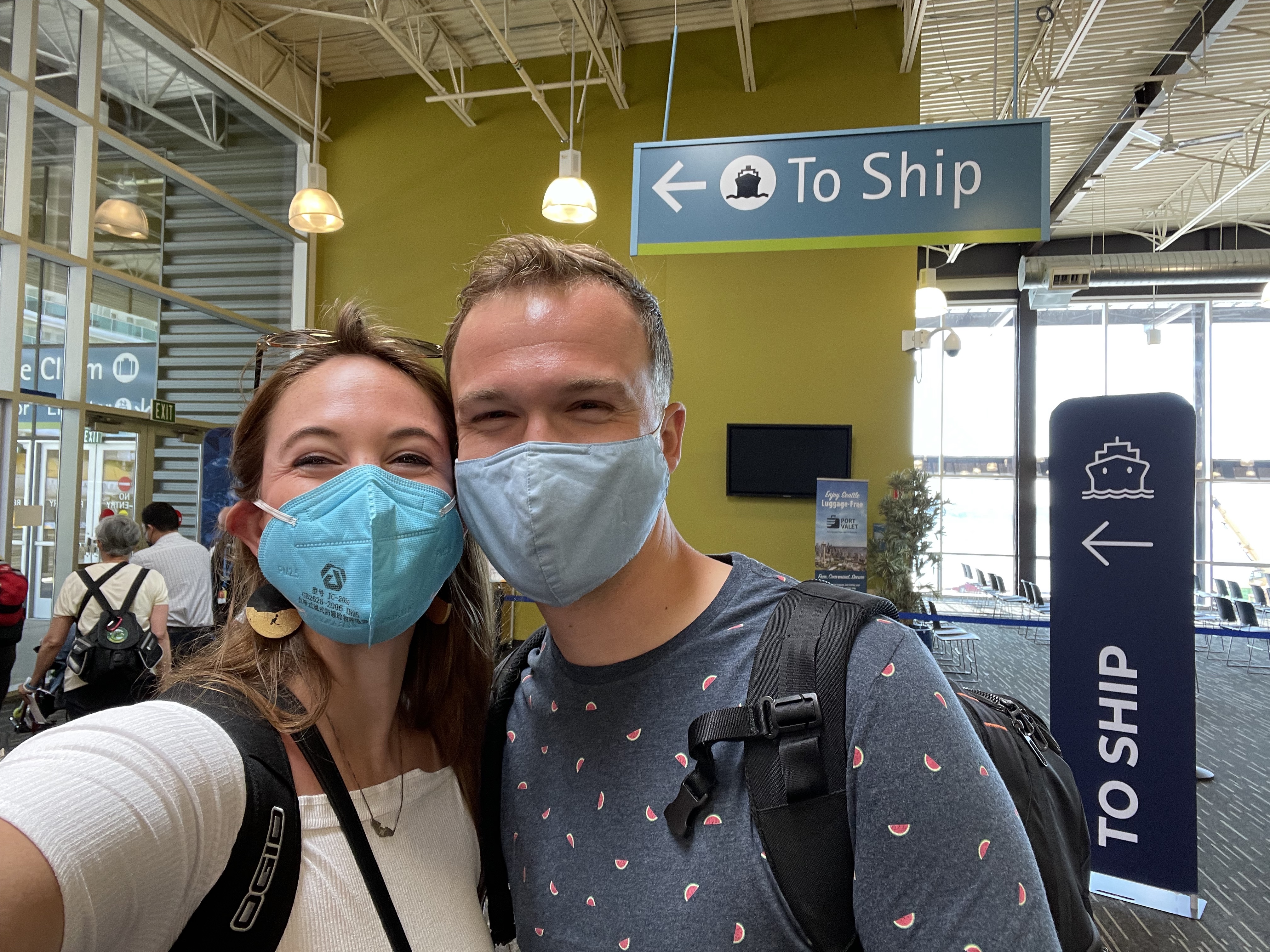 As I mentioned, I've been cruising throughout the pandemic. This means that I've gone through my fair-share of COVID-19 requirements and changing protocols. 
When sailing at the restart of cruising, I felt like I was protected in this bubble that was free of any COVID-19 virus. Those first few sailings after the industry shut down were showing the vaccine's incredible effectiveness when just a few people were testing positive for COVID-19 during sailings.
I truthfully had no worries about sailing during this time (pre-Delta variant), as the odds were seemingly so low that we would get sick. This vacation was long overdue and we felt completely relaxed onboard.
By the time I sailed again in February 2022, I was sailing with fresh antibodies from a recent Christmas infection with the Omicron variant. Masks were still required onboard and tests were needed to board, but I felt invincible again since I had just had a recent infection.
When I sailed in April 2022, I noticed a lot more coughing onboard my two cruises. In particular, my cruise to Alaska at the end of April seemed to have a symphony of coughs by the last night of the cruise. Masks were no longer required, but everyone still needed a negative test to board.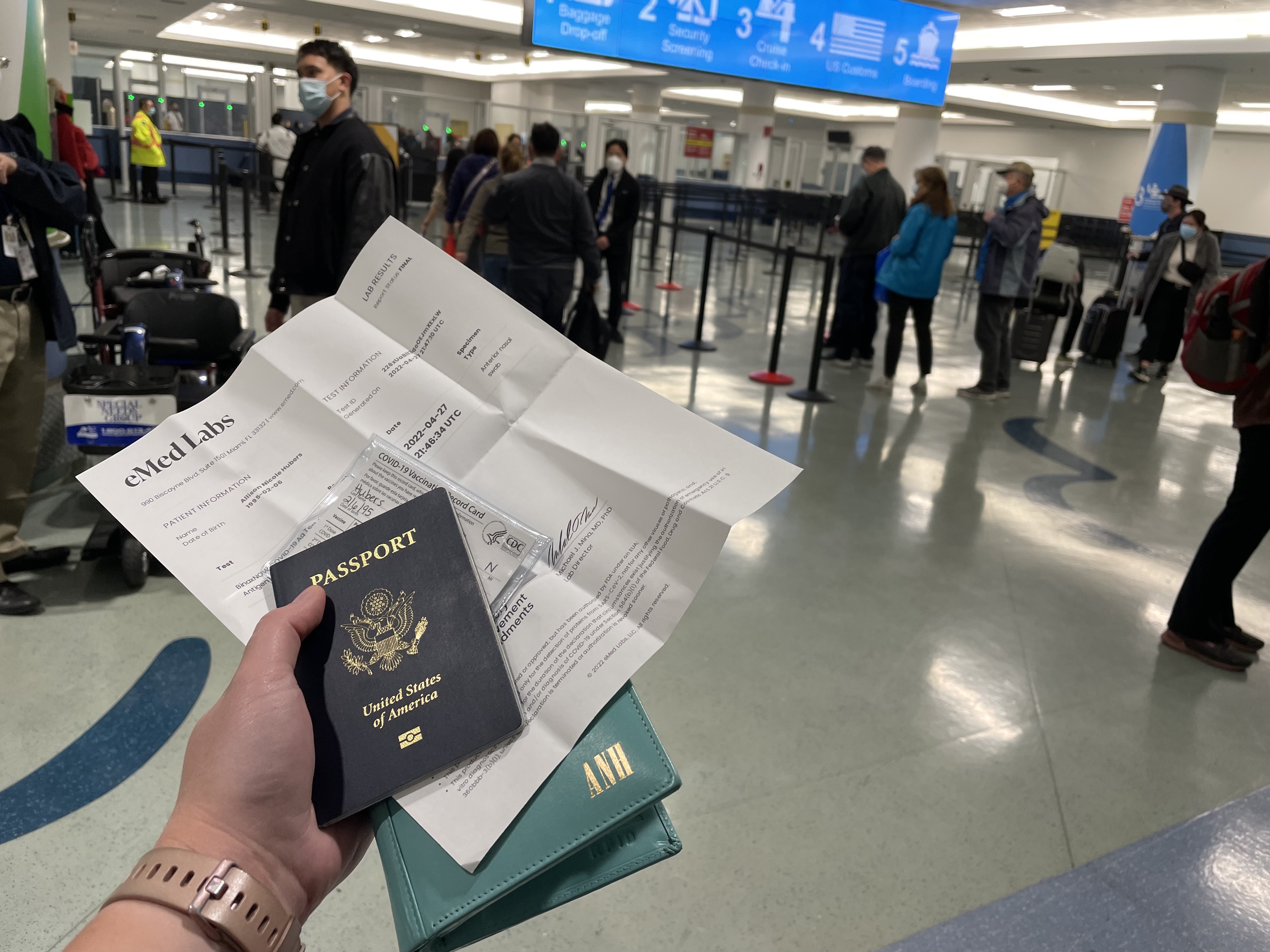 It did seem like the testing requirement provided a false sense of security at this point - especially given the exposure that could happen during travel to the port and all of the interactions happening in each port. With a testing window of 3 days, so much could happen before people actually board their cruise.
In June, my husband and I sailed on a 12-night European cruise. As we entered the second half of the cruise, we noticed again that there were a lot of people coughing and sniffing. According to the sailing Facebook page, there were quite a few people who got sick on this sailing. We never got sick, luckily, and were ecstatic to return back to the United States test-free.
By this point in my pandemic cruising, it felt like the testing requirement was pretty worthless given the prevalence of COVID-19 spreading everywhere. 
Carnival's new procedure
Image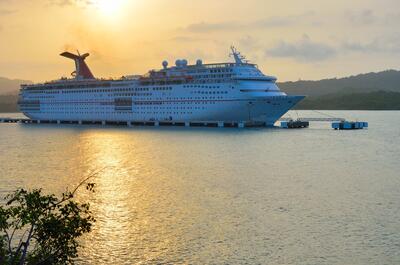 Since I hadn't cruised with the new testing requirements for short-night sailings, I was interested to see how I'd feel onboard Carnival Ecstasy for my 4-night sailing to Cozumel. 
In all honesty, the spread of COVID-19 this summer has done little to deter me from my travels. I've accepted the risk of getting infected when I board a plane or cruise ship. In my opinion, it seems like people are just as likely to be infected living their normal lives as they are when traveling or cruising.
It's also important to note that cruise ship COVID-19 prevalence mimics the same trends we see on land. As the date of our cruise got closer, it did seem like more people we knew were getting COVID-19 - even those who had an infection at the same time we did in January.
This did make both of us a little apprehensive; not to mention that my sister had recently cruised with a group in July and at least 10 people came back with COVID-19. 
During the boarding process, our vaccine cards were scanned and we were asked a series of questions about any symptoms we had. I always wonder if anyone actually says, "Yes, I had a stuffy nose within the last 2 weeks" or "Yup, I had a headache the other day!"
Image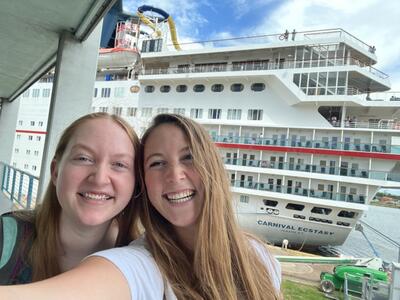 They ask about so many symptoms that I can't fathom people aren't lying on those questions. 
It was weird not to show the negative COVID-19 result, as this has been the norm for so long. I thought to myself that it was nice to not spend another $30 on a proctored eMed test!
I also noticed more people than I was expecting wearing masks in the line, which was notable. 
Onboard Experience
Image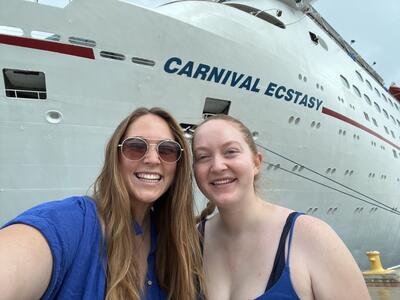 Once we were onboard, I was curious to see what the COVID-19 vibe would be. I also wondered if the lack of testing would make me feel more uneasy or if we would notice more illness onboard. 
It's hard not to feel triggered when you hear someone hacking or coughing near you. Let's be real, no one wants to get sick on vacation even though we all know we are taking a risk by cruising. Nothing is worse than spending your time and money to go on vacation… just to feel sick. 
We continued to notice a few people onboard were wearing masks - certainly more than I expected. I'd argue that I saw more people wearing masks optionally on this Carnival cruise than I saw on my recent Royal Caribbean cruises. 
Image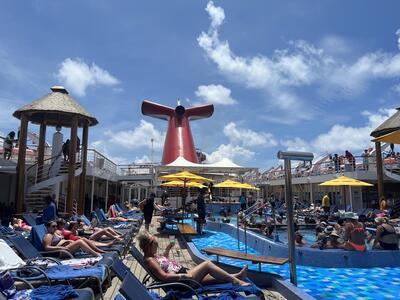 We also didn't notice a large number of people coughing, hacking or sniffling throughout the 4 nights that we sailed on Carnival Ecstasy. 
I was grateful that people seemed to be healthy onboard this sailing, especially since Carnival Ecstasy is a very old ship with very few outdoor areas.
The crew onboard Carnival Ecstasy were working tirelessly to keep the ship clean. Even though the cruise ship was so old, it was maintained well and kept very clean.
We did note that they didn't have any sanitizing staff members to encourage sanitization before entering the dining areas - this is certainly different than Royal Caribbean's 'washy-washy' protocols. Luckily, we always had sanitizer with us or found some at the entrances. 
Image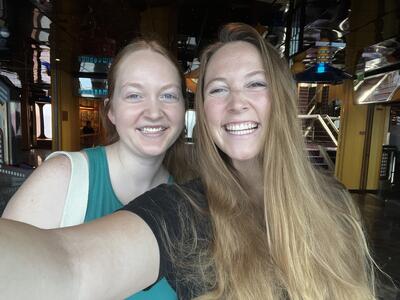 Most importantly, when we returned from our cruise, we remained healthy and COVID-free! Although we were exhausted from all the fun we had onboard, a quick nap when we returned had us feeling good as new. 
Final Thoughts
Image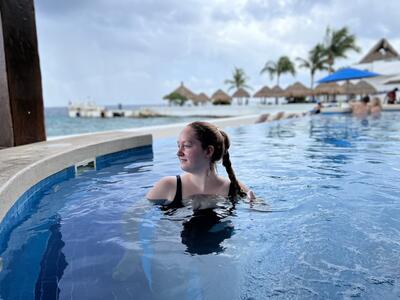 Preparing for a cruise can already be a tad stressful, and the added stress of getting a negative COVID-19 test to board no longer seems to provide value when cruising. This is especially true for people that need to fly to their cruise port. Packing at-home tests can also take up valuable space in suitcases. 
Given the cost of testing and the somewhat false-sense of security that testing provides these days, we both agree that short-term cruises don't need testing requirements. We felt perfectly safe on this sailing and knowing that people tested negative within 3 days of sailing wouldn't have changed the way we felt.