Before I even boarded MSC Seashore today, there was lots of buzz in online cruise groups about the changes in the itinerary due to Tropical Storm Fiona.
Instead of going to the eastern Caribbean, including Puerto Rico, St. Thomas, and the Dominican Republic, we have switched to a western Caribbean itinerary, visiting Roatan, Honduras, Cozumel, and Costa Maya in Mexico. Thankfully, we are still going to Ocean Cay, MSC's private island in the Bahamas, although I would have loved to see Puerto Rico as well. 
Some people have voiced their disappointment with the change in ports, which is understandable. However, it is something that does happen, especially when you are sailing at the height of hurricane season. Some people aren't aware that this is what you agree to as part of your cruise contract when you book your fare. Hopefully everyone will have a great time anyway. 
Getting to the ship
Image
To take a step back from the big news of the day, a word about my travels. I was very lucky to have smooth journey to Miami. Given the recent travel chaos, I decided to fly in early, arriving late Thursday evening with my luggage in tow. I found a reasonable priced hotel, The Hampton Inn, located mid beach, which is a great location to explore South Beach. The hotel was clean and modern, and the staff were very friendly.
I was quite eager to get to the terminal for my first MSC cruise. MSC Seashore is one of the cruise line's  newest ships, launched last year. The Seaside class of ships are designed to follow the sun with lots of outdoor space, a real benefit for sailing around the Caribbean.
I arrived a little before my official check-in time at the cruise port terminal. Porters immediately greeted me, took my luggage, and directed me to the check-in. The lines were not too bad and moved rather quickly. I did notice some passengers struggling for to find the required check records, as they were online. For me, it is easier to have everything printed out. MSC requires non-US citizens to take an antigen test no more than 3 days before embarkation, along with a health questionnaire, so I had that on hand. It took around 30 minutes to get through.
Once onboard, there were very long lines for the shore excursions desk, given the change in ports. Since I could see no end to the line, I made a quick trip to one of the restaurants to book my specialty dining reservations for the week. I also popped by the internet help desk, as I was having problems setting up my internet. Overall, everything worked out, and I sat down to relax for a bit. Organizing port excursions would have to wait.
My cabin
Image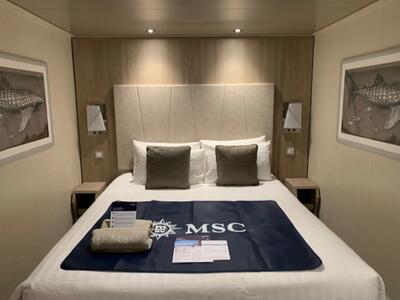 At around 2 pm, the cruise director made an announcement that cabins were open, and there was a mad dash for the elevators. I decided to relax for a few more minutes and then did the stairs, especially thinking about my potential calorie consumption onboard this week.
This is my first time cruising solo and my first time staying in an inside room. Overall, my cabin is quite spacious for one person, has a lovely king size bed, and the room has natural colors and textures, which creates a calm atmosphere.
There is plenty of space for clothes and a nice desk area where you can work. There are 2 US plgs, 2 USB, ports and 2 European plugs. It would be nice to have one by the bed, especially when there is no natural light in the cabin. I did bring along some spare European adapters I had so that I could take advantage of all the plugs.
The bathroom is compact but has enough storage space, with a few shelves, to help keep things organized.
Lunch / Afternoon
Image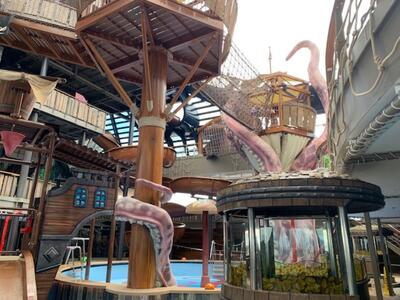 After a quick stop in my room, I decided to head up to the Marketplace buffet for a bite to eat. It is quite a large space, and despite being busy, there are lots of spaces to sit down. I had a selection of salads, along with some yummy Naples style pizza.
Newly energized from lunch, I decided to explore the ship. New to MSC, I felt a bit lost walking around, but that makes for some of the best exploring.
Not atypical for southern Florida this time of year, we had a light shower, so I did not spend too much time walking around outside, but I did come across an amazing, pirate themed waterpark with a rather large Kraken on the loose. It made me want to be a kid again. I also walked over the Bridge of Infinity which lets you walk over the open ocean. It looked appealing, but it was covered by rainwater, and I had concerns that I may not make it across without slipping and sliding all over the place
There seems to be an endless number of bars onboard and some fun music playing, which added a festive atmosphere. The muster Drill was done in cabin, where we watched a short video and then had to check in at our Muster Station. Announcements are in 3 languages based on the diverse makeup of the passengers, so things can take a little longer. 
Dinner/evening activities
Image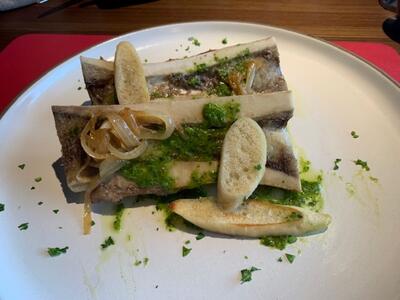 Image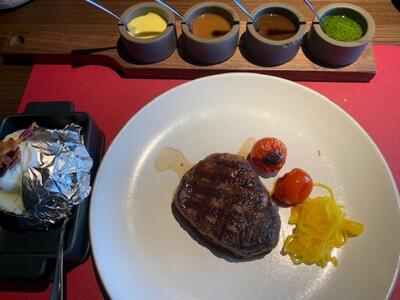 Image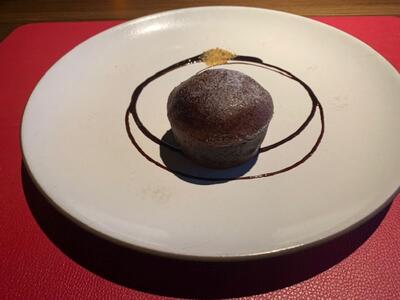 After a busy day with lots of embarkation things to do, a leisurely steak dinner at Butcher's Cut sounded perfect. I purchased a 3 night specialty dining package for $110 pre-cruise, quite a good deal compared to the walk up cost of $70 for one meal. 
The ambiance of the restaurant is what you want in a steak place, with dark leather chairs and a warm, inviting atmosphere.
To start things off, I was officered an assortment of freshly baked bread accompanied by smoked /paprika butter. That probably could have been a meal in itself.
I decided to be a little adventurous and try something new, so for my appetizer, I selected bone marrow. Served with butter and parsley sauce, it was light and luxurious.
I moved on with a classic filet mignon. I was feeling pressure to pick which sauce for my steak when the waiter advised that it comes with all four – chimichurri, mushroom, peppercorn and bernaise. Why not ?  Followed by a simple lava cake, the whole meal was a delight. The server was attentive and knowledgeable and made for a perfect first evening onboard.
Tomorrow's port day
Image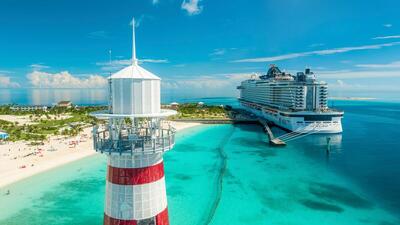 For the rest of the day, I am unpacking and relaxing. Based on our updated schedule, we are suppose to arrive in the Bahamas at 8 am and stay until 9pm in the evening, which is tons of time to explore MSC's private islands.
I have no structured plans but am very much looking forward to exploring the different parts of the island, as well as the night time activities.
The ship is gently swaying tonight; hopefully, we will have a sunny, warm day tomorrow.