Leaving Mexico behind, today we ventured to Roatan, an island off the mainland of Honduras. MSC does not normally make this port stop, so many guests were excited to visit.
I have been to the island once before and was in awe of its natural beauty and very excited to have the opportunity to visit again.
Since we changed itineraries due to the weather, I had a credit for refunded excursions, so I decided to book Big French Key, a beach day to relax.
Here is how my day went.
Morning activities
Image
Once again, the captain changed the time on the ship back another hour. So many people were up early, although we were not scheduled to dock until 9 am.
With a couple days onboard, I have a better sense of what I want to do; so I grabbed some breakfast and headed to my new favorite outdoor eating area at the back of the ship on Deck 16. 
We passed a beautiful, someone isolated-looking island as we approached our destination in the distance. Unlike the other islands we have visited, Roatan is hilly and lush with a jungle. What you would expect in Central America.
We floated gently into port, and I could see the surrounding hills with beautifully colored houses and a few cars driving toward the port.  A Norwegian cruise ship was already in port, and in the distance, I could see a Carnival cruise ship. Not surprising to have three ships in port given the number of cruise lines that changed to western Caribbean itineraries this week.
Again we were told not to bring any food onshore. We were required to have government issued identification, and our vaccination card to go onshore, but no one asked for any of it, and there was no cute dog to sniff incoming passengers.
I met up with the other cruise excursion participants, and the organizer seemed a little overwhelmed by the nearly 100 people in line for this popular excursion. A number of people were late, which delayed our departure by 20 minutes, not a big deal. Things were sorted out, and we loaded onto fairly small buses for a 30 minute ride along a winding road to the dock where we would head to Big French Key.
Big French Key 
Image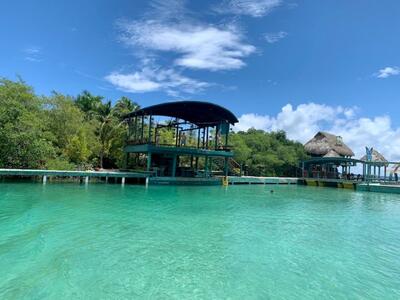 Once there, we were ushered onto small barges that reminded me of the Jungle Cruise boats at Disney World without the corny jokes from the captain.
On our way to the island, we took a nice tour along the mangroves and reefs that dotted the shore. The water was stunning shades of green and blue, with a light breeze which was a nice change of pace after the close quarters of the bus. We sailed by a fish and iguana hatchery, but did not see much.
From there, we headed to Big French Key, which shares a lagoon with Little French Key, a stone's throw away. I picked this excursion as I thought a beach day would be nice after walking around Cozumel, and based on my first impression, it was exactly what I wanted.
Image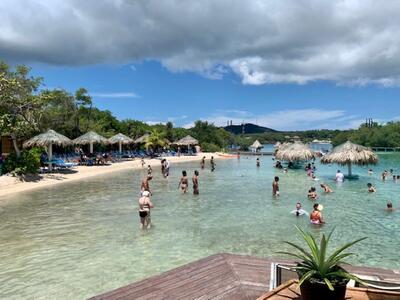 The excursion was $76 dollars per person, including transportation, lunch, and a drink, along with complimentary kayaking and stand-up paddle boarding.  
Our guide gave us a little tour, showing us a small shop with locally made products, a massage area (at a cost $1 per minute), and snorkeling for $25.
When we arrived, there were plenty of loungers with shade under palapas and small palm trees. I settled by the lagoon to enjoy the relaxing music. Great for families, the water was very calm and warm. The beach around the lagoon is not that large but sufficient for my needs.
Lunch/afternoon activities
Image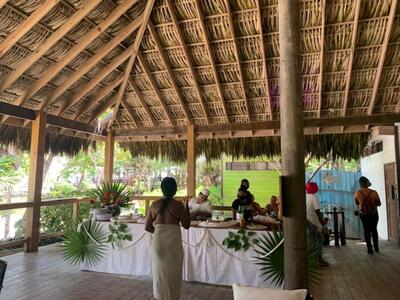 After, I switched to a location facing the open ocean, with stunning, wide open views. Although this side was not a sandy beach but rather a rocky shore, not suitable for swimming. There was an odd cloud in the sky, and the weather was well into the 90s with high humidity. Many people were making good use of the water activities to cool off.
Part of my package included a buffet lunch. Served in an open-air building, there were lots of beautifully carved benches and tables. This area is known for its intricate woodwork, which was on prime display on this island retreat. 
Although the buffet was surprisingly small, with rice, beans, chicken, fish and plantains, it was tasty. A fairly narrow selection of food, though. For those wanting other options, they offered a selection of bar foods such as hamburgers, tacos, nachos and ceviche for an additional cost. Most cocktails were $10, and local beer was $4. Wi-fi was $5 for the day. I found the staff were very friendly, attentive and eager to please.
Image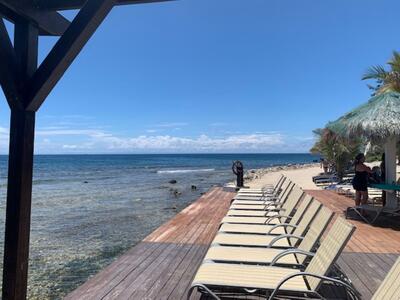 We spent about 3 ½ hours on Big French Key and then headed back onto the barges, then the buses for the return to the ship. I had a nice relaxing day, and the food was fine for me, but this may not be the all-inclusive experience that appeals to everyone. All in, from meeting the group to getting back on the ship, was about 6 hours, a fairly long excursion.
Dinner/ evening activities
Image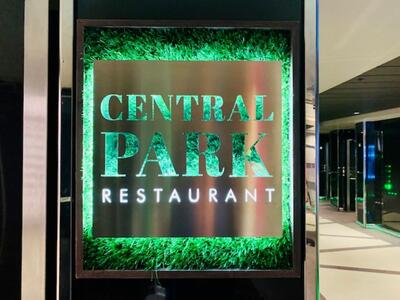 Tonight, I was determined to make it to the Main Dining Room. When booking the cruise, I had to pick between 5:15 and 8 pm, so I went with the earlier time, which has not worked out most evenings.
I arrived promptly at 5:15, and the waiters opened the doors in tandem at that time. Not having been before, I was not sure what would be the seating plan. I was seated at a table for 4, but no one else showed up.
There are several main dining rooms onboard, and I was assigned to Central Park (following in the New York City theme). The room was a good size, decorated in a retro art deco style with silver, black and white.
Image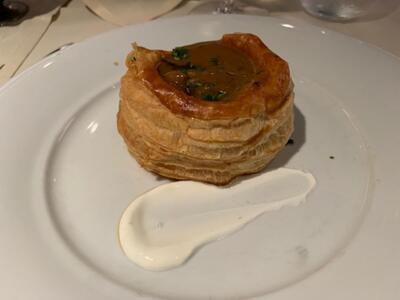 I was presented with a fairly sizeable menu. I opted for 2 appetizers for a lighter meal tonight. The first course was a mushroom ragout in pastry, very tasty. Second was a savory cheese plate with fruit, and lastly, a chocolate cake. Midway through my meal, the engines started up, and my wine start to jiggle, which gave me a flashback to the famous scene in the original Jurassic Park movie when the water shakes before the T-rex advanced on the lost visitors. Lucky for me, no dinosaurs, and we left port without issue.
Overall my meal was tasty and reasonably quick, considering the wait times I had heard about. My waiters were friendly, although judging by their hurried pace, they could have a little more help.
Following my meal, I walked along deck 5 to the Times Square area to listen to some live piano music in a psychedelic setting. I am a huge fan of piano, and it made for a perfect end to the evening.
Image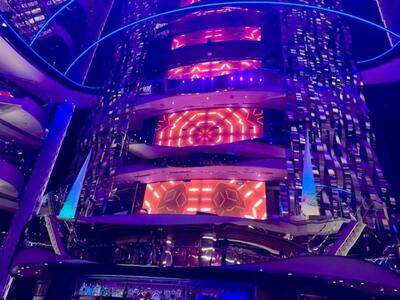 Tomorrow we are off to Costa Maya, Mexico, a port I have never been to. Looking forward to another adventure.
Stray Observations
Image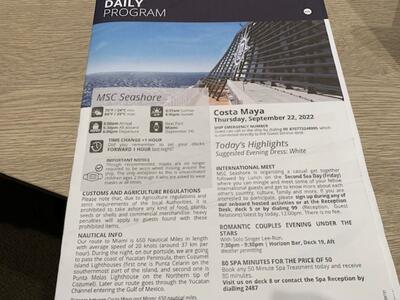 With the change in time as we travel west, my phone, which is on airplane mode, has not updated automatically, so I have been careful to check my app and the screens throughout the ship to keep on track. A number of people seem to be a bit confused by this. The Daily Program has a lot of information about this. 
I was chatting with a woman this morning and mentioned the frequent time changes, and she asked me why I needed to have my phone on airplane mode. While some people may have packages that cover foreign countries, the roaming fees while cruising at sea can be quite high, so it is best to be safe on airplane mode. 
Tonight is the first night that I have really felt the ship moving. We have had very calm waters so far.