The Norwegian Getaway is one of two ships in Norwegian Cruise Line's Breakaway Class.
The Getaway was originally constructed in 2014, but recently underwent a refurbishment in 2020. The ship measures 145,655 gross register tonnage, and is capable of accommodating up to 3,963 guests at double occupancy.
The Getaway is also able to house up to 1,646 crew members, and measures 1,068.3 feet in overall length.
Activities
The Getaway offers plenty of activities onboard for passengers of all ages. While on our trip, I noticed that there was a good amount of guests of various ages onboard. From this experience, I was able to assess that NCL is a cruise line for families and guests of any age.
Passengers can be assured that there is plenty to do onboard, and that Sea Days will be occupied by fun and exciting activities at every turn.
Aqua Park
Image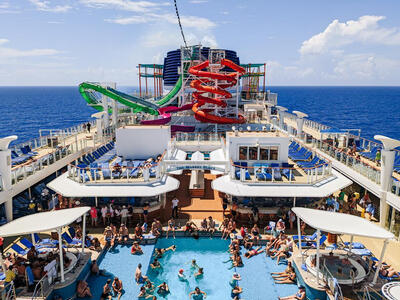 Located on Deck 15 through Deck 17, the Aqua Park offers both relaxation and thrill to passengers. In this area, guests can find multiple swimming pools, hot tubs, and multi-level water slides. NCL currently boasts the fastest water slide at sea, the Free Fall. These two drop-slides let guests experience up to 4Gs as they take the plunge down multiple stories of water slide.
"Feel the rush of The Whip, two racing, side-by-side twister slides that are wet and wild. Or try the fun family slide, if that's more your speed. Slide in. Get soaked. Or take a break from the action and relax in a lounger alongside the pool," says Norwegian Cruise Line about this area of the Getaway.
Entourage
There is a designated area for the teenage guests onboard, this area is called Entourage. This space is exclusively for passengers 13-17 years. During the day, this hangout area is full of activities and a space for teenagers to meet other guests their own age. At night this space turns into a dance club party. Teens can participate in activities such as workshops, themed events, pool parties, and much more. Participation and entrance to Entourage is complimentary to all teen passengers. All activities are supervised by NCL certified youth crew members.
Getaway Casino
Each NCL ship has a casino onboard, and the Getaway is no different. This area of the ship features classic slot machines, as well as table games. While on our sailing, we noticed that this area of the ship tends to remain open late into the night.
Kids' Aqua Park
The pool area on Deck 15, offers a special and themed area just for kids and little ones. This splash zone is pirate themed, and offers a great place for parents to take their kids on a day at sea! This area also has shallow pools for children to play in.
Splash Academy
Splash Academy is a designated kids club area for guests 5-12 years. This children's area is described as, "the complimentary youth program is where they can enjoy age-appropriate creative play, sports, and more." Kids can participate in activities with other children such as scavenger hunts and arts and crafts, all under the supervision of trained NCL crew members. Entrance and participation in Splash Academy is complimentary to all young passengers.
Sports Complex
Image
The Sports Complex has activities onboard spanning three decks of the Getaway. A unique feature of the ship is the largest ropes course at sea. We participated in this complimentary activity on our sailing, and we thought it was a lot of fun! My favorite part of the Ropes Course was The Plank, this part of the course lets guests walk out over the edge of the ship, and offers incredible views. The Ropes Course consists of over 40 different elements and challenges for guests to navigate, including two small zip lines.
Also located in the Sports Complex is a traditional basketball court. This basketball court is located right under the Ropes Course, and has a netted covering over it, so guests don't have to worry about losing a basketball overboard!
Vibe Beach Club
This adult exclusive relaxation area offers a space of tranquility away from the hustle and bustle of the rest of the ship. This area includes panoramic ocean views, upgraded lounge chairs and seating, and specialty food and drinks. Access to this area does cost an additional charge. Guests can purchase a pass at Guest Services, and the pass is valid for the duration of the cruise sailing.
Cruise Director Activities
Image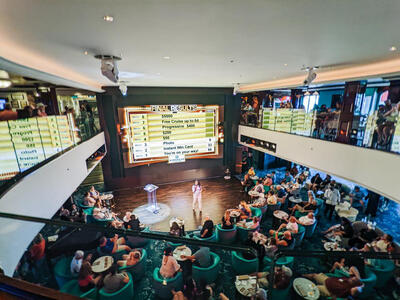 Something that I was not aware of before my first sailing with NCL, was just how many cruise director activities there are onboard during the day. Each night of the cruise, stateroom stewards deliver the 'Freestyle Daily', the daily itinerary to each stateroom onboard. These pamphlets are important, as they tell guests in detail, what activities will be hosted onboard, and their locations and times for the following day.
I recommend each night of the sailing, to make note of, or even highlight the different activities you and your travel companions are interested in. Then either carry your copy of the Freestyle Daily with you, or take a picture of it on your phone to reference throughout the day.
An example of activities onboard are; comedy shows, dueling piano performances, themed dance parties, game show competitions, art events, social mixers, food and drink tastings, and much more. Every hour of the day there are activities going on somewhere on the ship!
Entertainment
The Getaway offers several entertainment shows, both complimentary and for an additional charge. NCL hosts very talented performers onboard, and I was impressed with the quality of the entertainment onboard.
Syd Norman's Pour House
This rock 'n' roll themed bar and lounge features live music and performances each night. This is a popular venue amongst NCL vessels. "Jam out to famous rock hits at Syd Norman's Our House where live music and an interactive cast will have you toasting the rock-and-roll legends all night long," says NCL about this location. Entrance to Syd Norman's is complimentary.
Burn The Floor
Image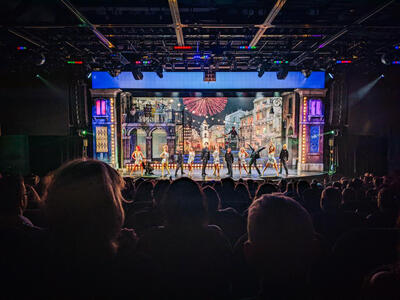 This was the show I was most excited for onboard. Said to be, "a non-stop display of movement and style based on the world-renowned Broadway show". Described as audience dazzling by the New York Times, Burn The Floor is a can't-miss 45-minute dance extravaganza filled with breathtaking choreography, heart pounding music and unforgettable moves." This dance performance show features latin music and impressive partner dancing.
I found this show very entertaining and a definite must-watch on any NCL Getaway sailing. While enjoying the show, the guests sitting next to us commented that they enjoy the show so much, that they had watched it three times while on our sailing. Burn The Floor is complimentary to all passengers.
Levity Entertainment Group
Image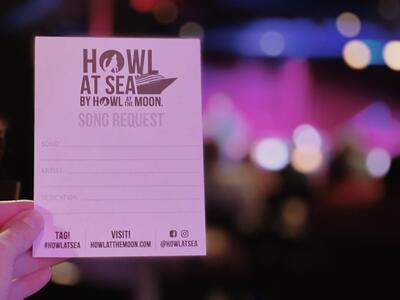 Some of our favorite entertainment onboard was the Howl At The Moon dueling piano show, and the comedy shows. Both of these were hosted by the Levity Entertainment Group, and were located at the Headliner's bar and lounge onboard.
The performers at Howl At The Moon were especially talented, and played a multitude of instruments. This was my first time experiencing a dueling piano show, and I enjoyed it so much, that we stopped by Headliner's multiple times throughout our voyage to catch the show.
The comedy shows onboard were also quite entertaining. I thought it was fun that the two comedians onboard hosted both a family friendly and an 18+ show. This meant that there were at least four different comedy shows to watch while on our itinerary. Both the Howl At The Moon show and the comedy shows are complimentary to guests.
Million Dollar Quartet
"This Broadway hit brings to life a legendary evening through an incredible score of rock 'n' roll, gospel, R&B, and country hits like Blue Suede Shoes, Walk the Line, Great Balls of Fire, and more," says NCL about this show.
We did not get a chance to watch this show ourselves while onboard, but it is described as another Broadway hit that has been brought onboard the Getaway. Admission to this show is complimentary to all guests.
JunNk (dinner and show)
This dinner with a show entertainment is considered as a specialty dining option onboard the Getaway, and is therefore an additional charge. This show is said to be "a multi-award winning music and comedy group that has taken the UK by storm. Using various items, commonly found in a junkyard, the four hilarious performers energetically combine superb acappella singing, captivating percussion, innovative musical creations and mesmerizing gymnastics to produce a lively, dynamic and seriously fun show that consistently delights audiences of all ages."
I did not experience this show while on my sailing, but it is something that I would love to catch next time should I have the privilege of sailing with NCL again! The show and dinner costs $29.99 per person for both adults and children.
Spa
Image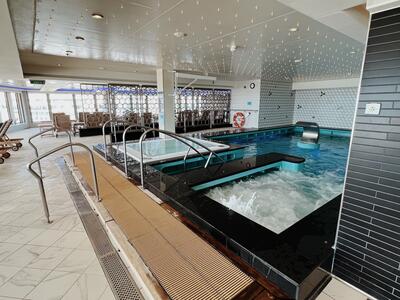 The Mandara Spa & Salon onboard the Getaway offers a large variety of treatments for guests, over 50 different relaxing and rejuvenating experiences for passengers to enjoy. All of these treatments are an additional charge.
Located in this area is also the Thermal Spa Suite. This area consists of a large thermal pool, salt room, sauna, rain showers, and steam room. This space offers plenty of comfortable lounge chairs to take in the relaxing and beautiful ocean views. Guests can tour the Thermal Spa on the first day of their cruise for free. After the first day, guests must purchase an access pass to the Thermal Spa, on our voyage this pass was a $300 additional charge. The access pass once purchased, is valid for the entirety of the sailing.
Pulse Fitness Center
There is a complimentary fitness center onboard, equipped with cardio machines and weights. The ship also hosts fitness classes in this space, including yoga, pilates, and spin. The fitness center was something I did not get to experience onboard this sailing, but is something that is on my list for next time! The Pulse Fitness Center is located next to the Mandara Spa.
Bars and Lounges
There are approximately 11 different bars and lounges onboard NCL Getaway. With so many options, guests are sure to find a favorite! It is important to note that all drinks at the bars and lounges onboard are an additional cost, unless a guest has purchased one of NCL's beverage packages.
Starbucks
The classic Seattle-based coffee company has a location onboard the Getaway. This specialty coffee venue is located next to the Wifi Lounge onboard, near the Atrium.
Artium Bar
This bar is located right next to the Atrium, and offers great seating to watch some of the onboard game shows and other entertainment conducted by the cruise director.
Bar 21
This bar venue is located just steps away from the Casino. This location is nestled right in the hustle and bustle of the busy Casino area of the ship.
Bliss Ultra Lounge
This electric spot is the only club-like venue onboard. This space features energetic music for dancing, glowing walls, and an illuminated bar. This location would be a fun spot to visit with friends.
Headliners
Image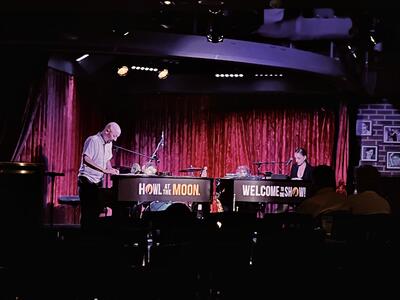 This location hosts both the comedy shows onboard, as well as the dueling piano show. This lounge offers a cozy environment, perfect for taking in an evening show while sipping on a delicious drink.
Mixx
Located between the complimentary restaurants Taste and Savor, this bar offers a great meeting place for friends before or after dinner.
Prime Meridian
An upscale feeling bar, Prime Meridian is located between Cagney's Steakhouse and Modern Churrascaria, two of the specialty restaurants onboard.
Skyy Vodka Ice Bar
Image
This is the most unique and cool (literally) bar that I have ever seen on a cruise ship! The Skyy Vodka Ice Bar features large sculptures and seating made of ice, and is illuminated in beautiful colors of blue and green. "Inspired by the original ice hotels in Scandinavia, the Skyy Vodka Ice Bar is a unique arctic-like frozen chamber where the bar, seating and glasses are made entirely of ice," says NCL about this venue. This bar is kept at about 17 degrees Fahrenheit, so it is recommended that guests wear warmer clothes to visit this space.
While visiting the Ice Bar, the crew member inside said that most guests tend to enter and then leave quickly due to how cold it is inside the bar. There is an $18 cover charge to enter the bar, and this price includes two drinks, making it relatively reasonable compared to many other drink prices onboard. Make sure to dress warmly in order to enjoy this venue fully!
Spice H2O
Image
Described as "an adult-only escape", this space by day is a great lounge spot, and at night transforms into a dance party space. This venue hosts themed parties throughout cruises. For example on our sailing we witnessed an 80s themed dance party, and the NCL famous Glow Party.
Sugarcane Mojito Bar
Image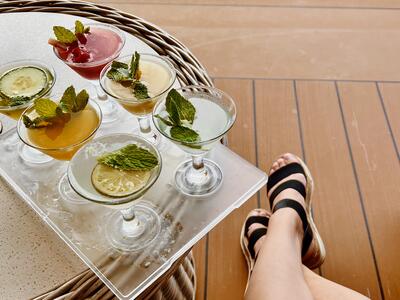 Our other favorite bar onboard, the Sugarcane Mojito Bar has both indoor seating and outdoor. I would recommend choosing one of the comfy lounge chairs outside and taking in the passing ocean views while sipping on one of the many mojitos on offer. Our favorite thing we ordered on this trip was the Mojito Flight, at a $20 cost, we felt it offered a good value for money as it came with smaller versions of six different mojitos to sample.
Sunset Bar
This is another bar that is located outside on The Waterfront on Deck 8. This space offers another great spot to catch the setting sun while sipping a tasty drink.
Complimentary Dining
The Norwegian Getaway has plenty of complimentary dining options to fit any taste. With three main dining rooms, a large buffet, casual eating spots, and grab and go options, guests will be able to find plenty of culinary choices to satisfy.
Garden Cafe
Image
This is the buffet onboard, and it offers a plethora of options to choose from. Breakfast, lunch, and dinner are served at this location. This location also has choices for guests with dietary restrictions including vegetarian or gluten free. We very much enjoyed eating at the Garden Cafe, and were able to tryout breakfast, lunch, and dinner at this space. The Garden Cafe additionally offers a late-night-bite until 11:00pm each night of the sailing. The late night bites include food items such as pasta, pizza, cookies, and salads.
Something that I appreciated, was that coffee, tea, and juice are served complimentary onboard at the Garden Cafe. There is also a stand outside the Garden Cafe that allows guests to make themselves coffee, tea, and hot chocolate late into the night after the cafe itself has closed.
O'Sheehan's Bar & Grill
The only 24-hour food location onboard offers classic Irish pub fare. This casual space has a lot of seating and serves food such as fish 'n' chips or Shepherd's Pie. O'Sheehan's offers a great spot for guests who stay up late, to grab a quick bite.
Savor
Image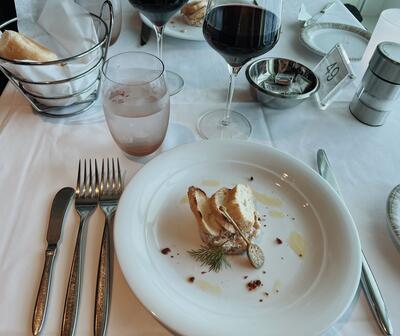 One of the three main dining rooms onboard, Savor offers classic favorites as well as unique dishes. At this location, guests can choose an appetizer, entree, and dessert, all complimentary. This dining room features large windows, and contemporary decor. We ate at this location twice on our voyage and enjoyed it both times.
Taste
Taste is almost an exact replica of Savor, just on the adjacent side of the ship, and features the color red in its decor rather than the blue of Savor. Each day of the sailing, the daily specials on the menu changed, but the classics remained the same at all three main dining rooms. Because of this, no matter which dining room guests choose, they will have the same food options.
Shanghai's Noodle Bar
Image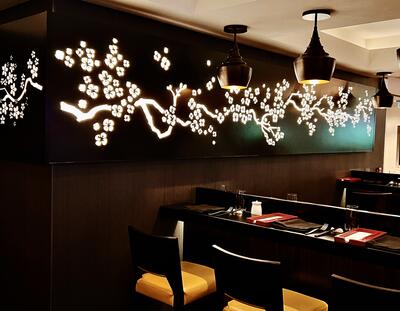 This unique and fun food location is a must-visit onboard NCL's Getaway. This complimentary noodle bar offers classic Asian inspired food such as wok fried dishes, prepared noodles, and soups. We visited this location for dinner one night, and very much enjoyed it. This venue is open for both lunch and dinner.
The Tropicana Room
The third main dining room is the largest, and offers the most seating. This space also features a large dance floor and stage where it appears there is sometimes entertainment during meals. We ate dinner here on the 6th day of our sailing, and there was music playing overhead, but no live entertainment during the meal. Just as with Savor and Taste, the menu in The Tropicana Room has the same food on offer as the other main dining rooms.
Room Service
Room Service is offered 24-hours a day onboard the Getaway. Guests can order breakfast, lunch, dinner, or late night food at any time. The food is complimentary, however, there is an automatic $9.95 delivery fee applied to every room service order. We tried room service once on our sailing, and our order was delivered promptly by a helpful and attentive crew member.
Specialty Dining
Image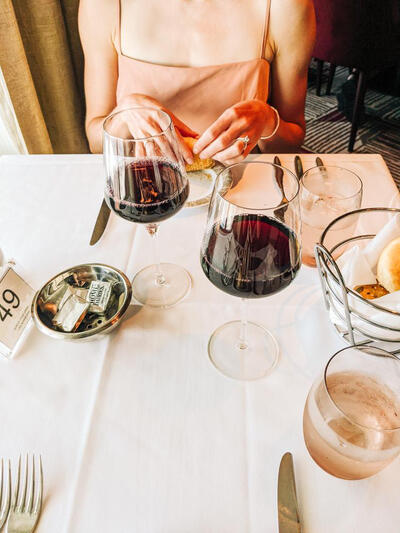 The Norwegian Getaway has plenty of specialty dining options for passengers to explore. There are 11 specialty dining spots onboard, offering a multitude of cuisines. All specialty dining venues are an added cost to a cruise sailing.
Ocean Blue
A fine dining location featuring seafood, this restaurant has both indoor and outdoor seating. This venue charges guests a la carte.
Moderno Churrascaria
A unique specialty restaurant onboard a cruise ship, Modern Churrascaria is an authentic Brazilian steakhouse. This restaurant features a 43-item salad bar, and 12 different roasted meats. Guests are charged a flat rate of $49 per adult to dine at this restaurant.
Wasabi
If sushi is your favorite food, this specialty dining space may be your favorite onboard. This venue is a contemporary sushi bar that serves up traditional Japanese cuisine. Guests are charged a la carte at this venue.
American Diner
Located on Deck 16 near the main pool area, this largely outdoor restaurant features classic American style cuisine. Selections such as lobster rolls, burgers, fried chicken, and more are served up daily. This restaurant charges a la carte.
Cagney's Steakhouse
This American-style steakhouse serves up classics such as Certified Angus Beef cuts, and made-from-scratch jumbo crab cakes. This venue offers both indoor and outdoor seating.
Guests are charged a la carte at this restaurant.
Dolce Gelato
For guests looking for a tasty and cool treat while strolling The Waterfront, Dolce Gelato is the perfect stop. This location has plenty of gelato flavors to choose from. This location charges a la carte.
La Cucina
This specialty dining location features classic Italian cuisine. Located on Deck 8, guests can enjoy dishes such as Spaghetti Carbonara, veal, or Scaloppini. Guests are charged a la carte at this location.
Le Bistro
This romantic and intimate restaurant offers the perfect place for a date night. This restaurant is described as "elegant interiors, crisp white linens and attentive servers." This restaurant specializes in French cuisine. Guests are charged a la carte at this venue.
Teppanyaki
Image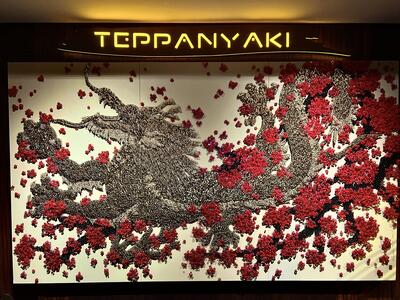 Teppanyaki was the specialty restaurant we chose to experience while on our sailing. We ate at this location for dinner, and it ended up being our favorite meal of the trip! This Hibachi-style restaurant offers delicious Asian-styled cuisine cooked table-side. The chef who prepared our food was entertaining, comical and attentive. I would recommend this restaurant to guests on the Getaway looking for a fun, tasty, and engaging meal during their sailing. Guests are charged a flat fee of $49 to dine at the restaurant.
The Bake Shop
This small specialty location offers decedent chocolates, macaroons, and gourmet cupcakes. This specialty venue charges via a la carte.
The Raw Bar
Located on Deck 8, just outside Ocean Blue, this specialty dining spot offers classic and indulgent seafood options. Including oysters, shellfish, and crudos, this location specializes in raw seafood. Guests are charged a la carte at this location.
The Haven Restaurant
This exclusive restaurant is complimentary to guests staying in The Haven aboard NCL vessels. This space offers guests a fine dining experience and serves unique dishes as well as signature classics.
Onboard Shopping
There are several shopping location onboard. An extensive jewelry shop is featured on the Getaway, as well as a well-stocked liquor shop. To be honest, I found the NCL logo shop, Tradewinds, to be rather lacking. On our voyage aboard the Getaway, there was not much to browse in terms of Norwegian Cruise Line specific souvenirs. All of the onboard shops can be located on Deck 8.
Stateroom Categories
Image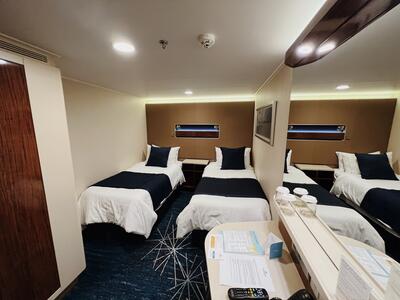 Norwegian Cruise Line offers its guests several types of staterooms onboard their vessels. There are staterooms for nearly every taste and budget onboard, and the Norwegian Getaway is no different.
The Haven
The Haven offers the most luxurious experience onboard NCL ships. This exclusive area is a ship-within-a-ship concept that offers guests a luxurious cruise sailing from beginning to end. With privileged access to exclusive areas of the ship, staying in a Haven room offers guests the best of the best. These room types range in size and layout. A full breakdown of The Haven can be found here.
Balcony Suite
These large rooms feature lots of space for families, friends, and travel companions. Each room is accompanied with a spacious balcony to enjoy private ocean views.
Balcony
Balcony rooms are capable of accommodating up to 4 guests, and offer a great middle option of both price and amenities. These room types typically range in size from 32 square feet to 250 square feet.
Oceanview
Oceanview staterooms offer a perfect middle ground for passengers looking for a little more space, pretty views, but a more budget-friendly cost onboard. These rooms typically range in size from 161 square feet to 250 square feet, and all feature a port hole to gaze out at the passing sea.
In the Oceanview category, there are Family Oceanview rooms that are capable of housing up to five guests. This is a great option for families wishing to save some money, while at the same time having plenty of space. These family rooms measure around 340 square feet.
Inside
Image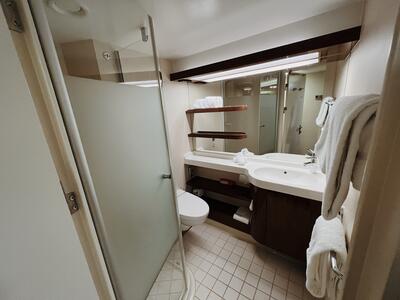 While on our Norwegian Getaway sailing to the Caribbean, we stayed in one of the standard inside staterooms. I was very pleased and surprised just how nice and spacious our room was. There was ample storage space, room under the beds to place luggage, a large desk, and a very modern bathroom with a walk-in shower.
The bed can be configured as one queen bed, or separated into two double beds, guests can note their preference during online check-in. We were very satisfied with our room, and I would recommend the NCL inside cabins to prospective guests who wish to save some money on their stateroom.
Studio
Many cruise lines' most affordable room category onboard is the inside staterooms, and many cruise lines charge double occupancy on these rooms no matter if it is just one guest or two occupying the room. However, Norwegian Cruise Line features a Studio stateroom category on most of their vessels. These rooms are smaller, about 100 square feet, and are designed for just one occupant. These rooms offer an affordable price for solo travelers. Additionally, staying in a Studio stateroom onboard, allows guests access to the exclusive solo traveler spaces onboard including the solo traveler lounge.
Review
Image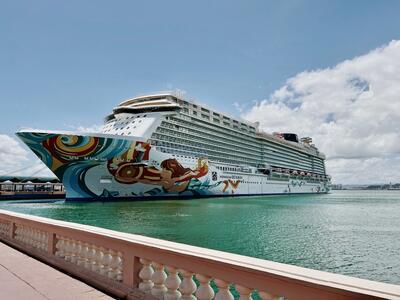 The Norwegian Getaway offers guests a wonderful vacation. Full of endless possibilities for activities, entertainment, and relaxation. The Getaway makes a great contender for prospective guests looking to cruise.
I would highly recommend any cruise guest to do as much research as possible ahead of any sailing, as this will help plan out exactly what experiences are a priority. While the Getaway was originally constructed in 2014, the ship has undergone refurbishments that keep it feeling up to date and modern. I felt this ship was well maintained, and felt rather new, despite it being nearly 9 years old.
Norwegian Cruise Line's Breakaway Class offers many of NCL's classic amenities, as well as unique favorites. The Getaway's water slides and Ropes Course, are just some of the unique activities found onboard.
While the ship is definitely large, capable of accommodating almost 4,000 guests, the ship does not feel overwhelming. Within the first day or so, we were easily able to navigate our way around the ship. Additionally, we did not feel that the ship was overly crowded. There were always open lounge chairs to sit in, and tables to eat at. The most crowded it ever felt onboard was during embarkation before guests' staterooms were ready, and during some of the nighttime entertainment shows. Otherwise, there was always plenty of room to stroll the ship.
The atmosphere onboard was conducive to nearly every desired type of vacation. Because of the many options onboard, guests could be as lively or relaxed as they wanted.
Check in process
Image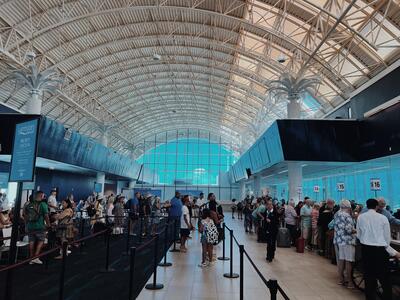 For this sailing we boarded the Norwegian Getaway in Port Canaveral Florida. This was the first time that I have embarked on a cruise from this port.
Ahead of time, we were not told which terminal the Getaway would be docked at. After doing some quick google searching, we discovered that Norwegian Cruise Line typically uses Terminal 10 at Port Canaveral, and after pulling up to the port, we were directed by large signs confirming that the Getaway was indeed docked at Terminal 10. If you are unsure which terminal to find your ship at, I recommend either contacting your cruise line directly, or doing a quick online search. After arriving at the cruise port, you should see large signs directing guests to the proper terminal.
After locating our ship, we needed to park our car, because on this trip we chose to drive to Port Canaveral. At the cruise port, there is plenty of parking, both covered and uncovered. Currently parking at this terminal costs $18 per day. If you are driving to Port Canaveral, remember to factor in this cost to your cruise trip budget.
After parking we went through a quick line in which guests were checked for their COVID-19 vaccination status, as well as negative COVID-19 test results. Norwegian Cruise Line has since updated their COVID-19 policies. Many sailings no longer require a pre-cruise COVID-19 test. To check on the latest requirements to sail with NCL look here.
The security process to board the ship was very similar to that of going through an airport security. However, guests are not required to remove shoes, liquids, or electronics from their bags. As a general note, guests are not permitted to bring certain food items onboard, such as fruits and vegetables.
After making it through security, we went through a quick check-in where our passports were checked one last time, our picture was taken for security when getting on and off the ship, and we were handed our stateroom keycards. This entire process went smoothly and took only about 10 minutes. After boarding the ship we were required to check in with a crew member at our assigned muster station. The crew member went over some quick notes in the case of an emergency, and then we were allowed to begin our trip and explore the ship!
The entire check-in process seemed like a well oiled machine, and NCL does a great job of helping guests to get onboard as quickly as possible so they can begin their vacations.
Service
Something I noted and appreciated every day of our trip was the excellent service onboard the Getaway. We had a positive experience with every crew member we interacted with. The crew members seemed genuinely interested if we were enjoying our trip, and were there to help with any question or concern.
Something to note, the crew members did seem the most stressed during embarkation and disembarkation day. This makes sense as these are very busy days for the crew. As a passenger, it is always in guests' interests to be polite and patient! The crew members work hard to deliver a great vacation experience.
Reservations
Before boarding the Getaway, we were able to make dining reservations at some of the main dining rooms and specialty dining onboard. However, while on our trip we noticed that there was almost never any need for reservations. The ship seemed to have plenty of room to accommodate all of the guests onboard, and no restaurant ever seemed overly crowded. We noticed multiple crew members and fellow passengers commenting that reservations seemed unnecessary on this sailing. I recommend still making reservations ahead of time for things such as dining and shore excursions just in case, but it seemed that these things could have been easily arranged once onboard.
Conclusion
Image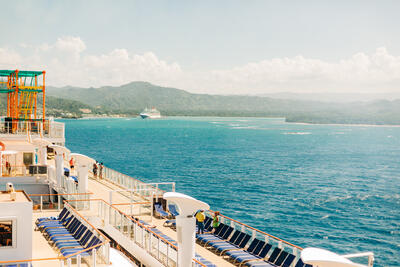 My first journey with Norwegian Getaway was a memorable one, and a great opportunity to see what NCL has to offer its guests! The ship had plenty to entertain its guests of nearly every age. Everywhere I looked fellow passengers seemed happy and enjoying their vacations. The Getaway had every amenity guests could require to have a great cruise sailing. The NCL crew came across as genuine, and the ship itself felt modern and well taken care of. Overall, if Norwegian Cruise Line seems like a cruise brand that appeals to you, I would recommend the Getaway as a great option for a memory-making cruise sailing!