Located just a little over 300 miles off the coast of Florida, the Bahamas is an ideal location for a shorter-duration family cruise. High temperatures generally range from the high 60s to the high 80s and typically feel comfortable year-round.
The Bahamian currency, the Bahamian dollar, is set at a fixed exchange rate equal to the US Dollar. English is the official language.
The Bahamas has about 30 inhabited islands, many of which offer lots of different activities for families to do, although staying on the ship is always an option. Disney Cruise Line has two Bahamian destinations on its schedule - Nassau and Disney's Castaway Cay.
The Disney Cruise Line offers several different cruise itineraries in the Bahamas, departing from different home ports. You'll have several options, whether you want to take a 3-day, 4-day, 5-day, or 7-day sailing.
Ships Sailing to the Bahamas
Image
Currently, there are four different Disney Cruise Line ships that offer stops in the Bahamas. Some of these ships offer these itineraries for a portion of the year while others have these itineraries for the entire year. These ships include the following:
The Disney Dream - which offers 3 and 4-night cruises from Miami and Fort Lauderdale to the Bahamas
The Disney Magic - offers 3 and 4-night cruises from Miami to the Bahamas
The Disney Wish - this brand-new ship offers 3 and 4-night cruises with stops to Nassau and Castaway Cay
The Disney Fantasy - offers 5 and 7-day Caribbean cruises with stops in the Bahamas
Within these itineraries, the Disney Cruise Line offers some special event, themed sailings. Typically, these do cost a bit more but include activities, character interactions, and decor that is specially offered for these sailings.
Image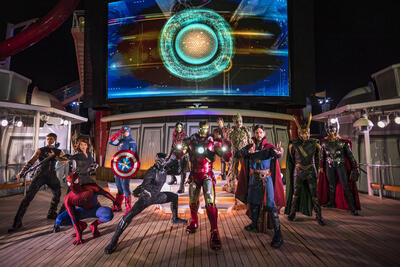 Special event cruises with stops in the Bahamas include Pixar Day at Sea, Very Merrytime Cruises (on sailings before Christmas), Marvel Day at Sea, and Halloween on the High Seas (on pre-Halloween sailings).
Because of the added expense of these sailings, it's recommended to only book these if you really will enjoy the theme, or if the dates are the only ones that work with your schedule.
Ports of Call in the Bahamas
Disney Cruise Line currently stops at two ports of call in the Bahamas.
Nassau
Image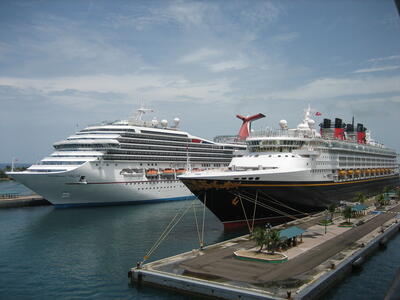 Nassau, the capital of the Bahamas, is a popular cruise port for many of the large cruise lines. Typically, when you are docked, you'll see other ships in port at the same time.
Many Disney Cruise Line guests, especially those on shorter sailings, opt to stay on the ship to explore. However, there are also many official port adventures available for booking. Some options include:
Adventure Jeep Tours
Day pass to Atlantis Resort (with options including the Aquaventure water park, the Dolphin Cay Dip 'N' Discover)
Day pass to Baha Bay (at Baha Mar)
Pirate ship adventure
Blue Lagoon Island Beach Day
Sightseeing tours
Harbor cruise
Pearl Island beach escape
Semi-submarine ride
Scuba diving
Snorkeling
Deep sea fishing
Chocolate factory tour
Castaway Cay
Image
Disney's private island, Castaway Cay, is a stop on all Disney Cruise ships originating in Florida with itineraries in the Bahamas or the Caribbean. It's one of the most popular Disney Cruise Line stops and has so many things for everyone in the family to do. A limited number of itineraries offer a Castaway Cay double-dip, where you'll get to visit the island twice during your sailing.
Castaway Cay has several beaches, including an adult-only beach. Beach chairs, umbrellas, and towels are available free of charge, while floats, rafts, and snorkel equipment can be rented.
A delicious BBQ lunch is served on the island in three different locations, and most of the customer-facing crew disembarks off the ship to work on the island during the day.
Image
While there are lots of things you can enjoy at no cost, there are also some paid excursions. These include:
Castaway Cay cabanas (these are very popular, and must be booked early)
Glass bottom boat trip
Aqua trike, paddle boat, sea kayak, Hobie cats, and bicycle rentals
Fishing Trips
Parasailing
Stingray Adventure
Walking and kayak trips
Banana boat rides
The available excursions for both Nassau and Castaway Cay will be offered in the Disney Cruise Navigator app for you to book as soon as your booking window opens and you have fully paid for your trip.
Weather in the Bahamas
Image
Because it's more north than the Caribbean islands, the Bahamas can have cooler temps in the winter months. However, it's still warm year-round. January is typically the coolest month with highs in the 70s.
Hurricane season runs from June through November. Keep this in mind when booking your trip so you can ensure that you have some flexibility in case a hurricane affects your sailing.