Following the ongoing global pandemic, 2022 was a big year for the cruising industry with the launch of many new, exciting cruise ships.
With supply chain and labor shortages plaguing the industry over the last few years, numerous cruise ships set to debut in 2021 were finally launched within the last year. 
Additionally, many delayed and cancelled cruise itineraries finally took place in 2022, including my much-anticipated Israel cruise on Royal Caribbean's Odyssey of the Seas. 
I was also fortunate enough to sail on Carnival Cruise Line's newest ship, Carnival Celebration, during one of the ship's inaugural voyages. This brand-new ship for Carnival Cruise Line is the second ship in the fleet's new Excel-class. 
Image
Along with Carnival Mardi Gras, Carnival Celebration is a completely redesigned, amplified cruise ship for the cruise line. Holding 40% more passengers than any other ship in Carnival's fleet, the new Excel-class exemplifies a more modern, open and innovative approach to cruising. 
Image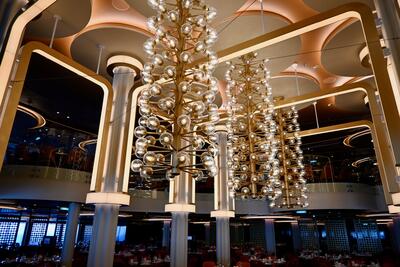 Carnival Celebration was unlike any Carnival ship I've sailed on before - the new ship was trendy, sleek and stylish. The spaces onboard didn't feel crowded or cramped.
Additionally, the incredible entertainment, numerous dining options and functional staterooms were all part of Carnival's revamped ship design; these design changes created a more upscale experience while still maintaining that 'fun' Carnival branding at its core. 
Image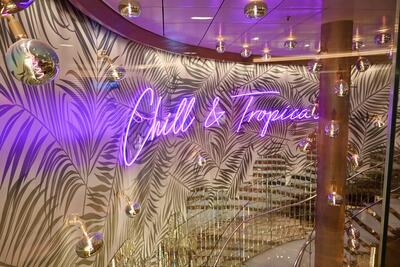 With so much excitement in 2022, I am already looking forward to what 2023 will bring to the cruising industry. You can anticipate ships that are bigger and better than anything built before!
Here are the exciting sailings I am looking forward to the most in the coming year. 
Image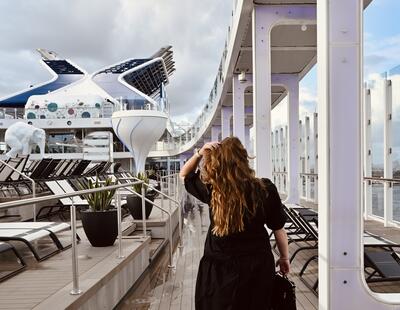 Carnival Jubilee is set to launch next year as the third cruise ship in Carnival Cruise Line's wildly successfully Excel-class 
Similarly built to Carnival Mardi Gras and Carnival Celebration, the newest ship, Carnival Jubilee, will launch in 2023 for Carnival Cruise Line.
This brand-new Carnival cruise ship is named after the cruise line's original Carnival Jubilee, which was retired and scrapped in 2017 after nearly 30 years of service. 
Image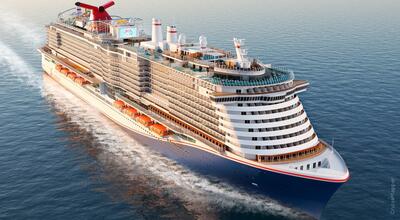 For years, Carnival Cruise Line resisted cruise industry trends of building mega ships that rivaled floating vacation resorts. All of that changed with the debut of the Excel-class when the cruise line started building ships that were bigger and better than anything the cruise line had designed before. 
Mardi Gras, the first ship in the class, introduced a ton of firsts for the cruise line, including Emerli's Bistro 1396, Emeril Lagasse's first-ever restaurant at sea; Street Eats, three open-air stalls that are meant to remind passengers of the food truck phenomenon; and redesigned staterooms that feature showers with glass doors. So long, curtain! 
Following the success of its sister ships, Carnival Jubilee is a highly anticipated addition to Carnival's growing fleet. For instance, guests can expect to find Bolt, the industry's only rollercoaster at sea that first debuted on Carnival Mardi Gras and Carnival Celebration. 
Image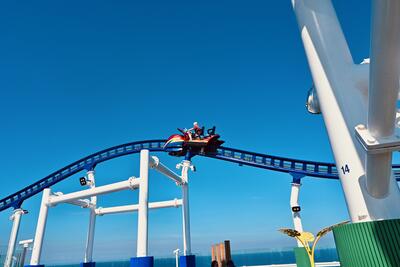 Excel-class ships have designated zones - each with their own flair. For instance, Carnival Mardi Gras has a French Quarter zone that is themed after New Orleans while Carnival Celebration has The Gateway, which is a travel-inspired zone in the ship's center. 
Image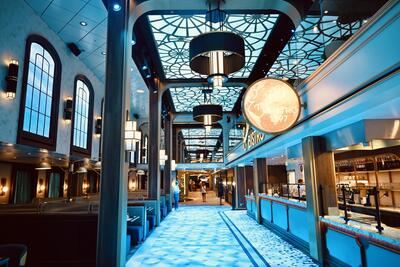 Guests can expect to find two zones that are specifically catered to Carnival Jubilee, although these have yet to be released by the cruise line.
Sailing from Galveston, Texas, Carnival Jubilee will be the biggest Carnival ship to sail from Texas - holding around 5,400 passengers. Excitement certainly surrounds expanded areas of Carnival favorites, such as the two-story RedFrog Tiki Bar and maximized Guy's Burger Joint. 
Image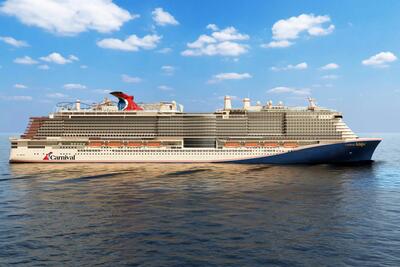 The inaugural sailing for Carnival Jubilee is slotted for late December 2023. Carnival Jubilee's December debut is delayed from the initial scheduled launch date for October 2023 because of shipyard delays.
Sailings on Carnival Jubilee include Western Caribbean ports like Cozumel and Costa Maya. 
Celebrity Ascent will launch in 2023 following the success of sister-ships Celebrity Edge and Celebrity Beyond
Following the heels of Celebrity Edge, Celebrity Apex and Celebrity Beyond, the cruise line plans to debut its fourth ship in the new Edge-class in 2023 - Celebrity Ascent. 
Image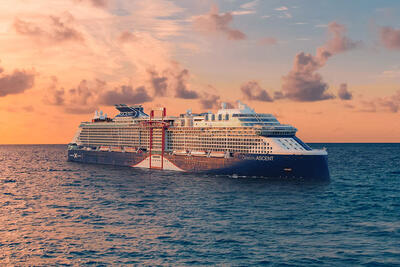 Similar to Celebrity Beyond, which debuted in 2022, Celebrity Ascent will be larger than earlier Edge-class ships to accommodate expanded venues onboard. Standing one deck taller and 20 meters longer, Celebrity Ascent will follow Beyond's lead with an expanded Sunset Bar on the ship's aft, which was one of our favorite spots on Celebrity Beyond. 
Image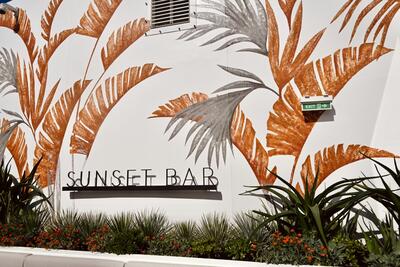 The expanded deck space also creates more room for a larger Rooftop Garden, Grand Plaza and suite-only Retreat area. 
Having more space onboard also allows for more staterooms, with Celebrity Ascent having 12% more staterooms than Celebrity Edge and Celebrity Apex. 
Image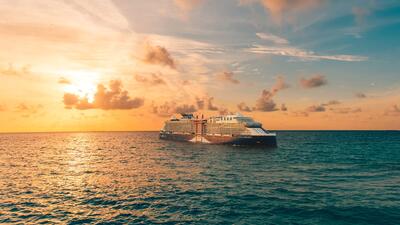 Celebrity Ascent will also feature two new cantilevered floating pools on its top deck, along with the ever-so-popular Magic Carpet. This floating, bright-orange venue off the side of the ship serves multiple purposes. By day, the Magic Carpet is a tendering launch through Destination Gateway and transforms to a nightly bar on the top deck. 
Image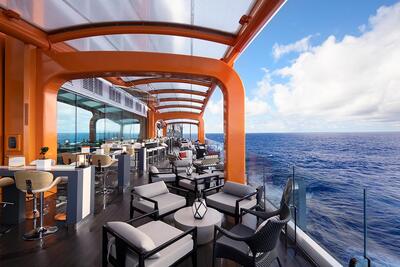 Slotted to debut in December 2023, Celebrity Ascent will sail from Fort Lauderdale for Caribbean sailings. During the summer 2024 season, she will sail from Europe to places like Italy, France, Spain, Greece, and Turkey!
In 2023, MSC plans to debut its first-ever luxury exploration ship, Explora 1, which will offer destination-focused itineraries
While MSC has been building some of the cruise industry's largest ships, the cruise line also plans to enter into the luxury cruise liner industry next year. Rather than catering to the mass cruise market, MSC is creating an entirely new cruising segment under the MSC brand. 
Image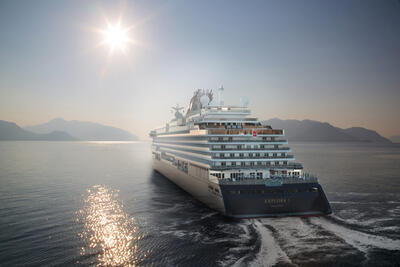 With Explora Journeys, MSC hopes to offer destination-focused itineraries that allow guests to string together multiple sailings to create one extended journey onboard a luxury vessel. 
Each itinerary is unique with no repeats on the ship's schedule, which also includes extended stays in some ports to create a slower-paced itinerary. Simply put, there are no roundtrip sailings planned for Explora Journeys with MSC.
Image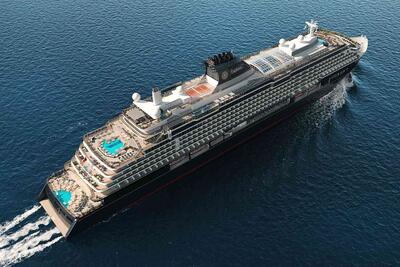 The new cruising segment for MSC aims to attract not just people who prefer to take luxury cruises, but also to tap into the luxury travel segment as a whole. Holding right around 1,000 passengers, Explora 1 is considered a larger luxury vessel for cruising standards.
Explora 1 was designed similarly to an upscale resort, so you also won't find big restaurants onboard the new luxury exploration ship; instead, MSC wants to focus on creating intimate, upscale venues.
Image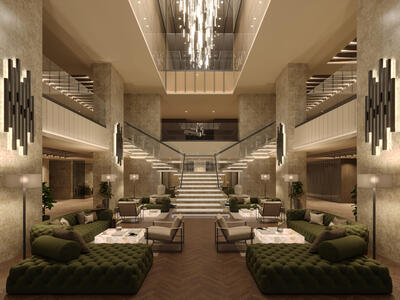 Explora 1 will debut first in Europe for the summer of 2023 before repositioning to North America in the winter; this new luxury cruise ship will be the first of six ships in the Explora Journeys ship class for MSC. The rest will be launched between 2024 and 2028. 
Resilient Lady, the third ship for Virgin Voyages, will continue shaking up the cruise industry with its trendy and unique approach to cruising
Originally scheduled to launch in 2022, Resilient Lady will finally debut in 2023 after nearly a year of delays. 
Image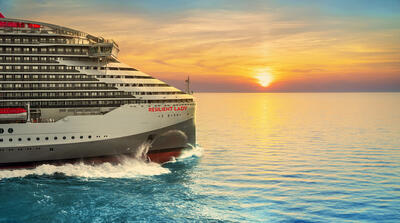 Similar to Virgin Voyages' other ships, Scarlet Lady and Valiant Lady, the start-up cruise line from Richard Branson has been designed to rethink traditional cruising. The new Resilient Lady will be seemingly identical to its sister-ships, each holding around 2,700 passengers. 
Image
The adult-only cruise line has introduced many industry-firsts, like a tattoo parlor and drag queen bingo. Like its sister ships, Resilient Lady will ditch the main dining room concept to feature non-traditional dining venues and imaginative cuisine. You also won't find any buffets onboard Resilient Lady - or any Virgin Voyages ship for that matter. Plus, all of the restaurants are included in the cost of your base fare. 
Image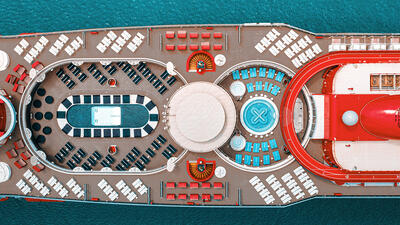 Resilient Lady will continue to ditch dress codes and Broadway-style shows; instead, you can enjoy interactive dance parties, late-night dodgeball, colorful karaoke and nightclubs. 
Expanding its cruising footprint, Resilient Lady will be the first Virgin Voyages ship to sail to the Land Down Under. With a scheduled launch in May 2023, the brand-new Resilient Lady will set sail in the Mediterranean's Greek Isles before repositioning to Australia for the winter, where it will cater more specifically to an Aussie market and sail to ports like Napier, New Zealand; Hobart, Australia; and Sydney, Australia. 
Norwegian Cruise Line plans to launch Norwegian Viva in 2023, which will have the most outdoor deck space of any new cruise ship
With a debut scheduled for August 2023, Norwegian Cruise Line plans to rollout the second ship of its highly-anticipated Prima-class, Norwegian Viva. This brand-new ship will be nearly identical to sister ship Norwegian Prima, which was launched in 2022.
Image
Significantly smaller than other ships in Norwegian Cruise Line's fleet, Norwegian Viva (and sister-ship Prima) hold approximately 3,200 guests onboard (compare this to the largest cruise ship in the world, Wonder of the Seas, which can hold close to 7,000 passengers). 
Despite being the cruise line's newest class of ships, they are not the largest. The largest ship in Norwegian's fleet by weight is Norwegian Encore, while the largest by guest capacity is Norwegian Escape, which can hold an impressive 4,266 passengers at double capacity. 
These smaller vessels in the Prima-class will allow the ships to dock in smaller ports, which will undoubtedly lead to more unique itineraries.  
Image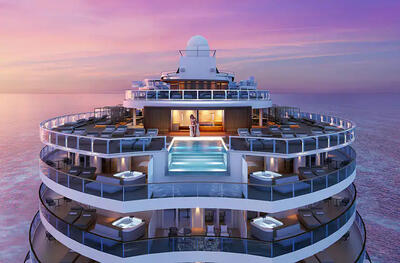 Just because Norwegian Viva is smaller than earlier ships built by the cruise line doesn't mean it won't have a slew of amenities, activities and entertainment options. The industry's first go-kart track will be bigger and better than ever on Norwegian Viva. 
Image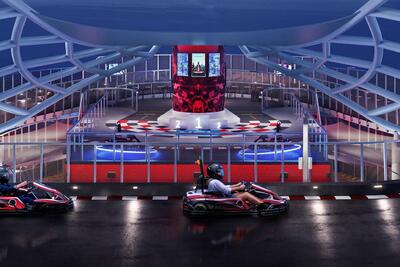 Norwegian Cruise Line also claims that its brand-new ship will boast more outdoor deck space than any other new cruise launching; additionally, similar to Norwegian Prima, Norwegian Viva will have more pool deck space onboard compared to any other ship in Norwegian's fleet. 
Image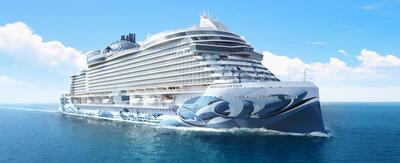 The new Norwegian Viva will first sail its inaugural season in the Mediterranean before repositioning to the Caribbean next winter and sail roundtrip from San Juan, Puerto Rico. 
MSC World Europa will debut in the final days of 2022 - and it's almost as big as the world's largest cruise ship
While MSC World Europa has technically already debuted, it's so close to 2023 that we will count it in our list of ships we are excited for in 2023. The newest ship for the European-based MSC cruise line just recently debuted and made a big splash in the cruising industry. 
Image
If you watched the World Cup in Qatar, you might have seen the MSC World Europa on the big screen! The newest cruise ship for MSC was featured as a hotel during the FIFA World Cup before cruising on December 20 for its inaugural sailing. 
The massive MSC World Europa is the first cruise ship to be built in 13 years that competes with Royal Caribbean's enormous Oasis-class of ships. With 6,700 passengers onboard, MSC World Europa is only 6% smaller than Royal Caribbean's five Oasis-class ships. 
Image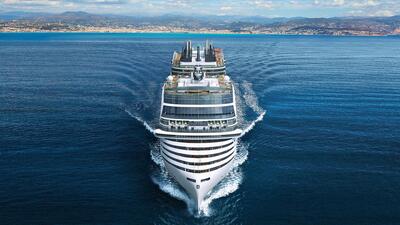 Similar to Royal Caribbean as well, MSC followed suit by creating distinct neighborhoods onboard the massive World Europa. Guests can find an adults-only district, entertainment promenade and a separate family-district with nearly 10 are kids facilities. 
While some cruise lines -- like Virgin Voyages -- are doing away with traditional self-serve buffets, MSC World Europa will feature three different buffets that each feature their own unique ambiances and offerings. The ship is obviously massive with 13 different dining venues, 6 pools and 14 hot tubs. 
Image
Sailing Dubai for its debut season, MSC World Europa will visit the Persian Gulf before repositioning to the Mediterranean in the summer. 
Royal Caribbean's Serenade of the Seas will set sail on the cruise line's first Ultimate World Cruise in 2023
If time and money were unlimited in my life (and perhaps I could bring my dogs), you could expect to find me on Royal Caribbean's Ultimate World Cruise. 
This incredible sailing will take place over 274 nights on Royal Caribbean's Serenade of the Seas. Although this isn't a brand-new ship by any means (she set sail in August 2003), this grand voyage is newly offered by Royal Caribbean International. The cruise line has never offered any type of extended cruise journey with a heavy focus on global destinations. 
Image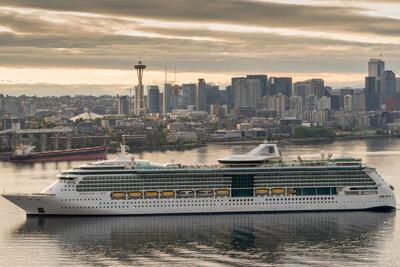 During the Ultimate World Cruise, guests onboard Serenade of the Seas can visit world wonders like the Great Wall of China, Iguana Falls, the Taj Mahal, Machu Picchu. Other unique countries on the itinerary include India, Bulgaria, Romania, Ukraine, Antarctica and Morocco. 
There are even over 40 ports of call that are rarely available on other itineraries or are brand new to Royal Caribbean!
Image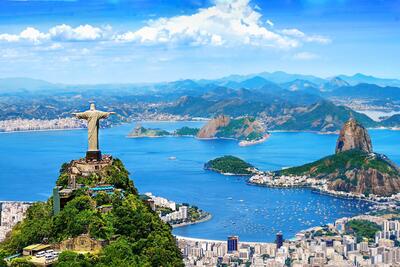 This unforgettable journey will set sail in December 2023, visiting 60+ different countries and 11 world wonders. Technically, this world cruise starts and ends in Miami, Florida and takes place throughout most of 2024.
Guests can also opt to take certain segments of the itinerary if the entire 274-nights aren't feasible, each of which lasts a minimum of 60 nights and visits at least 36 different destinations. 
The Ultimate World Cruise will cost you a pretty penny, though. The entire voyage starts at $59k per person for an inside cabin while one of the individual four segments cost around $12k-$16 per person. 
However, you do get certain perks that make the fare a bit more inclusive, like a Deluxe Beverage Package, wash and fold laundry service, included gratuities, and Voom internet. Plus, if you are able to sail on the entire voyage, you'll get even more -- think round trip business airfare and a pre-cruise hotel and gala.