Cruise ships sail around the world, taking guests to the some of the most diverse ecologies in the world. Every cruise you take is an opportunity to experience native wildlife - and we aren't even talking about the cute towel animals you find in your stateroom every night!
From the Caribbean to Africa, Antarctica and Australia, you can see a huge variety of cute animals. Although not all are friendly, it's hard not to be in awe of wildlife in their natural habitats. You can see many animals from all species on a cruise ship that you simply can't find as easily on a land-based trip.
The ocean alone is a perfect place to see cute animals - take a long look at the sea next time you're on a cruise, and you might be lucky enough to see dolphins, whales, flying fish or seagulls.
Image
Other itineraries are more wildlife-focused, like Alaska, South America and Antarctica, where you'll be seeing incredibly cute animals each day of your cruise.  
Here's a list of 25 cute animals you can see on a cruise ship, including which itineraries and destinations you can expect to find these creatures. 
1. Dolphins
Whether you want to do an excursion swimming with dolphins or you see a pod swimming in the open sea from your ship, there's nothing cuter than a dolphin!
Image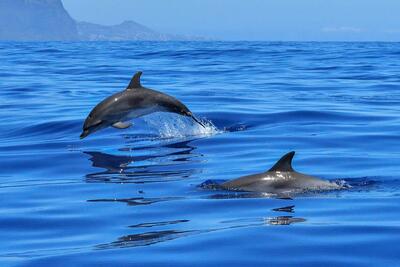 I remember the most awe-inspiring time I saw dolphins on a cruise ship. My husband and I were sailing away from Funchal, Madeira on our Canary Islands cruise. As we sailed away, the water was beautifully blue and we saw a pod of probably 25 dolphins swimming and jumping alongside our cruise ship.
You can expect to see dolphins almost everywhere you cruise, especially in areas like Alaska, Mexico and the Caribbean.
2. Sloths
We are big fans of sloths here at Cruise.Blog! These cuddly and clingy animals are so cute. You won't want to miss your chance to see and hold a sloth while on your cruise.
Image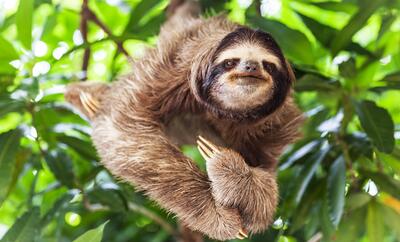 Two places in the Caribbean that are best known for having sloths include Roatan, Honduras and Puerto Lima, Costa Rica. Known as Costa Rica's most iconic creature, you can visit the famous Costa Rica Sloth Sanctuary on your cruise, which was featured on Animal Planet.
3. Whales
If you sail on an Alaskan cruise (which you absolutely should), you can definitely expect to see a variety of whales during your sailing. These are the largest mammals, and Alaska is their natural habitat. Here, you can see humpback whales and orcas swimming with their offspring, along with gray and blue whales splashing in the cold sea.
Image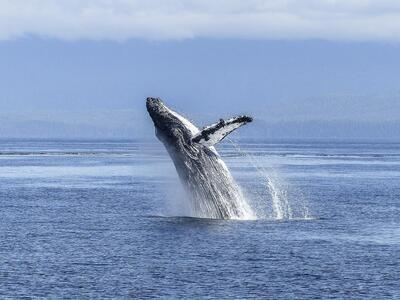 While Alaska is going to be one of the best places in the world to see whales, you can also expect to see these massive animals in Iceland, Norway, Antarctica and South America.
Whether you plan to do a whale watching excursion or just watch from the cruise ship, seeing whales splash, breech and puff at the ocean surface is an unforgettable cruise experience.
4. Sea Turtles
Snorkeling and swimming with giant turtles is a dream for many! Sea turtles are so cute and gracefully glide through the sea. One of my all-time favorite excursions was snorkeling and swimming with sea turtles in Barbados from a catamaran boat.
Image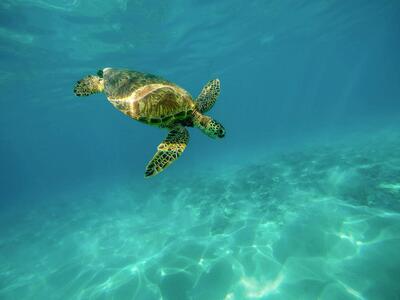 I'd highly recommend swimming with turtles in Barbados if this is a port stop on your Southern Caribbean cruise. You can also see turtles in places like the beautiful islands of Hawaii and St. Thomas.
5. Bears
While very cute, these dangerous animals are best seen on an Alaskan cruise. Alaska has four kinds of bears: black bears, brown bears, grizzly bears and polar bears.
Image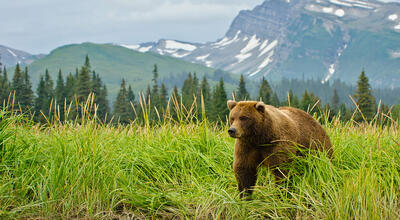 You can book an excursion to see bears either in the wild, such as Chichagof Bear Island at Icy Straight Point. In addition, there is a bear sanctuary called Fortress of the Bear, that I've visited in Sitka, Alaska and would highly recommend.
6. Puffins
Perhaps some of the world's cutest animals in my humble opinion, you can see Puffins in many places around the world. These fluffy, penguin-looking birds are so precious and only native to the Northern Hemisphere.
Image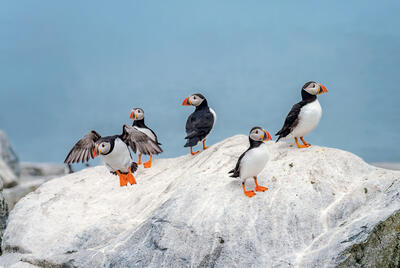 Some of the countries that you can visit on a cruise ship to see these cute puffins include England, Scotland, Alaska, Greenland, Faroe Islands, Iceland, and Maine.
7. Moose
If you're looking for wildlife, you've probably already figured out that Alaska is the place to go. More specifically, if you're looking to see moose on a cruise, Alaska is going to be your best bet. These massive creatures can be seen across the state, including Anchorage and Denali National Park.
Image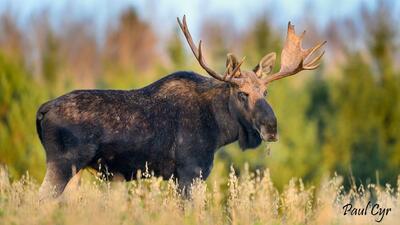 In addition, you can see moose in Maine if you're sailing on a Canada and New England cruise. In Maine, you can expect to see Moose throughout the state, but their population is greatest in the areas like The Maine Highlands, Western Lakes and Mountains, The Kennebec Valley and Aroostook County.
8. Camels
Switching to a warmer regions of the world, if you've ever wanted to see a camel up close or ride one through the desert with sweeping landscapes, you can do that on a cruise too! This is a quintessential travel experience that I would recommend to anyone.
Image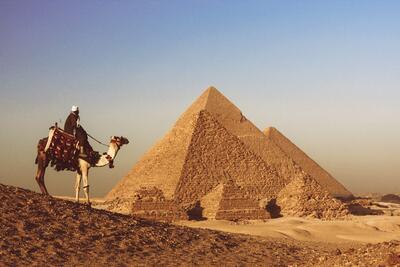 Camels are found in warm, dry climates with lots of sand, like Egypt. Personally, my husband and I rode camels in Morocco and it's one of the most memorable experiences we've had traveling together!
You can also ride camels from a cruise ship in places like Australia, China, Dubai and Israel.
9. Elephants
Elephants might be some of the biggest animals in the world, but they're also some of the cutest! Seeing these humongous animals is breathtaking due to their sheer size.
Image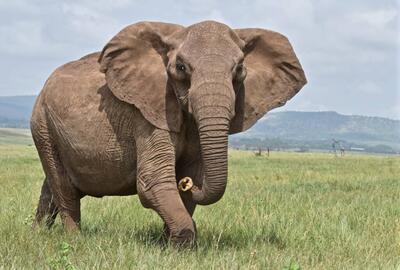 If you're wanting to see elephants on your cruise, you should look to book an Asia cruise to places like Thailand, India and Sri Lanka. Other places to see elephants include South Africa, Botswana and Tanzania.
10. Monkeys
If you've taken a cruise before to the Caribbean, I can almost guarantee you've seen a monkey! Monkeys are common around the world and it's easy to see monkeys in a variety of regions. Most likely, you'll need to see monkeys on some sort of excursion where they've been familiarized with humans.
Image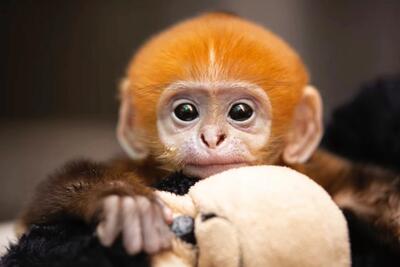 If you're sailing the Caribbean, you can find monkeys in Mexico, Honduras and Panama. Those looking for something more exotic can see monkeys across Asia, including places like Bali, Malaysia and Thailand. Finally, you can find monkeys across Africa in ports like Madagascar.
11. Penguins
Some of the cutest winter animals that you can see on a cruise (other than puffins) include penguins! If you're like me, you simply cannot handle how cute penguins not only look, but behave. Colonies of penguins inhabit only the Southern Hemisphere, opposite of puffins.
Image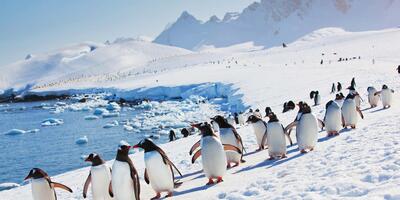 For the most part, you can find penguins on your cruises around South America and Antarctica, but you can also find them in New Zealand, South Africa and Galapagos Islands. The most populous region for penguins is Antarctica, which you can visit by mainstream cruise ship for scenery, along with smaller expedition ships for land-based exploring.
12. Blue Footed Boobies
With a name almost as cute as the bird itself, the blue footed booby is bird that is native to the subtropical regions. The blue footed booby is best known for - yup, you guessed it - their bright blue feet, which they use for mating with funny dancing and footwork.
Image
Your best bet to see blue footed boobies is in the Galapagos Islands, where most of the population remains. These cruises are often on smaller expedition ships to maintain the delicacies of the island and its resident species.
13. Seals
These flipper-footed animals are so cute and a variety of seal species can be found around the world, making them very easy to see on a cruise ship! These animals spend most of their time swimming in water, but love to find a great place to rest. They're so fun to see and too cute not to take a picture of.
Image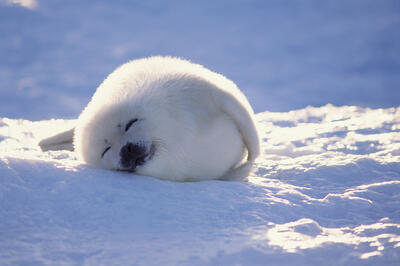 Seals can be found in Antarctica, Iceland, New Zealand, Galapagos Islands, California, Brazil, Peru and Cape Horn.
14. Huskies
Huskies, especially husky puppies, are just so cute you want to take them home with you! Snow huskies are common in colder climates with wintery climates; they've been bred for centuries to mush.
Image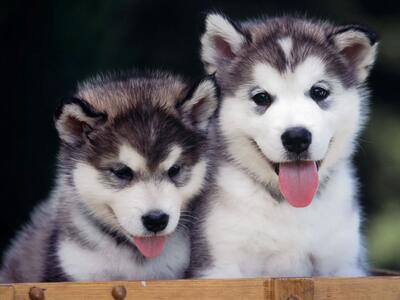 The easiest place to see huskies on a cruise is in Alaska, where you can visit training camps for puppies and even dogsled through the snow. Other wintery places on a cruise that you can see huskies include Norway, Sweden, Finland and Canada.
15. Bald Eagles
Bald eagles are beautiful, graceful animals - there's a reason they've been chosen as the United States' national bird. These fierce birds are magnificent to see in the wild.
Image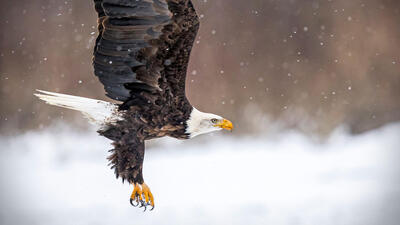 You are most likely to see bald eagles while cruising in Alaska, where there is an estimated 30,000 bald eagles. However, if you're cruising along the coasts of the United States, such as Oregon, California and New England, you might get lucky seeing a bald eagle as well.
16. Stingrays
The verdict is out whether stingrays would be classified as cute or not, but you are likely to see these captivating sea creatures while cruising. Stingray City in Grand Cayman is one of the world's most popular places to see stingrays, as they flock to a common sandbar where tours come to feed them daily.
Image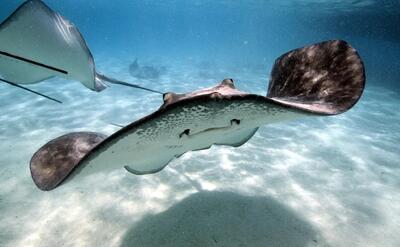 Other popular places to see stingrays include Antigua and Turks and Caicos; however, you can see a stingray anywhere in shallow, warm ocean water, so keep your eyes peeled during your Caribbean vacation!
17. Manatees
What makes manatees so cute? Perhaps because they are giant sea creatures that spend most of their munching on marine vegetation and resting lazily in the water. Manatees are harmless and do not bite, making them very easy to love.
Image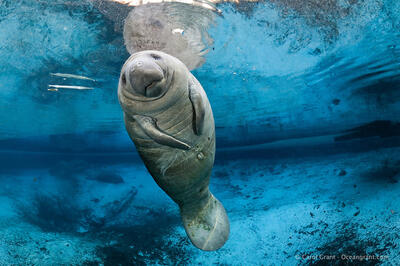 Florida is probably the most common spot for manatees; so if your cruise departs from Florida or visits one of the ports, you can easily find an excursion or tour that will take you to see manatees. Manatees can also be found throughout the Caribbean in places like Mexico, Belize, Colombia and Brazil.
18. Donkeys
Donkeys are stubborn, cute animals that can be found around the world. The Greeks have been relying on donkeys for transport assistance for centuries, and some remote villages still rely on donkeys today. If you've visited Santorini, you've probably seen tourists riding donkeys in Fira, although it's not necessarily advised anymore to ride these donkeys.
Image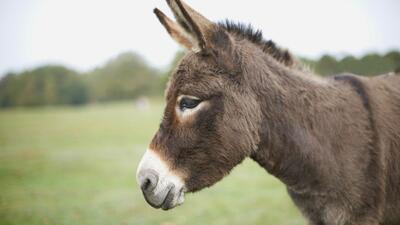 Donkeys can also be found in other places around the world, but most commonly near Europe and Africa, including countries like Egypt and Morocco.
19. Llamas and Alpacas
Perhaps just as cute as puffins on my cuteness scale, llamas and alpacas are some of my favorite animals because they are so fluffy and majestic. Apparently, llamas and alpacas are so trendy that they've become more popular than unicorns (yes, really!).
Image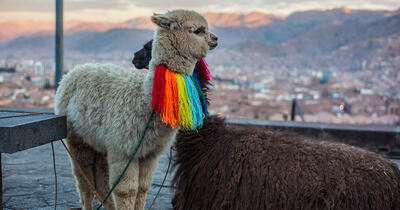 If you're dying to see llamas and alpacas like me, you're in luck because most of these cute creatures can be seen during a cruise vacation. Peru is the top spot to see llamas and alpacas, but you can also see them in Chile and New Zealand.
20. Sheep
Sheep are essentially massive balls of fluff - and what could be cuter than a baby lamb frolicking in a pasture? There are tons of different sheep species in the world, but some of the cutest ones can be seen on your cruise vacation.
Image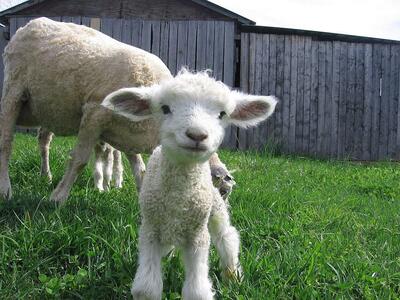 Sheep are very common in Europe, especially the United Kingdom. You can find these fluffy animals in places like Scotland, England, Wales, Croatia, Ireland, Spain and Greece. Sheep are also very common in New Zealand, where you'll find plenty of excursions to see sheep.
21. Reindeer
Santa has some of the cutest helpers for Christmas Eve with his reindeer - from Dasher to Dancer! If you're a Christmas lover and want to see reindeer for yourself on a cruise, you will want to visit some of the colder climates across the globe.
Image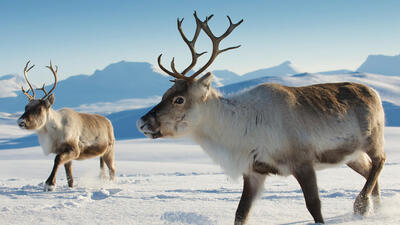 The most common place to see reindeer on a cruise is Finland, where you can take an excursion from Helsinki to feed reindeer. Other places include Norway, Alaska, Scotland and Sweden.
22. Polar Bears
Although quite cute, polar bears are some of the most predatory animals you can see on a cruise. Most polar bears can be found in very cold regions of the Arctic Circle, which can be reachable by cruise ship.
Image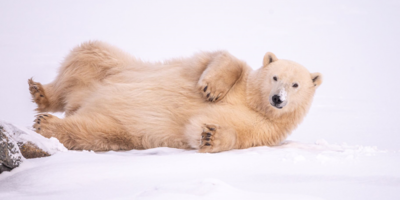 Although most think you can find polar bears in Antarctica, they are actually only found in other frozen, Arctic areas like Norway, Canada, Alaska and Greenland.
23. Sea Lions
Sea lions are very cute sea creatures that you can easily see on you cruise vacation, from Alaska to California and all the way to the Caribbean and Mexico. This is because sea lions prefer sandy beaches or rocky coves where they can breed.
Image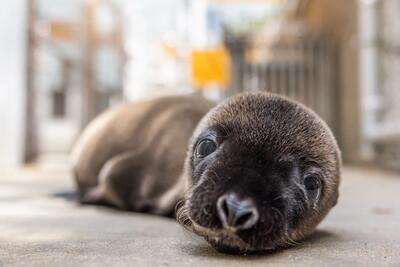 If your cruise visits places like Nassau, The Bahamas or St. Thomas, you can likely find an excursion to encounter or swim with sea lions!
24. Sea Otters
If you've made it through this entire list, you won't be surprised to find that there's one more cute animal that you can see in Alaska - sea otters! Places like Sitka have multiple excursions to take cruisers to find sea lions.
Image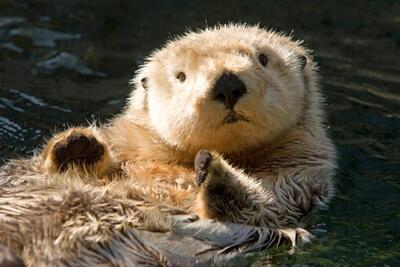 In addition to Alaska, you can find sea otters in places like Washington, Oregon and California if your itinerary includes any of these Pacific ports.
25. Quokkas (Australia)
And finally, arguably the world's cutest animal, the quokkas. These little marsupials are the happiest, smiliest animals walking the planet. Even though quokkas are primarily nocturnal, the lack of natural predators on their resident Rottnest Island has led to them become increasingly happy enough to make daytime appearances.
Image
You'll want to visit Australia on your cruise if you want to see these happy, obnoxiously cute animals. Just looking at these smiles, you won't regret it!