Nassau is one of the busiest cruise ports in the world, receiving around 3 million cruise passengers per year. Plus, they record for most cruise guests in a single day continues to be broken.  On February 27, 2023, for instance, Nassau set a new single-day record with 28,554 cruise ship passengers in port in a single day!
If you are sailing on a 3- or 4-night Bahamas cruise, as well as select Caribbean itineraries, there is a good chance that you will find yourself spending a day docked in Nassau. To make the most of your time here, you will want to make sure that you research and plan ahead. 
Likewise, even if you have been to Nassau before, there is always something new to explore! Rather than spending the day on the barren pool deck, you should plan on venturing off the ship for at least a few hours.
While the port is known for gorgeous beaches and the world-famous Atlantis resort, there is plenty to do that will appeal to all interests. 
Public beaches
Image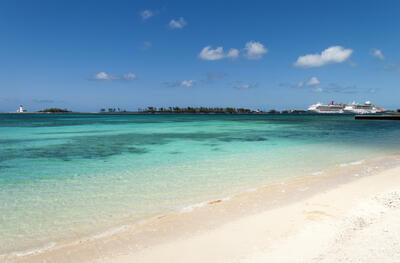 Nassau has numerous different beaches for cruise passengers to choose from, and most of them are free! Note that if you choose to go to a public beach, there is a good chance that you will find a lack of restroom facilities. Even though there are nearby hotels and resorts, their facilities are only available to guests or those who purchased a day pass. 
Junkanoo Beach is the closest public beach to the cruise ship pier. It is a great option for passengers who do not want to wander far from the ship. Plus, they offer restroom, shower, and changing facilities, as well as chair rentals from local vendors. When you inevitably get hungry or thirsty, you will find plenty of bars and restaurants within walking distance. 
Cabbage Beach is another public beach that is located on the north side of Paradise Island. Here, you will find soft sand and crystal clear waters. You will not have to worry about getting your towel sandy, either. Chairs and umbrellas and available to rent from locals. Cabbage Beach can be reached by taking a $10 round trip water taxi ride to Paradise Island. Once you dock on the island, you can take a taxi from around $3 per person to Cabbage Beach or walk. If you opt to walk, be sure to make time to stop at Atlantis' Marina Village!
Saunders Beach is closer than Cabbage Beach, requiring a single 10-15 minute cab ride to get there. It is quieter than other beaches in Nassau, making it ideal for families, especially since there are restroom facilities and a small playground! Be sure to bring enough towels, though, as there are no vendors on this beach. 
Cable Beach is about a 25 -30 minute taxi ride away from the cruise pier. The public access area is smaller than Junkanoo Beach, as the beach is lined with famous resorts, including Sandals Royal Bahamian and Baha Mar. For that reason, you are less likely to find a ton of vendors renting out chairs and umbrellas. 
Love Beach is located a little bit further than Cable Beach, but the calm nature of the beach is worth considering. You will be able to find chair rentals, as well as fuel up with a delicious lunch at the conveniently Nirvana Beach Bar.
Jaws Beach is the furthest beach from the cruise ship pier. And, yes-- it was the filming location for Jaws III! If you want to spend the day snorkeling, this is a great place to do it, as there are sculptures and Hollywood memorabilia located underwater. If you get tired of snorkeling, you can take a walk through Clifton Heritage Park before settling down for a picnic lunch. 
Island beach escapes
Image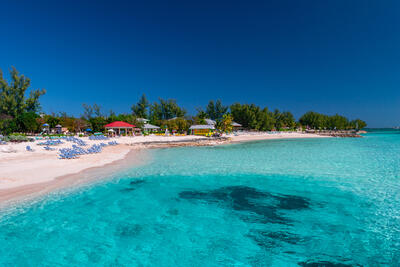 Island beach escapes tend to offer guests a more all-inclusive experience with less of a hassle. In most cases, you will meet a cruise ship shore excursion provider at a designated spot before being guided to a boat. From there, you can enjoy your day however you may choose before returning to meet your ride back to Nassau. 
Pearl Island offers guests the option to relax on the beach, enjoy a traditional Bahamian lunch, explore the island's walking trails and lighthouse, or opt to try out a water activity. 
It is a little more pricey than finding a public beach, but transportation, lunch, kayaks, paddle boards, beach chairs, water mats and trampolines, showers, and bathroom facilities are included in the cost of the day pass, which tends to be around $100. Carnival Cruise Line, for instance, offers a "Pearl Island Beach Escape with Lunch" excursion for $95 per adult and $75 per child. You can also get VIP cabanas for an additional cost. 
Blue Lagoon is another small island off the coast of Nassau. An afternoon on the beach is often combined with another activity, including sea lion encounters and segway tours. 
You can, however, choose just to spend your day on the island at your leisure. Depending on your cruise line and excursion that you book, passes can be anywhere from $90 to $200 per adult if you pair it with another tour. If having an included meal is important, be sure to read the fine print of the excursion you are looking at. 
Balmoral Island, unlike the other to islands mentioned, has two freshwater pools for guests to enjoy if they want a break from the salty ocean. It is one of the less inclusive island options, meaning that you will have to pay an additional to rent kayaks and paddle boards, as well as purchase your own food and drink. 
Resort day passes
Image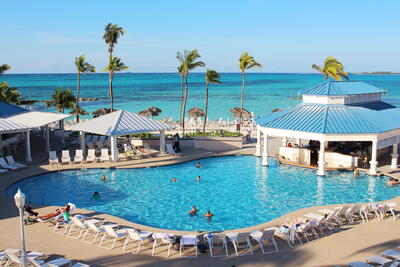 Resort day passes allow cruise ship guests to access hotel and resort amenities for the day. Depending on the available options, you may find an all-inclusive pass. Others, however, might provide you with a monetary voucher for food and drinks. In some cases, you will be responsible for all food and drink purchases. 
Margaritaville Beach Resort & Water park is a new resort with a private beach, two swimming pools, a water park, lazy river, hot tub, and pool bar. It is only a fifteen-minute walk from the cruise pier. 
The cost of admission for one adult is $110, but it does not include any food or drink; you will be responsible for those purchases. Included in the cost is pool, beach, and water park access; SurfStream surf simulator; lounge chairs, umbrellas, and towels; an oceanfront pool and hot tub; and complimentary Wi-Fi.
For $165 per adult, you can purchase an upgraded pass that includes resort and select spa amenities:
Relaxation lounge and lounge with jetted hot tub
Steam room
Lockers, showers, and changing rooms 
RIU Palace is an adults-only, all-inclusive resort on Cabbage Beach on Paradise Island near Atlantis that has a swim-up bar, dedicated beach area, and two swimming pools. Pricing starts at $129 per person. The only things not included are transfers from the cruise ship pier, lockers, spa treatments, and Wi-Fi. If you would like to stay connected, you may do so for an additional $10. 
Like RIU Palace, Warwick Paradise Island Bahamas is Paradise Island for guests ages 16+. In March, April, and May, the age jumps to 21+. Here, you will find a small beach that you can enjoy; however, the main feature is the large pool. A day pass to the Warwick is $125 per person and is all-inclusive, so you will not have to pay extra for any food or drink purchases. 
The luxury resort of Baha Mar has a 15-acre water park onsite that offers a limited number of day passes. In addition to beach access, you will find 24 water slides, a lazy river, FlowRider surf simulator, infinity and wave pool, kids-only pool and slides, as well as an outdoor casino. A day pass currently costs $160 for adults and $65 for those under 48". Guests two and under are free. 

At $104 per adult, Breezes Resort & Spa is one of the cheaper options for an all-inclusive day pass in Nassau. The resort is located on Cable Beach, which is only about a 15-20 minute drive from the cruise port. Your pass includes beach access, three freshwater pools and a swim-up bar, a jacuzzi, non-motorized water sports, select land activities, and a recreation area with pool and ping pong tables. 
Atlantis Paradise Island
Image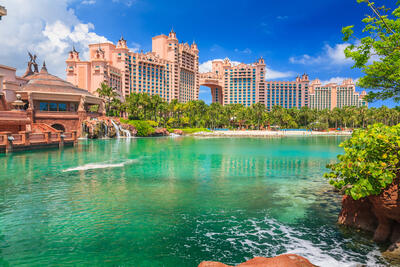 Visiting Atlantis is one of the more pricer ways to spend your day in Nassau. A day pass to Atlantis' Aquaventure water park through Carnival Cruise Line starts at $219 per adult and $150 per child. A pass usually includes access to the 141-acres of water rides and pools, Atlantis beaches, The Dig, casino, and Marina Village. Depending on the conditions of your ticket, you might be responsible for your food and drink purchases. 
There is also the option to book a day pass directly through Atlantis' website. This probably will not save you any money, and you will have to pay for transportation. 
Atlantis has other activities that cruise passengers can elect to participate in; however, they will cost you even more. Access to the water park and dolphin adventure through Carnival Cruise Line starts at $335 per adult and $285 per child. A family of four could easily spend over $1,000 in one day at Atlantis!
You can, however, visit certain areas of the resort without paying any admission fee, such as the casino, indoor retailers, several dining venues, and Marina Village. Of course, you will have to get from the cruise pier to Paradise Island and keep a close eye on your watch, so you do not miss the cruise ship! 
Read more: Will the cruise ship wait for you if you're late at a port?
Walking tour of Downtown Nassau
Image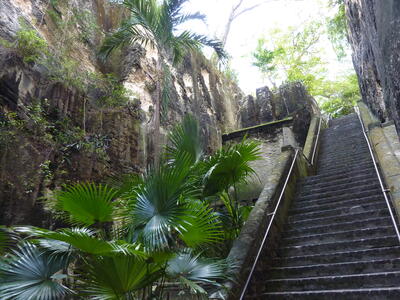 If you have never been to Nassau and want something free to do, your best bet is to get off the ship for a few hours and explore Downtown Nassau! Sure, you can book a walking tour through your cruise line, but most of the sites are easily accessible on your own and just 5-10 minutes from the cruise pier.
The Queen's Staircase was named after Queen Victoria and is a 66-step staircase that was carved out of limestone in 1793 and meant to provide a direct route from downtown Nassau to Fort Fincastle. There is no charge to walk up the staircase. 
Fort Fincastle is a small historic fort that was built in 1793 to protect Nassau from pirates. Plus, you will get some incredible views of the port. If you visit here, it might be great to stop by the Pirates of Nassau Museum either before or after for additional context. It costs about $2 to gain admission to the inside for the fort. 
The Straw Market is a large market that sells souvenirs, such as handmade Bahamian straw products -- think purses and hats--, as well as factory-made items like t-shirts, magnets, and bracelets. Before you buy anything, be sure to haggle on the price!  
Museums 
Image
If you are looking to spend a leisurely afternoon in Downtown Nassau, you will be pleased to know that there several museums within walking distance of the cruise pier. 
Pirates of Nassau Museum is a great place to visit with kids! Here, you can learn about Nassau's history as the heart of piracy from 1690 to 1720 and walk on a replica of a historic pirate ship! Admission costs $13.50 for adults and $6.75 for kids between the ages of 4 and 17. 
Art enthusiasts might like the National Art Gallery of the Bahamas, which is home to local art that highlights Bahamian culture and history. Admission is only $10 per adult, while children under the age of 12 are free. If you visit Tuesday, Wednesday, Thursday, or Friday, you can arrange a tour for up to 25 guests. 
Pompey Museum of Slavery & Emancipation is a small museum that highlights the story of Pompey, a slave who began a rebellion in 1830 on the island of Exuma. The home of the museum is the Historic Vendue House, which functioned as a marketplace until the late 1800s. It became a museum in 1992. Admission is about $3 per adult. 
Read more: 11 common cruise shore excursion mistakes to avoid
Educulture Junkanoo Museum is a great place to learn more about Junkanoo, a popular street festival in the Bahamas that takes place on Boxing Day and New Year's Day each year. The museum is full of costumes, traditional fabrics, music, and informational bulletins that help guests to learn more about the history and influence of the festival, particularly from the standpoint of one family and their involvement in Junkanoo. 
The museum is open Monday to Friday from 9am to 3pm and costs $5. 
Read more: Best Month to Cruise to the Bahamas
The Heritage Museum of the Bahamas is a small museum that showcases relics dating back from pre-historic times to today, including a slice of meteorite, tools used during slavery, and samples of items that would have been found in a Bahamian grocery store in 1900. You can opt to do a self-guided tour or purchase an audio guide for less than $20 per person. 
Snorkeling and scuba diving
Image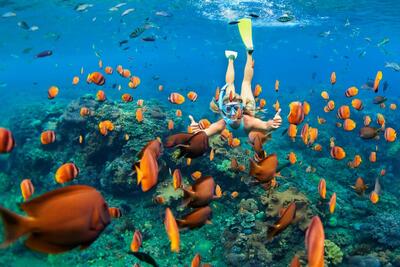 Snorkeling is popular is most Bahamas and Caribbean cruise ports. Nonetheless, it is another activity that you can opt to do in Nassau! You can either book a tour through your cruise line or through a third-party vendor. Some snorkeling tours include an open bar and will have more of a party vibe. 
If you would like to get into the water but do not want to snorkel and are not scuba certified, you might consider trying snuba! Rather than floating on top of the surface, you are able to dive underwater and breathe through a regulator while your air supply floats on top. In other words, you will not have any heavy equipment on your back!
Read more: 10 tips for getting the best cruise shore excursion values
Bahamian food tour
Image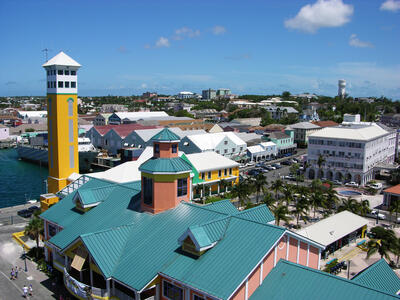 Nassau offers plenty of opportunities to do experience the local culture through food. Even if you plan on staying onboard the ship for most of the day, it is worth venturing off to get an authentic lunch!
Tru Bahamian Food Tours is the most popular tour operator, and they offer different tours geared toward experiencing Bahamian cuisine.
One of the most popular tours is the Bites of Nassau Food Tasting & Cultural Walking Tour. During this three-hour tour, guests will stop at at least five locations around Downtown Nassau to taste local foods. Some examples include classic conch fritters and rum cake! Usually, the tour includes seven stops; however, they are subject to change at any moment:
Bahamian Cookin' Restaurant
Graycliff Chocolatier
Chillin' Conch Shack
Talking Stick Bar at Towne Hotel
Athena Cafe & Bar
Tortuga Rum Cake Bakery
Hillside House
This specific food tour starts at $75 per adult and $49 per child between the ages of 4 and 12. Anyone under 3 is free. 
If tours are not really your things, you can create your own do a food tour by walking or taking a taxi to the popular bars and restaurants in Nassau!