When booking a cruise, your budget is mainly impacted by the type of stateroom you choose to stay in. While inside cabins are the cheapest, these staterooms only have the necessities of a bed, bathroom, vanity, closet and couch/chair (if you're lucky!). 
On the other hand, you can splurge on balconies or suites if you're looking to have a private veranda or more spacious stateroom. 
As someone who normally sails in a cheap inside cabin, I'm used to having a very basic, no-frills room when cruising. These are simple accommodations, but they have everything you need for a comfortable stay.
Last month though, I decided to make a splurge on an Ocean Suite onboard Carnival's newest ship, Mardi Gras. While an inside stateroom was around $1,500, the Ocean Suite was double the price at $3,000. Considering Mardi Gras is a nearly brand-new ship in the modern Excel-class, this seemed like a pretty good price for a suite.
Image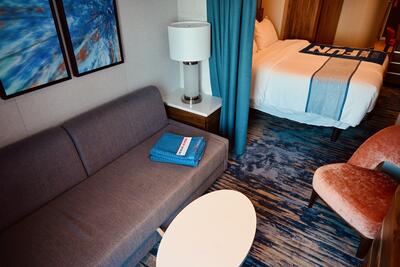 I decided to pull the trigger, even though it was more expensive than I am used to paying for a Carnival cruise. My sister was easily convinced to join, as the cruise also had an irresistible itinerary to Grand Turk, Amber Cove and Nassau. We sailed on sister-ship, Carnival Celebration, last year and fell in love with the Excel-class of cruise ships. That time, we stayed in an inside cabin guarantee, so we were excited to see how the stateroom experience compared.
Image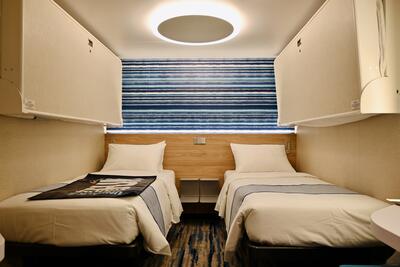 (Inside cabin guarantee onboard Carnival Celebration)
Here are 10 things that wowed me about Carnival's Ocean Suite cabin onboard their new Mardi Gras cruise ship, including a few unexpected surprises.
1. Massive amount of space
While this isn't necessarily surprising, the Ocean Suite onboard Mardi Gras felt more spacious than we could have imagined. Our suite was 287 square feet, which is more than double the size of our interior cabin on Carnival Celebration. This doesn't even include the balcony, which was another 54 square feet!
Image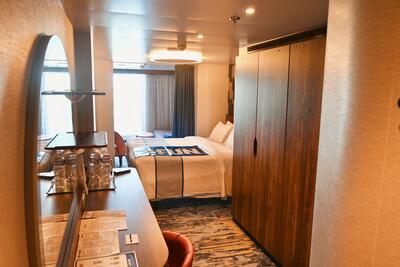 I've only ever stayed in a suite on Royal Caribbean before, so I really didn't know what to expect. The Ocean Suite on Mardi Gras was very long, while Royal Caribbean's suites are wide. Of course, we expected a larger stateroom than our previous inside stateroom, but we had no concept of quite how big the room would feel.
Image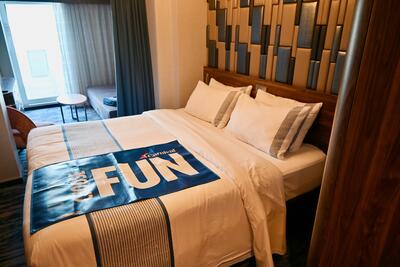 My sister and I comfortably moved into our room and couldn't believe we had so much space to ourselves. It really felt like we were living in luxury from the moment we saw our stateroom cards say Suite Guest.
2. Tons of storage
Once we stopped gawking at how much space we had in our Ocean Suite, my sister and I decided to unpack our suitcases and get comfortable for the week. I am a big fan of unpacking your suitcase, regardless of how long your cruise is. This makes the stateroom feel not only more spacious, but also more organized. Even in a more spacious balcony cabin or suite, clutter can get out of hand quickly on a cruise when you're in and out of the room often.
Image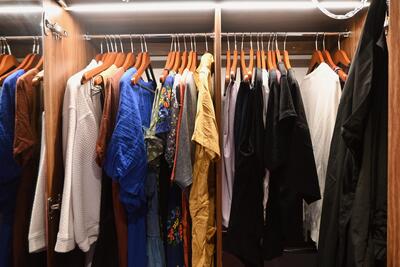 As such, we unpacked into the closets provided in our suite. We were able to unpack our suitcases in just one of the two closets. 
Since we had traveled with just carry-on luggage, it didn't take long for us to unpack. The amount of clothes we had was comical compared to how much space we had! In fact, we used the second closet to store our suitcases and backpacks, which helped keep the Ocean Suite organized.
Image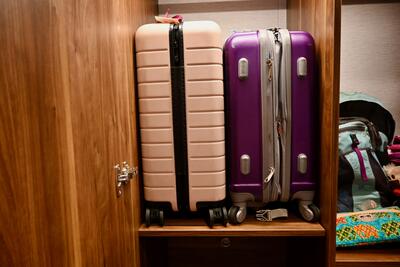 We didn't even touch most of the shelving and drawers that were available for us to use. Across from the couch in our suite was another vanity with even more drawers that could have been used for storage as well.
Image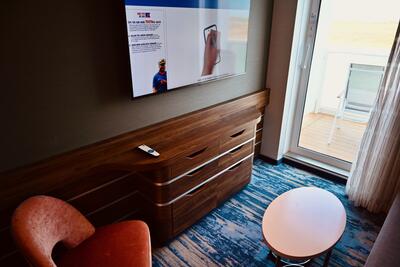 For just two people, we could have brought way more luggage and comfortably stored everything in this Ocean Suite - we were seriously wowed by all of the space!
3. Additional stateroom TV
I'm the type of person that has a TV in each room of my house (no judgement), so I was floored to see a second flatscreen TV in our suite! I've never stayed in a cabin that had more than one TV.
Image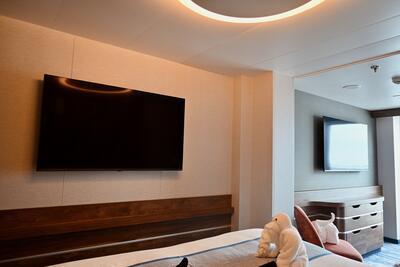 Granted, we never actually used both TVs at the same time, as that could be difficult with multiple sounds playing simultaneously. However, it was nice to be able to watch TV on our couch during the day and also later in the bed at night using the second TV. 
Most of the time, TVs are oddly placed when staying in an interior cabin, but this was not the case in our suite.
Image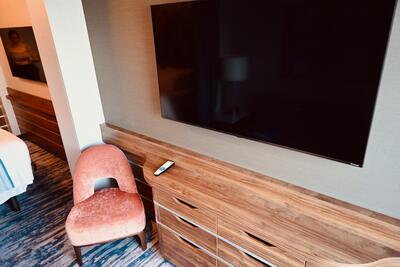 My sister and I even cozied up into the bed one night and watched a complimentary movie in our stateroom. This movie was available on-demand for free, although we weren't sure if this was the case for all staterooms or if this was just exclusive for suite guests.
4. Separate living room
In most inside cabins, you are lucky if you have a couch, chair or loveseat for sitting. When sailing on Carnival Celebration last year, we were bummed to find that the inside cabins had nowhere to sit other than the beds themselves.
Image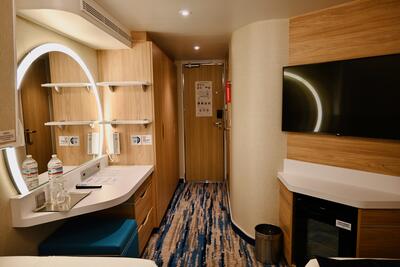 (Inside Cabin on Carnival Celebration)
In addition, our room was meant to accommodate up to four passengers and the bunk beds were exposed on the side of the cabin. On the other hand, we've sailed on ships that keep bunk beds hidden in the ceiling during the day and only bring them out if needed. As such, it wasn't necessarily comfortable to sit on the bed because the bunk bed atop created a cramped space for sitting.
Image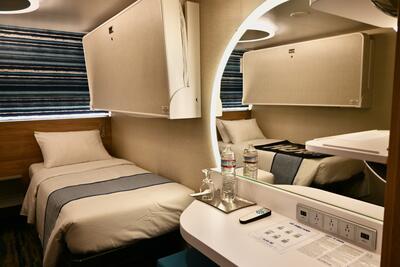 (Inside cabin bunkbed on Carnival Celebration)
However, lack of seating was absolutely not a problem in our Ocean Suite! 
In fact, we had an entire separate living room to use in the cabin, in addition to the king bed. This worked really well for us, as my sister and I work remotely, even when we cruise sometimes. So, this did mean that we had to get work done throughout this cruise. I would get up early and close the heavy curtain to create separation from the living room while working - and it was perfect.
Image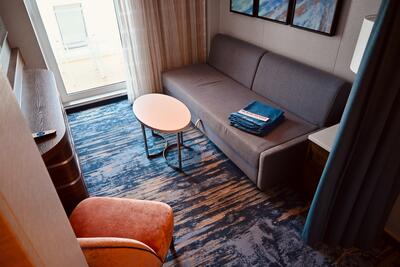 In general, it was very nice to have a space where we could relax and sit without needing to sit on our beds. We could also sit on the balcony as well. After a busy (and usually sweaty) day exploring ports, I don't love to come back and sit on my freshly made bed. Having a large couch in the separate living area really made the space feel luxurious for this reason. 
5. Extended balcony
Another huge perk of the Ocean Suite was having an extended balcony. When booking this suite, I didn't realize that we also received a larger balcony than a standard balcony stateroom. The balcony had two chairs and a small table for us to use throughout the cruise, making it a lovely spot to sit at all hours of the day.
Image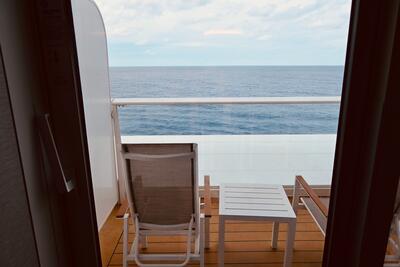 When first checking out the cabin, we were surprised to find that our balcony was so far extended that the decks above us could see directly into our balcony. Because of the way the ship is designed, we could also see directly onto the Havana loungers on the deck below.
Image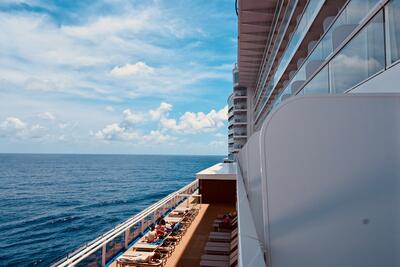 This design wasn't necessarily our favorite aspect of the suite, although we did love having such a large balcony. There were a few times we were taking pictures on the balcony (as is our job for CruiseBlog) and we received a few hoots and hollers from the decks above. It was all in good fun, but I do appreciate the privacy of a 'normal' balcony where you can only see the sea and nothing else.
Image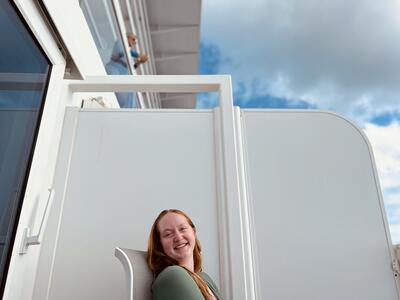 One day we returned to our balcony to find a lone chicken nugget that had fallen from grace on a deck above, which was quite the surprise. This was a "wow" factor we never anticipated!
6. Extra-large bathroom and shower
Another great perk about staying in a suite is being able to have a larger bathroom. Again, most of the time inside staterooms have a very basic bathroom. On older ships, this can mean having a super cramped bathroom and tiny capsule-style shower. Newer ships have seemed to integrate bigger showers, although bathroom space in general is very scarce.
Image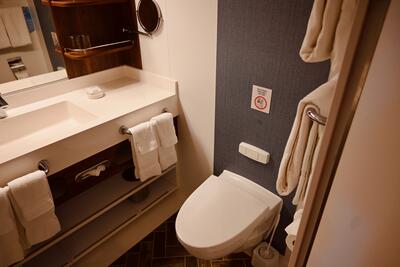 Our bathroom onboard Mardi Gras was nice and roomy for the two of us! We had a larger vanity with more storage than we normally have in a classic inside cabin. This was a huge upgrade, especially with two women trying to get ready and put on makeup each morning.
Image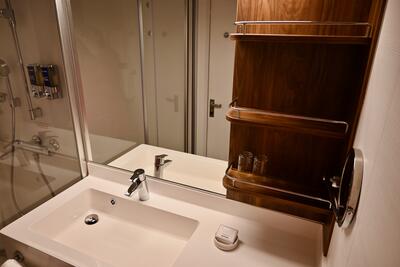 Additionally, the shower felt massive compared to a normal cruise shower. We received upgraded shampoo products in the shower as well, which was also a nice touch. I truly hate using the classic 3-in-1 mystery liquid that you find onboard in standard cabins and I usually pack my own shower products for this reason. We didn't receive any conditioner, so I was glad to have this packed. 
Image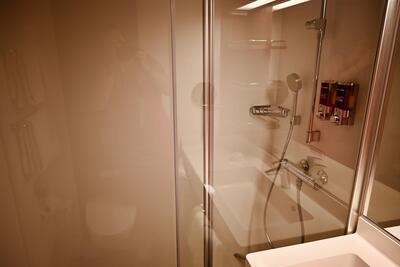 In fact, normally I somewhat dread using the tiny capsule showers on a cruise, especially with a clingy shower curtain. It's simply just not my favorite experience when cruising. However, my sister and I joked that we were taking real long showers simply because it was so relaxing in our spacious shower!
7. Luscious Bathrobes
I truly didn't think anything on a Carnival cruise could be described as luscious (other than my nightly chocolate melting cake), but the the Ocean Suite provided us both with plushy robes to use throughout the cruise! I love having a bathrobe to use while getting ready on a cruise, so this was a really nice touch that was included in the Ocean Suite.
Image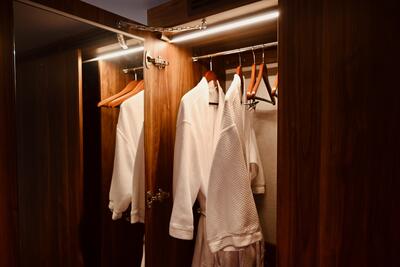 My sister and I used these bathrobes throughout the week - and we even agreed they were softer and more luxurious than the bathrobes we've been provided on competitor cruise lines. Again, although this is a small detail, it really wowed us when we opened the closet for the first time.
8. More time spent in the cabin
For the most part, I never spend too much time in my cabin when I am cruising. Again, inside cabins really don't have much room or amenities, so it's not a space that I normally want to spend too much time in. Instead, I prefer to spend my time exploring the ports and the ship!
Image
On this Mardi Gras cruise, I found myself spending much more time in our Ocean Suite than normal. Having a nicer room meant we actually wanted to spend more time in there. We didn't have to miss out on any views since we could see everything from our balcony!
It was such a comfortable place to watch the sunset or sunrise with a cup of coffee in hand from room service. After a long day in the sun, we loved coming back to our suite to relax before an evening full of activities and entertainment.
9. Stateroom service
Staying in a suite, I wasn't sure if we would notice any difference in service from our stateroom attendant compared to an inside cabin. Generally speaking, I've been impressed time and time again with the service that I've received on Carnival cruises. Even the short itineraries that I've sailed on, Carnival's service onboard feels personable and attentive.
Image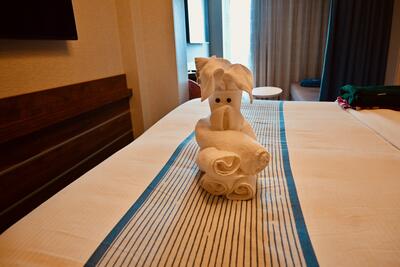 While cruising in our Ocean Suite, I was super impressed with our stateroom attendant during the cruise. It did feel as though the service was extra attentive for those of us staying in the suites. I love to connect with the stateroom attendants and really value the hard work they do to keep the cabins clean. Our attendant was quick to remove the mysterious chicken nugget on the balcony too!
10. Priority disembarkation
The last day of a cruise is such a bummer, as it's back to the reality of cooking, cleaning and working! However, receiving special perks during disembarkation can make the process as painless as possible.
Guests staying in a suite onboard Mardi Gras receive priority disembarkation, which proved to be a huge time saver. We had a flight at noon, which is normally plenty of time for disembarking a cruise ship. However, I had heard horror stories about flying from the Orlando airport recently - with TSA PreCheck lines even being insanely long. 
Not to mention, the cruise port is a solid 45 minutes from the MCO airport. Needless to say, I was a little worried about getting off the ship quickly.
Image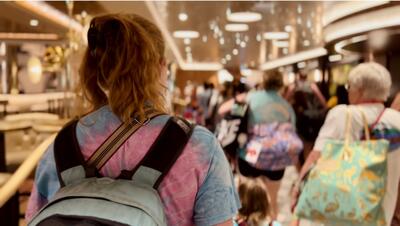 We received a note in our stateroom about departing at 7:30am for priority embarkation, directing us to meet in the dining room. I was anxious about disembarking, especially after fellow CruiseBlog writer Hayley said it took 3 hours for her to get off her last cruise in Port Canaveral! So, we made sure to be there on time for the priority disembarkation. 
We were escorted off Mardi Gras, bypassing a huge, winding line of other passengers waiting to get off the ship. Swiftly, we weaved around the corner and zoomed in front of many people thanks to our suite status. We were able to get off the ship quickly and to the airport in plenty of time. As luck would have it, there were literally two people in the TSA PreCheck line! That's just how it goes, doesn't it?
Image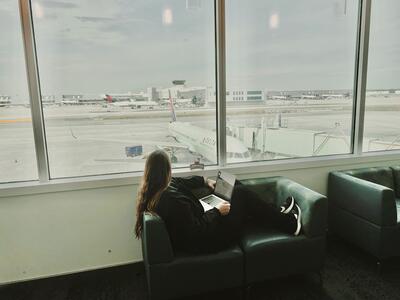 Either way, it was a relaxing end to a wonderful cruise as we had two hours to relax in the Priority Pass lounge before heading home. A painless disembarkation process is the best way to end a great cruise.