In 2012, Costa Concordia, a cruise ship owned by Costa Cruises, capsized off of the coast of Italy shortly after departing from Civitavecchia. While not as deadly as the infamous sinking of the Titanic in 1912, this incident resulted in some modifications to the safety guidelines within the cruise industry. 
Similarly, two years after the Titanic's disaster, the first International Convention for the Safety of Life at Sea (SOLAS) was formed with the intention of preventing another major incident like the sinking of RMS Titanic by setting safety standards for both the construction and operation of passenger and merchant ships.
In total, the TItanic claimed over 1,500 casualties. When Costa Concordia struck a reef and partially sank, it claimed 33 lives, including a member of the salvage team. 
Read more: Titanic compared to a cruise ship today
Keep reading to learn what happened to the Costa Concordia and the aftermath of the wreck.  
Background on Costa Concordia
Image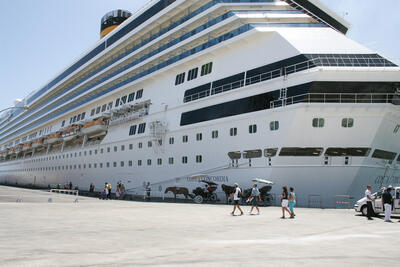 Costa Concordia, the first Concordia Class cruise ship, set sail on her maiden voyage on July 14, 2006. At the time, she was one of the biggest ships built in Italy by Fincantieri at the Sestri Ponente shipyard (until, however, the later Dream Class ships entered service) and cost $570 million to build.  
The 114,500 gross ton ship had about 1,500 staterooms and, interestingly, one of the largest fitness centers and spas at sea, which was about 64,600 square feet.
Other amenities included a thalassotherapy pool, sauna, Turkish bath, four swimming pools and five jacuzzis, casino, three-level theatre, dance club, youth center, and even a Grand Prix motor racing simulator. According to Hans Hesselberg, the former head of hotel operations for Costa Cruises, the simulator cost $1 million to build. 
Additionally, Costa Concordia had a total of five restaurants onboard, as well as thirteen bars and lounges. 
Today, there are five Concordia Class ships sailing: Costa Serena (2007), Pacifica (2009), Favolosa (2011), and Fascinosa (2012). The fifth, Carnival Splendor, was transferred to Costa's sister-line during construction and is technically classified as a Splendor Class ship. 
The disaster of the Costa Concordia
Image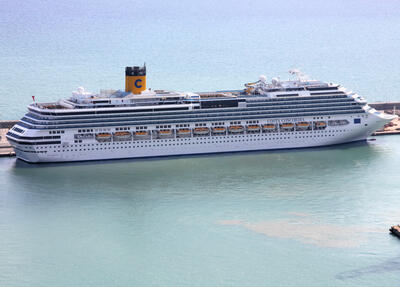 On January 13, 2012, Costa Concordia departed from Civitavecchia, Italy on a 7-night Mediterranean cruise with 3,206 passengers and 1,023 crew members onboard around 7:20pm. The ship was en route to its first port of call when Captain Francesco Schettino, who had worked for Costa Cruises for eleven years, strayed from the ship's original course, sailing close to the Tuscan island of Giglio. 
Captain Schettino claimed that Costa Cruises had instructed him to perform a sail-past salute, which is when a cruise ship makes a special maneuverer by sailing close to land. Costa Cruises, however, confirmed that Captain Schettino did not take the approved route for this display. 
At around 9:45pm, Costa Concordia came into contact with a rock sailing at about 16 knots, resulting in a 174 foot gash in the port side of the hull of the ship. The ship soon lost power due to the subsequent flooding and, coupled with the position of the rudder, was unable to be steered. Due to the winds that evening and the way that the ship was taking on water, it began to tilt towards the starboard side.  
Image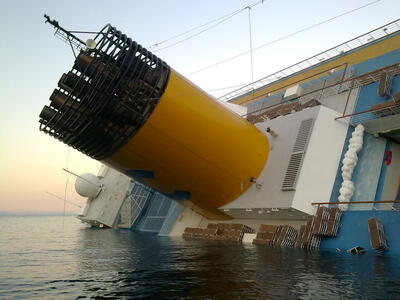 At first, passengers were told that the ship was simply suffering a blackout and that everything was under control. Around 10:30pm, however, the ship's emergency alarm was sounded, and passengers were instructed to go to their muster stations with their life jackets. Shortly before 11:00pm, Captain Schettino instructed everyone to abandon the ship. 
Evacuation efforts via lifeboats were hindered due to the list of the ship, and many passengers were rescued by boats and helicopters deployed by the coast guard, as the ship's 20 degree list made it difficult to launch lifeboats. 
Per transcripts released by the Washington Post, Captain Schettino confirmed abandoning ship while rescue efforts were ongoing, breaking the maritime tradition of the captain going down with the ship and leaving hundreds of passengers onboard. 
Image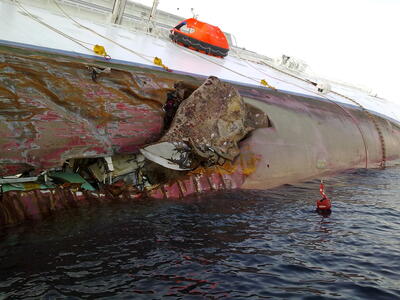 "Captain," said a coast guard officer, "This is an order. Now I am in command. You have declared the abandoning of a ship. I am in charge. There are already dead bodies."
When Captain Schettino asked, "How many?" the communicating officer replied, "You're the one who should be telling me that. What do you want to do? Go home? It's dark and you want to go home? Go back up and tell me what can be done: how many people there are and what they need." Captain Schettino never re-boarded Costa Concordia.  
While Captain Schettino made his way ashore, Mario Pellegrini, the deputy mayor of the Tuscan island of Gigilo where passengers were taken to, boarded the ship to assist with rescue efforts. 
Image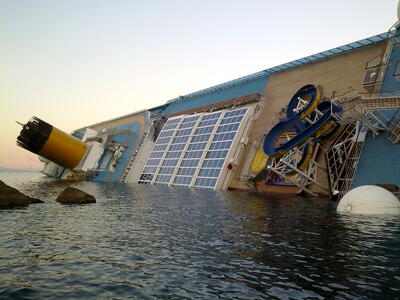 "I took [the first tender that arrived at the port with the first evacuated passengers] all by myself and went on board. I went up and I started looking for an officer. After 20 minutes I couldn't find anybody. I even went on the higher bridges of the ship and even then I couldn't see anybody," Pellegrini said during a BBC interview.
He recalled that it was not until parts of the ship started being submerged under watch that real panic ensued. At one point, he and another office began using a rope to help pull people out of the water. It would not be until 5:30am that he would evacuate the ship. 
Image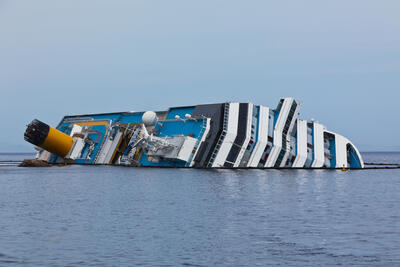 Costa Concordia's initial evacuation efforts took six hours. The following days were spent searching for other survivors; however, they were halted at one point due to fearing the ship would sunk further, thus risking the lives of divers. 
On January 14, two survivors, Han Ki-Deok and Jeong Hye-Jin, were rescued from the ship. They had been in their stateroom, which was two decks above the water line, resting after dinner. When they woke up, the ship was already tilting due to the hull taking in water. The ship was already at such an incline that it make trying to escape impossible. 
The final missing body would not be recovered until November 2014, almost three years after the disaster occurred. 
Investigation and trial 
Image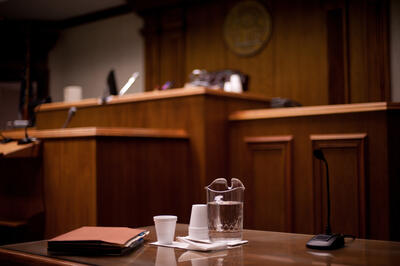 Following the incident, an investigation was opened that focused on the faults in the procedures taken by the crew and Captain Schettino, especially after leaving the ship while passengers were still stranded. 
The final report, which was released in May 2013, revealed that the ship was sailing too close to the coastline, in a poorly lit shore area, and under the Master's [Schettino's] command who had planned to pass at an unsafe distance at night time and at high speed. 
When the report came out, Captain Schettino had already been arrested, as he was initially placed on house arrest four days after the wreck. The trial began a little over one year later, or July 9, 2013. Prosecutors referred to Captain Schettino as a "a reckless idiot." He denied all charges and insisted that he was being used as a scapegoat to cover up the failure of the ship's crew. 
In a separate trial, five other Costa Cruises employees were convicted on manslaughter and all entered plea bargains to receive sentences of three years or less. 
On February 11, 2015, Captain Schettino was convicted and sentenced to sixteen years in prison for manslaughter, causing a shipwreck and abandoning said ship before all passengers and crew had been safely evacuated, and giving false information about the situation. 
He tried to appeal the verdict; however, Italy's highest Court of Cassation upheld the previous conviction and prison sentence. 
Scrapping of Costa Concordia
Image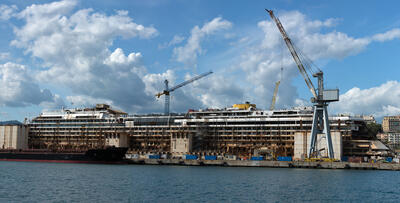 The total cost to scrap Costa Concordia was nearly $800 million. 
Following the removal of the fuel in March 2012, plans were set in place to arrange for the ship to be scrapped, and for two-and-a-half years, Costa Concordia remained off the coast of Italy. In September 2013, a parbuckling procedure brought the ship to an upright position. 
Before this could happen, though, the ship had to be stabilized to prevent any further sinking or slipping. Moreover the "false bottom," that the ship would rest on after being brought to a vertical position had to be prepared. 
The entire process was not finished until 2017. During the dismantling process, about 53,000 tons of materials were recycled. In order to accomplish this, more than 350 workers clocked in a combined one million man hours on the job.  
Impact on cruise ship safety
Image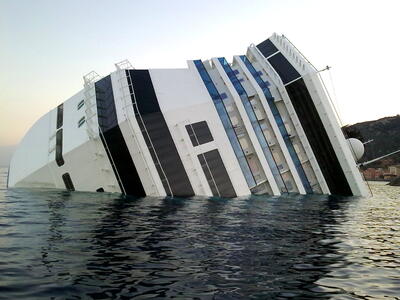 When Costa Concordia made contract with the rocks off the shore of Italy, some 600 people who had just embarked hours earlier had yet to complete their muster drill. At the time, the safety drill could have conducted at any point up to 24 hours after setting sail. Most cruise lines, however, did have the drill before leaving the port. 
Beginning in February 2012, it became a requirement for all cruise ships to complete the drill while still docked in the embarkation port. 
Image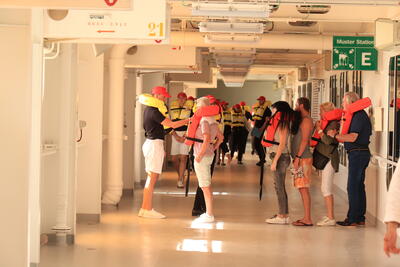 Muster drills are meant to familiarize all passengers with their assigned assembly stations and other cruise ship protocols. The drill is mandatory for all passengers, even those who have cruised before, as the assigned location is dependent on your stateroom and, therefore, will most likely be different on every cruise. 
As a result of the coronavirus pandemic, a lot of cruise lines have implemented a virtual muster drill process that allows passengers to watch the safety briefings from their smartphones or stateroom television before visiting their muster station in person.