One of the best things about cruising is exploring the ship and discovering all of the hidden details onboard. Cruising truly is one of the most unique forms of travel, and discovering everything a ship has to offer can be one of the best parts of any cruise voyage. 
Disney Cruise Line is one of the best cruise lines in the industry when it comes to providing magical hidden details for guests to see and explore onboard their ships.
In August, I embarked on a 7-night sailing onboard Disney Fantasy, and I was so excited to see all of the fun and interesting details on the ship for myself for the first time! 
Here are 12 hidden details onboard that I discovered, so you can best prepare for your own sailing onboard this fun and magical ship!
#12 - Unlimited Ice Cream and Soda
Image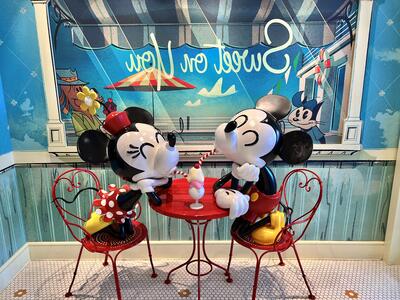 This may not be a hidden detail to some, but you would be surprised how many Disney Cruise Line passengers do not know about this important amenity! 
One of the awesome advantages of sailing with Disney is the unlimited complimentary soft serve ice cream and soda from the machines located on the main pool deck. 
Guests can enjoy as much soft serve and soda thoughout the day as they'd like during their voyage. 
Image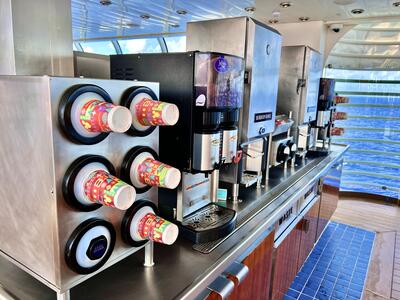 During our week-long cruise, the soft serve ice cream flavors changed a couple times. 
Flavors such as classic vanilla and chocolate, swirl, mango, banana, strawberry, and more can be found onboard! It pays to frequently check the station out, so you never miss trying a new flavor!
Image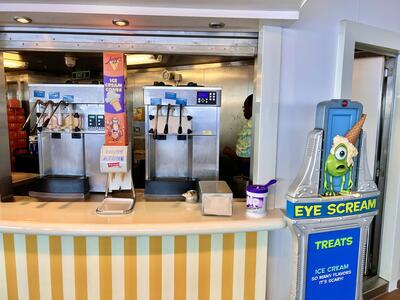 This perk is available on Castaway Cay, the cruise line's private island in The Bahamas, too. There's nothing better than cooling off after a drip in the crystal clear waters than with a cool cone of soft serve!
Make sure to keep a lookout near the main Cookie's Barbecue area for the soft serve ice cream machines.  
#11 - A Very Special Horn
Image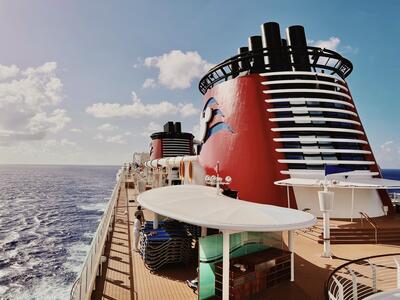 Personally, Disney Cruise Line has my favorite cruise ship horn of any cruise line I've travelled with so far! 
All Disney Cruise Line vessels, including the Disney Fantasy, feature a unique and special horn. While every cruise ship tends to play their horn as they leave port, but Disney ships have aa special way to announce their arrivals and departures. 
Classic Disney tunes can be heard from the ship's funnel, and it is a fun way for guests to be reminded that they are really on a Disney cruise! 
Image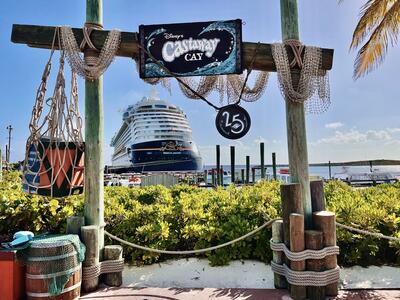 I wanted to be able to hear the horn for myself during our sailing, and I found the two best opportunities to hear it were during the sail away party and when we sailed into Castaway Cay. For the best opportunity to hear the horn sound, I recommend being somewhere on the main pool deck. 
#10 - Midship Detective Agency
Image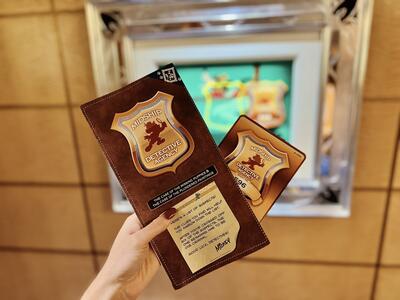 If you are a family looking for a fun and engaging activity during a sea day or a couple looking to explore the ship, the Midship Detective activity is a great hidden detail onboard the Disney Fantasy!
On our first day exploring the ship, we discovered a small desk tucked away in the corner. Upon further investigation, we realized this was an interactive onboard activity that really brings the magic onboard the ship to life. 
Image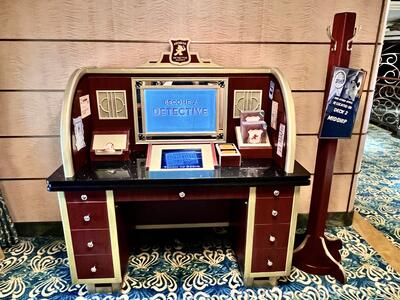 Guests can pick up their free ship detective map, a pencil, and a "detective badge" before heading out on a fun mission that involves discovering fun details around the ship, as well as solving a mystery. 
We thought that this onboard hidden activity was really engaging, and throughout our sailing, we saw many other passengers finding Midship Detective and discovering the fun for themselves. 
One of the best features of the Midship Detective Agency is that there are multiple kinds of mysteries to solve and different kinds of maps that guests can explore the ship with. From Muppets themed mysteries to classic Disney characters, guests can engage with the Midship Detective Agency activity multiple times! 
Image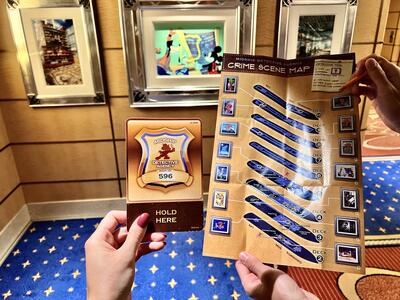 We chose the classic Disney characters for our first time playing Midship Detective, but I am curious to try out the other versions of this activity the next time we sail onboard Disney Fantasy. 
From interactive games, to some comedy, and beautiful artwork, I think this activity is a must-do when onboard. Plus, it is completely complimentary for everyone to enjoy! 
#9 - Hidden Mickeys Galore
Image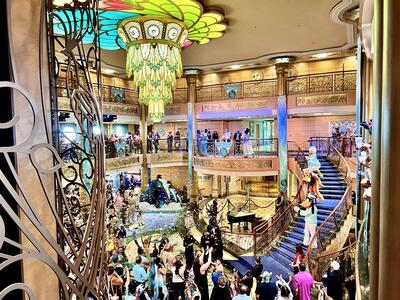 It would not be a Disney cruise without some mickeys incorporated into the design of the ship! Throughout your cruise vacation, you should keep an eye open for all the hidden Disney details that are scattered all around the ship. 
Something that I really appreciate about the design of the Disney Fantasy is that she definitely highlights Disney magic in her decor and details, but it is not over the top! I felt this was especially true in the many adult-only areas onboard. 
Image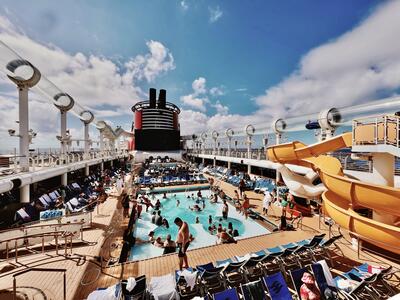 There are many small Disney details to discover, but nothing is too Disney-in-your-face. One of my favorite little hidden mickeys that I got to discover were the small mickeys that were incorporated into the design of the beautiful chandelier in the Atrium. 
While you're on the lido deck, you should see if you can spot the mickey hidden in plain sight that takes it's shape in the form of the main pool! 
#8 - Magical Art
Image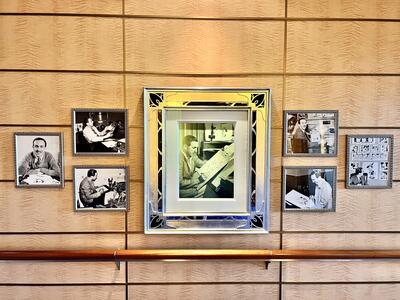 While you are on the ship, you should check out the magical moving art! There are so many of these fun and beautiful paintings throughout the ship to discover. 
Each of these magical art pieces moves when someone walks by or stands in front of it. I recommend checking out each artwork more than once, as they often do multiple different things! Sometimes, one art piece would do three or four different things. 
Image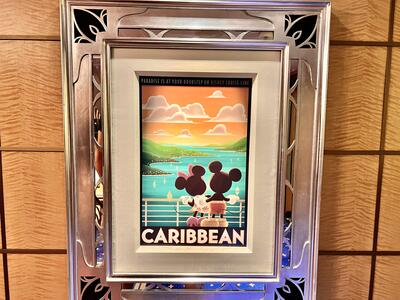 Another fun aspect of the artwork is that many of these pieces change throughout the day. For example, the two pieces of art near the elevators on our stateroom deck changed about twice a day every day of the cruise. Each time they changed they brought with them new little movements and magic moments to see. 
#7 - Theatrical Dining
Image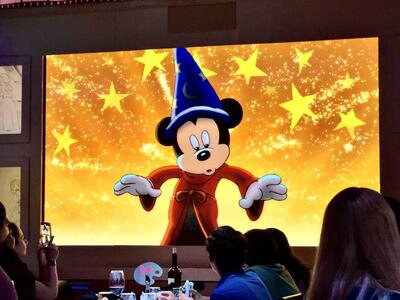 Something that is truly unique to Disney Cruise Line is the way that they incorporate great entertainment into everything, and this extends to the dining experiences. 
Each Disney ship has their own unique way that they bring theatrical dining onboard. Onboard Disney Fantasy, Animator's Palette and the Enchanted Garden bring so much of the Disney magic to live. 
Image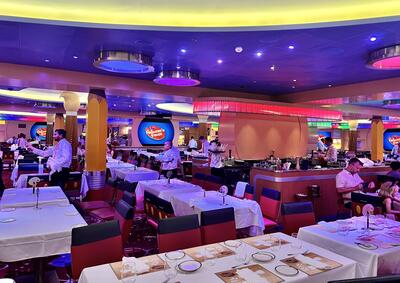 At Animator's Palette, guests can try their hand at drawing their very own animated character that comes to life during dinner, while at Enchanted Garden, guests can watch the entire dining room change from day to night during the course of dinner.
Keep an eye on those flower shaped lights overhead, as they change throughout dinner!
Image
Truly the most magical dining experiences I have had onboard a cruise ship so far have been onboard the Disney Fantasy. 
I appreciate that Disney goes the extra mile to create great memories for everyone in the family while providing unique and special experiences during dining times. 
#6 - Steer the Ship
Image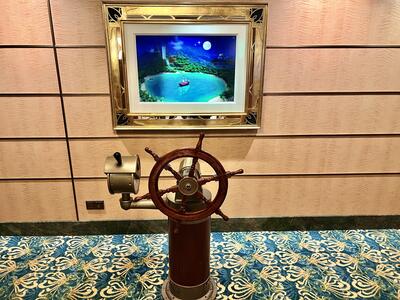 One of the greatest things about sailing onboard Disney Fantasy is that there are so many magical and small details to discover around every corner of the ship. 
Because of this, I highly recommend taking a couple hours during a sea day to just walk around and explore the ship. 
Image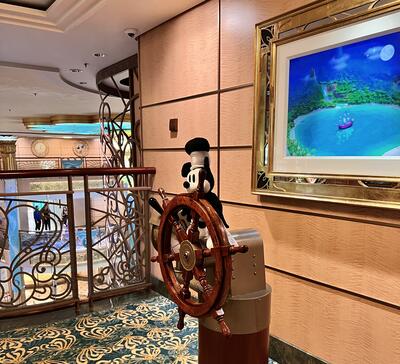 One of my favorite small details is the ship's wheel on Deck 5! 
It's completely interactive and allows guests of all ages to play a little game that magically brings the artwork behind the ship's wheel to life. Perhaps the most fun aspect of this little detail is the real working wheel and lever. 
As two adults traveling alone, we found this small detail to be a lot of fun and the game to be quite challenging! I recommend that parents looking for fun things to do during a sea day check out this little activity. 
#5 - Stateroom Visitors
Image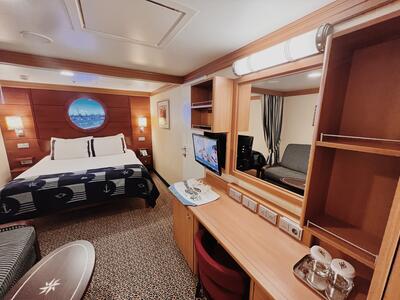 Even if you're sailing in the cheapest possible stateroom onboard Disney Fantasy, you'll notice that Disney didn't slack on the magical details. 
The standard interior staterooms onboard Disney Fantasy, as well as Disney Dream, feature a magical virtual porthole window that shows guests the outside view of the ship. 
Beyond the virtual live feed view, guests need to keep their eye on these porthole 'windows' throughout their cruise, as about every fifteen minutes or so, a new Disney character will pop in to say, "Hello!"
Image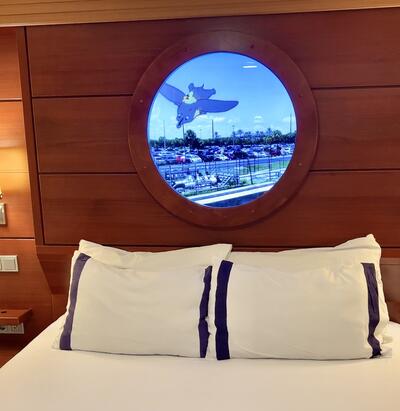 (I was able to take a quick picture of Dumbo as he flew by our porthole on embarkation day!)
We had so much fun looking out for these little visits and think it is a great way that Disney sets themselves apart once again. If you are someone who loves Disney films, you will love these magical portholes. 
#4 - Design Full of Wonder
Image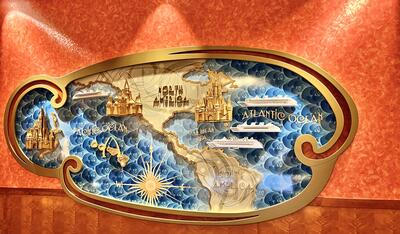 Disney Cruise Line has incorporated the aesthetics and design of old world cruising into the features of the Disney Fantasy. 
From the layout featuring a grand multi-level atrium, to the many large porthole windows throughout the ship, the large wrap-around decks, and the classic nautical colors, the design of the Disney Fantasy feels truly timeless. 
Image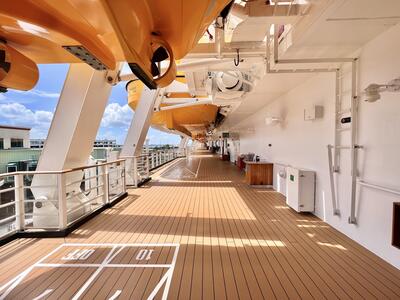 An interesting feature of Deck 4 is the wrap-around deck. This area features a walking path for guests to walk all the way around the exterior of the ship. There are also several shuffle board areas for guests to try their skills at this old-school cruise game! 
I personally really enjoyed playing shuffle board with my husband on one of our sea days. It was a quick game and a fun way to participate in an activity together while enjoying some beautiful ocean views. 
Image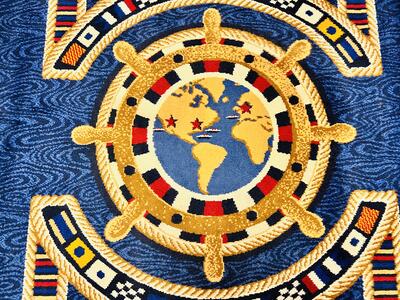 We also loved the wood and comfy lounge chairs on Deck 4. These spots were often a much quieter area during sea days, and once again made us feel like we were sailing on a ship from the golden age of cruising. 
#3 - Hidden Character Meet and Greets
Image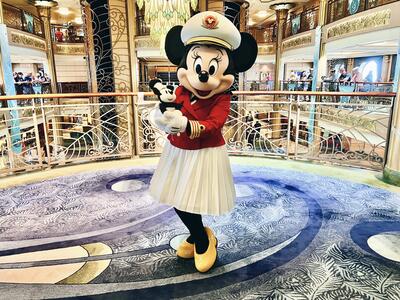 If you are someone who has visited a Disney theme park, you probably know that Disney characters are often a presence. Depending on your preferences, characters may be a big part of your Disney experience. 
For those guests who really appreciate seeing and meeting characters, a Disney cruise is just as great, if not better, than the theme parks! 
Image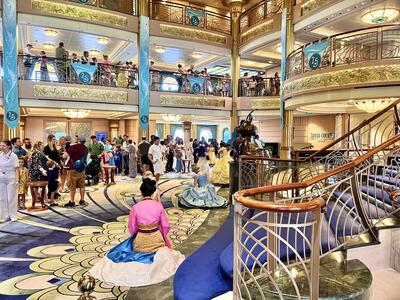 I was honestly very surprised just how many characters were out and about onboard out sailing. Nearly every night of the cruise, guests had the opportunity to see characters in the Atrium and around the ship. 
During every special event, such as the Pirate Night and the 25th Anniversary Celebration, guests could see so many Disney characters of all kinds walking around and interacting with passengers. Plus, they were decked out in themed attire that you won't find elsewhere. 
An interesting thing I discovered when it comes to character meet-and-greets onboard the Disney Fantasy was to check out on the decks for characters. 
During the Pirate Night celebrations, I noticed that there was relatively long lines to meet characters such as Minnie and Mickey when they were in the Atrium. Outside on Deck 4, however, Donald Duck was hanging out with no line at all! 
Image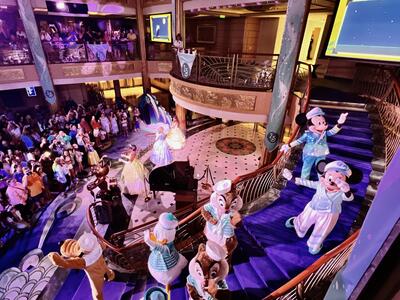 If you are someone who enjoys collecting signatures from Disney characters, make sure to bring your autograph book on your next Disney cruise, as there were so many characters that made appearances during our voyage. 
#2 - Quiet Cove Cafe and Hidden Adults-Only Bar
Image
As two adults traveling onboard the Disney Fantasy without children, I was very surprised by how many adult-only areas are onboard.
From the multiple pool areas, to the luxurious Palo and Remy's restaurants, and the many bars and lounges onboard, there are so many great spots and venues for adult guests to explore and visit during their cruise. 
Image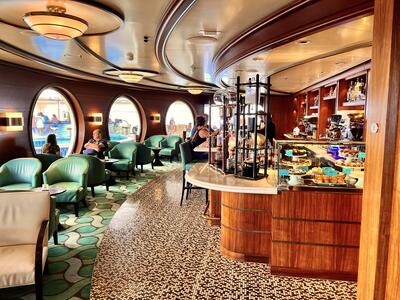 One of my favorite quieter locations onboard was the Quiet Cove Cafe. Located near the main adult-only pool area, this small cafe was always cozy and quiet each time we visited it. 
At this location guests can enjoy a specialty coffee drink or one of the many complimentary treats and snacks. This lounge has many comfortable chairs and spots for guests to relax, and is a great spot to read a book or chat with your travel companions. 
Image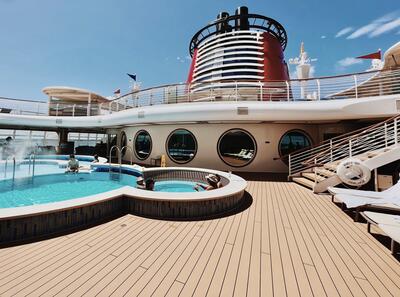 (The Quiet Cove Cafe is located next to the main adults-only pool area)
This Quiet Cove lounge seemed to be a relatively hidden detail, as this lounge serves tasty complimentary snacks throughout the day, but not many guests seemed to know about it.
Another adults area of the Disney Fantasy that seemed to be a relatively hidden spot was the Meridian Bar and Lounge. 
Image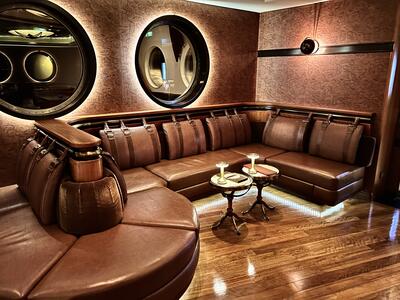 This interesting and intimate lounge can be found near the entrance to the exclusive Palo and Remy's restaurants, which is strictly an adults-only area of the ship. This bar is themed after old world travel and harkens back to a romantic age of travel. 
There are so many fascinating details to discover in this bar, and I highly recommend checking it out at least once during your Disney Fantasy cruise. 
Image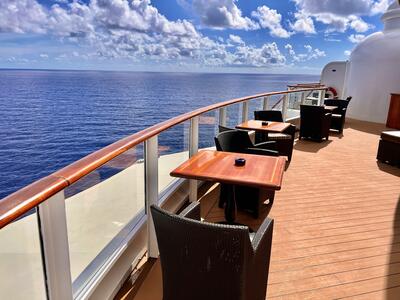 The Meridian lounge also has an outdoor area that is definitely worth taking a look at sometime during your cruise. 
With stunning ocean views and a relaxed adult-only atmosphere, this area of the ship makes for the perfect spot to take a moment to your self during a busy family vacation. 
#1 - Ask about Celebration Buttons
Image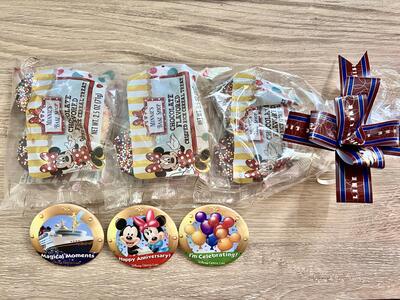 Something that I discovered is that Disney Cruise Line, like the Disney theme parks, give out complimentary pin buttons to guests who are celebrating something special during their voyage. These pins range from "I'm Celebrating," to "Happy Anniversary," "Magical Moments," and more. 
If you are someone who is interested in picking up one of these complimentary and fun souvenirs, you will have to visit the Guest Services desk on Deck 3 and politely inquire about the buttons. 
Every guest services crew member we spoke to was very nice and helpful. The nicer you are to these crew members, the more likely they are to want to help and assist you. Remember to always treat the crew members with kindness and respect, and you may be surprised with a little bit of Disney magic!
Conclusion
Image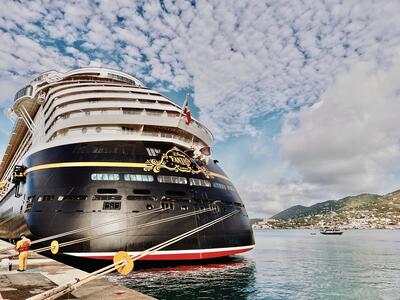 Disney Fantasy is full of so many hidden and magical details for her guests to discover throughout a sailing. 
Of course, there are more wonderful details to see and find around the ship than just what is included on this small list. These are just some of my personal favorite hidden details that I experienced myself!
Image
One of the biggest reasons guests return to Disney Cruise Line is because of their attention to detail. Recently, Disney Cruise Line announced more details about its newest ship, Disney Treasure, which is set to debut in 2024.