If you've cruised before, you know staterooms on a cruise ship can be notoriously small, with most staterooms onboard measuring less than 200 square feet in size. 
Unless you decide to splurge on a larger stateroom, such as a suite, your cabin might feel smaller than you expect. Some standard cabins can accommodate up to four adults, making these small cabins feel cramped.
Fortunately, many prospective cruisers can find innovative and creative cruise hacks online for optimizing the tiny cabin space on a cruise ship. A quick search on TikTok will result in thousands of videos with ideas for making your cruise cabin more functional. Making the best use of your small cabin will make your vacation more enjoyable and comfortable; as such, these clever cruise hacks tend to go viral.
Image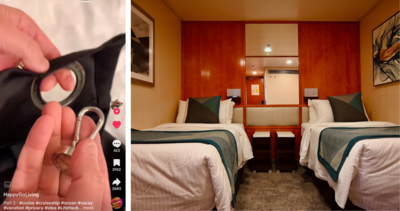 Read more: Top 25 cruise cabin hacks to improve your stateroom's functionality
One cruise hack has particularly gained a lot of traction on TikTok from user HappyGoLiving, garnering 2.9 million views and 211k likes. The hack involves magnetic hooks and blackout curtains to turn any cruise cabin into a private area.
HappyGoLiving shares how she recently went on a Holland America Cruise with her friend. She states that her friend likes to get up early in the morning on vacation, while she prefers to sleep in herself. Because of this, HappyGoLiving decided to get innovative with magnetic hooks and blackout curtains to build a fort of sorts in her cruise cabin.
Having a dark space like this can be perfect for light sleepers, especially for those sharing a cabin with others. Here's what the cruise hack entails, and whether we think this strategy is more trouble than it's worth!
As a note, we've provided links to Amazon items in this article, so you can purchase the same items as the TikTok video. Cruise.Blog will receive a small commission if you purchase the products directly from the links below, but this has no extra cost to you.
First, you'll want to purchase blackout curtains and magnetic hooks to bring on your cruise
Image
While preparing for your cruise, you'll want to first purchase magnetic hooks to bring onboard. These hooks are perfect for cruise cabins because the stateroom's walls are made of metal, so any sort of magnet will typically cling to the wall with ease.
In general, magnetic hooks are very popular among cruisers. Because you can place these hooks directly on the wall, you have more space to hang up jackets, bags, hats, and umbrellas, just to name a few. These small hooks can really help optimize your cabin space, so investing in a few magnetic hooks can be a good idea for frequent cruisers who prefer to return to an organized cabin at night. 
Image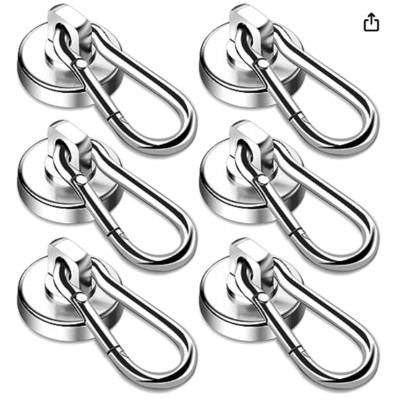 In particular, HappyGoLiving purchased magnetic hooks with swivel carabiners, which will allow you to clip the magnets to the loops of the blackout curtains.
HappyGoLiving goes on to explain how she also purchased blackout curtains to serve as temporary walls. You'll want to make sure you purchase curtains that are long enough to cover most of the space from floor to ceiling in the stateroom. Most cruise cabins have a height of 7'6", with another two feet for structural wiring and piping, so keep this in mind when choosing which curtains to bring onboard.
Image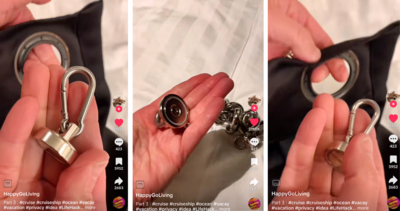 To ensure your curtains are long enough, make sure that you purchase curtains that are around 90 inches long, such as these blackout curtains from Amazon. You could also bring blackout curtains from home to save money, if you already have them.
The TikTok user continues by showing how she loops the magnetic hooks through the blackout curtains to hang from the cabin ceiling
Image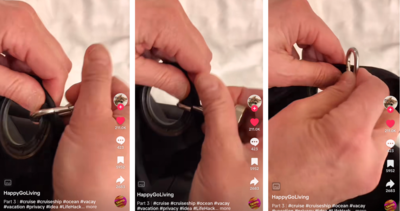 Because HappyGoLiving purchased magnets with carabiner hooks, she shows how she clips each magnet through the curtain holes. The carabiner hooks help to ensure that the blackout curtains are properly held up from the ceiling. After clipping each curtain hole with a magnetic hook, the TikTok user starts to hang up the curtains from the cabin's ceiling.
HappyGoLiving starts by hanging the curtain on one side of her individual bed and works around to the other side, hanging each hook on the ceiling one by one. You'll want to hang the curtain around your entire bed to create a cocoon of sorts.
Image
After all of the hooks are on the ceiling, HappyGoLIving shows the ending result. The final product is an enclosed, private space in your cruise stateroom. 
You'll certainly be able to sleep well in your cabin thanks to these blackout shades, which should block out any light coming from your window or balcony. You also have your own space to get ready in the morning without needing to use the bathroom.
Image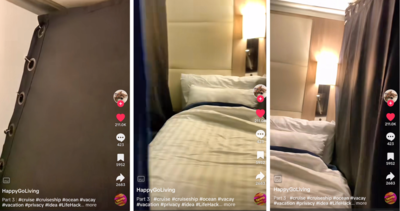 Most cruise lines will ask if you prefer to have your cabin's beds together as a king or separated into two twin beds. It's important to note that this cruise hack will work best if you choose to separate your beds from the king bed configuration into two separate twin beds.
Many TikTok users felt this was a genius cruise hack, while others felt it was not worth the hassle
Image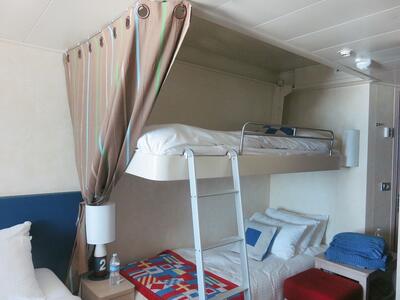 As with anything, you cannot please everyone. In this viral TikTok, many users praised HappyGoLiving in the comment section for sharing this clever cruise hack. On the other hand, some felt the hassle of purchasing and packing the supplies was unnecessary.
One user, Taylor, commented, "…I worked on a ship for 7 months. WHY did I not think of this." Another user, Stephy Lynn, thought this cruise hack was so smart, sharing, "I love this for privacy for changing clothes without having to steal the washroom from everyone."
Some even pointed out that this could be a great hack for families traveling with babies or small children. TikTok user Mel commented, "This is genius for a sleeping baby/toddler on a cruise." Another parent shared that having a private space like this would work well for her upcoming cruise, as she is planning to travel with her teenage son who prefers to have his own space.
Image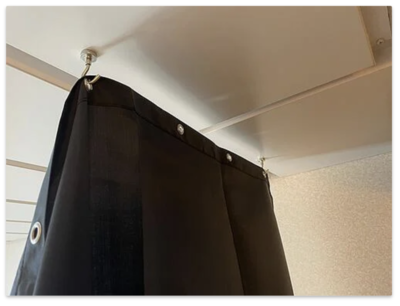 Of course, some felt that this cruise hack was unnecessary. One of the top comments on the TikTok is from user Meredith Roberts, who shares, "I mean, I typically just go with an eye mask". Some agreed with her comment, while many others responded that they are unable to sleep with an eye mask. Others chimed in that eye masks are uncomfortable for them and never stay on while sleeping.
More users responded that this would take up too much space in this luggage. Considering that you need to bring at least two long curtain panels, along with the magnetic hooks, this is a good point. Those who are limited on luggage space could struggle to find room for the supplies needed for this hack.
Another user questioned why anyone would want to make their small cabin even smaller with this hack. Multiple people commented about how much space this would take up in a suitcase; however, HappyGoLucky clarified that she lives in Miami so she can pack heavy for cruises because of this. She also shared that each morning, she took down the hooks and curtains and only used the hack when it was time for bed.
Should you try this viral cruise hack?
Image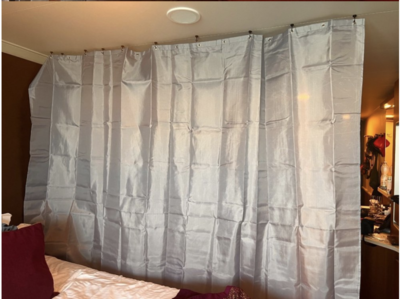 You might be considering whether it's worthwhile to purchase and pack these magnetic hooks and blackout curtains for your upcoming cruise.
First, consider whether you are flying or driving to your cruise port. If you are driving to the port, you might not be as concerned with luggage space. Driving to the cruise port means you are not limited to certain airline luggage restrictions. However, those who are flying and worried about luggage weight or costs might want to reconsider whether packing blackout curtains are worth the extra space.
You might also want to think about the cost of the blackout curtains and magnetic hooks. If you have curtains at home already, you would only need to purchase the carabiner hooks. Those who need to purchase the curtains and hooks might be spending upwards of $50 to $60, depending on which curtains they choose to purchase. If you need to pay for overweight luggage when flying to the cruise port, this hack could get expensive very quickly.
Read more: Why you should plan a cruise within driving distance
Image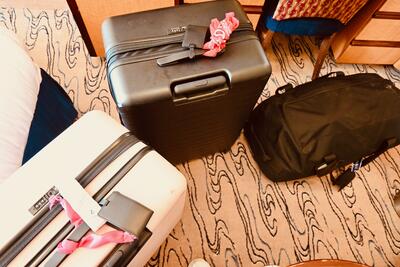 Another consideration is whether an inside cabin might be the best choice for your cruise. If you are a light sleeper and natural light tends to wake you up, a window-less inside cabin could be a great option for you, but if you prefer to sleep in while others in your cabin like to get up early, this cruise hack might be worth a try so you can get better rest.
Those traveling with small children might find this hack particularly useful. With hooks and curtains, you can section off a specific part of your cabin for babies or toddlers. Having a dark, private space for children in a cramped cabin can help everyone sleep better!
Finally, you might also consider using an eye mask on your cruise for better sleeping, as one user commented. An eye mask serves a similar purpose when it comes to keep out light while you sleep, although you won't have a private area in your cabin.
You have to admit that this cruise hack is very creative regardless of whether it's something you end up trying or not!
Read more: Balcony vs interior cruise ship rooms: what's the difference?