Alcoholic drink packages are an extremely common add-on to purchase for an MSC cruise. Being able to enjoy an unlimited amount of tropical beverages while onboard is well worth the cost for many passengers. The cost of a drink package, however, can add up to over $500 for a weeklong sailing.
Even though I've been on nearly two dozen cruises, I've always been hesitant to purchase a cruise line's drink package. While I enjoy drinking a cocktail or two each day, I never thought I would be able to "break even" on the cost of a drink package.
Yet, while booking my most recent cruise, a 7-night sailing on MSC Seaside, I noticed a stellar deal on an MSC drink package.
Image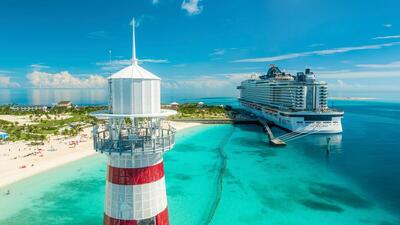 At the time of booking, MSC was offering a promotion option to guests, which included an Easy Plus drink package and a 2-device wi-fi package for each guest in the cabin. When staying in a room with 2 adults, the total cost of the package was only $130 more per person than the standard cruise fare.
Yes, that's right—an unlimited drink package and wi-fi for just around $19 per day! I was surprised to see such an offering by MSC, especially considering I was booking the cheapest Caribbean cruise I could find.
At $130 extra for the whole week, I immediately booked the drink package to see whether or not an MSC drink package would be worth it.
How much does an MSC drink package cost, and what does it include?
Image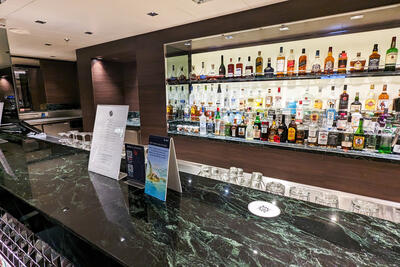 Even though I found a fantastic deal on my MSC drink package, it's not always possible to see such low prices. Outside of booking promotions, MSC offers standard fares for its drink package options.
There are five types of drink packages, all of which have different inclusions. The cost of an MSC drink package depends on the type of package you book. For a weeklong cruise departing from North America, you can expect to see the following prices:
Easy Package: $46/day, includes drinks on a limited menu. On cruises less than 6-nights, the package is $49/night.
Easy Plus Package: $61/day for cruises 7-nights or longer and $64 for cruises 6-nights or fewer, includes drinks up to $10
Premium Extra Package: $85/day, includes drinks up to $16. 
Alcohol-Free Package: $28/day, includes non-alcoholic drinks
Minors Package: $19/day, includes non-alcoholic drinks for guests under 21 (North America) and 18 (Europe)
Related: Overview of MSC Cruises Drink Packages and Prices
Image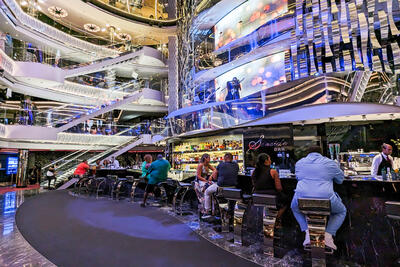 Most guests opt to purchase the Easy Package or Easy Plus Package, bringing the total drink package cost from around $322 to $427. With the majority of cocktails and drinks priced around $10 or $11, you would have to drink between thirty and forty drinks to break even on the package.
Because I booked my drink package at such a low price, I only had to drink around thirteen cocktails to break even. Needless to say, I was excited to get onboard and put MSC's drink package to the test.
Almost immediately, I noticed the bars seemed to be understaffed, leading to long wait times for drinks
Image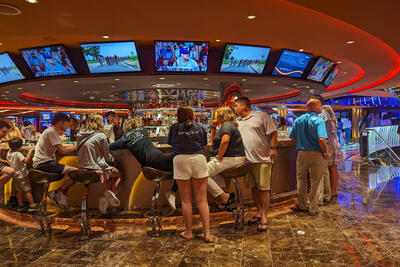 One of my main complaints with my MSC drink package was the understaffing at bars. Almost as soon as I got onboard, I realized it would be more difficult to order a drink than I had hoped.
Although there were plenty of bars on the ship, I noticed that most bars appeared understaffed. There were crowds of guests eager to order a drink, and with some bars only staffing two bartenders, it led to long waits for drinks.
Several times during my sailing I had to wait over ten minutes just to order a drink, and a few times I gave up and walked away from the bar to try my luck somewhere else.
The service was not a fault of the crew members, but I definitely felt as though the bars could have been better staffed. If I had paid more for the drink package, I would have felt even more frustrated.
Despite the long wait times, I appreciated the diverse cocktail menu and variety of bars around the ship
Image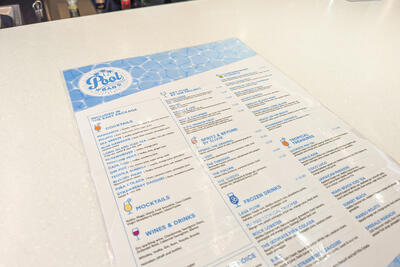 Although the wait times for drinks were often longer than I would have preferred, I enjoyed the variety of places to grab a drink around the ship.
MSC Seaside has bars in nearly all public areas of the ship, from the pool deck to indoor entertainment venues. Regardless of where I was onboard, I could easily find a spot to grab a drink.
I appreciated the diversity among bars, and I especially enjoyed bars with ample ocean views. The Seaview lounge, for example, had panoramic views of the ocean, which included outdoor seating as well. Other bars, such as the Miramar bar on Deck 20, offered excellent views of the pool deck and ocean.
Image
Plus, while you could always order standard cocktails at any bar, I enjoyed sampling cocktails from unique menus. The Champagne Bar, for instance, had a selection of tempting concoctions, such as the Blueberry Lavender Sparkler, which combined elderflower liqueur with fresh lemon juice, lavender syrup, blueberries, and sparkling wine.
I enjoyed ordering drinks without worrying about the price per cocktail, but I didn't always want to drink
Image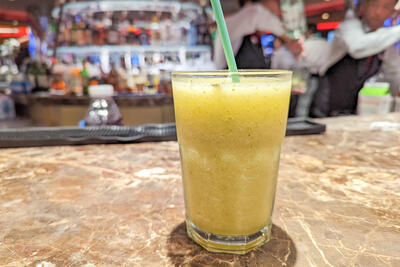 Of course, one of the main benefits of an MSC drink package is being able to try different drinks without worrying about racking up a huge bill.
During my cruise, I loved being able to order a variety of drinks without worrying about the cost per drink. For some cruisers, this alone is worth the expense of a drink package, as there's no need to worry about an expensive bill at the end of the cruise.
Because I could order as many drinks as I wanted, I found myself trying more types of cocktails than I normally would. If I ordered something and didn't care for it, I didn't feel pressured to finish the drink. Instead, I could simply order something else.
The only downside to having unlimited drinks was that, at times, I felt pressured to drink in order to make the most of the drink package
Image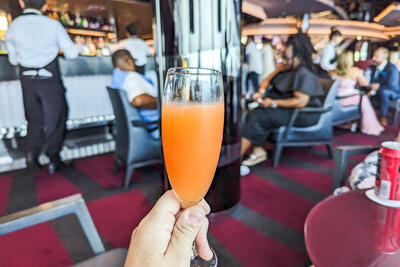 Like most cruise lines, MSC offers a variety of beverages included in your cruise fare. While you won't find piña coladas or shots of bourbon offered for free, you will find a variety of nonalcoholic beverages.
Water, coffee, tea, iced tea, juices, and milk are offered at no extra charge to guests. Personally, I found the selection of included beverages to be satisfactory, and I often craved a crisp iced tea over a sugary soda or cocktail, anyway.
Related: What's included on an MSC cruise?
My drink package covered drinks at MSC's private island, Ocean Cay, which was a major perk
Image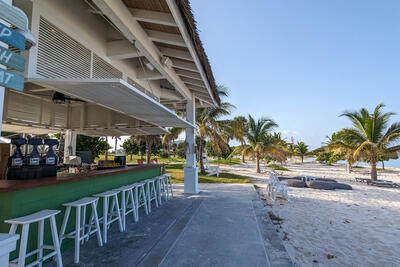 One of the perks of an MSC drink package is the fact that the package includes drinks at Ocean Cay, MSC's private island in the Bahamas.
I was looking forward to sipping tropical drinks all day long while at the island, from refreshing mojitos to tangy margaritas. And, for the most part, that's exactly what I did.
Being able to use my drink package at Ocean Cay undoubtedly enhanced my time on the island, as I could enjoy a drink whether suntanning under a palm tree, taking a stroll along the island's walking paths, or sipping a drink while wading in the crystal clear waters.
Related: 30 top tips and tricks for MSC Ocean Cay
Image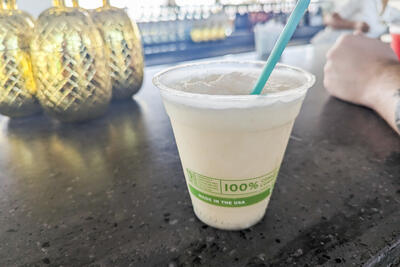 Not every aspect of the drink package on Ocean Cay was perfect, however. For one, not all beach areas were conveniently located near a bar, meaning a long, sweaty walk was sometimes required in order to grab a cocktail.
Plus, bar service was extremely limited during the evening lighthouse party on the island, with only one understaffed bar open for hundreds of guests. Nonetheless, I was glad my drink package could be used on the island, and it certainly saved me money during my day ashore.
For the price I paid for my MSC drink package, I wouldn't hesitate to book it again. However, I would not pay hundreds of dollars more for unlimited drinks
Image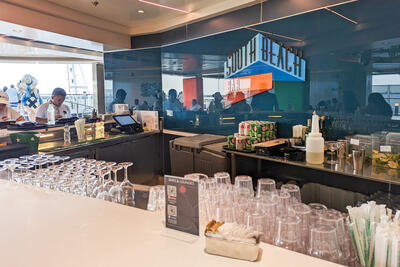 Because the drink package was only $130 more than the base cruise fare, there's no doubt I would book an MSC drink package again at this rate. The deal was truly unbelievable, especially considering other cruise lines often charge around $70+ per day for the same type of package.
With most drinks around $10, I only had to drink around thirteen drinks to break even, and that's without considering the fact that the drink package promo also included wi-fi. There's no doubt I broke even on the drink package—I probably did so within the first two or three days!
That being said, because I'm not a huge drinker, I would think twice before booking an MSC drink package at a higher price. I don't think I would spend, say, $400 extra for the drink package for a week.
While that's what I would consider a more "normal" drink package price in the cruise industry, I do not think I could drink enough to justify the high cost. Although I enjoyed my drink package perks on MSC Seaside, I would have been just as happy with complimentary beverage options and purchasing a few drinks here and there during the week.
Image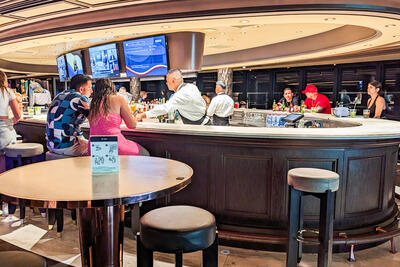 For those cruisers who know they can drink around six cocktails a day to break even, though, buying a drink package can be well worth it. With a drink package, you can fully relax into vacation mode knowing you don't have to worry about the price of each drink you order.
If you're considering a drink package for an MSC cruise, be sure to ask your travel agent (or check on MSC's website) about any booking promotions available. If you're lucky, you might end up finding a fantastic deal like I did.