As one would expect, cruise ship captains are given nicer living quarters compared to other crew members. 
During his time onboard as Captain of Harmony of the Seas, Captain Johnny Faevelen posted a video on his TikTok (@captainjohnnyfaevelen) to give people a peek into what his living quarters were like.
Inside, you will not find any bunk beds or tiny showers. Instead, he has an expansive living room with a spacious foyer, as well as a separate kitchen, master bathroom, and even a guest bathroom!
Keep reading to see the decked out crib that Captain Faevelen lived in while he was commanding Harmony of the Seas, one of the world's largest cruise ships at sea. 
Who is Captain Johnny Faevelen?
Image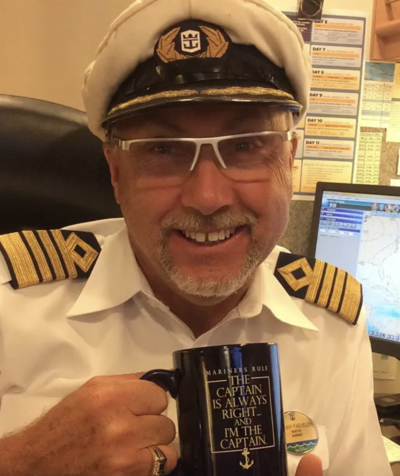 Captain Johnny is one of Royal Caribbean's most well-known cruise ship captains. I mean, what other cruise ship captain do you know of who has a parrot and motorcycle?
According to his LinkedIn profile, he is an experienced Royal Caribbean Officer with 45 years of international sailing experience. Over the last 26 years, he has been a Captain for various Royal Caribbean International cruise ships. 
Image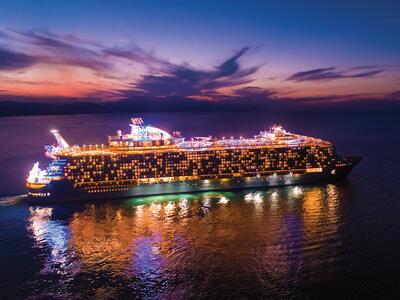 Previous ships he has worked onboard include Nordic Prince, Sun Viking, Sovereign of the Seas, Monarch of the Seas, Splendour of the Seas, Voyager of the Seas, Explorer of the Seas, Adventure of the Seas, Navigator of the Seas, Mariner of the Seas, Allure of the Seas, and Harmony of the Seas. This means that he has experience on the cruise line's largest and smallest ships! 
While Harmony of the Seas is still one of the largest cruise ships in the world, she was surpassed by Symphony of the Seas in 2018. In January 2024, Icon of the Seas will take the title of largest ship, meaning that Harmony will become the world's 4th largest ship, behind Icon, Wonder, and Symphony of the Seas. 
A look in Captain Faevelen's living quarters
Image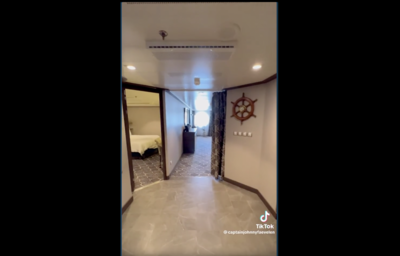 Unless you book one of the cruise line's top suites, you should not expect for your accommodation to be as large. 
As soon as Captain Faevelen opened the door to his cabin, we were greeted by a large entryway, to the right of which is the guest bathroom. 
Image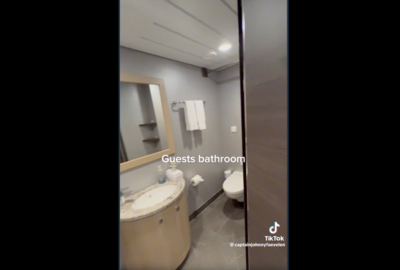 Of course, no spacious room is complete without a separate Master Bedroom, which can be found directly across the hall. 
Inside, you will find a queen bed, flat-screen television, walk-in closet, and large ensuite bathroom. Plus, it mirrors guest cabins more so than other crew cabins in terms of decor. 
Image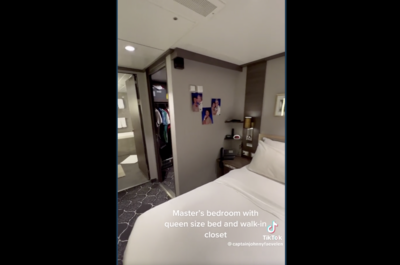 The Master Bathroom has both a large shower and soaking tub, as well as a vanity outfitted with plenty of storage. In comparison, non-suite staterooms onboard Royal Caribbean ships feature a standing shower, sink, and toilet. While they are not the fanciest things in the world, they are equipped with everything you need for a comfortable voyage.  
If you're staying in a suite onboard a Royal Caribbean ship, you are more likely to find a similar bathroom set up. Some, such as the Royal Loft Suite, come with dual sinks, a large standing shower, and bathtub. Sometimes, suite bathrooms are larger than standard staterooms! 
Image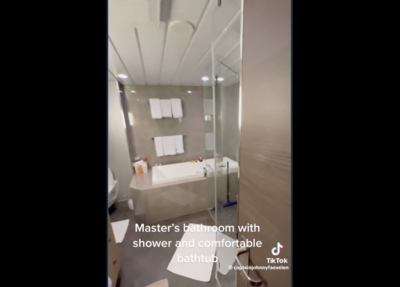 Back in the main living area, Captain Faevelen shows a large dining table that can seat four, as well as a sofa, loveseat, recliner, coffee table, and 55-inch television. It does not lack a touch of personalization, either, as it is decorated with pictures and gifts from guests. 
Near his television, he has a Martin Guitar proudly on display. He says that this allowed him to keep his brain and fingers moving during his down time. For those who do not know a lot about guitars, Martin Guitars are those that are crafted of a higher quality and can be rather expensive, depending on the model. 
Image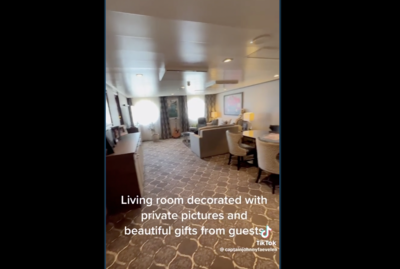 On their website, the newest models range from $749 for the DJR-10E Bass to $18,499 for the OM-45 John Mayer 20th Anniversary guitar. 
While he loves playing during his time off, he is also known to give lessons to other crew members, as show in another of his TikTok videos. 
Image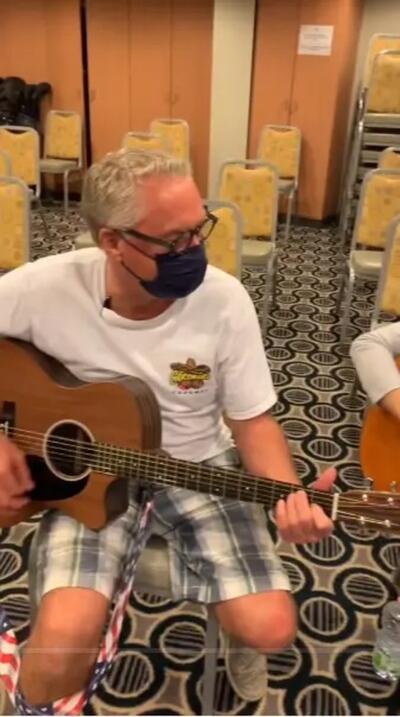 As Captain Faevelen moves into the kitchen, viewers notice that it is not a standard kitchen that you would find on land. While it lacks an oven and range, it is equipped with a fridge, dishwasher, microwave, and toaster oven. 
Since fires are a major concern on cruise ships (and why you cannot bring standard extension cords!), any open flames are a concern. This is why cruise lines have rules regarding onboard smoking. 
Image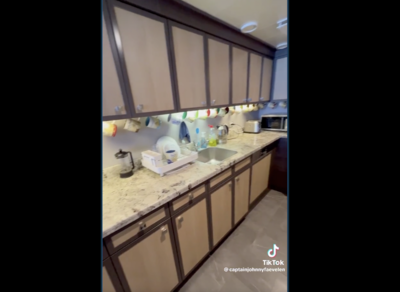 In addition to the appliances, he has an impressive amount of counter space, as well as a collection of coffee mugs that are hung underneath the cabinets. There's also room for two more guests to sit at the kitchen island's bar. 
There's a door that leads directly into the Captain's Office from the living room. Like his personal quarters, he has hung pictures throughout the room to make it feel more comfortable. 
Image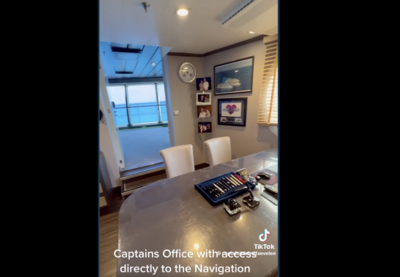 The Captain's Office is connected to The Bridge, meaning his commute is almost non-existent! His room is so close to The Bridge, which is where the Captain and officers navigate the ship, so that he can access it at any time and at a moment's notice. If you are a passenger who'd like to take a look inside of the ship's central command center, you'll have to book a pre-arranged tour. 
The price for the All Access Ship Tour on Royal Caribbean varies. I have seen it cost as low as $99 per person on a sailing onboard Freedom of the Seas and over $115 on a ship like Quantum of the Seas. In addition to getting to set foot in The Bridge, you will get access to other crew-only areas, such as the ship's laundry facilities and main galley, which is where the main dishes are prepared!
Image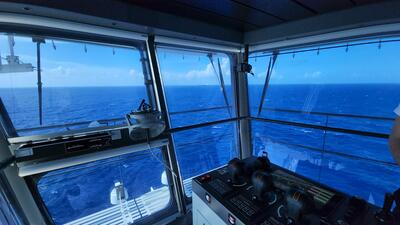 Other cruise lines, like Carnival Cruise Line and Celebrity Cruises, offer similar tours. Of course, pricing varies; however, it is a great add-on to consider if you're interested in the behind-the-scenes action of a cruise ship. 
Captain Faevelen gave viewers a look at the ship's engine control room in another video, which is usually a restricted area and is not shown on all access tours. During this short TikTok, he showed what the engineer on duty has to do in order to monitor the ship's operations. 
Other cruise ship captains have recorded videos of their living quarters, too
Image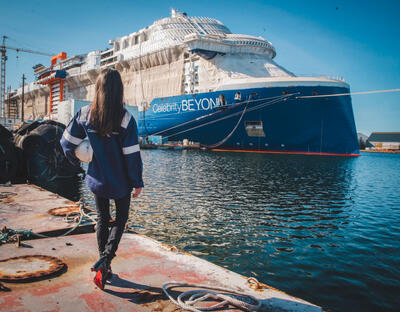 Captain Kate McCue, who made history in 2015 as the first American woman to be named captain of a mega cruise ship, posted a TikTok in August 2020 about her living quarters onboard one of Celebrity Cruises' newest ships. Since then, the video has gotten over 1.1 million likes!
When she became commanding officer of Celebrity Summit she was only 37-years-old. Today, she is the captain of Celebrity Beyond, and she still loves to post videos all over social media to let viewers know what her life is like!
Read more: Take a look inside a cruise ship captain's living quarters
If you are interested in learning more about either Captain Faevelen or Captain McCue, be sure to check out their social media pages. On TikTok, Captain Faevelen has amassed over 116,000 followers, while Captain McCue has over 3.5 million! Since they both work on different ships, there are videos unique to both pages, and it is worth it to browse both!