Cruise Ship Smoking: Is Smoking Allowed on Cruises?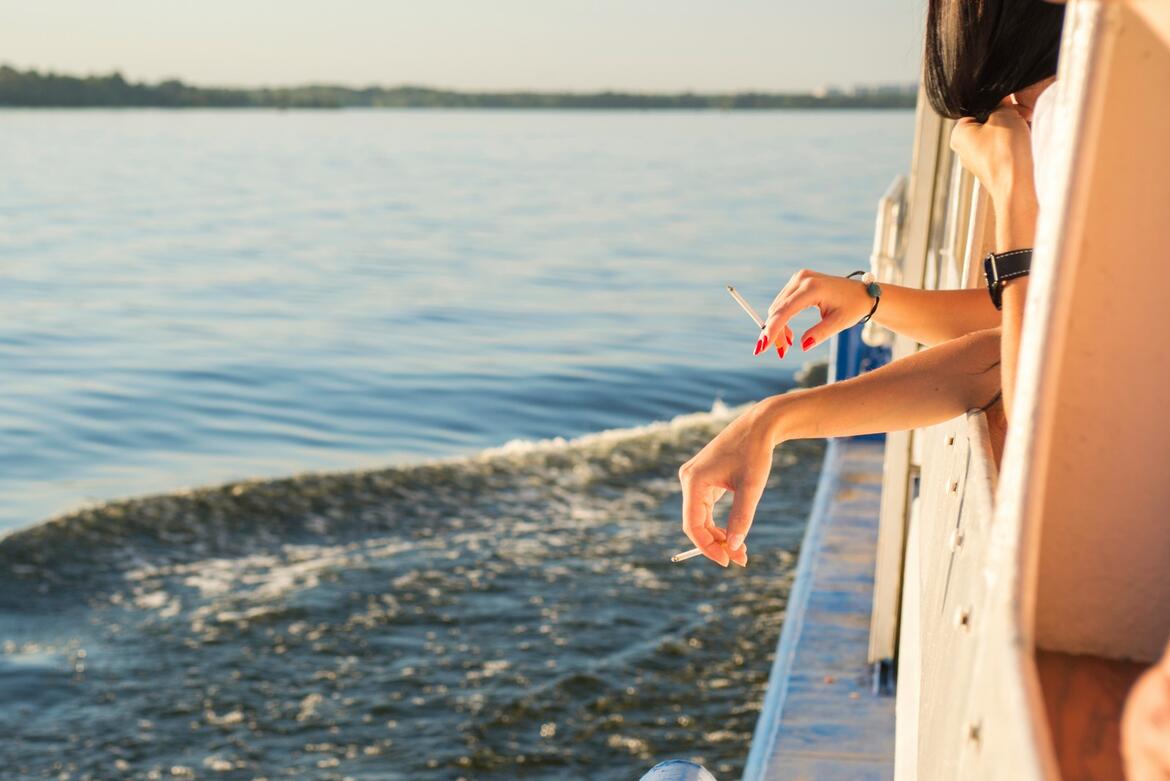 Whether you're a smoker or someone who has never so much as touched a cigarette or cigar, you might be wondering about cruise ship smoking policies. We'll answers some of your biggest smoking-related questions.
Can I smoke on a cruise?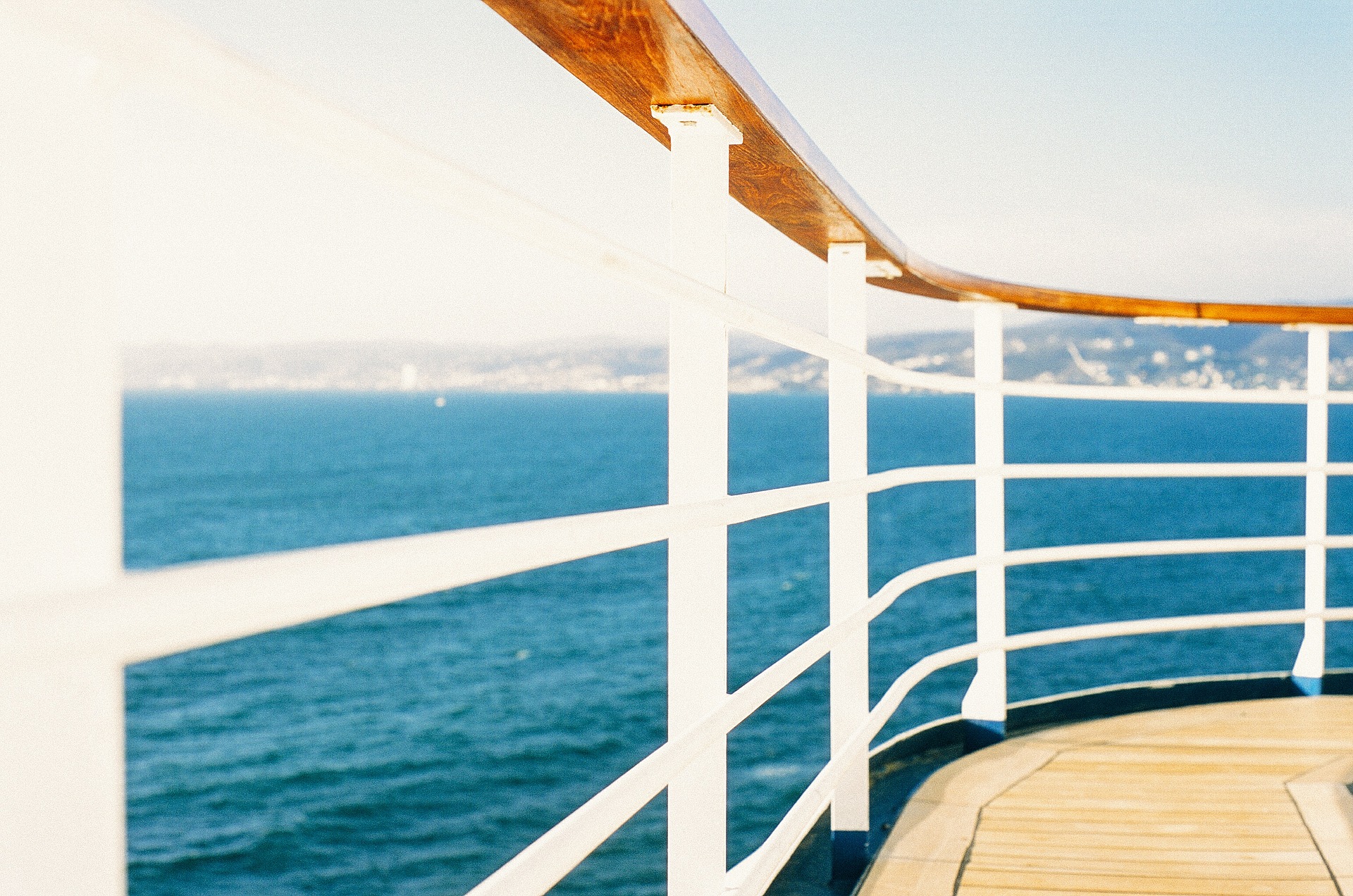 Long story short, cruise lines have banned smoking in cabins and most public spaces, with the exception of certain designated areas. Depending on the line and ship, smoking may also be prohibited on cabin balconies.
Areas where smoking is allowed are often limited to casinos, cigar lounges, some nightclubs and specific spots on outdoor decks, usually only on one side of the ship and near the back, so as to allow the smoke to be carried immediately out to sea. Some are also limited to set hours.
In general, passengers must be 18 years of age or older to possess and use tobacco products onboard. All smoking products must be properly extinguished and discarded after use, and they are never allowed to be thrown overboard.
Note that all ships -- regardless of cruise line or itinerary -- prohibit passengers from bringing and smoking marijuana onboard, even if they hail from states where it's legal and even if they have medical prescriptions for its use. Cruise lines consider it an illegal drug, and you could be disembarked and/or arrested if you bring it on your ship.
Which cruise lines allow smoking?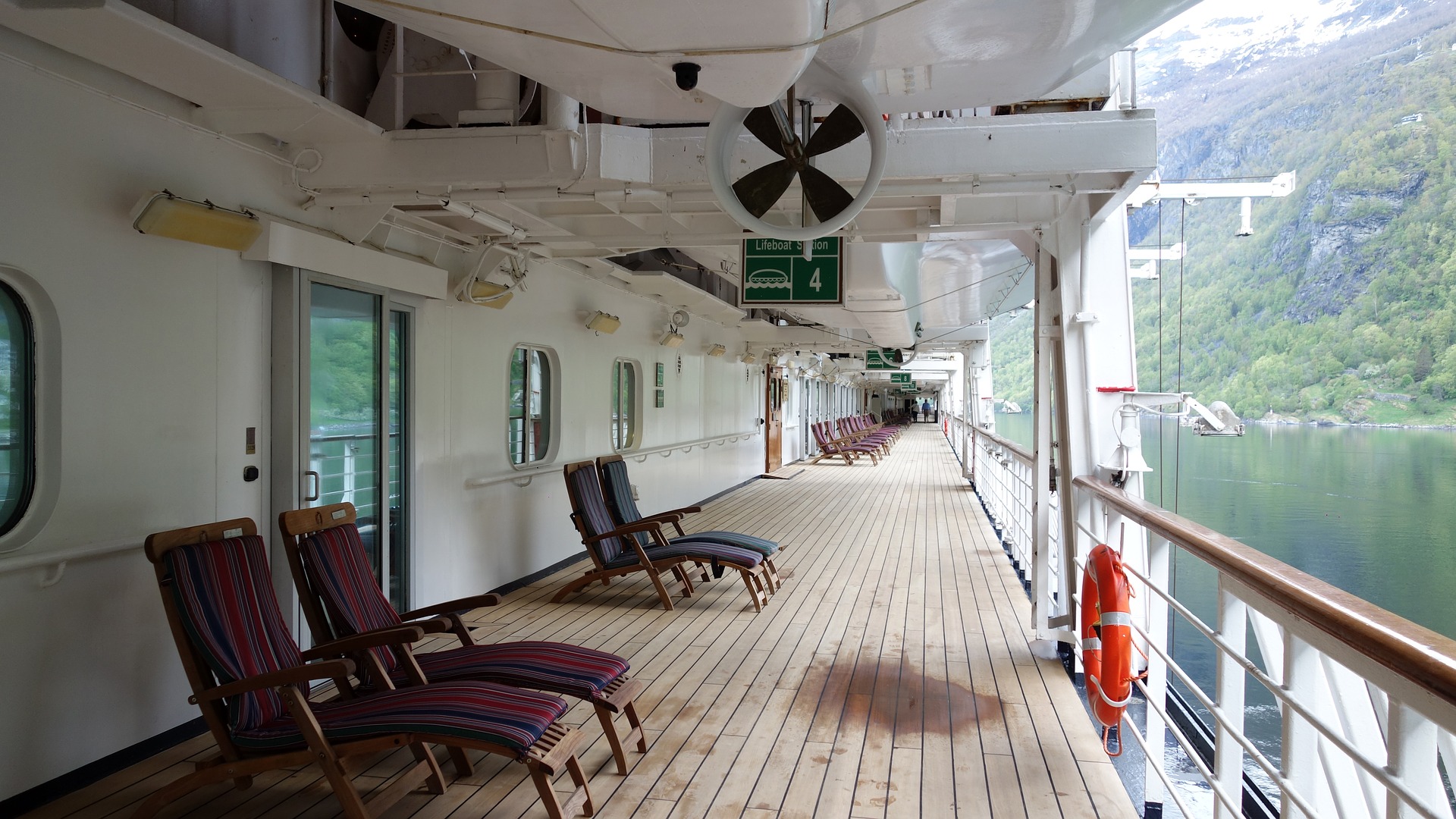 Cruise line smoking policies have become fairly uniform in recent years. Below, we outline what's allowed by each of eight major brands.
Note that specific locations where smoking is permitted vary from ship to ship within each cruise line's fleet, and unless otherwise noted, the rules apply to cigarettes, tobacco pipes, cigars, vaporizers and electronic cigarettes.
Carnival
Carnival Cruise Line limits the smoking to its casinos and casino bars, nightclubs (but not on the dance floor) and select outdoor spaces. In fact, it's one of the only lines to permit nightclub smoking at all.
Cigars and tobacco pipes are limited to certain outdoor spaces only, and smoking of any kind is not allowed in cabins or on cabin balconies.
Here is a full list of Carnival's designated smoking areas.
Celebrity
Celebrity Cruises maintains a non-smoking environment across its fleet, with the exception of designated areas. Contact Celebrity for specific locations on each ship.
Unlike other cruise lines, Celebrity does not allow smoking in its ships' casinos, and smoking is not allowed in staterooms or on verandas. Violators face fines of up to $250 and other consequences.
You can read more under Celebrity's smoking policy.
Disney
Disney does not allow smoking in any public areas or passenger rooms. It is also banned on stateroom balconies. Violators face fines of $250.
Disney does not have casinos on its ships, which effectively eliminates smoking there.
For specifics, check out Disney Cruise Line's smoking policy, or contact the cruise line.
Holland America
With a small handful of exceptions that vary by vessel, Holland America bans smoking in all indoor areas on its ships, including staterooms. With the exception of e-cigarettes, passengers found to be smoking in their cabins or on their balconies will be charged a $250 penalty fee, per day.
Smoking is only allowed in the casinos on select ships on designated nights for active players only. Cigars and tobacco pipes may only be used outdoors, with the exception of the Oak Room cigar lounge on Noordam.
More information about this policy can be found on HAL's "Know Before You Go" FAQ page.
MSC
Cruisers on MSC ships are not allowed to smoke in any public areas or cabins or on stateroom verandas. Those caught smoking in non-designated areas are subject to fines and, for repeat offenses, disembarkation.
MSC's policy, as posted online, is vague with regard to specific areas and seems to indicate that they are subject to change. Passengers are advised to look for signage and ashtrays to indicate where smoking is allowed.
See more in MSC's onboard FAQs.
Norwegian
Norwegian Cruise Line offers extensive smoking guidelines on its website, banning it from all public spaces, except cigar lounges -- like Humidor, found on the line's newest ships -- and casinos. (On the newest vessels, it's limited to specific casino areas only.)
Cigar and pipe smoking are not allowed in the casino. They are limited to cigar lounges and designated outdoor areas.
Passengers booked in Garden Villa suites are permitted to smoke in their private garden and sun deck areas. Cruisers in The Haven suite enclave are allowed to smoke on the sun deck. Otherwise, passengers found smoking in their staterooms or on their balconies are subject to fines.
View more on NCL's smoking policies, including a specific list of outdoor spaces where you're permitted to light up.
Princess
Princess Cruises' ships are smoke-free in all public areas, with the exception of Churchill's cigar lounge, found on select ships. Onboard casinos and casino bars are smoke-free, with the exception of designated slot machines. Non-smoking casino nights are also offered on each cruise.
Smoking of all types is allowed in designated outdoor spaces that vary by ship. It is prohibited in cabins and on stateroom balconies, with a fine of $250 levied for each offense. One exception is e-cigarettes, which are allowed to be used in cabins but not on balconies.
Princess' FAQ can answer more questions about the line's smoking policies.
Royal Caribbean
All Royal Caribbean ships are labeled non-smoking. However, all types of smoking are permitted in set outdoor areas that vary by vessel. (Look for signage and ashtrays.)
On sailings catering North Americans, all of RCI's onboard casinos allow smoking, but there are designated non-smoking areas within each.
Cigars and tobacco pipes are limited to outdoor use only in the permitted areas, except for the Connoisseur Club cigar lounge on the line's Freedom- and Voyager-class ships.
Smoking is not permitted in any staterooms or on cabin balconies. Cruisers found in violation of this rule will be fined $250.
For more info, peruse Royal Caribbean's smoking policy.
Can you bring cigarettes on a cruise?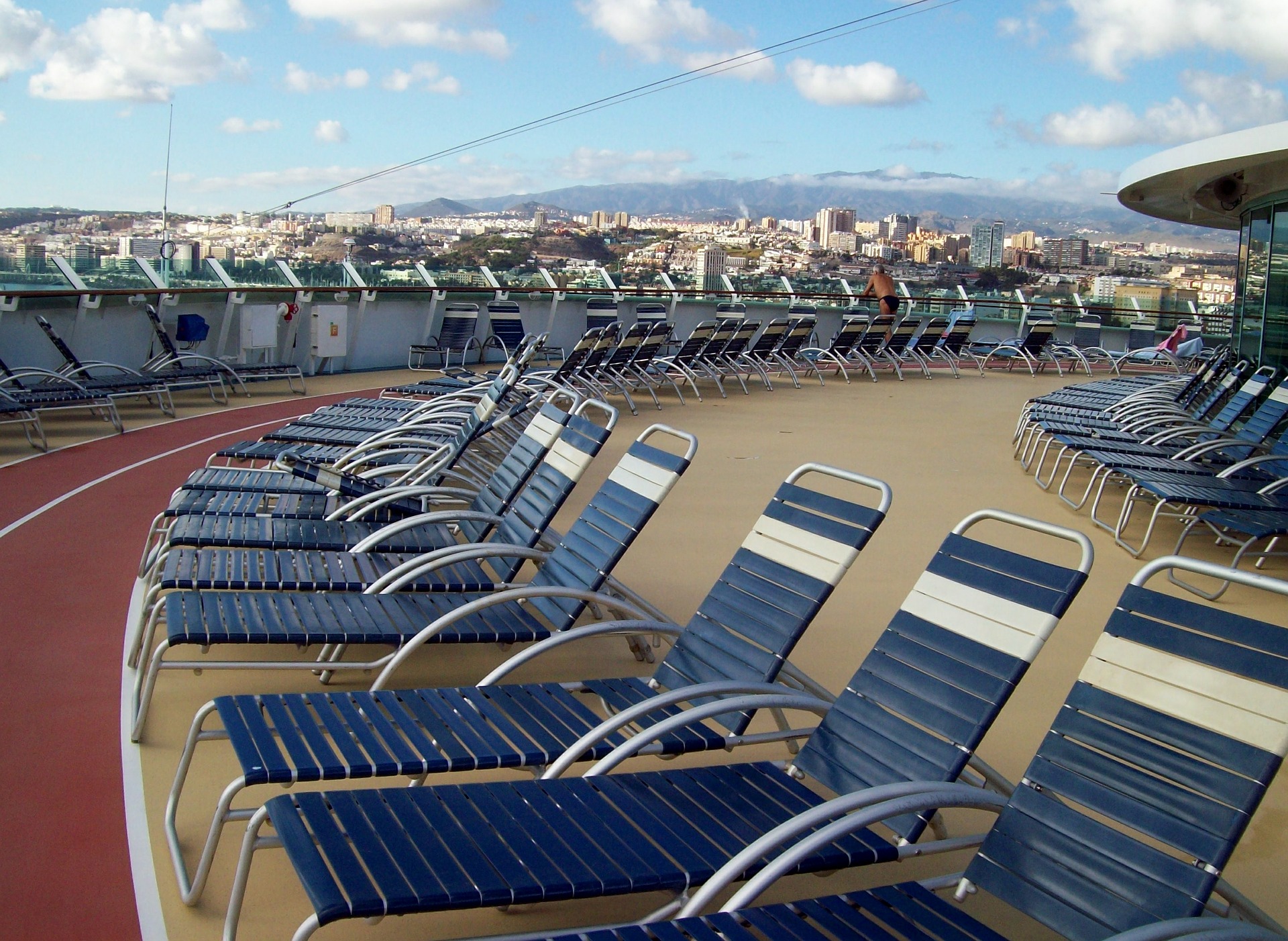 Yes, you can, along with e-cigarettes, also known as vapes. Per the rules, you can bring cigarettes onboard with you. Whether or not you're flying to your embarkation port, we recommend that you adhere to TSA rules when deciding where and how to pack your cigarettes and lighters.
You can pack an unlimited number of cigarettes in your carry-on bag, checked luggage or both, but you're limited to one fueled lighter in your carry-on. If you want to pack lighters in your checked bag, you're limited to two, and they must either be unfueled or stored in a DOT-approved case.
You can also buy cigarettes in port or by the carton, duty free, in many ships' onboard shops. However, if you want to smoke while you're sailing, you should bring your own, as some vessels hold duty-free items purchased onboard until disembarkation.
(Remember that, if you purchase duty-free items to bring home to the U.S., you will have to pay customs fees on any amount in excess of your personal allowance, which is 200 cigarettes per person.)
Can you bring cigars on a cruise?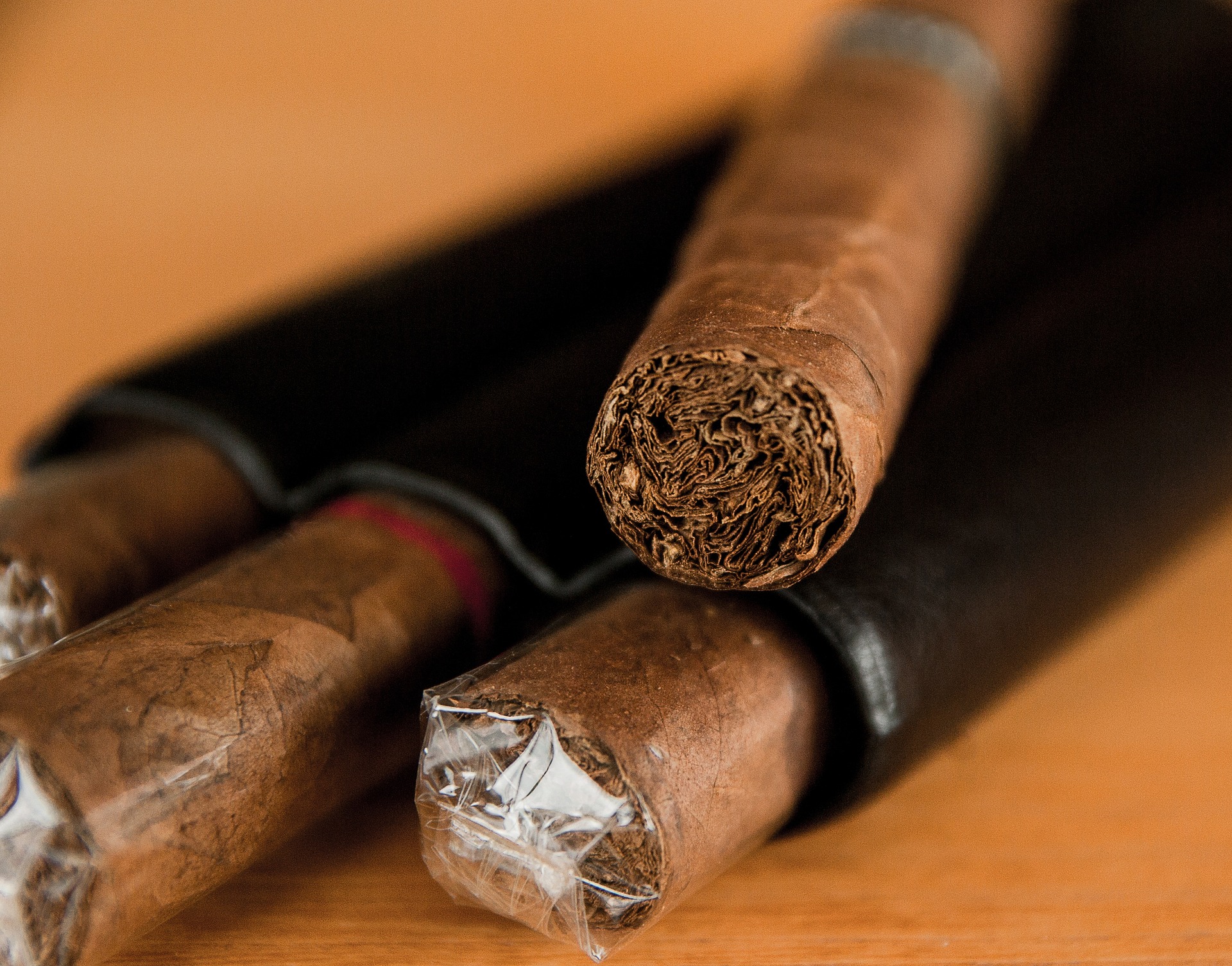 Yes. Just like cigarettes, cigars (and tobacco pipes) can be brought onboard and smoked in select areas, although those areas tend to be more limited than those in which you can smoke cigarettes. Some ships even have designated cigar lounges, reminiscent of those found on 20th-century ocean liners.
Generally styled with dark woods, jewel tones and cushy chairs, these venues are usually outfitted with humidors and a selection of cigars for purchase (if you didn't bring your own), and there's almost always a bar nearby. Cruisers can head there for a post-dinner smoke and scotch.
Cigars are also sold in the duty-free stores on most ships, in the same section where you'll find alcohol and cigarettes. (Keep in mind that your customs allowance is 100 cigars per person. If you exceed that limit, you'll have to pay duties when you return to the U.S.)
What should I do if I see someone smoking in a place where it's off limits?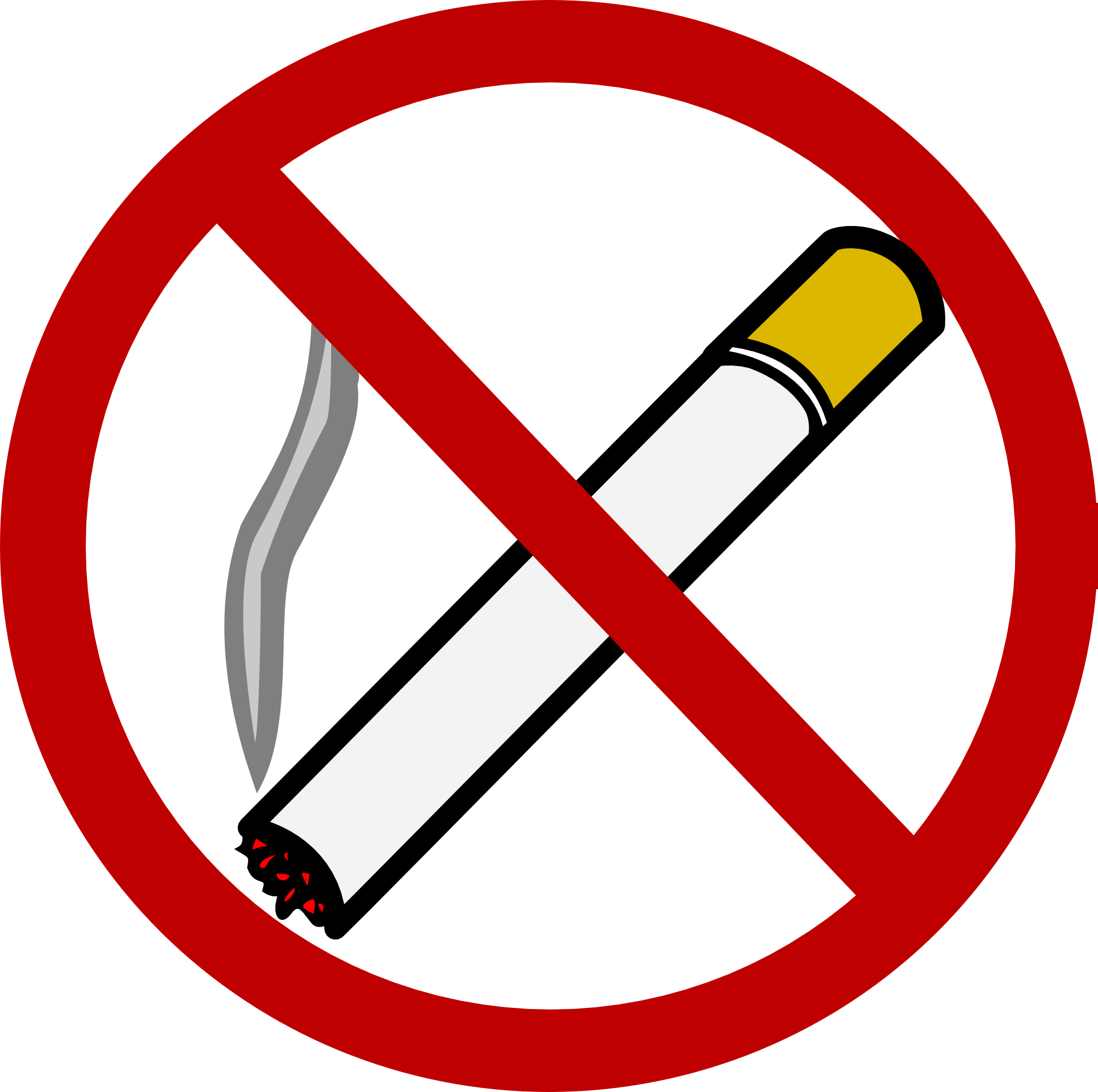 Nobody likes a tattletale, but in addition to keeping the onboard environment free from unpleasant odors, smoking rules are in place for safety reasons.
As you're likely to hear during your ship's muster drill, fire is the single biggest risk to any vessel, and cruise lines try to cut down on the risk by limiting the areas in which passengers can light up.
If you're a smoker, please keep the above in mind, and be courteous of your fellow cruisers. They might have breathing issues that require them to steer clear of irritants like smoke, or they might just simply want to enjoy fresh air as they stroll along the lido deck or sunbathe on their balconies.
If you see someone smoking where they shouldn't be, you can kindly ask them to move to an area where it is allowed. If you would rather not take matters into your own hands, you can instead alert a crew member who will handle it.
As mentioned above, smokers who refuse to adhere to the rules can face fines or -- worse -- disembarkation. (Don't forget: Ships do have jails onboard.)