Top 10 Things You Should Know about Virgin Voyages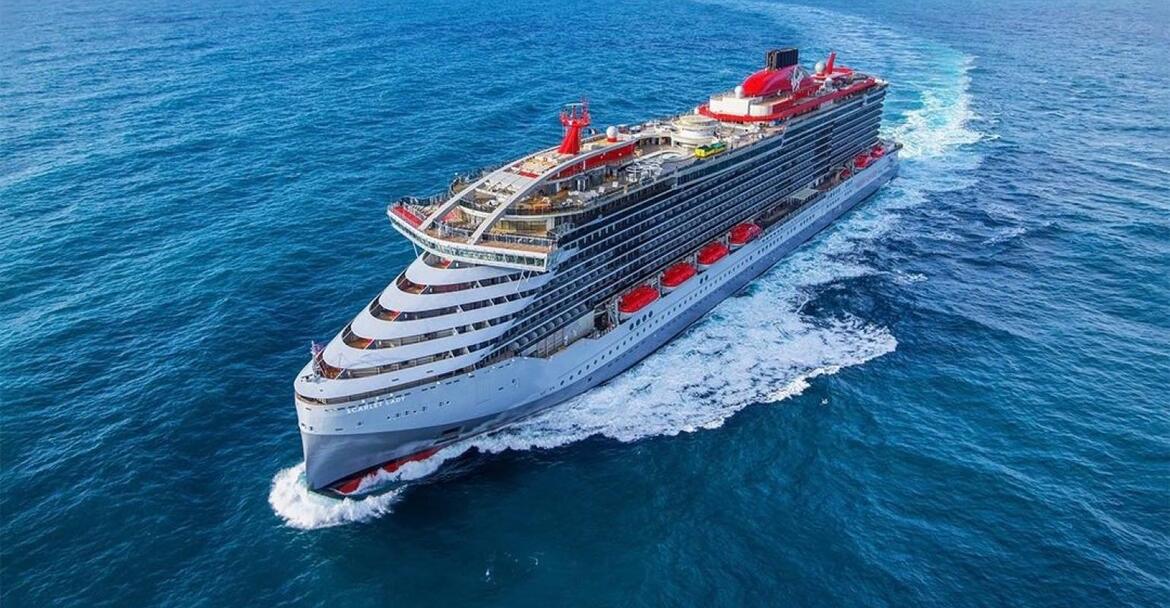 Virgin Voyages is one of the newest cruise lines out there, and you might be curious what it's all about. 
Richard Branson's newest venture has turned a lot of heads, with its first ship Scarlet Lady about to begin service.
1. Sailing from Miami
When Virgin Voyages first ship, the Scarlet Lady, arrives in North America, she will call PortMiami home.
In fact, Virgin Voyages built a brand new cruise terminal that was inspired by the palm trees of Miami Beach. The new terminal opens in 2021.
At night, the entire terminal lights up and the Virgin Voyages red logo will be bright and center.
Until the new terminal is ready, Virgin Voyages will sail from Terminal F.
2. No kids allowed
Among the many decisions Virgin made to stand out from the crowd, they opted to require all passengers to be at least 18 years old.
No kids onboard means it appears to an older demographic, as well as not needing any space onboard for kids or family activities.
3. (Almost) everything is included
Virgin Voyages promises that unlike other cruise lines, much of what you need onboard is included with your cruise fare.
All cruise fares will include basic beverages like soda, bottled water, coffee, and tea. Cruise fares will also include all gratuities, even on services such as spa treatments. Of course, you are always welcomed to provide additional gratuities for exceptional service.
4. You can get a tattoo on the ship
Can you believe the Scarlet Lady offers a tattoo parlor?
Squid Ink is the name of the place you can get a tat while on your cruise. Vegan ink is utilized in all the designs.
They also offer piercings and permanent makeup applications.
5. No buffets or set dining times
Virgin Voyages claims the ship all their food is served made to order and there is no assigned seating or dining times.
Scarlet Lady offers over 20 dining venues, with Korean BBQ, Mediterranean small plates, bento boxes, pasta and more.  All of it is included with the cruise fare.
The Galley, which Virgin refers to as a food hall concept, has been reported to be very similar to most cruise ship buffets despite what the cruise line claims.
6. Longer time in port
Another way Virgin Voyages hopes to stand apart from other lines is to allow guests more time in the ports of call they visit.
Overnight stays are offered on select itineraries, along with extended hours in ports.  Virgin hopes guests can take advantage of all of the fun things you can do on shore during the day and night.
7. Virgin Voyages is building a brand new private island
Virgin Voyages have their very own private beach club, known as The Beach Club at Bimini.
It is located in The Bahamas and is still under construction. DJ Mark Ronson is curating the music at the Beach Club and will be performaning there in 2020.
The island will offer plenty of lounge chairs, hammocks, daybeds, drinks and food to enjoy.
8. RockStar Suites
In addition to standard rooms, Virgin Voyages will offer upgraded staterooms that they call RockStar suites.
There are 78 suites on Scarlet Lady, and they have marble bathrooms, private terraces, outdoor hot tubs and music rooms stocked with electric guitars.
9. They have a special word for their guests
Virgin does not refer to its passengers as guests or passengers. Instead, they call them "sailors".
10. Lots of entertainment
On Scarlet Lady, you will find lots of performances to enjoy. PigPen Theater Co., and The 7 Fingers Creation Collective to create one-of-a-kind performances.
Scarlet Lady's main performance space, known as The Red Room, can transform into four different configurations. The Scarlet Lady will feature six original shows; hopefully one will feature the amazing drag queens that came along to the line's inaugural event.