Travelers who require wheelchairs or struggle with mobility issues can be apprehensive about their first cruise. They wonder if a cruise ship can accommodate their needs, especially when it comes to onboard accommodations. After all, the ship is going to be their home for the duration of their vacation.
Never fear! Cruises are a top choice for disabled vacationers for a reason, and with the right ship, you can have a successful and satisfying trip. Here, we answer all your questions about accessible cabins on cruise ships.
Do cruise ships have wheelchair accessible staterooms?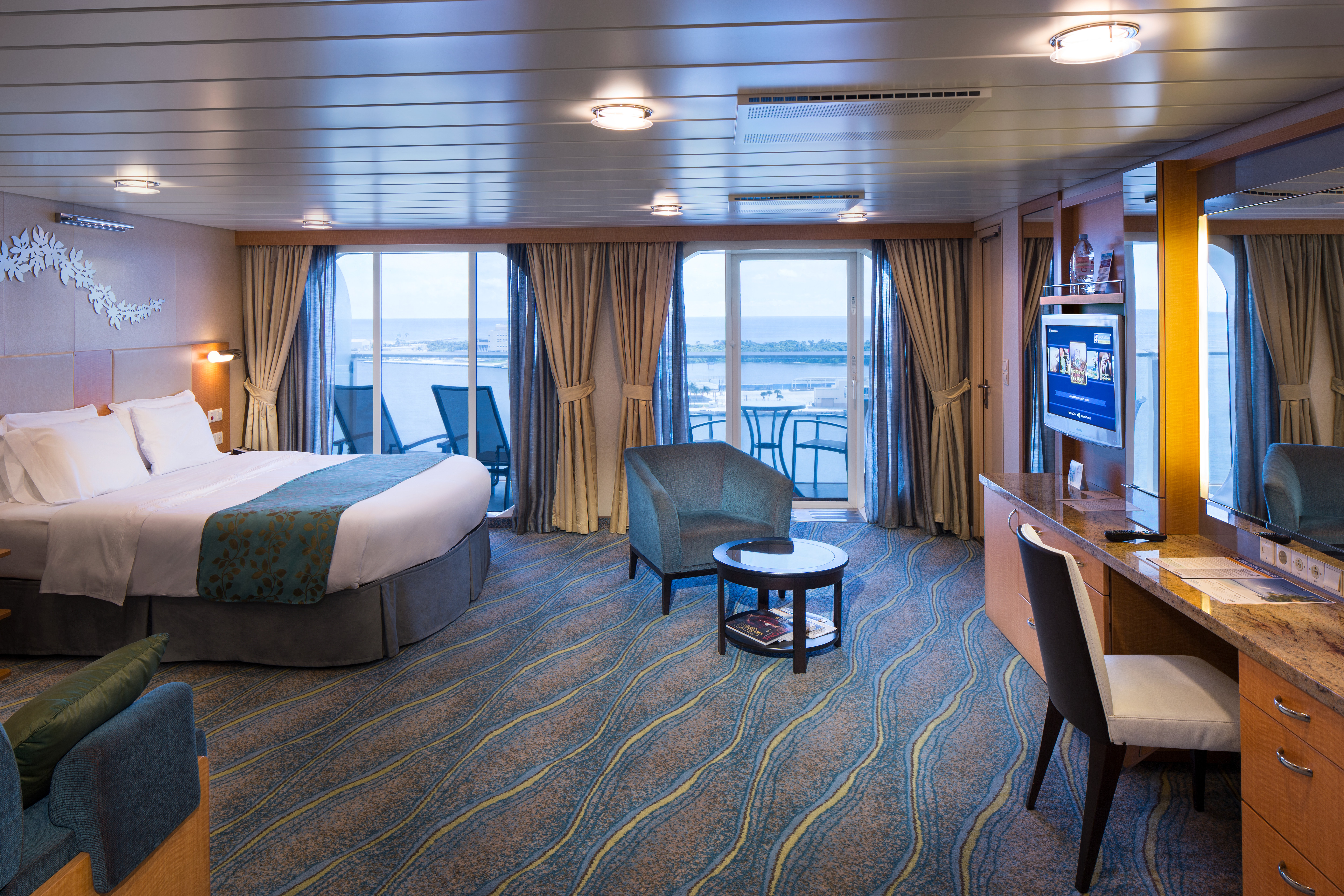 Yes, all modern cruise ships offer handicap accessible rooms. The number of accessible cabins on a ship will vary based on the size and age of the ship. For example, Royal Caribbean's new ship Odyssey of the Seas offers 41 wheelchair-friendly rooms, while Vision of the Seas, one of its oldest and smallest ships, has 14.
Are there accessible suites and balcony cabins?
Cruise ships offer wheelchair-accessible cabins in multiple categories and price points. For example, Carnival's Mardi Gras offers a mix of fully accessible and ambulatory accessible cabins in inside, outside, balcony, Havana Cabana, Premium Suite, and Ocean Suite categories.
Are handicapped rooms bigger than standard rooms?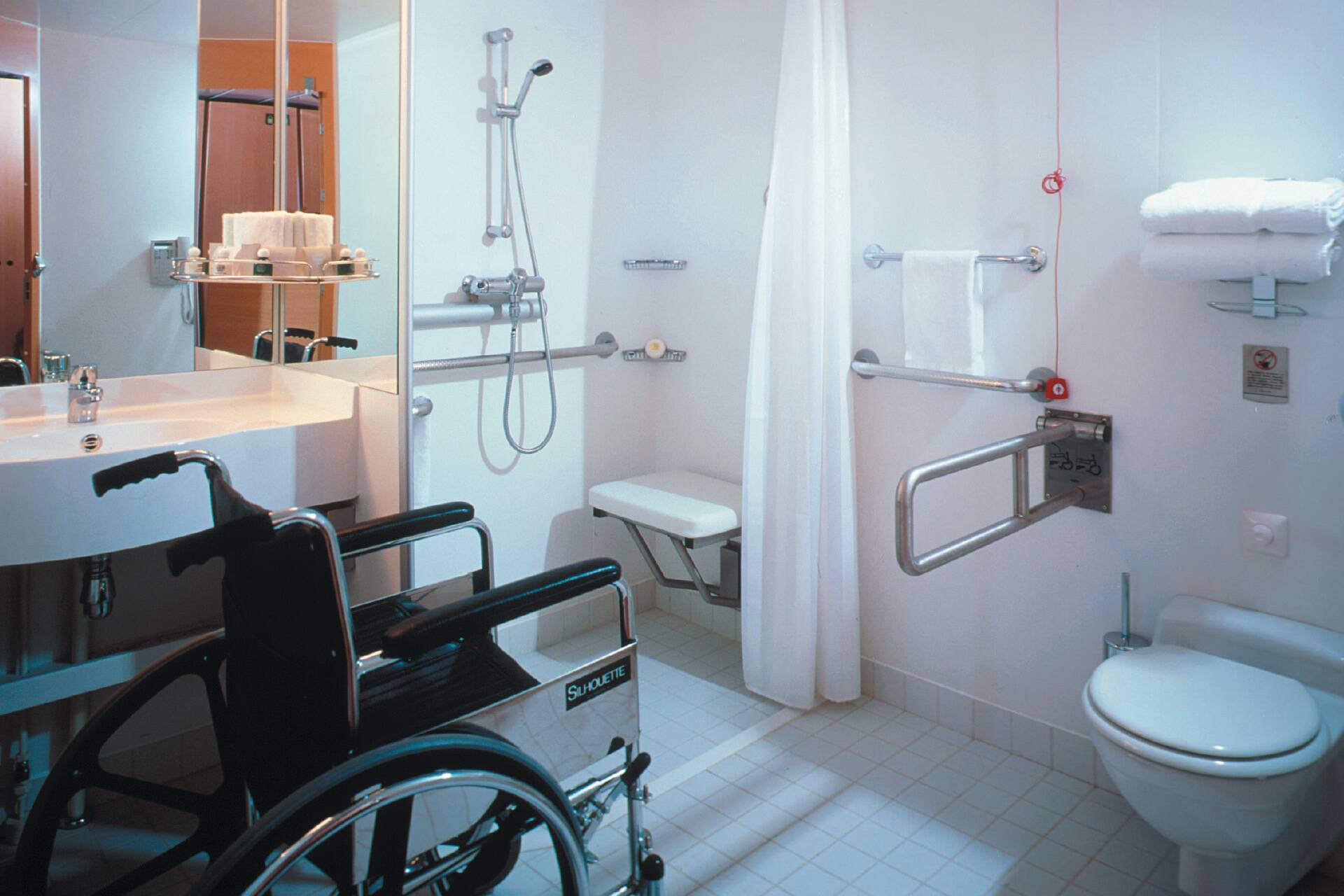 Rooms designed for wheelchair or scooter users typically are larger than the standard cabins in the same category, as they provide extra clear floor space for mobility scooters to maneuver or for passengers to position a wheelchair by the bed to get in and out. They also have larger bathrooms in order to support roll-in showers.
Are cruise ship cabins compliant with the ADA (Americans with Disabilities Act)?
All ships that operate in U.S. waters must be ADA compliant. 
What amenities do accessible cruise cabins offer?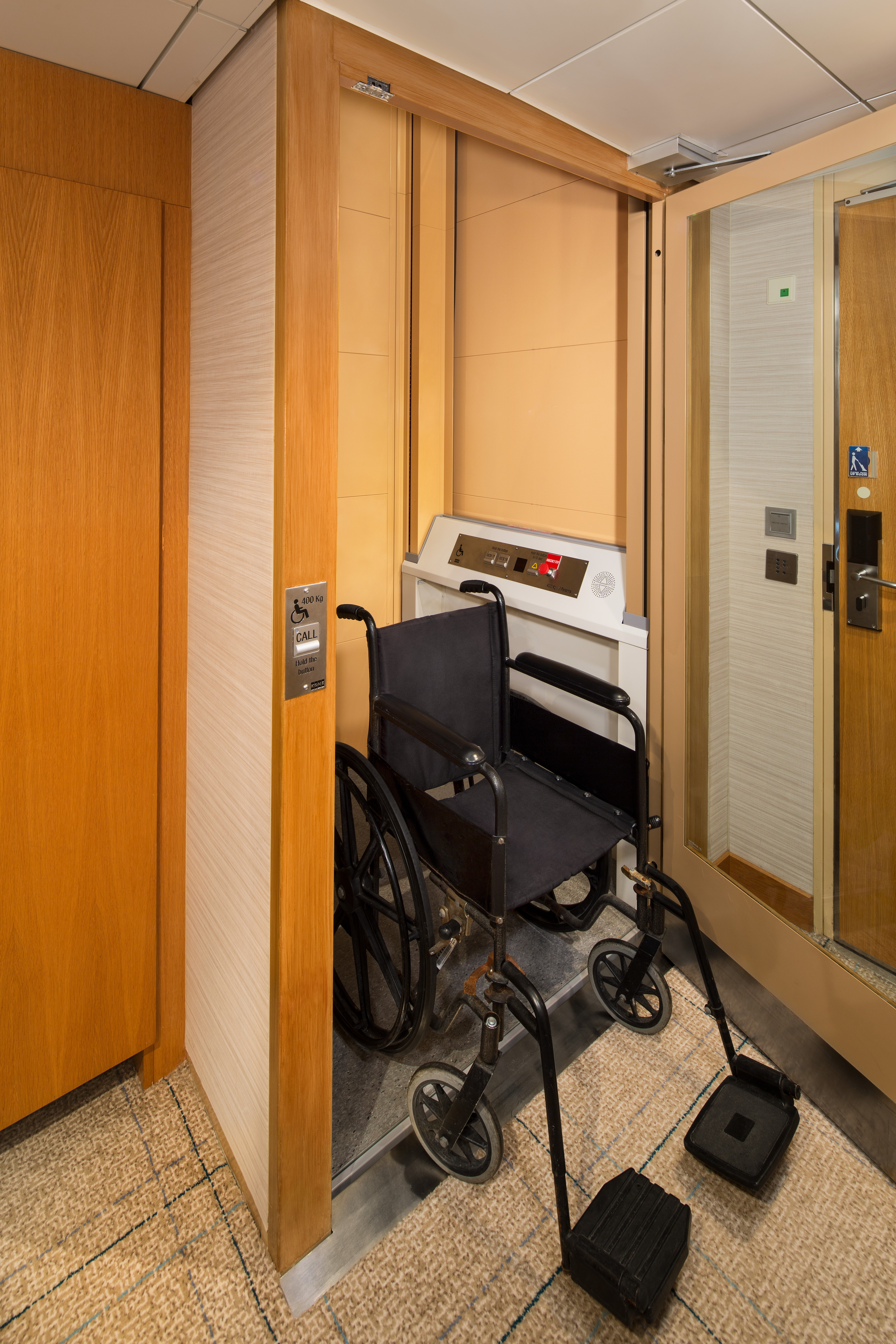 Disabled cabins on cruise ships typically feature wider stateroom, bathroom, and balcony doors to accommodate the size of a wheelchair or motorized scooter. Doorways offer either a ramped entry or a smooth threshold, so wheels can roll right through and passengers using canes or walkers don't have to navigate a raised doorstep.
Inside the cabin, closet rods and safes are positioned lower for easy access from a chair. The desk/vanity is set up to accommodate a wheelchair. Cabins and bathrooms are spaced out to offer a full five feet of turning radius for a wheelchair or cruise mobility scooter.
You'll find the most noticeable amenities in the bathrooms, which have roll-in showers with fold-down benches and hand-held shower heads, lowered sinks, raised toilet seats, and grab bars.
Many accessible cabins also come with emergency call buttons. Because accessible cabins may be set up for multiple types of disabilities, you may find amenities for hearing or vision-impaired guests, such as braille instructions and lights that blink when the doorbell rings.
What amenities do handicapped rooms on cruise ships not offer?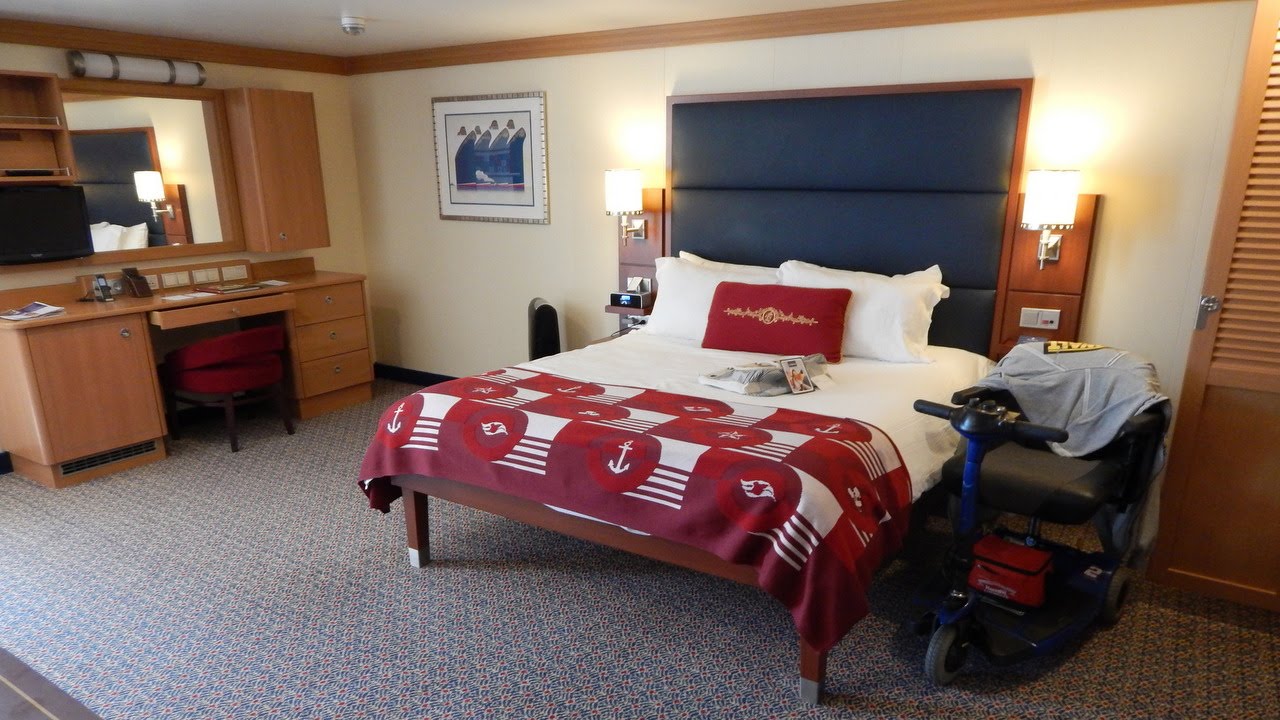 Details matter when it comes to wheelchair-accessible cruise cabins, as we learned from Debra Kerper, an accessible travel specialist with Cruise Planners and a member of Royal Caribbean's Disability Advisory Board. A double amputee who has been on more than 100 cruises, she's experienced the disconnect between a cabin's description and the reality of living in it.
"Some ships make their balconies too small," she says. "You can get out the door in a powered wheelchair, but you can't fit all the way onto the veranda." That makes the balcony useless for the wheelchair user and a waste of money. She notes that some of Norwegian's accessible cabins in the exclusive Haven area fall into this category.
She has also stayed in disabled cabins on cruise ships where the queen-sized bed could not convert to twins or where room for a wheelchair transfer was only available on one side of the bed. Depending on the needs and preferences of wheelchair-bound travelers, certain bed configurations might be unacceptable. 
Fully accessible cabins always come with a shower bench, but sometimes these fold-down seats are too small – especially for an amputee like Kerper. She's had to request a large transfer bench for the shower so she could have the stability of a larger seat that she could hold onto. 
Automatic doors are not standard in wheelchair-accessible cruise rooms, and cruise ship doors can be heavy. Kerper commends Royal Caribbean's Radiance and Quantum-class ships for featuring these rare auto-opening doors.
Finally, not all handicapped rooms are fully accessible for passengers with little to no mobility. Several of Carnival's accessible cabins are actually "ambulatory accessible cabins," meant for people who use a cane or walker, but aren't full-time wheelchair users. These rooms have grab bars to offer extra stability, but have steps or thresholds between the main room and the bathroom or balcony, and may not have the space to accommodate a wheelchair.
Kerper notes that it's important to find out the exact details of what the accessible cabin can offer and what it does not to know if it will work for you.
Where can I store my walker, wheelchair, or scooter in my cabin?
You must store your assistive device inside your cabin. Most cruise ships do not allow passengers to park their wheelchairs or cruise mobility scooters in the ship's hallways, where they can obstruct exit routes.
Cruise lines recommend that passengers with mobility impairments bring or rent a wheelchair or scooter that can collapse or fold to fit under the bed or in the cabin's closet. While this might be necessary if you've booked a regular cabin, most handicapped accessible rooms have plenty of space to store a wheelchair or scooter, as well as outlets by the bed for charging motorized equipment.
Are any solo cruise cabins wheelchair accessible?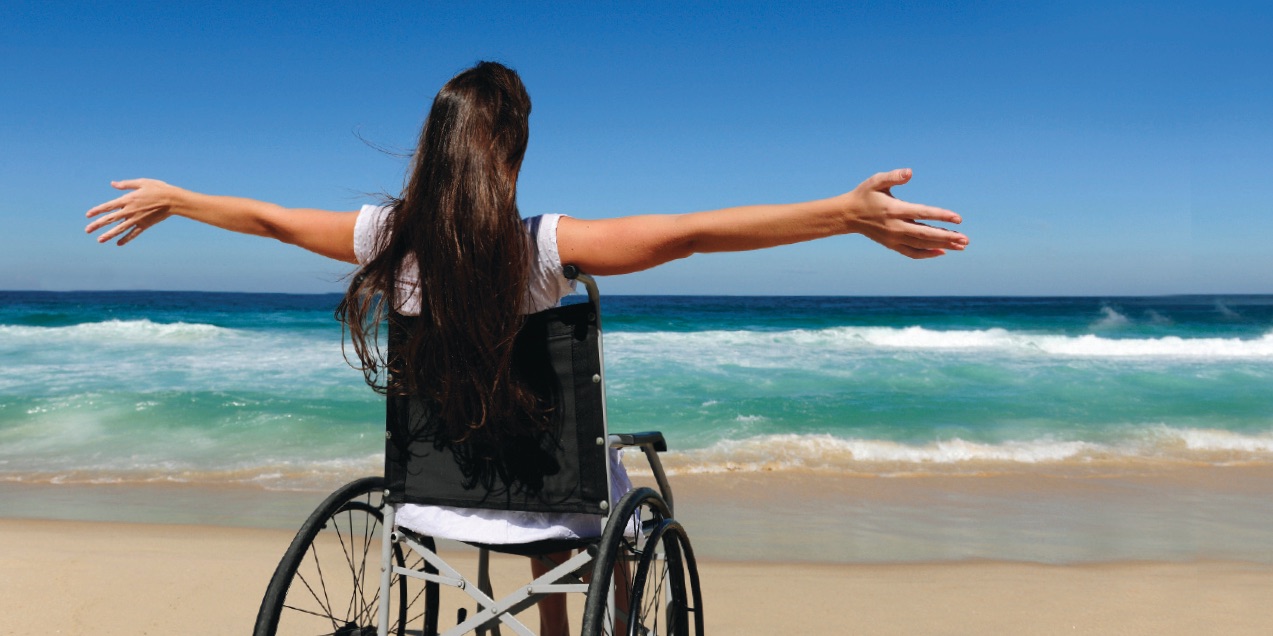 Most accessible cruise cabins accommodate two or more travelers. Regular solo cabins are rare in the industry, and the rooms tend to be smaller than standard cabins. So far cruise lines have not deemed it worth their while to devote a room large enough for a wheelchair to just one paying customer.
However, Kerper confirms that disabled travelers are allowed to cruise on their own as long as they do not require assistance with daily living. "You will never ever get any personal help with anything" from cruise ship crew, she says. "If you need help, you must travel with a caregiver." 
Cruise ship staff cannot help travelers transfer from their wheelchair to the bed or toilet, or assist them with other daily tasks. Kerper begs travelers to be honest with themselves and their families about their needs. "People never think they're as disabled as they are," she says. If your spouse isn't able to help you with daily living tasks while on vacation, you'll need to bring along another family member, friend, or professional caregiver to assist you.
Can anyone book an accessible cruise cabin?
In truth, the answer to this question is yes. Kerper says that when you go to reserve an accessible cabin, the cruise line is supposed to check with you to make sure you need it. Some lines, such as Princess, will make passengers sign an attestation that they are disabled. Carnival often requires that passengers contact the line's accessibility department in order to reserve a handicapped room.
However, due to medical privacy concerns, a cruise line cannot ask why you need the room or require any kind of proof. Some travelers will take advantage of this loophole in order to book a larger cabin.
How far in advance do I need to book an accessible cruise ship cabin?
"Accessible cabins definitely sell out," says Kerper, "but how far in advance they sell out varies by ship and itinerary."
She says Alaska sailings tend to sell out of disabled cabins before Caribbean cruises and recommends booking your Alaska trip a year in advance. You can assume that cruises that are popular with the general public – new ships, hot destinations – will be popular with handicapped travelers, as well.
The higher-end staterooms will also fill up before inside and outside cabins because there are far fewer of them. She uses Royal Caribbean's Oasis of the Seas as an example. The 5,500-passenger ship has only 42 accessible cabins. Of those, only two are junior suites and one a loft suite. Among her clients, she sees a lot of demand for accessible suites, but there simply aren't enough of these rooms to meet the demand. Book as early as you can if you want to nab one.
Which cruise ships have the best cabins for wheelchair users?
With decades of experience working with disabled travelers and sailing on many ships across multiple cruise lines, Kerper has a good idea of which ships work better than other for travelers in wheelchairs. Both she and her customers give Royal Caribbean top marks for its customer service to disabled people. 
"I'm a big fan of Royal Caribbean's accessibility," she says. "Celebrity, Norwegian, Holland America, and Princess are also very good. But I'm not a fan of Carnival. The cabins aren't spacious enough and the pool decks aren't accessible."
As a rule of thumb, the newest ships on any line are always the best in terms of accessibility, with the largest variety of wheelchair-friendly cabins. 
How can disabled travelers ensure they book the right cabin?
Find a travel agent, like Kerper, who is knowledgeable about cruising with a disability. Not only will these agents have personal knowledge about the nuances of accessible cruise cabins, but they will have contacts at the cruise lines' accessibility departments who can provide them with answers to questions they don't know. Regular travel agents and cruise line reservation agents don't always have details beyond what's printed in the brochure about the set-up of a cruise ship's handicapped rooms.
"With the right itinerary and ship, 95 percent of disabled travelers have an outstanding experience on a cruise vacation," says Kerper. "You're not spending extra money to use a knowledgeable agent." But having someone help you pick the best ship and cabin for your trip can mean the difference between an okay and an amazing vacation.
Need more help picking the perfect cruise room? Learn more about how to choose a cruise ship cabin.