Our last port of call is Freeport on Grand Bahama Island. It's a short stop, mainly to refuel the ship. Carnival Pride arrived in port while it was still dark, and all-aboard was set for 1 p.m.
Paradise Cove
Today was another early wakeup call day, so we ordered room service to arrive at 7 a.m. We ordered an array of breads, fruit, yogurt, and caffeinated beverages, and ate it on our balcony while watching the container ships and forklifts on the cargo pier across from us.
Image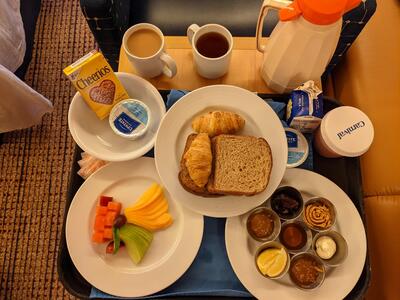 Image
The port of Freeport, Bahamas, is an industrial port and is walking distance to absolutely nothing. A straw market sets up in the port area when ships are docked, but unless you want to purchase souvenirs, you need to take a tour or catch a cab.
The first and last time I visited Freeport on a ship, I had no plans and asked at the tourist information booth in port for options. I didn't love the beach the reps sent us to, so I decided to do my own research ahead of time for this visit.
Image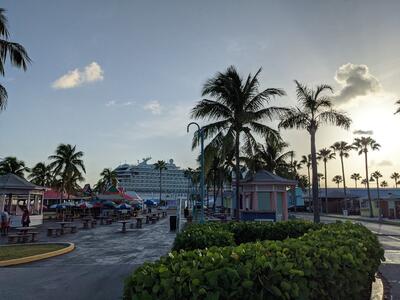 Image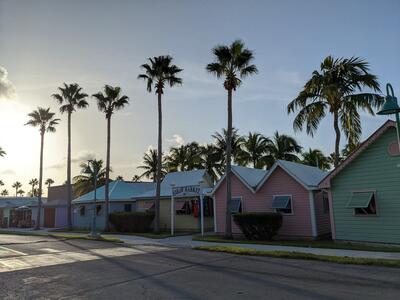 I looked online for resorts that offered day passes to cruise visitors. Many of them were all-inclusive, but we didn't want to pay a flat fee that included drinks and food we wouldn't consume because we'd be leaving at noon. Also, many of the resorts were a cab ride away, adding another expense to the day's tab.
Somewhere in my wanderings around Google, I found Paradise Cove. It claims to be a resort, but it's a beach with two rental properties on site you can book for a few nights. Its Beachgoers pass cost $50 per adult for beach access, a lounge chair, a rum drink, and – this was key – transportation to and from the cruise port. We also had the option to go snorkeling or rent kayaks and standup paddleboards.
I emailed with the owner to confirm the beach was open and what time we would need to leave to get back to our ship on time. He responded within a few days, and I booked our visit online, plus a shade umbrella for $7.
Upon disembarking the ship, we walked to the Harley Davidson store, by the cruise tour departure area, to wait for our ride. We were the only pickup from the port, and it was just us and our driver, Mr. Talker, on the half-hour ride to Paradise Cove. He pointed out sights of interest, including his house, along the way.
Image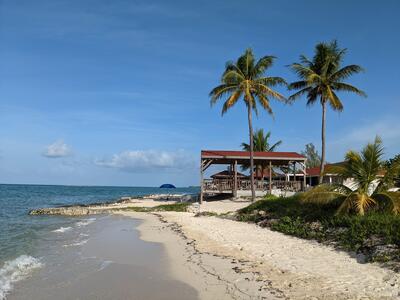 Image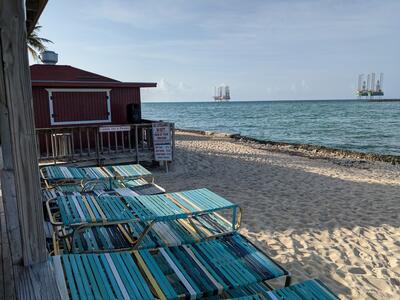 Image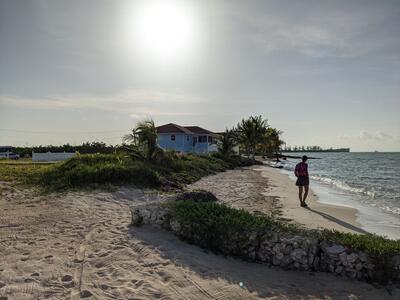 Image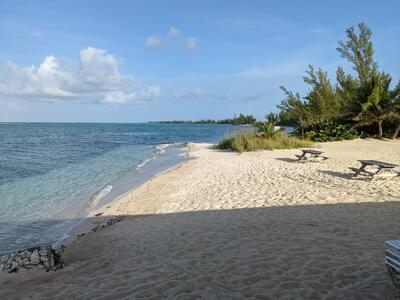 At Paradise Cove, we checked in and the owner, Barry, set up the chairs and umbrella for us. The beach is small, but we had the pick of chair locations because we were the only guests there. That's right, with tourism still suppressed due to the pandemic, we had the beach all to ourselves. Four other snorkelers arrived about a half before we left.
The beaches in Freeport are not like Half Moon Cay. The water by the Paradise Cove beach was murky, with sea grass and seaweed floating on the surface. Our view looked out on cargo ships and some kind of offshore rig. It didn't look like paradise. We weren't sure we wanted to get in the water. Had we set ourselves up for disappointment?
Then again, the weather was perfect, warm with a slight breeze, and the music coming from the deck area was festive without blasting. We could move our chairs around to follow the shade without bumping into other sunbathers. No one was hounding us to buy things, or annoying us with their loud music or conversations. We could sunbathe all morning in peace. Things were looking up.
Image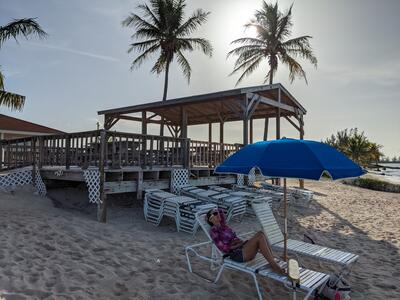 We asked Barry about the snorkeling at Paradise Cove since we'd brought our snorkels with us. He pointed out three areas of interest. Straight ahead was a grassy area where a group of sea turtles lived. To the left was a section of reef balls, a type of man-made planter made of organic materials that encourages new reef life to grow and attracts fish. On the other side of the rocky outcroppings we could see was a natural reef with lots of fish called Dead Man's Reef.
Unlike our Nassau trip, we'd have to swim a ways to get to the underwater attractions. Barry said we were welcome to swim out on our own, or we could book a private guided snorkel tour for $10 per person. That seemed like a good deal to us, and we also rented flippers and flotation belts.
It was the best $20 snorkel tour I've ever been on. Barry helped us adjust our new snorkels and even held our hands to guide us over the reef balls and around the coral formations. He spotted a sea turtle swimming in the sea grass that I would not have noticed and pointed out a young turtle resting in the sand by the reef. When I found a sting ray, he helped us swim after it at a safe distance.
Image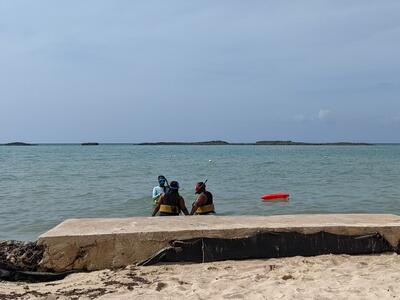 He named the various fish for us, from snappers to rainbow fish, and found us safe places where we could stand up and rest without damaging the coral. Even though the water was murky in some areas, it was lighter the farther out we swam, and we saw a lot in only an hour. If we had gone in alone, we wouldn't have known where to find the best sea life, and might have given up and turned back early.
Back at the beach, we cashed in our drink tickets for Bahama Mamas. (The other options were beer, bottled water, and soda.) The drinks didn't look like much served in plastic cups, but they were fruity and strong. This is not a resort that cheaps out on its included drinks.
Image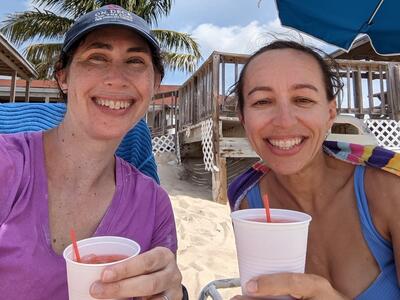 Paradise Cove is a family-run operation, and a local lady runs a gift shop there as her own business. We decided we'd rather spend our souvenir money at the place where we'd had such a nice morning, rather than at the cruise port shops, so before we left, we browsed around. I picked up a bottle of locally made hot sauce and my friend bought small paintings of the beach done by a local artist.
By the time we had paid for our purchases and packed up, it was 12:30 p.m. With jumped back in the van and arrived at the port just a few minutes before all-aboard. When we paused by the fence around the port, looking for the gateway to the ship, the enthusiastic pier runner spectators called down to us with directions. But they couldn't embarrass us because we were onboard at 1 p.m. on the dot. That counts as on time in my book, even if we were the last people back on the ship.
Now that's what I call making the most of a short stay in port!
Halloween
Unbeknownst to us, Carnival is celebrating Halloween on every cruise that departs in the month of October, and tonight, the second formal night, is All Hallow's Eve onboard. A few spooky decorations are up,  including an animatronic witch, and the formal night photo backdrops included one with the grim reaper peering over your shoulder. Other cruisers got the message and had costumes at the ready.
Oddly, it's also '80s night with an '80s themed show in the theater and hits from that decade performed by the band in the Red Frog Pub. Had I known, I would have packed an '80s-style costume for Halloween, but instead I'm rockin' my formal attire.
Before the fun got started, we had to eat. The dining room menu is so varied that we often have trouble deciding between options. We have succumbed to the common cruise phenomenon of handling indecision by sampling one of everything. 
For appetizers, we each ordered a salad, which was healthy enough, but then I ordered the pumpkin soup and my friend ordered the vegetarian Indian entree because she wanted to try tonight's surprise dishes. Our two-top table was barely big enough for all the plates. The pumpkin soup was nicely flavored, and the Indian food mixed surprisingly well with our salad.
Image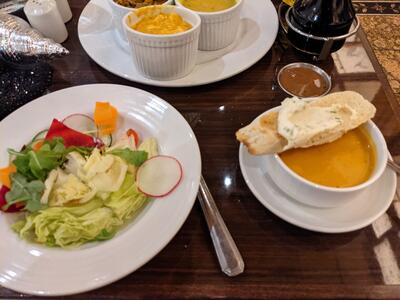 We managed to clear enough plates for the waiters to bring the main dishes. My friend said the shrimp was delicious and the portion perfectly sized. My spanikopita (Greek spinach pie) was served over a potato and vegetable stew, and the combination was delightful.
Image
Image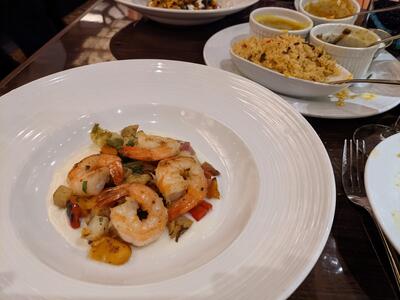 Image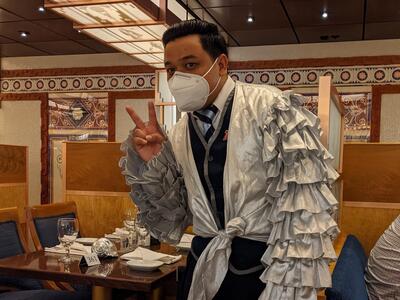 Even after we got up and danced with the waiters to Justin Timberlake's "Can't Stop the Feeling," we didn't think it was a wise idea to try and eat dessert. We did it anyway because, well, we're on a cruise ship!
The grand marnier souffle tasted like warm pancakes softened with a creamy vanilla sauce. It was comfort food bliss. My friend gobbled up her no-added-sugar key lime mousse as if it had real calories in it. At this point, my Halloween costume was destined to be The Blob.
Image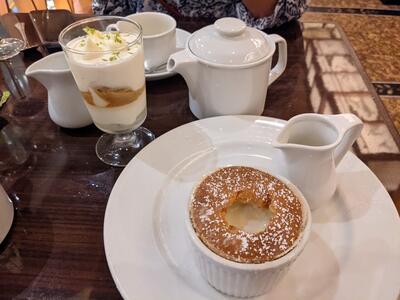 After dinner, we went to see the hits of the '80s show in the theater. Carnival shows are big on special effects, and the show designers used the LED curtain to do its own take on the cartoon romance of Aha's "Take on Me." Sparks literally few during Janet Jackson's "Rhythm Nation." The audience had fun singing along to all their favorites.
Rumor has it that we are about to cruise into a "developing weather system," and the bad weather started during dinner, with lightning visible outside. The Lido Deck Halloween costume party, which was scheduled for after the show, was moved to the Beauties nightclub. The two-deck space was not intended for big events, and I couldn't find a good vantage point that wasn't already taken, so I snapped some photos and left.
Favorite costumes including an undead bride and groom, ghostly pirate wench, a married cop and robber, and an 84-year-old woman in a flapper dress with lightup ghost earrings.
Image
Image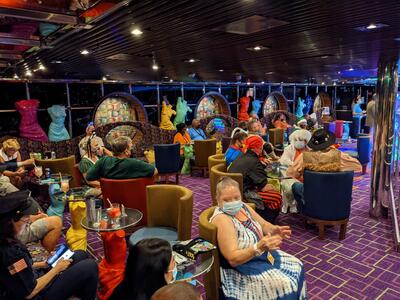 Image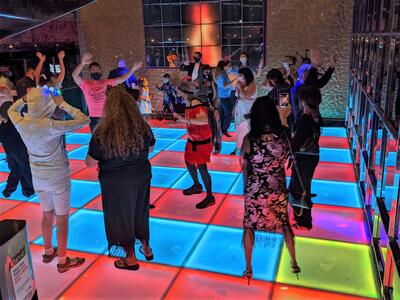 We spent the evening at our favorite late-night hangout, the Red Frog Pub. A cover band plays there every evening, and the lead singer, Marisko from Jamaica, has an amazing and versatile voice. He can sing any genre of music, it seems, and knows how to connect with his audience. The pub has a fun vibe, too, with round tables built around faux palm trees, and it feels like a destination, rather than a generic cruise ship lounge.
Tomorrow is our last sea day, and I'll give some final thoughts about the Carnival Pride cruise experience. Unfortunately, our last chance for sun and pooltime may be dashed by the developing storm.
Today's towel animal is a...ram? They get more difficult to guess every day!
Image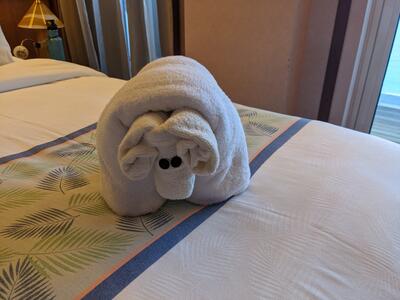 Missed a day of live blogging? Catch up on previous days' trip reports:
Carnival Pride Live Blog 2021 – Day 5 – Half Moon Cay
Carnival Pride Live Blog 2021 – Day 4 – Nassau, Bahamas
Carnival Pride Live Blog 2021 – Day 3 – At Sea
Carnival Pride Live Blog 2021 - Day 2 - At Sea
Carnival Pride Live Blog 2021 - Day 1 - Embarkation