I have one last sea day before my cruise ends, and we're sailing through a storm. The ship is pitching in 12-foot swells (or so guesses the cruise director), and we've seen lightning flashes out our stateroom window. 
The pool areas are drenched and closed. The Deck 3 lobby flooded by the doors to the promenade deck. All entertainment activities have been moved indoors.
You know it's bad when motion sickness bags appear by the elevators. You know it's really bad when you return half an hour later and all the bags are gone. Even the sober people are lurching about the ship and clutching the hand rails in the cabin corridors as they walk.
Instead of detailing my exciting day playing trivia, browsing photos, and trying not to fall down, I'll share my thoughts about my first cruise experience in a year and a half.
Safety
Covid safety was my biggest concern coming into this sailing. I live in an area with high vaccination rates, but I've still been cautious, not eating at indoor restaurants, wearing masks everywhere, and mainly socializing outdoors and in small groups.
Image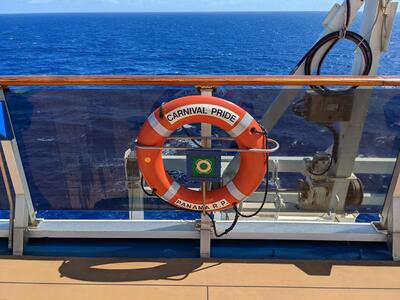 I was convinced to cruise because Carnival is sailing its ships at a lower capacity and with no fewer than 95 percent of guests vaccinated. Everyone needs to take a Covid test one to three days before departure (based on vaccination status) and unvaccinated passengers (exclusively kids and adults with medical exemptions) get tested again at embarkation and on the last sea day of the cruise (today). The crew get tested every other week.
According to the cruise and hotel directors, Carnival Pride is the only ship in the Carnival fleet to not have had any Covid cases onboard. No one tested at the pier has tested positive and been denied boarding. Sure, Carnival Pride has only been sailing for a month, but other ships had their first cases on their first sailings.
The lowered capacity helps with crowding, and it makes for a much nicer experience for cruisers who aren't wasting time in long lines or fighting over deck chairs. Certain activities – such as the passenger-interactive Hairy Chest contest – are not being offered because they're high-touch or hard to social distance. Formerly indoor activities have become outdoor events. Hand sanitizer is everywhere, and I've noticed crew cleaning microphones between uses at karaoke.
Image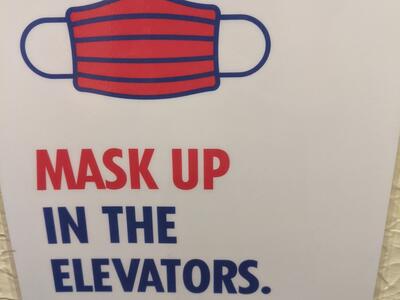 Masking is only required in specific areas – riding in elevators or walking through dining venues – and dining staff have masks at the ready to offer guests who don't have them. On several occasions, I've seen crew remind passengers to put their masks on, and most people comply. Only once or twice did the passengers blatantly ignore the request, mainly in elevators. On the other hand, many cruisers, like me, are wearing their masks in all indoor areas.
It's not always possible to social distance in certain venues. At first, I got nervous sitting close to strangers both indoors and outdoors, but I've felt more comfortable as the cruise has gone on and I remind myself of all the precautions that have been taken. 
I don't think I'd be comfortable taking my unvaccinated kids on a cruise anytime soon, though I recognize that with a mainly vaccinated population and all the testing requirements, a cruise ship might be safer than their school building. However, with the kids club closed and family-focused events like the Seussapalooza Parade canceled, young kids might not have as much fun on sea days as on a pre-pandemic cruise. In the Bahamas, families with unvaccinated kids must take the ship's "bubble" tours if they want to get explore in port.
I'm not sure we'll ever know if anyone caught Covid while in port and test positive after they get home. But I can attest that the cruise ship experience feels safer than many on-land activities where you don't know whether people are vaccinated.
The ship
Carnival Pride is one of Carnival's older ships, but I have enjoyed its size and layout. It's easy to get around because I know most of the action is on Decks 2, 3, and 9. The older ships can be more spacious than the newer ones, with roomy standard cabins, plenty of pool and deck space, and a variety of indoor hangouts. 
My only complaint is there's no way to avoid walking through the casino if you're traversing Deck 2 without going up and over on the deck above.
Image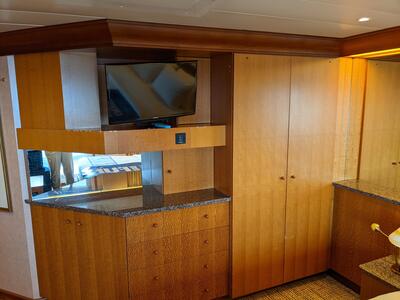 The upgraded venues, such as the Red Frog Pub, Alchemy Bar, Bonsai Sushi, and Serenity sun deck make the ship feel more modern, even if it doesn't have the hot new attraction's like Shaq's Big Chicken restaurant or a rollercoaster. The décor does feel dated – especially the wild Renaissance art theme – and cabins could use a refresh. The wooden furnishings in my suite are chipped and scuffed, and the closet doors don't track or close properly. It's not the first impression I would want to give suite guests.
I would have liked to have a bit more restaurant choice, especially at dinner. As we weren't particularly keen on sushi or market-price lobster, our only dinner options were the buffet or the main dining room after our first night Steakhouse meal. I missed not having Cucina Italiana or Ji Ji Asian Kitchen as alternative venues for my evening meal.
As an unexpected suite guest, I appreciated the extra perks, such as priority tendering and debarkation. But I actually like that Carnival Pride is more democratic than its newer fleetmates, without all the restricted-access onboard venues that are exclusive to residents of certain cabin classes. The folks in inside cabins can have just as much fun as those paying suite prices, and aren't made to feel second class.
Image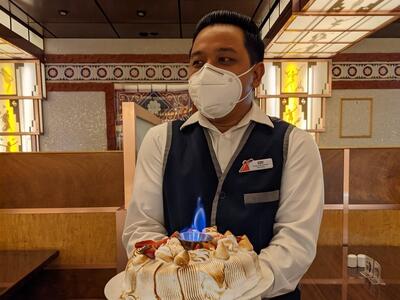 Image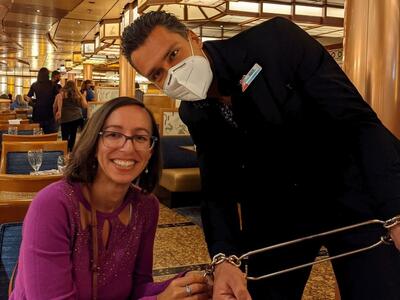 The crew, as always, are lovely, with smiles for everyone. The wait staff humored our off-menu orders and need to try multiple dishes, and showed us all their dance moves. Our cabin steward K asks about our day every time we see him. And we adore Mate the magician who confounds us at mealtime with magic tricks we cannot figure out.
Carnival is also known for its live music, which makes you want to linger longer in its bars so you can hear just one more song. The performers we've heard have been outstanding, especially Marisko and the Shostoppas band in the Red Frog Pub. I love how people become regulars at their favorite spots, where suddenly everyone (the musicians, bartenders, and other guests) knows your name.
Carnival Hub app and internet
I haven't mentioned it much throughout the week, but I must give a shoutout to the Carnival Hub app. Since I last cruised, paper menus and daily schedules have disappeared and been replaced by the app. It makes life so much easier and my cabin less cluttered with unnecessary paper.
Without paying for Internet, I can look up restaurant menus (for today and future days), see the activity schedule and save my favorites in a separate list, look up the ship's map, peruse shore excursions, request a table for dinner, and see my reservations. For five bucks, I can text with members of my travel party via the app.
For people who can't live without Internet, I can report that the connectivity is excellent on Carnival's highest bandwidth Internet package. Wi-Fi speeds have been good enough for me to email, surf the web, and upload photos. The plans are pricy, so consider whether you really need to be online during your vacation or if you can disconnect for a week.
Thanks for following along with my adventure to the Bahamas. I'll end my live blog with my last towel animal. I definitely know what this one is!
Image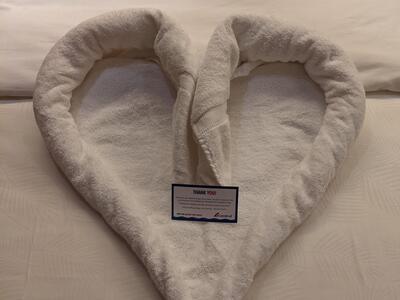 Missed a day of live blogging? Catch up on previous days' trip reports:
Carnival Pride Live Blog 2021 – Day 6 – Freeport, Bahamas
Carnival Pride Live Blog 2021 – Day 5 – Half Moon Cay
Carnival Pride Live Blog 2021 – Day 4 – Nassau, Bahamas
Carnival Pride Live Blog 2021 – Day 3 – At Sea
Carnival Pride Live Blog 2021 - Day 2 - At Sea
Carnival Pride Live Blog 2021 - Day 1 - Embarkation