Disney Cruise Line is launching its first new ship in 10 years, Disney Wish. Set to debut in the summer of 2022, it is the first of its new Triton class series.
In the decade since Disney last launched a new ship, a lot has changed, and they have taken the opportunity to develop great new amenities and entertainment options, in addition to incorporating technology for the best interactive experiences.
Whether you love the classics like Mickey and Minnie, Frozen, Star Wars, or Marvel there is something for everyone to enjoy.
Here are the top 10 new things on Disney Wish.
Bigger and better
Image
The Disney Wish is 10% bigger than its predecessor, Disney Fantasy, being both longer and wider. This extra room allows for some great new amenities onboard which guests will no doubt love.
Breaking new ground for the cruise line, Disney Wish will be powered by Liquefied Natural Gas (LNG), a good move forward in lessening its carbon footprint.
First-ever attraction at sea
Image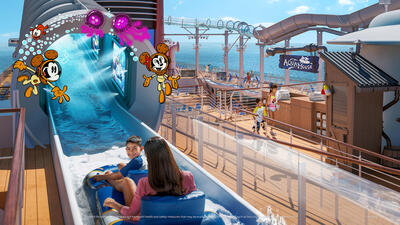 AquaMouse, celebrated by Disney as the first-ever attraction at sea, is what people love most about the Disney parks, great rides and slides.  
A Mickey and Minnie themed water slide set amongst a colorful cartoon world, it features music, lights, and other special effects as guests slide down a 760 foot slide, culminating in a drop into a lazy river.
Interactive experiences
Image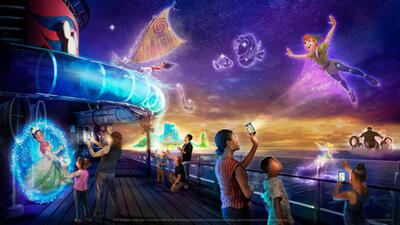 Truly innovative, the Immersive Family Experience tasks guests with saving the universe by going on a hunt for pieces of a shattered Wishing Star.
With the help of mobile devices that act as enchanted spyglasses, families look for clues across the storybook worlds of Nemo, Peter Pan, Moana and Princess Tiana while battling Disney villains.  
Located in a high-tech cargo bay of the future, Star Wars Galactic Creature Keepers is an interactive adventure where kids join the resistance, helping Rey and Chewbacca battle their foes.  
Next level dinner theatre
Image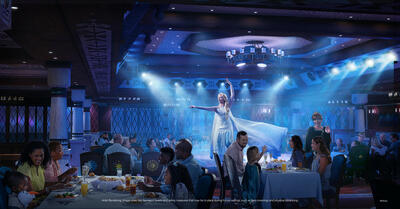 Disney has taken dinner theatre up a notch, with original and diverse settings where cruisers are part of the show.  
Arendelle, a Frozen themed dinner theatre takes guests to the Kingdom of Arendelle to celebrate the engagement of Queen Anna and Kristoff. It features Norwegian inspired cuisine along with musical performances.
Across the universe in the World of Marvel, participants partake in an Avengers mission, the ultimate dinner adventure. Food includes American cuisine and flavorful African delights.
New shows
Image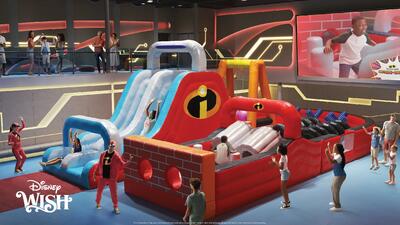 Disney has developed an exclusive musical production for Disney Wish. The ever popular, Little Mermaid has been revamped into a Broadway style show that amplifies the original story with new design and set production.
The Hero Zone is a game show style competition where families compete head to head in a futuristic sports arena.
Wonderland and Never Land Cinemas host movies, showing both Disney classics as we as new Disney, Pixar, Marvel, Lucasfilm and more.
Adult fun and relaxation
Image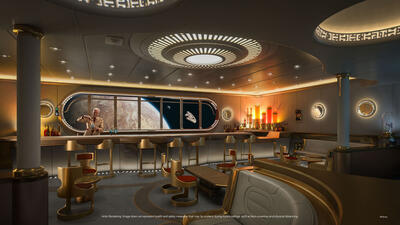 The fun isn't just for kids, with some new dedicated venues that let adults have their own space.
The Star Wars Hyperspace Lounge features out of this world cocktails and first hand views of foreign worlds like Batuu and Tatooine.
Image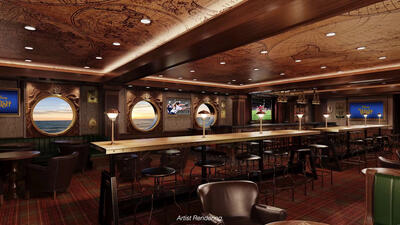 Keg & Compass is a Viking inspired pub serving craft beers unique to the Disney Wish. For a different vibe, enjoy drinks at The Rose, which evokes the sophisticated atmosphere of the enchanted castle from Beauty and the Beast.
For those who want to enjoy the sun and relax, Quiet Cove is an adults only retreat with an infinity pool and lounge located on the ship's upper decks.
Dining
Image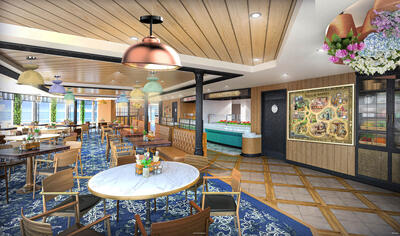 As always, there is a wide selection of dining options onboard. Families will love Marceline Market, a café style venue that lets guests choose from 10 different food stations themed with popular Disney characters. Fun fact, Marceline is the name of  Walt Disney's hometown in Missouri.
1923 is named for the year that Walt Disney Studios was founded. This upscale restaurant features Californian fare in a retro atmosphere with storyboards, sketches and early animation.
Adult only restaurants include a new itineration of Palo as a steakhouse, along with its famous classic Italian dishes. The ultimate in fine dining, Enchanté offers international cuisine from a Michelin star chef.
Royal accommodations
Image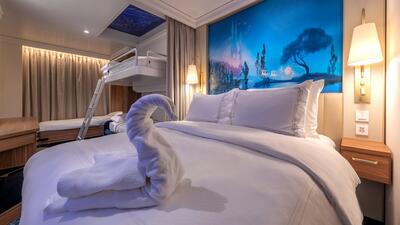 Disney Wish features twice as many suites and concierge level rooms onboard, a great option for those wanting to splurge.  
Want to have the same view as the captain? Try the first-ever cabin located above the bridge. With the best views onboard, guests enjoy their own lounge with a private sun deck.
Image
Any princess will feel at home in one of four of the new Royal Suites, luxuriously designed and decorated to host up to six guests with all the perks you expect. Two of them feature two level suites, with a spiral suitcase.
Enhanced staterooms
Image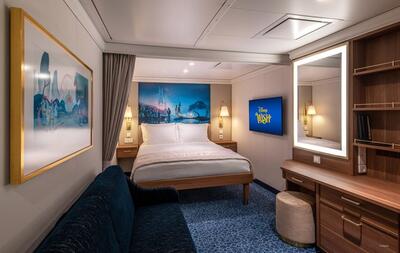 Cabins aboard Disney Wish have been refreshed to create an elegant new look, with natural tones and pops of color from Disney artwork.
Verandah (balcony) cabins make up 70% of the staterooms,  re-designed to improve functionality, including split bathrooms in most.
Other improvements include more connecting rooms, a bonus for larger groups who want to share spaces. Oceanview rooms have gained in size with an extra 14 square feet in space.
Itineraries
Image
Want to sail on Disney Wish?
With its homeport in Port Canaveral, the Disney Wish is scheduled for 3 and 4 night Bahamian Cruises with stops in Nassau and Disney's Castaway Cay.
Special sailings include " Halloween on the High Seas", a  spooky celebration with festive treats and activities, and  "Very Merrytime", a holiday event to celebrate the best of the season.
Other Posts You May Enjoy: