Have you ever wondered how fast a cruise ship is sailing? Depending on your vantage point, it could feel like you are sailing at a very fast speed onboard a cruise ship, gliding through the endless blue sea. Other times, watching a massive cruise ship sail away from port might seem like the ship is moving at a snail's pace. 
Most ships sail at a comfortable cruising speed for the majority of one sailing. The speed of your cruise ship varies greatly depending on the ship's size and engine power. The cruising speed is often decided considering the ship's fuel consumption as well.  
Image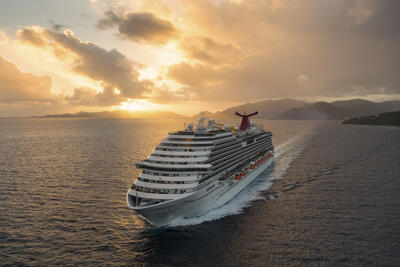 Captains will also adjust the cruise ship speed for passengers to enjoy a specific landmark or scenery. For example, while sailing through Alaska, you might find the ship sailing much slower than normal during the Inside Passage. This allows the passengers to take in the scenery while also protecting the marine life in shallower waters. Slow sailing is also standard when getting up close to glaciers or cruising through a fjord. 
Additionally, the weather and ocean conditions can also impact how fast your cruise ship is sailing. If there's a storm in the area, the captain might choose to sail faster or slower than a normal pace to ensure smooth sailings.
Luckily, modern cruise lines can sail fast to avoid a storm when needed while large, choppy swells might require the ship to sail at a slower pace.
Average Speed
Image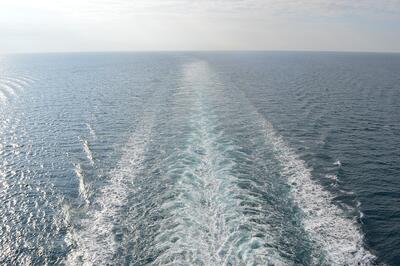 For ships sailing at sea, speed is measured in knots and nautical miles. One nautical mile is approximately 1.15 land-based miles. 
Most cruise ships sail at 20 knots per nautical mile, which translates to 23 miles per hour on land. Anywhere between 18 and 22 knots would be considered a typical speed for a cruise ship. This would be a speed of 20 to 25 land-based miles per hour. 
To put this in context, if a cruise ship was able to sail on land, it would take about 100 hours to sail from New York to Los Angeles. This is impressive considering the massive size of most cruise ships these days. 
Maximum Speeds
Image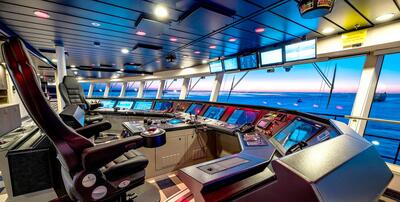 The maximum speed for most cruise ships is between 25-30 knots per nautical mile, which is a maximum of 35 miles per land-based mile. Currently, Cunard's Queen Mary 2, a transatlantic vessel, has the fastest speed for a modern day passenger ocean liner with 30 knots as her maximum speed. 
On average, Royal Caribbean vessels tend to have the fastest average speeds. 
See here to learn more about the differences between ocean liners and cruise ships. 
For the most part, cruise ships would rarely sail at their maximum speed other than during sea trials. During a ship's sea trials, the captain will usually test the ship's maximum speed to ensure the ship meets performance specifications. 
For example, Royal Caribbean's Harmony of the Seas reached a maximum speed of 26 knots during her sea trials; however, the cruise line's CEO clarified they would probably never have the ship sail at that speed. This is mostly due to fuel efficiency. 
Faster Ships
Image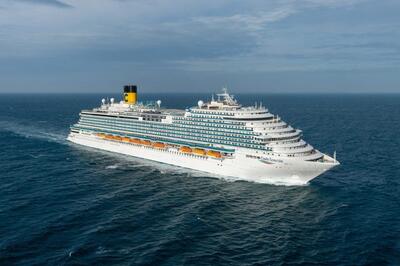 With ships continuing to get built larger and larger, it can be hard to imagine that cruise ships can sail at even faster speeds. 
In fact, new ships are being redesigned to improve overall performance of its engines and hull design. This is where cruise lines can tweak the ship's design or structure as needed.
Improvements are being made to allow ships to sail faster without consuming as much fuel. Most cruise lines aren't looking to make their ships faster though, as this isn't environmentally friendly. Rather, cruise ships are being built to improve efficiency that would allow the ship to consume less fuel while sailing at the same speed. You're on vacation and don't want the ship to be moving so fast it becomes annoyingly noticeable!
Image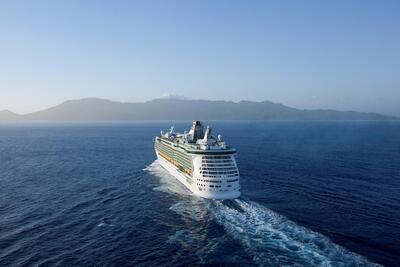 Fun fact: Did you know cruise ships will purposely slow down when arriving in port? You will rarely arrive earlier than expected, and that is because cruise lines are charged docking fees based on the amount of time in port.