Royal Caribbean's ship the Wonder of the Seas has made its European arrival this week, first docking in Barcelona, Spain.
Wonder of the Seas will be conducting 7-night cruises from Barcelona and Rome for the summer season, beginning on Sunday May 8th.
Image
(Barcelona, Spain)
While sailing it's European itineraries onboard Wonder of the Seas, guests will be able to visit destinations such as Florence, Naples, and Capri, Italy; Provence, France; and Malaga, Spain.
The Wonder of the Seas will continue its European sailings through the western Mediterranean through the summer season, into October 2022. In November of this year, Wonder of the Seas will make its return to the United States to begin its winter itineraries in the Caribbean and The Bahamas. While visiting these locations, Wonder of the Seas will also make stops at Royal Caribbean International's private island, 'Perfect Day at CocoCay'.
Image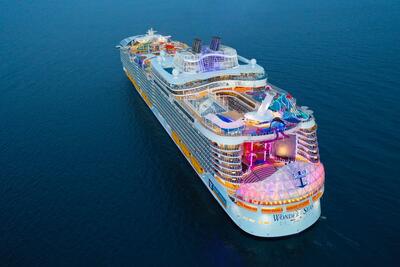 Featured onboard Wonder of the Seas for the summer season in Europe, will be original entertainment from Royal Caribbean, across Wonder of the Seas four stages; 'air', 'ice', 'water' and theatre.
Royal Caribbean International has stated, "more than 100 performers and technicians, and cutting-edge technology, come together to bring to life full-scale productions line 'inTENse', featuring the first all-female cast of aerialists, high divers, slack-liners and more in the one-of-a-kind 'AquaTheater'; and The Effectors II: Crash 'n' Burn, debuting this summer, where Royal Caribbean's very own high-tech superheroes - The Effectors - battle it out with their arch nemesis the save the planet once again."
Image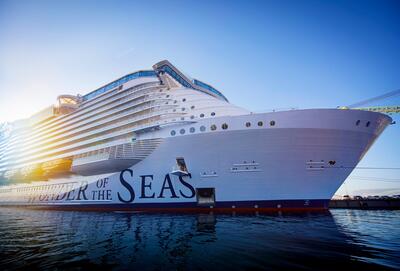 On board Wonder of the Seas, guests will be able to experience eight 'neighborhoods'; Suite Neighborhood, The Mason Jar Southern Restaurant & Bar, and Wonder Playscape are just some of the areas onboard that are Royal Caribbean firsts aboard Wonder.
Wonder of the Seas also has onboard many Royal Caribbean fan favorites including; FlowRider, The Ultimate Abyss, Adventure Ocean, Social100, The Patio, Central Park, Boardwalk, and Playmakers Sports Bar & Arcade.