For cruisers seeking an all-inclusive experience, it can be challenging at times to figure out what comes with the cruise fare and what is extra. Nobody likes to begin their vacation by being hit with a bunch of additional fees. 
What is included in the basic Norwegian Cruise Line (NCL) fare? For the most part, it is similar to other cruise lines. A stateroom, select food, entertainment, activities and sports are among the major inclusions.
There are, however, are extra fees for dining venues and certain beverages and activities.
Here is what you need to know about what is included with a Norwegian cruise fare.  
Food and Beverages 
Image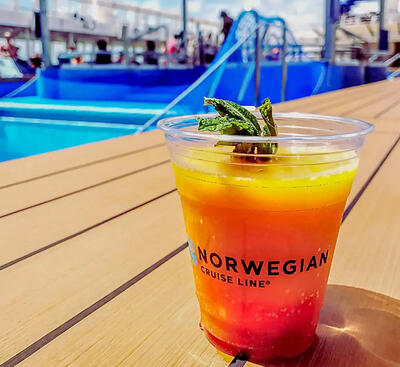 Norwegian offers several complimentary food venues for guests to enjoy:
Main Dining Rooms with daily rotating menus and a range of cruisines. Norwegian's signature Freestyle Dining allows for flexible dining times, which allows cruisers to come when they please.
Buffets - no cruise is complete without a buffet. Open for breakfast, lunch and dinner, it has something for everyone.
Hungry at 2 am? Norwegian has you covered with 24-hour options such as O'Sheehan's Neighborhood Bar & Grill, an Irish style pub with great classics to satisfy those late-night munchies.
Shanghai's Noodle Bar treats guests to Asian cruising featuring freshly prepared noodles, delicious wok fried dishes, authentic soups and more
During the day enjoy the Main Pool Bar & Grill for quick bites and grill favorites
Coffee, teas and pastries at select cafes
Guests can enjoy the following free drinks:
Tea and coffee
Iced Tea
Select Juices (during breakfast only)
Water
Activities and Entertainment
Image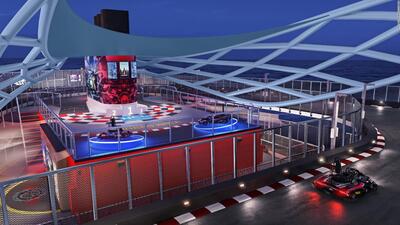 Once guests have finished enjoying meals, there are plenty of amenities and activities to keep them busy that are included in their base fare. Norwegian is known for its rich entertainment options that include a variety of shows such as Jersey Boys, Kinky Boots, Footloose and other Tony award winning musicals. Included with the cruise fare:
Live Music
Theme parties
Comedy Club
Variety Shows
Games
Trivia
Night Clubs
Amenities/Activities
Pools and hot tubs
Waterpark with slides
Sports Complex
Basketball
Table tennis
Fitness Centre
Mini golf
Jogging track
Ropes course
With its newer ships, Norwegian has added fun, thrill seeking activities including a new improved race track, laser tag, interactive mini-golf, and Galaxy Pavilion virtual reality complex. Unfortunately, these have additional fees.
Kids Programs
Image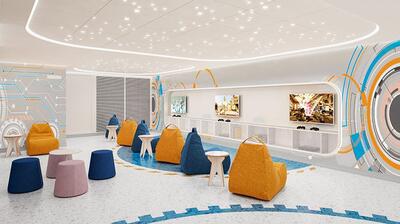 Kids clubs can be tons of fun for all ages, and Norwegian offers lots of complimentary options. Splash Academy for Kids is the cruise line's complimentary age-based, kids' programs offering:
Guppies for ages 6 months to 3, where kids enjoy sensory play, music, and activities focus on movement and colors. However, parents must accompany their child. 
Turtles for ages 3-5 offers arts & crafts, circus school, developmental activities, storytelling, parades and treasure hunts.
Seals for ages 6-8 offers circus skills such as scarf juggling, plate spinning and rope spinning. Also included are theme nights, painting, sports, games, parades, treasure hunts and video games.
Dolphins for ages 10-12 has more advanced circus skills such as stilts, ball juggling, and devil sticks. Kids participate in scavenger hunts, themed nights (survivor/spy), sports, team building activities, and video games.
Entourage for teens provides a dedicated hang out, where teens get to play video games, watch movies, enjoy arts, music and sports with people their own age away from their parents.  
Teens get to show off their creativity and personality with music jams, dancing, singing and other fun activities such as creating balloon sculptures and graffiti masterpieces. More circus skills, dodgeball, soccer, basketball, and top it all off with a fun party every night.
Access to private islands
Although most excursions are extra, Norwegian offers the opportunity to visit their private islands in the Caribbean with select activities for free.
Harvest Caye
Image
Off the southern coast of Belize lies Harvest Caye, Norwegian's private island retreat. Surrounded by the lush greenery of Central America, guests are treated to a wide range of activities on this 75 acre oasis.
Harvest Caye hosts an abundance of natural wildlife as well as access to a barrier reef, the second largest in the world. Cruisers can enjoy the stunning beach or snorkel at the Belize Barrier Reef, the second largest in the world. The 15,000-square foot pool has a swim-up bar and a waterfall.
The resort style area is complimentary and includes plenty of chairs and umbrellas. Food and beverages are extra, as the venues are run by local owners. So, if you choose to purchase a beverage package, don't expect it to work on the island. 
Western Caribbean sailings often include a stop at Harvest Caye. 
Great Stirrup Cay
Image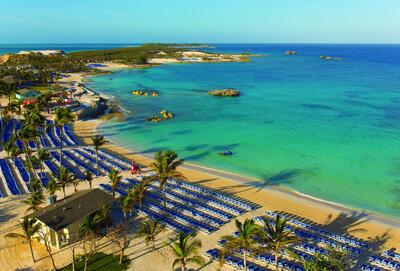 Norwegian's other private destination is located in the Berry Islands, the northernmost islands in the Bahamas. A 268 acre island oasis, it is a lush paradise and guests can enjoy its vast beaches, great snorkeling as well as other activities. There are lots of great beaches, including the 1,500 foot long main beach, with ample loungers and some natural shade.
There are a number of complimentary good options onshore including the Jumbey Beach Grill for some BBQ favorites, Abaco Taco Bard and a new food truck Topic Like It's Hot with some island flavors.
Unlike Harvest Caye, Norwegian drink packages work on Great Stirrup Cay (but note that they are an additional charge). 
FREE AT SEA Program
Image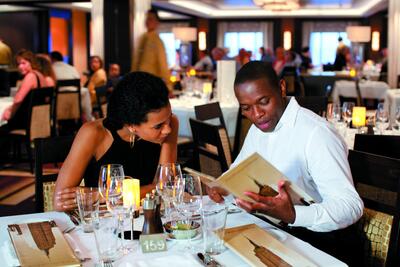 Norwegian currently offers its FREE AT SEA program, which adds a number of perks to your cruise fare. Eligible cruises are listed on Norwegian's website. Currently this applies to many itineraries in 2022 and 2023 including Alaska, the Caribbean, Europe, and its new ships Norwegian Prima and soon-to-be-debuted Viva.
Some of the perks being offered:
35% off cruise fare
Free open bar including spirits, cocktails, wines, draft beer, juice and soda
Free specialty dining
Receive US$50 Shore Excursion Credit per tour
3rd and 4th guest for $99
2-for-1 deposits
What's not included with the cruise fare ?
Image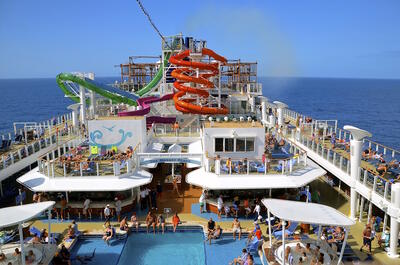 As with most cruise lines, there are a number of add on packages and activities that can be purchased. Cruisers will pay extra for:
Gratuities and tips 
Excursions in ports (except select activities on private Islands)
Specialty Restaurants 
Beverages – soda and bottled water
Specialty coffees and teas
Alcoholic beverages
Baby sitting
Spa and wellness treatments 
Internet / Wi-Fi
Laundry
Select onboard activities, such as go karts, interactive mini-golf, and virtual arcade
Photos
Medical Services
Whether you choose to pay for any additional services or not, we are sure you'll enjoy your Norwegian Cruise Line vacation!