Are you looking at booking your next cruise vacation? Or maybe considering going on a cruise for the first time? Maybe you are an avid cruiser and its your first time sailing with NCL.
If any of these categories apply to you, here are some of the top things that I think Norwegian Cruise Line does well!
1. Dining Times
Image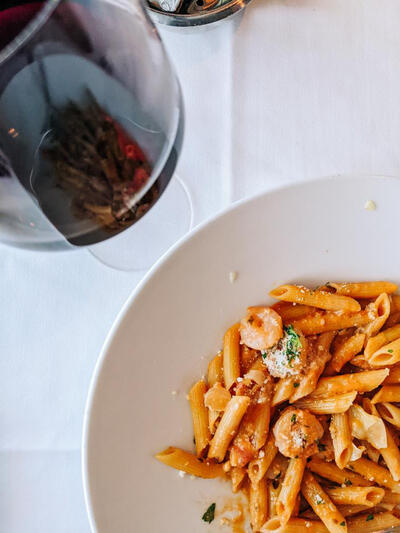 When looking into a Norwegian Cruise Line sailing, guests and prospective passengers alike will soon discover that NCL is well known for what they have coined, "Free-Style Cruising".
Free-style cruising refers to NCL's style of offering their guests unprecedented freedom when it comes to planning out their cruise vacation. When it comes to dining, NCL prides themselves on offering no structured or assigned dining times.
It is a common practice amongst the cruise line industry for cruise lines to have their guests select specific dining times in which to eat meals, specifically dinner. There are usually two times on offer for many cruise lines, the early dining which is usually around 5:00pm, and the late dining which is usually around 7:30pm. Additionally, on many cruise lines, guests are told which dining room to eat at each night of their cruise.
Norwegian Cruise Line stands out as different, in that they have no mandatory dining times. Guests can choose when and where to eat on their own schedule, every day of the voyage. This flexibility allows guests to plan when they would like to participate or see different activities and entertainment onboard, as well as eat at a time that best works for them. This structure also allows guests to pick which, if any, of the dining rooms they would like to dine in each night.
2. Embarkation and Disembarkation
Image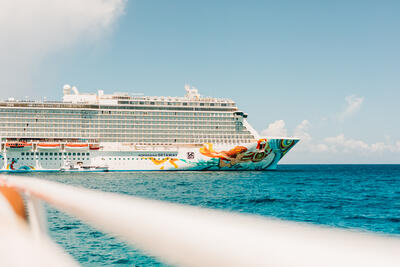 NCL is very efficient when it comes to both embarkation day and disembarkation day for passengers. These two travel days, boarding the ship, and disembarking on the last day, can often times be stressful. But in my personal experience, Norwegian Cruise Line did a great job of having each guest onboard as quickly and smoothly as possible, as well as helping guests to disembark stress-free and efficiently.
In order to make the embarkation process easier, I opted to check-in early through the NCL app. This proved to be quite effective, and I highly recommend that all NCL guests do this prior to their cruise. Going through the online check-in process helps the in-person check-in go much quicker. That means more time onboard on your embarkation day! Currently, NCL guests can check-in for their voyage through the NCL app about 21 days prior to their sail date.
The NCL app is a great resource before a cruise sailing, as well as during a voyage. In the app passenger are able to check-in, view ship deck maps, see onboard activity times, as well as port docking times. I highly recommend downloading the NCL app ahead of any cruise with Norwegian Cruise Line.
3. Tender Services
Image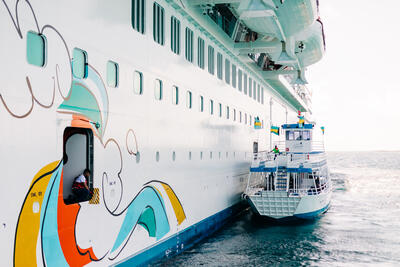 On my last NCL voyage I was able to experience how the cruise line goes about operating their tender services, specifically in the Caribbean.
Many destinations around the world require that cruise ships dock offshore, and that smaller 'tender' boats take guests ashore. This process can be quite complicated, but NCL made the process easy and quick, allowing us to enjoy more time ashore at our destination.
On the first day of our cruise, we were able to arrange our tender time for Great Stirrup Cay at the Box Office. The Box Office is a desk area located near the ship's theater. Because we arranged our tender time early on the first day of our cruise, there were plenty of early time slots still available.
I highly recommend stopping by the Box Office on your next NCL cruise in order to arrange your tender time, if applicable to your sailing.
On the day we visited Great Stirrup Cay, we went down to the proper deck for disembarkation. NCL had large tender boats waiting to assist guests over to the island. We waited on the tender boat for about 10 minutes while more guests arrived to be transported.
After the boat was fully loaded with passengers, the tender quickly detached from the side of our cruise ship and we were efficiently shuttled over to Great Stirrup Cay. I noticed that the tender boats operated about every 20 minutes from when we docked near Great Stirrup Cay, until it was time for the cruise ship to leave for the day.
When we arrived to Great Stirrup Cay, guests were reminded that the last tender to return to the cruise ship would occur at a certain time, in our case that time was 3:00pm. After our day, we returned to the dock and were efficiently transported back to the cruise ship.
4. Great Stirrup Cay
Image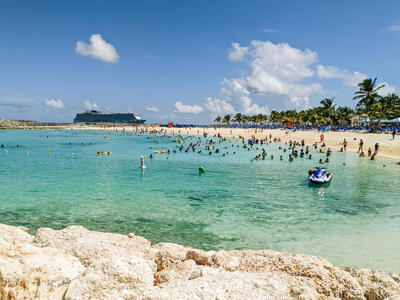 Great Stirrup Cay is one of Norwegian Cruise Line's private islands. In fact, Great Stirrup Cay was the first island in the Caribbean to be purchased for private use by a cruise line company back in 1977.
Great Stirrup Cay is a white sand beach, resort-type island. This destination belongs to Norwegian Cruise Line, which means that many of the food options and amenities on the island are complimentary to NCL guests.
Upon stepping foot onto Great Stirrup Cay for the first time, my initial impression was that the island is clean, organized, well-kept, and beautiful.
Guests will not have to worry about finding an available lounge chair on the beach at this private island paradise. Lounge chairs are complimentary to use on the island for all guests. On our last visit, it seemed that there were plenty of lounge chairs to accommodate guests during their visit.
This private resort island is beautiful, and its highlight is absolutely the stunning Caribbean water and white sand beaches. Guests are sure to enjoy this small island paradise.
5. Entertainment
Image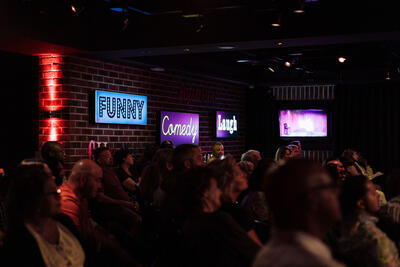 While on our sailing with NCL, we noticed that the cruise line does an excellent job of providing entertainment that appeals to all guest ages and preferences onboard.
Guests can find Broadway style and quality shows in the ships main theater throughout sailings. Often times during a NCL itinerary there will be two Broadway-style shows to enjoy, that will be performed multiple times throughout the voyage. Guests are free to watch these shows more than once, and are not limited to only one viewing.
Not only are there traditional theater performances onboard, there are also smaller scale entertainment options that are a great choice during evenings onboard. NCL ships often times host comedians onboard, and these comedians usually run at least two shows during the cruise (a PG, kids friendly show, and an adults-only show).
One of my personal favorite entertainment options onboard NCL's ship the Norwegian Getaway, was the dueling piano show, called Howl At The Moon. This show featured talented musicians and singers as they impromptu played music with each other and took on song requests from the audience.
6. Food Variety and Options
Image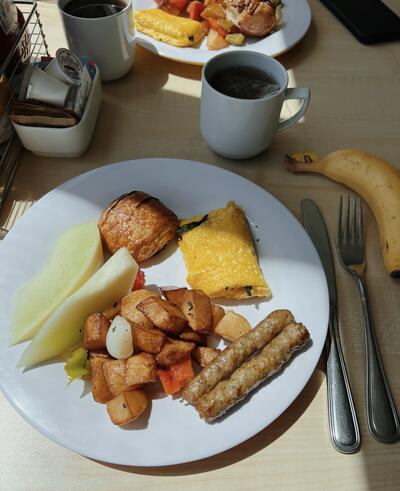 Norwegian Cruise Line vessels are stocked with food options that are sure to satisfy every guest onboard. NCL does an excellent job of providing many food choices to its passengers.
Most NCL vessels feature 10+ restaurants and dining locations onboard, each with their own signature style. Guests will be able to sample cuisine from all over the world, as well as classic and familiar favorites.
The main buffet venue onboard offers breakfast, lunch, and dinner, and comes stocked with an impressive variety of food. Guests with food allergies or restrictions will not need to look far to find something acceptable. I noticed on my last NCL voyage that at the buffet, there was an entire section devoted to vegetarian options, as well as food selections that noted if they were dairy free and gluten free.
Throughout our cruise we were asked by helpful crew members if we had any food allergies before dinner in the dining rooms. While I myself have no food allergies, I thought this would be helpful to guests who do have dietary restrictions while on their voyage.
7. Kids Clubs and Areas
Image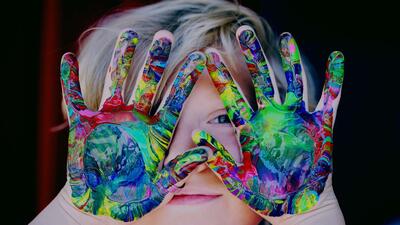 Norwegian Cruise Line caters to every member of the family. There is something for everyone onboard NCL ships, including kids.
Each NCL vessel is equipped with kids clubs, specific areas for children where they can engage in activities with passengers their own age, make friends, and memories while on vacation with their families.
The Norwegian Cruise Line kids clubs are divided by the age of children. There is even a special teens club for guests ages 13 to 17 years.
While at these kids clubs, children will participate in age appropriate activities led by licensed crew members. These kids club areas offer a great venue for children to play while their parents enjoy themselves around the ship. Parents can rest assured that their children can be well taken care of, as there are staff members observing activities at all times.
On my last voyage with Norwegian Cruise Lines, I noticed that many of the children onboard were apart of the kids clubs, and seemed to enjoy the time they spent in these areas.
There are also special pool and recreation areas just for kids and little ones. There is a special splash zone area for the littlest passengers on the main pool deck of many NCL vessels. For example, onboard the Norwegian Getaway the splash zone for small children was pirate themed.
8. Activities for All Ages
Image
NCL does an excellent job of providing guests with a copy of the scheduled events for each day of the cruise. This physical schedule is called the 'Freestyle Daily', and is delivered to each stateroom every night of a cruise sailing.
Inside the Freestyle Daily, guests will be able to find a list of activities with their corresponding times. I was pleased to discover that many of the activities listed were family friendly, and that every member of the family can attend and even participate in these shipboard activities while on their cruise.
Norwegian Cruise Line excels at helping its guests have a wonderful vacation, no matter their age.
Some of the activities onboard during the day include; family game shows, family competitions,  trivia, and more. This is in addition to activities such as the water slides onboard, the Ropes Course featured on some NCL vessels, arcade, and pool areas.
9. Staff Kindness and Professionalism
Image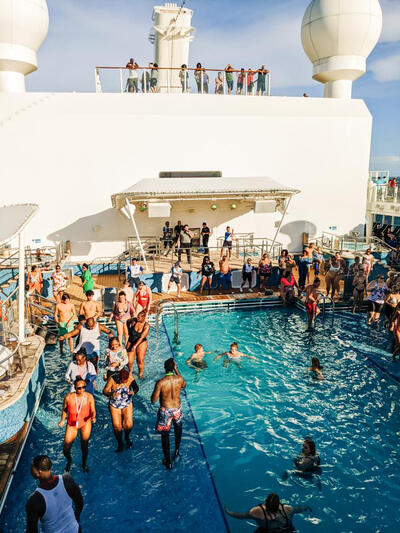 Every Norwegian Cruise Line crew and staff member that I came in contact with on my last NCL cruise was incredibly kind, helpful, and professional.
All of the crew members onboard seemed genuinely invested in helping every passenger have the best vacation possible. They were friendly and were diligent about remembering guests' names.
Because of this level of care and attention to detail, our sailing aboard the Norwegian Getaway went smoothly, and we had very positive interactions with every crew member we came in contact with throughout the voyage.
Cruise line crew members work very hard to bring the best vacation to their passengers, and being kind goes a long way. NCL crew members are there to help in any way they can.
10. Staterooms
Image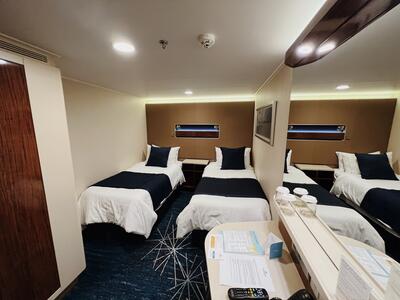 NCL does well at offering many types of cruise cabins or staterooms to their guests, to fit a wide range of budgets and desires.
On my last sailing with Norwegian Cruise Line, onboard Norwegian Getaway, I stayed in a standard interior stateroom. On first entering the stateroom cabin, I was pleasantly surprised just how spacious the room was. The standard interior room had plenty of storage to unpack and make the room my home at sea for the week-long sailing.
NCL staterooms are well maintained, clean, and modern. Guests will have access to any amenity they might need onboard. Our stateroom came equipped with body wash, shampoo, a hair dryer, plenty of clothes hangers in the closet, a small desk area, and several large mirrors that made getting ready in the mornings easy and efficient.
Something that I appreciated and thought was a good option for passengers, is that NCL offers bed splitting in their staterooms. This means that each room tends to come with a standard queen size bed, that can be split into two twin size beds if needed. On my last cruise with NCL I traveled with a friend, we asked for two separate beds prior to the sailing, and when we arrived, our room was divided into two comfy beds.
The beds were very comfortable, had ample pillows, and thick blankets. These beds made for the perfect place to sleep at night, or relax and take a nap during the day.
The bathroom in our interior room was also spacious. The shower was large and walk-in with a glass door. The bathrooms came complete with several large shelves and counter space, this was nice when unpacking for a longer cruise itinerary.
Conclusion
Image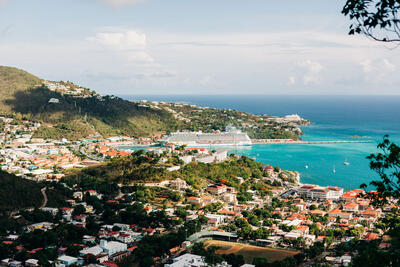 For prospective passengers looking to book their next cruise vacation, Norwegian Cruise Line may be an excellent choice. This cruise line specializes in catering to nearly every type of guest, there is something onboard for everyone.
Norwegian Cruise Line offers the freedom and flexibility to its guests to create the vacation they want. With its wide range of entertainment, activities, food options, and port destinations, NCL is capable of delivering a cruise vacation that anyone would enjoy.
My last voyage with Norwegian Cruise Line showed me that there is a lot that NCL does well. This cruise line has the experience and expertise to exceed guest expectations. Guests will have endless opportunities once onboard, and have the flexibility to create an incredible cruise vacation.