Can a bot give you good cruise tips and advice?
"Setting sail, on a ship so grand 
Leaving port, with a heart full of sand 
The ocean breeze, blowing through my hair
I'm feeling free, without a care"
When asked, the artificial intelligent chatbot ChatGPT was able to write a song about cruising that included two different verses, a chorus, bridge, and outro in less than one minute.
If the chatbot could come up with a song about cruising, I was curious as to what it would have to say in regard to the best cruise advice, so I asked!
What's ChatGPT?
Image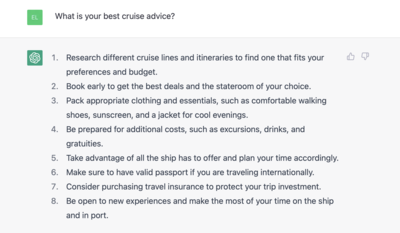 Launched in November 2022 by OpenAI, ChatGPT is a free artificial intelligence chatbot that engages in conversational dialogue based on any prompt asked by the user. The name stands for "Conversational Generative Pre-training Transformer." Less the one week after the program was rolled out, it already had over one million users!
Articles, books, blogs, and websites all went into training ChatGPT, where the model was exposed to large amounts of text and learned to predict the next word in a sentence, which allowed the internal parameters to fine-tuned in order to better optimize the bot's performance. 
It can explain quantum computing in simple terms, provide creative ideas for a child's birthday party, and even give restaurant recommendations. Due to its wide range of capabilities, numerous public school systems across the country have already banned the program from school computers and networks citing that the chatbot may hinder children's critical thinking skills. 
ChatGPT's best cruise advice
Image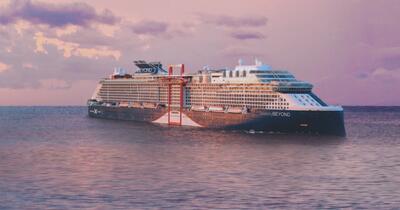 I wanted to find out what an artificial intelligence bot had to say about cruising advice. Here's the bot's response to "What is your best cruise advice?" 
Research different cruise lines and itineraries that fits your preferences and budget
Image
Each mainstream cruise line is known for different things; therefore, you can expect different experiences while onboard each. 
Carnival Cruise Line, for instance, is known for having "the most fun ships at sea" and being one of the more budget-friendly cruise lines. The offer a wide range of itineraries, too, and sail to places like the Bahamas, Caribbean, Alaska, Europe, and even Australia. Outside of North America, though, their options become a little more limited than other lines. 
During their 2023 European season, Carnival Cruise Line only has a single ship -- Carnival Pride -- deployed for six months. Royal Caribbean, on the other hand, has seven ships deployed over the course of eight months. 
Like ChatGPT's first bit of advice, it is crucial that you research which cruise line fits your preferences and budget. If you want to sail to Europe on the newest, most innovative ship, you'll probably want to table Carnival for another time. And if you're looking to take a European cruise for as cheap as possible, MSC might be the best fit, as they can offer sailings for as low as $70 per person, per day. 
Read more: What are the different cruise lines known for
Book early to get the best deals and the stateroom of your choice 
Image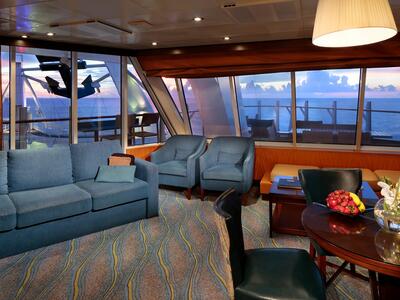 For the most part, the cheapest rates for cruises can be found right after each cruise line releases their new itineraries. Plus, you want to book early if you're set on a specific stateroom, particularly suites that are limited in numbers. 
If you find that your cruise line lowered the fare of your cruise after booking, you may be eligible for repricing, meaning that booking your cruise as early as possible won't cause any harm: 
Carnival Cruise Line: if you booked via "Early Saver Promotion" and find a lower rate, you are eligible for price protection up to two business days prior to sailing. If you have not paid the booking in full, your fare will be repriced, while you'll recieve non-refundable onboard credit if the fare drop was found after your booking was paid in full. If you find a better Carnival-advertised deal within two days of booking, they'll give you 100% of the difference in price in onboard credit. 
Celebrity Cruise Line: if you find that Celebrity Cruises offered a lower rate on your sailing before the due date of your final payment, they will either adjust the rate to the available prevailing cruise fare or issue a refund if you've paid in full before the final payment date. If it's after the due date for final payment and within 48 hours of booking, you'll receive an onboard credit in the amount of 100% of the price difference. 
Disney Cruise Line: Disney does not publicly advertise their repricing options, so your best bet would be to directly contact the cruise line or travel agent. If you booked a flexible rate, you may be able to cancel and rebook. Until March 2023, vacations 60 days or more away are not subject to a cancellation fee. Again, it is best to contact Disney or your travel agent directly before making any decisions regarding your booking.
Holland America Line: Holland America Line's "Low Fare Guarantee" ended on October 9, 2022; therefore, it is best to contact Holland America or your travel agent directly to see what options are available. 
MSC Cruises: Similar to Disney and Holland America Line, MSC Cruises does not publicly advertise their policy regarding refunds due to price drops. If you happen to notice that your cruise fare has dropped, contact MSC Cruises or your travel agent directly to discuss options. They may be able to honor the lower pricing!
Image
Norwegian Cruise Line: Norwegian used to offer a "Best Price Guarantee" program; however, numerous reports in 2022 stated that this was due to covid, so it's no longer being offered. The webpage is no longer valid, either. Sometimes, people were offered the difference in the form of a future credit credit. If you find that your Norwegian cruise fare has dropped, reach out to the company or your travel agent directly to see what options may be available. 
Princess Cruises: While there is no online statement regarding repricing, if you notice a price drop before you've made the final payment, Princess Cruises will most likely honor the lower pricing. 
Royal Caribbean: Royal Caribbean's "Best Price Guarantee Program" allows guests to take advantage of a better price within 48 hours from the time the reservation was booked. If outside of final payment, you'll receive a rate adjustment, and if outside of final payment, you'll get a non-refundable onboard credit. While the program says 48 hours after booking, guests have luck getting the cruise repriced anytime before final payment. If you've already made your final payment, it does not hurt to call and see if the difference can be honored in the form of onboard credit!
Virgin Voyages: Virgin Voyages doesn't publicly advertise their policy regarding refunds due to price drops. If you happen to notice that your cruise fare has dropped, contact Virgin Voyages or your travel agent directly to discuss options. They may be able to honor the lower pricing or offer onboard credit. However, some sailors report that if they booked via "Lock It In Rates," the cruise line stated that no other pricing options were available. 
Pack appropriate clothing and essentials, such as comfortable walking shoes, sunscreen, and a jacket for cool evenings
Image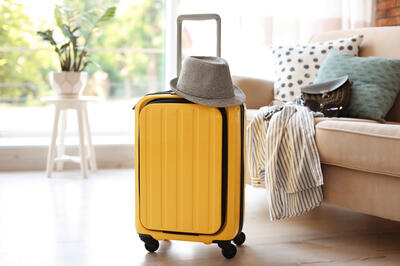 Packing strategically is key when taking a cruise vacation. If you forget a medication or run out of sunscreen, you may be stuck paying nearly double for what they would cost you on land. 
Plus, some onboard activities require certain apparel for safety reasons. If you plan on zip lining on select Royal Caribbean or MSC ships, testing your strength while climbing a rock wall, or even confronting personal fears and anxieties on a ropes course, you'll need closed toed athletic sneakers. 
We always suggest bringing lots of medication, too. Cruise ships don't have full pharmacies, so your selections can be pretty limited. 
Read more: 16 tips to not waste money on your first cruise
Be prepared for additional costs, such as excursions, drinks, and gratuities 
Image
Unfortunately, it's unlikely that the advertised base fare will be the total cost for your cruise vacation, as the rate doesn't include things such as port fees, gratuities, travel expenses, and other incidentals. 
Once you've booked your cruise, you'll gain access to the cruise line's online planner where you can make dining reservations, book exciting shore excursions, and pay for onboard Wi-Fi, amongst other things. 
While booking in advance means you'll be able to have as much of a hassle free vacation as possible, it will often save you money, too. Depending on the cruise line, you might be able to receive 10% to 35% off the onboard prices of speciality restaurants, drink packages, shore excursions, and Wi-Fi.
Carnival, for instance, offers a 10% discount on the Cheers! Beverage Package if purchase prior to embarkation, and Royal Caribbean often allows guests to bundle beverage and Wi-Fi packages together for additional savings.
Read more: What are the cheapest cruise add-ons?
Take advantage of all the ship has to offer and plan your time accordingly
Image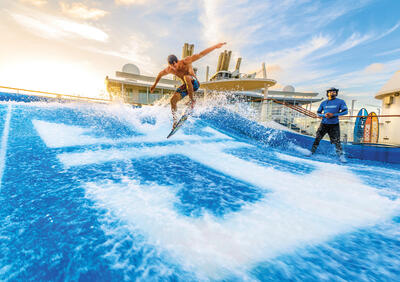 The newest cruise ships are packed full of ultimate thrills and innovative activities. Sometimes, it's hard to figure out how you have time to do everything while onboard, and sea days can leave you as exhausted as a day in port!
Something I like to do is get all of the big activities out of the way as early as possible, leaving time later on in the cruise to have no plans during the day and evenings to attend shows and listen to live music. 
It's important to look at the daily schedule every day and prioritize what's most important, whether that's bouncing from activity to activity or just sitting by the pool all day!
Make sure to have valid passport if you are traveling internationally
Image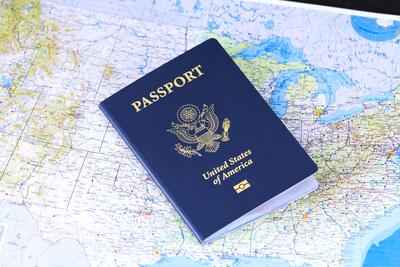 If your cruise is sailing from the United States on a closed-loop itinerary, U.S. citizens are not required to have a passport. Instead, they can sail with just an original or certificated birth certificate plus a government photo ID if over the age of sixteen. 
While closed-loop sailings may not require a passport for U.S. citizens, some countries have their own rules and mandate everyone have a passport. There are relatively few of these countries, they include Martinique, Cuba, and Barbados.
For itineraries outside of the United States, including Alaskan cruises that begin or end in Canada, a passport is required. Allow yourself enough time to either obtain a new one or renew your old one. It is advised that you renew your passport roughly nine months before it expired, as many countries require passports to remain valid for six months after travel. 
That being said, is highly advisable to sail with a passport, as it ensures that if you were to be stuck in any foreign country, you could easily return home! 
Consider purchasing travel insurance to protect your trip investment
Image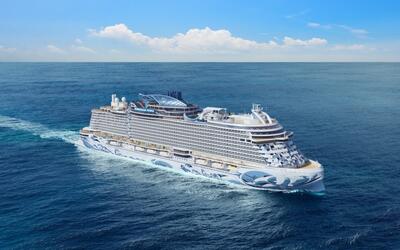 Purchasing travel insurance is crucial before going on any cruise (if you travel frequently, you may want to consider an annual travel insurance plan). 
Travel insurance ensures that your cruise vacation is protected in the case of certain medical emergencies, travel delays, or other unforeseen circumstances. Plus, insurance coverage doesn't end when you begin your vacation! It covers events and emergencies at any point during your voyage. 
Of course, you don't think about what could happen that would put a damper on your trip, but you never know when a jet-ski or horseback experience will go wrong. Any active activity comes with a risk, and it's important that you're able to seek medical attention both in port and onboard! 
Be open to new experiences and make the most of your time on the ship and in port
Image
While so many enjoy cruising because of the overall convenience of everything, it's also a great time to get out of your comfort zone a little bit. 
You should try the new appetizer or entree because you never know if you'll end up leaving vacation with a new favorite food! 
On my last cruise, I met someone who went snorkeling for the very first time after swearing it off for most of their life, and they ended up loving it! On the sam
e cruise, I went down the Pelican Peak zip line in St. Maarten. It was absolutely terrifying looking down at the 500 foot drop, but once I took off, I had a blast!
With so much to see and do on every single cruise, you should plan on trying at least one new thing, even if it's just a new drink or music venue!