San Juan is a popular cruise port on Eastern Caribbean itineraries, and as the island's financial, cultural, and tourism hub, San Juan has a lot to offer cruise guests. It is a great place for beach lovers, foodies, and nature enthusiasts alike! 
Due to the island's size, it will be impossible to get to see and do everything in a single visit, so it is important that you decide what is more important for you and your travel party. Perhaps you have another beach day later in the cruise, so you want to focus on the cultural highlights or explore El Yunque National Forest. Likewise, if you have been before, maybe you are okay with finding a nice spot on the beach for the day. 
Here are the best things to do in San Juan, Puerto Rico during your next cruise.
Read more: Best Caribbean shore excursions
Explore Old San Juan
Image
Cruise ships dock in right in Old San Juan, a National Historical Landmark and the oldest settlement within Puerto Rico, meaning that it is easy to do a self-guided tour of the cultural landmarks. Most can be reached in no more than thirty minutes via foot.
You can visit Castillo San Felipe del Morro, an old citadel that was built between the 16th and 18th centuries.
Be sure to walk along Fortaleza Street on your way there. The street is known for its shops, restaurants, and bars. Plus, you can admire all of the colorful buildings.
Castillo se San Cristóbal is another popular citadel in San Juan, as it's the largest fortification built by the Spanish in the Americas; it was built between 1765 and 1785 and is about a twenty minute walk from Castillo San Felipe del Morro. Both citadels charge $10 per adults, while children 15 and under get in for free. 
If you would prefer to have a guide lead you through the sites, many cruise lines have excursions that focus on the history and culture of Old San Juan. Carnival Cruise Line even has an excursion that focuses just on these old fortresses that costs $55 per adult and $45 per child. 
Museums 
Image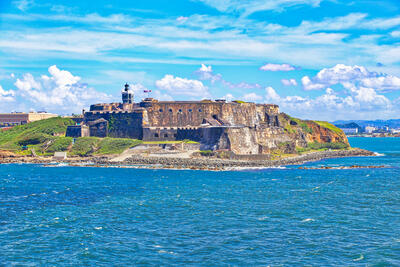 In San Juan, there are different museums that are a good alternative if the weather is less than favorable, or if you are looking for a break from the summer heat. 
Museo de Arte de Puerto Rico is Puerto Rico's primary art museum that is housed inside of a former hospital. While not in Old San Juan, it is only about a 10 minute drive from the cruise port. You will find a wide collection of art, including paintings and sculptures, as well as an outdoor garden with a koi pond. 
Additionally, there are permanent and limited exhibitions. If you have been before, it might be worth returning to see what is new! Admission is about $7 for adults and $3.50 for kids. 
If you are hungry after your visit, there are tons of restaurants within walking distance of the museum. 
Museo de las Américas is located inside of an 1800s army barracks! It is about a 25 minute walk from the cruise ship terminal and only 10 from Castillo San Felipe del Morro. It is home to three permanent collections, as well as temporary exhibitions. Admission is around $6 per adult. 
The Poet's Passage is located within walking distance of the cruise pier in Old San Juan. It is a small art gallery that features work done by local artisans and doubles as a coffee shop and hosts live poetry readings. There is an adjacent gift shop, too! 
Beaches and resort day passes
Image
Condado Beach is free to access, and there are local vendors who rent out beach chairs and umbrellas. While many facilities are privately owned and available only to hotel guests, there are plenty of restaurants nearby and located inside of the hotels where you can pop in and grab a drink and use the restroom. 
Playita de Condado is a small cove right over the bridge connecting Old and New San Juan. Here, you will find vendors renting inexpensive chairs and umbrellas. There are no public restroom or shower facilities, though. 
You will not get any sweeping ocean views here, either, as you will be looking at directly across the water at some buildings. Compared to Condado Beach, however, the tide is much calmer and a great option for families with young children. 
Ocean Park is a quieter alternative to Condado Beach. Numero Uno Beach Hotel has beach chairs and umbrellas for rent. Due to the beach's windy nature, this is a popular place to go kitesurfing! There are a few vendors on the beach that provide lessons if you want to try it out. SkyBanditz, for instance, offers a three-hour introductory lesson for $375. 
Escambron Beach is a public beach with restroom facilities located only 10 minutes via taxi from the cruise port. If you are a fan of snorkeling, this beach is a great place to do so if you have your own equipment. It has a couple rock formations that help protect the beach from the waves. Some people have even reported seeing sea turtles here before!
If you want access to the beach and other facilities, you might want to consider a day pass. You can purchase a pass to La Concha Renaissance Resort on Condado Beach starting at $200. For this price, you will get a day bed for two people. If you are traveling with a larger party, you can get a cabana for $300, which includes admission for up to four people. 
Isla Verde Beach is located right next to the airport and is the furthest beach from the cruise port on this list. This is where you are more likely to find day passes. The Fairmont El San Juan Hotel offers day passes starting as low as $55 per adult and $35 per child. This gets you access to three outdoor family pools, an adults-only pool, hot tubs, a swim-up bar, lounge chairs, towel service, beach access, and Wi-Fi. Food and beverage are available for an additional cost. 
The Royal Sonesta San Juan is another option at Isla Verde Beach. At $99 per adult and $50 per child, it is a little more expensive. You get similar amenities, too:
Outdoor pool with swim-up bar
Hot tub
Lounge chairs
Towel service
Beach access
Wi-Fi
Like the Fairmont, á la carte food and beverages are available.
Read more: 11 common cruise shore excursion mistakes to avoid
El Yunque National Forest
Image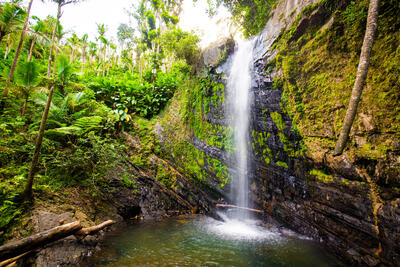 Nature lovers will want to make sure that they go to El Yunque National Forest, the sole tropical rain forest in the U.S. National Forest System that is noted for its biodiversity, including 150 fern species and 240 tree species. Here, you will find 24 miles of recreational hiking trails. 
Most cruise lines offer excursions that include transportation. If you are short on time in San Juan, you may want to consider one of these tours, as the heart of the forest is located over an hour away from the cruise ship pier. Read the fine print of the tour, as some are more of a scenic drive than a hike and do not take you much further than the visitor center!
Norwegian Cruise Line offers the "El Yunque Rainforest Hike" excursion starting at $139 per adult and $89 per child. However, even though the total excursion time in about five hours, you will only spend 1.5 hours hiking through the forest.
If spending more time in the forest is important to you, you can search for tours through independent vendors. It is crucial that you ensure you will return to the ship on time, though. 
Read more: Will the cruise ship wait for you if you're late at a port?
Casa Bacardí
Image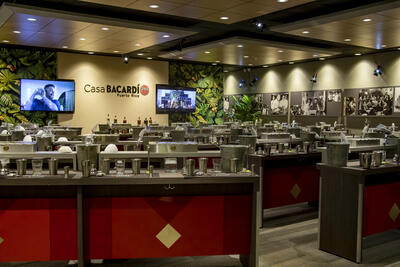 If you are a fan of rum, you will enjoy touring Casa Bacardí, the world's largest premium rum distillery. It is about a 25 minute drive from the cruise ship pier in Old San Juan. 
They offer different tours and experiences depending on your preferences. The cheapest tour is only $30 per person and includes one welcome cocktail, a trolley ride, movie at the Visitor Center, tour of the Special Reserve, and gift shop visit. 
The most expensive option is the Founder's Experience, which costs a whopping $200 per person and includes a welcome cocktail, VIP ride, tropical aging warehouse visit, curated rum tasting with local parings, and gift shop visit. 
You can even take a mixology class or rum tasting tour for $75 each!
Depending on how long your ship is docked in San Juan and what tour option you book, you might consider venturing around Old San Juan after your tour. The basic tour will last close to one hour. 
Food tour
Image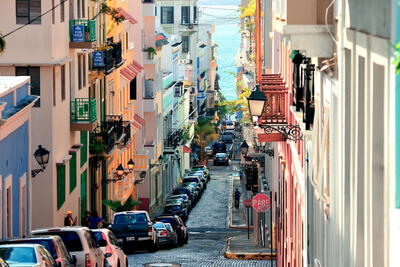 One of the best ways to experience a cultural is through food, and there are lot of Puerto Rican favorites that are worth trying, including tostones, mufungo, and lechon.  
San Juan Food Tours offers a few different options for cruise passengers to choose from. The first is their "Flavors of San Juan" experience, or "the original Puerto Rico food tour since 2009," which includes five different tastings and costs $125 per adult. In addition to sampling delicious food, you will learn about the history of San Juan. 
If you are short on time, you can take the "Express Old San Juan Food Tour" for $105 per adult. Rather than stopping at five different places, you will visit three over the course of 2.5 hours. 
Some cruise lines, like Carnival Cruise Line, even offer food tours if you prefer to book directly through the cruise line. For $70 per adult and $60 per child, you can take Carnival's "Eat, Drink, & Walk" excursion. 
You can, of course, also create your own food tour on your own by researching different restaurants ahead of tmie. The key is to sample items at each place, rather than filling up at the first stop.